Beyond 'It's A Wonderful Life': 10 Streaming Holiday Movies You Probably Haven't Seen Before
Sick of hearing about Zuzu's petals for the millionth time? Check out these cult classic holiday films, many of which can be found for free or cheap online.
There are a handful of films that have become universally accepted as holiday classics, and it's become somewhat of an unwritten holiday rule that they must be watched every single December (during times when you're not snagging deals on holiday gifts, of course). I'm of course talking about movies like A Christmas Story and National Lampoon's Christmas Vacation, with more recent films such as Elf and The Santa Clause also making their way onto that list.
There's a good chance you've seen all of those films on more than a handful of occasions, as they're pretty much all you'll find on TV this time of the year. But we wanted to encourage you to step just a tad bit outside the box, and discover some lesser-known holiday films that just might become a part of your annual viewing schedule.
So read on for 10 holiday movies that aren't exactly classics, but are all worth the watch this month!
White Reindeer
Best For: Those who are looking to get back in touch with their Christmas spirit.
There's very little Christmas cheer throughout the majority of the 2013 indie film White Reindeer, but that's precisely the point. In the film, straight-laced realtor Suzanne forms an unlikely bond in the most unlikely of situations, befriending her husband's mistress in the days following his murder. A dark comedy at its core, the film is surprisingly heartfelt, packed with a holiday message we could all benefit from hearing.
Merry Moment: Feeling low on Christmas spirit in the wake of her husband's murder, a depressed Suzanne orders thousands of dollars of festive decorations online and throws herself a one-person party. It helps. Momentarily.
Where to Watch: Netflix Instant
I Am Santa Claus
Best For: Anyone who's ever wondered who Santa Claus truly is.
Tommy Avallone's documentary I Am Santa Claus, released this year, sets out to answer one simple question: 'On whose lap is your child sitting?' Delving deep into the personal lives of the men who portray department store Santas, the film sheds a fascinating light on a mysterious aspect of Christmas by exposing 'Santa' for the flawed human being he really is. This one is a true holiday delight, sure to fill your heart with the spirit of the season.
Merry Moment: Pro wrestler-turned-pro Santa Mick Foley surprises his young sons with a visit from 'Santa Claus,' creating a family memory none of them will ever forget.
Where to Watch: Netflix Instant
Christmas Evil
Best For: Those looking to bring a little horror to their holiday season, after the kiddies have gone to sleep.
John Waters once called 1980's Christmas Evil "the greatest Christmas movie ever made," and those with similar tastes will surely agree. Though often lumped into the 'slasher' sub-genre of horror, the film is quite frankly anything but, centered on a man named Harry who truly believes he is Santa Claus. It's a fascinating portrait of a damaged mind, with Harry's good intentions quickly taking a turn for the bad. And just wait until you get a load of the madly magical ending to his journey.
Merry Moment: From the rooftop of his apartment building, Harry spies on the neighborhood kids, logging their names in his homemade 'Naughty' And 'Nice' books.
Where to Watch: Amazon Instant
Happy Christmas
Best For: Those who need a reminder that family is important... no matter how sick of yours you might be.
The holiday season is all about family, and so too is this year's low-budget indie Happy Christmas. Joe Swanberg both directs and stars as Jeff, whose wife Kelly and alcoholic sister Jenny (Anna Kendrick) come together in the days leading up to Christmas. At its heart, the film is about a family being brought together by shared stresses, and it's a delight just hanging out with the colorful characters.
Merry Moment: Stay-at-home mom Kelly shares a drink with Jenny and her friend (Lena Dunham), the unexpected hangout providing her with the inspiration needed to reignite her passion for writing.
Where to Watch: Netflix Instant
The Munsters' Scary Little Christmas
Best For: Parents who want to introduce their children to a Christmas classic they haven't yet seen.
Decades after the loveable Munsters were first brought to television screens, they were given colorful new life in 1996's TV movie The Munsters' Scary Little Christmas. In the film, one of Grandpa's experiments goes haywire, resulting in Santa and his elves being magically transported to the Munster Mansion. Hijinks ensue in this holiday classic that defines the phrase 'fun for the whole family.'
Merry Moment: Lily and Eddie bring a little Halloween to Christmas, decorating the outside of their home with all sorts of offensive decorations — including an evil reindeer and an executioner decapitating a snowman.
Where to Watch: Amazon Instant
The Hebrew Hammer
Best For: Those who celebrate Hanukkah, and are tired of all the Christmas movies.
When people talk about 'holiday movies,' they're mostly talking about Christmas movies, as there have been surprisingly few over the years that have given cinematic love to Hanukkah. Comedy Central made up for some of that in 2003 with TV movie The Hebrew Hammer, about a Jewish superhero who's tasked with saving Hanukkah from Santa's evil son (played by Andy Dick). This one's not for the kids, though adults with an un-PC sense of humor will get a kick out of it.
Merry Moment: The Hebrew Hammer busts into a Nazi bar, has a quick drink and then lays waste to everyone inside — leaving behind a flaming Star of David as his calling card.
Where to Watch: Amazon Instant
12 Dates of Christmas
Best For: Romantic comedy aficionados who believe in the idea of true love.
The extremely charming Amy Smart plays Kate Stanton in ABC Family's 12 Dates of Christmas, which turns a corny pun into a romantic comedy. After blowing off a blind date in favor of her ex-boyfriend (whom she finds has moved on with his life), Kate is given the chance to relive that date 12 times over, making this the holiday version of Groundhog Day. The rom-com uses the time travel concept to relay a positive message about life, and it's fittingly both romantic and funny.
Merry Moment: Kate and blind date Miles (Saved by the Bell's Mark-Paul Gosselaar) finally share their first kiss, but Kate's day starts over again the moment they lock lips. D'oh.
Where to Watch: Netflix Instant
Santa Claus Conquers the Martians
Best For: Those who are looking for something a little different to watch this Christmas. Well, a lot different.
Christmas movies don't get much more outside the box than 1964's Santa Claus Conquers the Martians, which is beloved even by those who agree that it's one of the worst movies ever made. In the oddball sci-fi film, the titular Martians kidnap Santa, as their planet doesn't have a magical figure for the kids to look up to. This is one of those "so bad it's good" movies that simply needs to be seen, and it's backed by a surprisingly relevant social commentary on TV culture. The film is also notable for featuring the first documented film appearance of Mrs. Claus.
Merry Moment: The Martians consult ancient sage Chochem, who tells them of the importance of childhood. "The children must be allowed to be children again," he says. "We need a Santa Claus on Mars."
Where to Watch: Netflix Instant
A Merry Friggin' Christmas
Best For: Anyone who needs a reminder that their family isn't as nearly as dysfunctional as it could be.
Though it takes a while to reveal itself, there's quite a big heart beating at the center of A Merry Friggin' Christmas, a dark comedy that's a highly unconventional Christmas movie. After having Christmas ruined for him as a kid by his alcoholic father (the late Robin Williams), Boyd Mitchler vows to keep the holiday magical for his young son, leading he and his estranged dad on a road trip to pick up an important gift he forgot to bring to the family gathering. It's a journey about healing old wounds and what it means to be a father, full of laughs and unexpected holiday magic.
Merry Moment: After discovering that he's been edited out of a family portrait in his son's home, curmudgeon Virgil apologizes for being such a terrible parent, hugging Boyd and for the first time letting him know he's proud of the man he's become.
Where to Watch: Amazon Instant
Road Trip for Ralphie: A Christmas Story Documentary
Best For: Super fans of A Christmas Story who want to step inside the film, rather than simply watch it for the 116th time.
Billed as the perfect companion to the most classic holiday film of all time, Road Trip for Ralphie is a documentary that centers on a husband and wife couple, who go on a road trip to all of the filming locations seen in A Christmas Story — including Ralphie's school, and of course, his house. Packed with trivia tidbits, the documentary is a heartwarming look at the love so many of us share for the holiday season's most beloved movie. A must-watch for all diehard fans.
Merry Moment: Tyler and Jordie attend the grand opening of 'A Christmas Story House,' a fan museum that's set inside the actual house used as the exterior for the Parker home.
Where to Watch: Amazon Instant
Did we forget anything from this list? What are your favorite lesser-known holiday movies? Let us know in the comments below.
---
Related DealNews Features: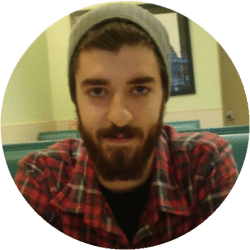 Contributing Writer
John Squires is a freelance writer in the horror community, contributing regularly to the websites Dread Central, Shock Till You Drop, iHorror, and Halloween Love. Follow him on Twitter
@FreddyInSpace
.
DealNews may be compensated by companies mentioned in this article. Please note that, although prices sometimes fluctuate or expire unexpectedly, all products and deals mentioned in this feature were available at the lowest total price we could find at the time of publication (unless otherwise specified).