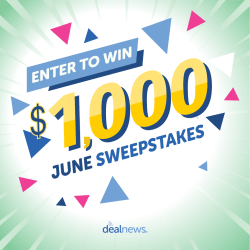 Our June Sweepstakes Winner!
Robert M. from Little Rock, AR, has won a $1,000 gift card in our
DealNews June Sweepstakes
! What did Robert say, upon hearing? "I am both honored and grateful at being chosen as the DealNews June Sweepstakes winner. I know I've already saved well over this amount using the listings in DealNews. Thank you, thank you, thank you!" Congrats on winning!
Posted July 5, 2021