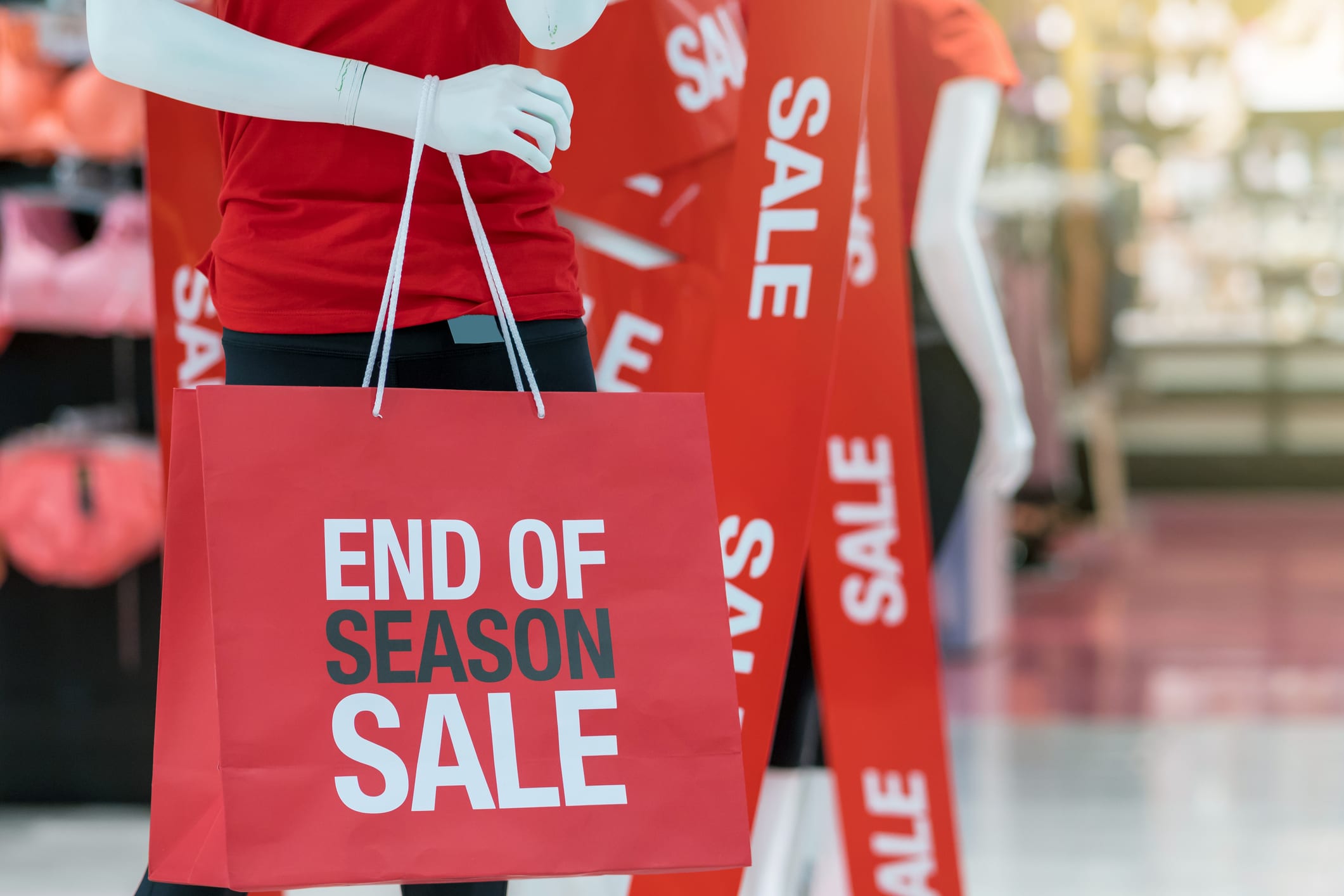 Christmas is over, but After Christmas sales are only just beginning! We've rounded up the top sales you should shop today, before they're done for another year.
15 Best After Christmas Sales to Shop TODAY
Bath & Body Works Semi-Annual Sale: Save up to 75% on select body care items, candles, hand soaps, and more. Plus, take an extra $10 off orders of $40 via coupon code "TNFTYJS".


Samsonite Semi-Annual Clearance Sale: Take an extra 40% to 60% off clearance items via coupon code "CLEARANCE".


Bloomingdale's After-Christmas Sale: Get up to 75% off select apparel, shoes, accessories, and beauty and home items.


Banana Republic Winter Sale: Take an extra 60% off sale styles.


Sur La Table Winter Sale: Score up to 60% off select kitchen items, plus free shipping on $59 via coupon code "SHIPFREE".


Toms Coupon: Take 30% off sitewide via coupon code "WINTER30".


Michael Kors Semi-Annual Sale: Score up to 70% off select clothing, shoes, and accessories.


Holiday Clearance Decor at Amazon: Get up to 80% off select holiday clearance decor. Plus, the orders bag free shipping.


Target After Christmas Clearance Sale: Get up to 50% off clearance items. Plus, score free shipping on $35.


Macy's After Christmas Sale: Take 15% to 20% off select clothing and accessories, home items, beauty items, and more via coupon code "JOY". Alternatively, cut $10 off $25 via coupon code "JOY25".


Walmart End-of-Year Clearance: Shop discounted clearance items and bag free shipping on $35.


Express Sale: Cut 50% off sitewide, including men's and women's new arrivals. Plus, bag free shipping on $50.


Nordstrom Half-Yearly Sale: Get up to 50% off select apparel, shoes, accessories, and home items. Additionally, all orders bag free shipping.


Ralph Lauren Sale: Score an extra 40% off sale styles via coupon code "FORYOU". Orders of $125 qualify for free fast shipping.


Lucky Brand Most Wonderful Sale of the Year: Take up to 75% off sale styles, and grab free shipping on $75.
Click here to see all the After Christmas sales
NOTE: The information below was assembled before the After Christmas sales arrived. Please refer to the deals above before making any shopping plans.
What to Expect From After Christmas Sales
If you thought December 25 marked the end of the winter shopping season, you're definitely mistaken. After Christmas sales have exploded in recent years, providing yet another opportunity to score awesome deals before the year is over.
Despite the moniker, we actually saw sales begin on December 21 last year. Neiman Marcus led the pack with free overnight shipping — which meant you could get your After Christmas goodies before Christmas Day. That said, in 2018 the bulk of the After Christmas sales will fall between December 26 and New Year's Eve.
Here are the best things to buy during After Christmas sales.
Clothing
Clothing deals tend to dominate After Christmas sales. Last year, about 55% of the post-holiday deals we saw were for clothing and accessories. Even better, these sales often matched Black Friday and Cyber Monday sales — if not outright beating them.
For example, last year Men's Wearhouse took an extra 60% off clearance, tying as the strongest general clearance sale we'd seen from the clothier all year. Additionally, Banana Republic and Kate Spade hosted their best extra discounts of the year. They took an extra 60% and 40% off, respectively.
Last year, about 55% of the After Christmas deals we saw were for clothing and accessories.
Be sure to look out for clearance clothes, which are sure to have incredibly steep discounts. Last year, New York & Company had an excellent buy one, get three free offer on clearance items.
For its part, Jos. A. Bank offered a scarf and hat set for only $7. The menswear retailer also had polos for only $6, while American Eagle Outfitters had reversible beanies for $4.
Holiday Decor
If you want to be the most impressively decorated house on the block, you'll need to plan for next year. Set a reminder to spend December 26 stocking up on everything from holiday lights to inflatable snowmen, and from pre-lit Christmas trees to sparkly tree toppers. Of course, there's a chance that these items could hit sale shelves just before Christmas, too.
Last year, Lowe's kicked off a Christmas clearance sale a couple of days before the holiday, offering shoppers the chance to grab last-minute decor for cheap.
SEE ALSO: The Ultimate Buying Guide
However, buying decorations right before Christmas means you won't be able to leave them up long, unless you prefer to leave your house decorated year-round. So why not wait a few more days for the really good sales? Last year, Home Depot kicked off its sale on December 30 and took 50% to 75% off Christmas trees, lighting, and other decor. Shopping sales like that means you can deck the halls with savings in 2019, while everyone else is paying full price.
Exercise Equipment
Last year, about 21% of the fitness deals we listed were Editors' Choice picks. That might not sound like much, but they're definitely worth checking out (especially if you have a certain New Year's resolution on your list).
REI was one retailer to watch last year, as it took 50% off apparel and gear right after Christmas Day. And if you were interested in outlet shopping, REI Garage took an extra 25% off one item. Additionally, check for item-specific discounts — in 2017, we saw weight sets drop to $15.
Video Games
If you didn't find the video game deals you wanted before Christmas, you're in luck! Last year, nearly 50% of the video game deals we saw during After Christmas sales were Editors' Choice-worthy. They included titles like Fallout 4 for only $8, and an Xbox One X bundle that was $108 cheaper than buying the items separately.
Last year, nearly 50% of the video game deals we saw during After Christmas sales were Editors' Choice-worthy.
Prefer PC gaming? Look for the Steam Winter Sale to kick off sometime around December 20. Since this promotion lasts longer than the Autumn Sale, you should have more of a chance to grab all the titles on your wishlist. Amazon tends to drop game prices, too.
And if you prefer console gaming, be sure to check out GameStop's sale. Typically that retailer hosts a buy two, get one free sale on used items.
Electronics
You won't find a ton of Editors' Choice deals on electronics post-Christmas — in fact, only about 13% of the deals we saw last year earned our best-of-the-best designation. However, it's still worth checking them out! It's possible you'll find an unbeatable deal on a gadget or device you've been eyeing. TVs and headphones will be popular items for deals, with a wide variety of prices and types on sale.
SEE ALSO: The 11 Best Things to Buy Before (and After) Christmas
In 2017, we saw a Samsung 55" smart set that beat its Cyber Monday price by $99 and an LG 43" smart TV bundled with a $100 gift card for $330. We also saw Klipsch earbuds drop to the lowest price we'd seen.
We also expect to see a few Amazon device bundles. Last year, a second-generation Dot and Fire TV Stick were sold together for $60 during the After Christmas sales. If you don't mind refurbished products, you can usually find a slew of deals, including TVs and headphones. You should also keep an eye out for Canon's refurbished sale, which tends to take an extra 15% off select items.
Readers, what's on your shopping list for After Christmas sales? Let us know in the comments below!
---