We've rounded up the best deals on tools, accessories, combo kits and more – from beginners to hobbyists to pro-am and beyond, look no further for your cheap tool needs.
Best Tool Kit Deal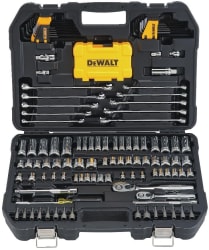 DeWalt 142-Piece Mechanic's Tool Kit
Store:
Amazon
Price:
$89
Shipping:
Free shipping
Lowest By:
$6
I bet tool kits look at first aid kits and think "When do we get our own brilliant pop band?" Instead, they have to settle for talented but fairly obtuse prog metal peddlers – which is great, but a good deal less approachable. Tool kits want to sell out and live large. So you'd best get your hands on this DeWalt kit before it actually sells out. It includes sockets, wrenches, hex keys and more.