Features
receiver is compatible with connection to hearing aids and headphones (3.5 mm stereo jack plug)
wireless mobility within a range of up to 328 feet
↑ less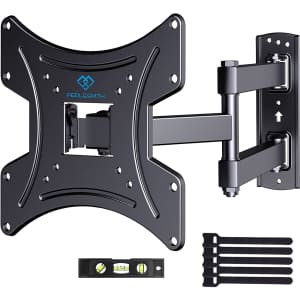 Tips
Sold by Perlesmith Mount via Amazon.
Features
swivel and tilt full motion
supports up to 77-lbs.
for TVs up to 42"
Model: PSSFK1
↑ less
TVs: The Basics
Buying a new TV can be overwhelming -- the size, the specs, manufacturer-specific jargon, and the expectation that a new set should last at least five years means that your head will be swimming with numbers, even before price gets factored into the equation. To make the buying process easier, the experts at DealNews are always seeking out the best TV deals to share with you. And here we put together helpful information to know before you buy your next TV.
Common TV Terms
HD: High Definition Television, or a television broadcast with a resolution of at least 720i, although commonly seen at 1080p.
4K/UHD: Commonly refers to a native resolution of 3840x2160, although the professional industry standard is 4096x2160.
HDR: High Dynamic Range. HDR refers to the color gamut and brightness of a display. Many HDR subcategories exist, and the most popular ones include HDR10, HDR10+, and Dolby Vision. (For more information, see our HDR guide .)
LED LCD/QLED/OLED: Refers to the actual illumination/pixel panel of the TV.
LED LCD: Light Emitting Diode/Liquid Crystal Display. It's by far the most inexpensive and common panel in consumer TVs. It utilizes LEDs behind or on the edges of the LCD panel to illuminate the pixels in large localized groups.
QLED: Quantum-Dot Light Emitting Diode. The pixels in these panels are lit by LEDs along the edges of the panel (similar to LED LCD panels), but the TVs also employ a quantum dot filter to achieve higher brightness than OLED panels, at the expense of response time, contrast, and black levels.
OLED: Organic Light-Emitting Diode. These TVs essentially have a thin film that can illuminate individual pixels when supplied with current, thus creating more brightness and a truer black level. These also tend to be much slimmer TVs, as they don't employ traditional LED backlighting.
Refresh Rate: This is the speed at which a display refreshes the image. The faster this happens, the less motion blur is observed in quick-moving images. The standard is 60Hz, although 120Hz (and higher) are quickly becoming mainstream. It should be noted, however, that many manufacturers often obscure the actual specs with terms like "motion rate" or "effective refresh rate."
TV Deals by the Numbers
We've listed nearly 500 of the best deals on TVs just this year. Of these, the vast majority of those on sale were smart TVs , although some of the lowest prices we've seen per size category have been for non-smart sets. (From a personal perspective, I feel that combined with the lower outright price, the value in having a non-smart TV lies in a hassle-free upgrade as new streaming media players come to market. No need to worry about a manufacturer phasing out the updates for your set!)
OLED TVs
While OLED panels are the "cream of the crop" in terms of picture quality, that quality still comes at a premium. The average price of the new 55" OLED TVs we've seen this year comes in around $1,700, compared to $511 for QLED sets and $435 for LED TVs . (Note that these numbers are for new units only. For refurbished TVs , the average price of an LED set was only a hair over $309.)
TV Blog Articles
Frequently Asked Questions
What are the most common TV features to look for?
Once you've figured out the size of TV you're looking for,