The types of patio furniture available on the market runs the gamut of application, design, quality, material, and price. So when looking for a great sale on patio furniture, which set or piece of furniture do you (or should you) opt for? Choosing the best patio furniture deals for you and your unique situation means a thorough recognition of where it will sit, how it will be used, and when. Making a wise choice often comes down to weighing the pros and cons of each option and of course, specifically seeking out outdoor and individual pieces that suit your budget and specific needs.
Tips for Buying Patio Furniture
Identify Your Patio Furniture Needs and Installation Abilities
Before you do anything else, consider your needs. How many people will use your patio furniture at a time? Where will it be located? Do you live in a predominantly hot or cold environment? What will be its purpose? Do you want a table and chairs set for outdoor meals? A seating set to act as an outdoor living room? Plan to entertain guests with a Tiki bar or big screen TV? Do you intend to lounge poolside (even if it's just a baby pool) or take a mid-afternoon snooze on the hammock or porch swing after the weekly mowing session? Next, you will want to measure your patio area and determine if you might need patio furniture that can fold or be easily moved away or whether it will be a semi-permanent placement. Do you have the space to store the furniture in the off-season or will you need furniture covers? Finally, consider the practical uses of the furniture. What materials will work well for your location and application? Do you need to consider hot sun or snow accumulation? Will the furniture be entirely exposed to the elements or partially protected by a porch roof or gazebo? Finally, consider your ability to order and install your furniture. Are you able to pick-up large items in store, potentially assemble and set up by yourself or will you need someone to help you or even have it fully delivered and installed by a pro?
Compare Brands and Stores
Don't snap up the very first patio furniture sets on sale that you come across. Price comparisons can save you hundreds of dollars, so take the time and shop around. What are a few hours of online comparisons when there's hundreds of dollars to save?! Also consider big sales and discounts at big box stores such as Home Depot and Lowes. Show up with a coupon in-hand and you might snatch-up several items you might need while saving time and money getting everything all in one place.
Understand Placement and Materials
If you don't have an enclosed or covered patio/garden area but want tables and chairs to relax on and eat at, you will need to choose weather-proof furniture that can withstand long-term exposure to the elements. Plastic or resin is always a great option if you want something that's tough and easy to clean. When shopping around, look for great features like rust proof, water proof, removable cushions, scratch proof, and so on. When in doubt, there are some great patio furniture covers available on the market in myriad custom shapes and sizes.
Focus on Quality, Not Just Price
Price is important--it's the very reason why we keep an eye out for the best garden furniture deals, but be careful not to be lured in by price alone. Sometimes the cheapest price is not always the best deal. Make sure the furniture you are buying is of the best possible quality for your budget. Reading online product reviews should equip you with all the knowledge you need when considering a particular patio furniture set and accessories.
Best Time to Buy Patio Furniture
When you shop for patio furniture will often determine how much you pay. If you aren't in a rush for a new outdoor furniture set and you are in a peak season, wait a while. You can save a considerable amount of money if you buy "out of season". Often stores put patio furniture sets on sale after the summer is over when everyone is gearing up for the colder not-so-nice-to-be-outside months. In fact, we recommend starting to look for great deals in August. At the same time, outdoor patio heaters and fire pits might see price increases during off-peak season though selection will certainly improve.
Don't Forget the Accessories You May Need
If you find an amazing discount on garden furniture, you might find yourself with extra budget left to spend on some patio furniture accessories. Your outdoor entertainment area is sure to be a lot more comfortable on a chilly winter's night with a fire pit or outdoor heater. Or perhaps an umbrella and base set, to help you keep cool on a scorching hot day. Also, don't forget about outdoor decor items such as outdoor area rugs, decorative pillows/cushions, lanterns, and planters. One item often overlooked is lighting: a set of string lights can create an amazing ambiance in almost any backyard or patio. Finally, consider entertainment and multimedia in your setup. An outdoor projector setup will surely make you the envy of your neighbors and the most popular superbowl invitation around.
Below are the best deals on patio furniture right now
Best Patio Furniture Clearance Sale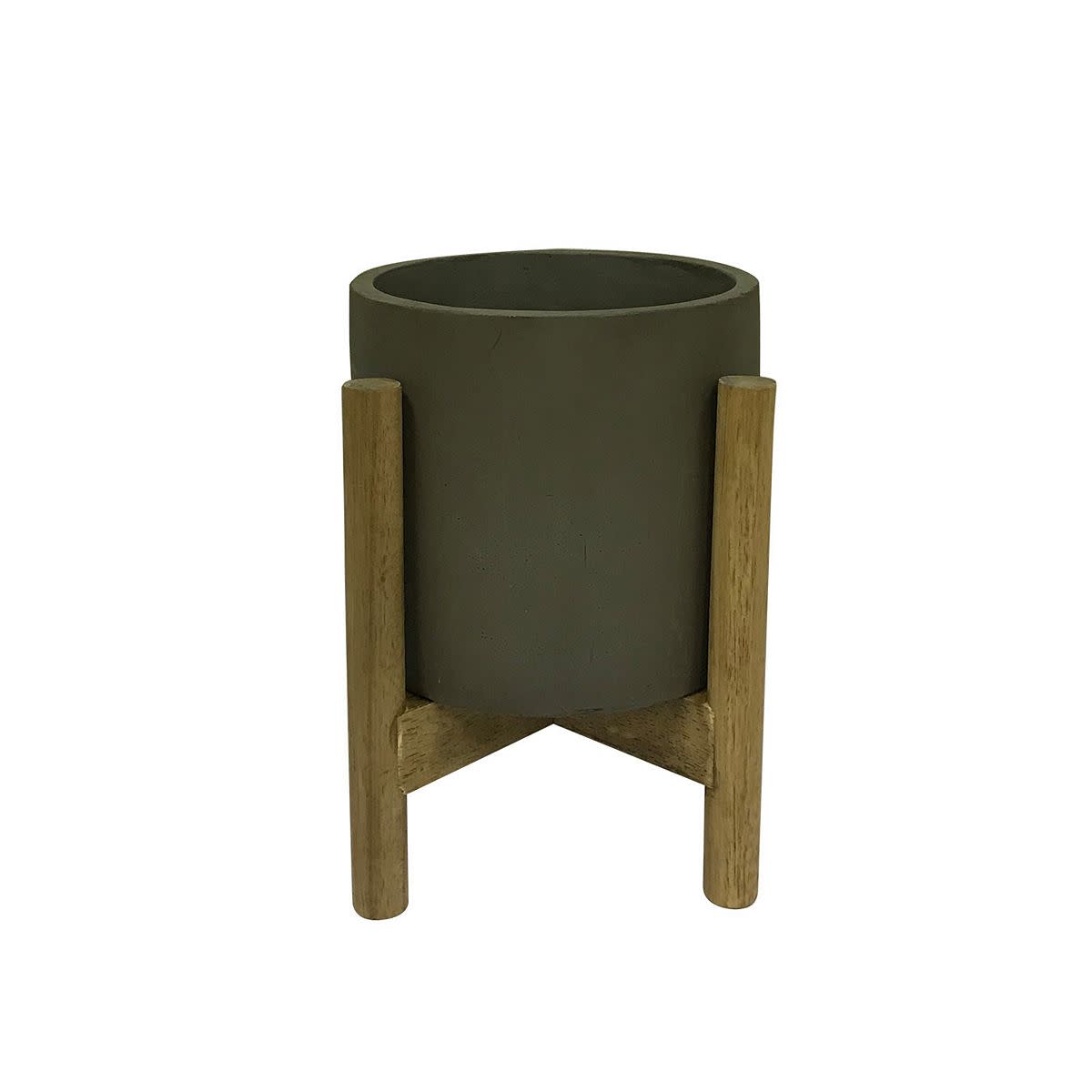 Patio Furniture Clearance
Store:
Kohl's
Discount:
Up to 60% off + 20% off
via code "SAVE20"
Shipping:
$8.95 s&h,
or free shipping w/ $75
Expiration:
February 28
The extra discount you earn with coupon code "SAVE20" makes this sale one of the best patio furniture deals available this weekend – plus, you'll get $10 in Kohl's Cash for every $50 you spend. Combined, it's a very attractive way to invest in a new dining set or lighting set or fire pit, or indeed "other".
Best Patio Furniture Deal

Christopher Knight Home Gladys Outdoor Acacia Wood Bench
Store:
Amazon
Price:
$104.39
Shipping:
Free shipping
Lowest By:
$15
Sometimes simplicity is key, and this bench more than fulfils that remit. Three slabs of acacia wood atop four hairpin legs – bam, it's a bench. The marketing will talk about a "faux live edge", but you can tell they're just scrambling for something to say: it's the most basic of benches, my friend, and you can only say so much about that. One thing you can say is that it measures 62" x 14.5" x 17.75".
Best Patio Furniture Set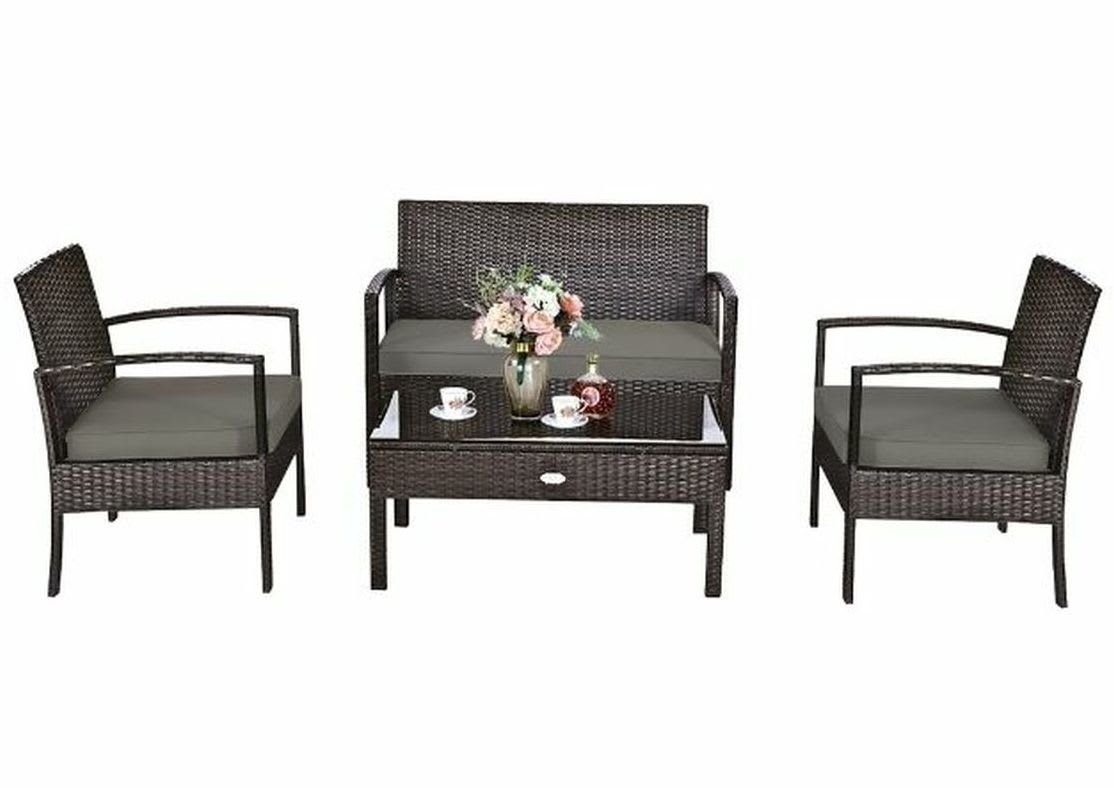 Rattan 4-Piece Patio Furniture Set
Store:
UntilGone
Price:
$189.99
via code "DNEWS663221"
Shipping:
Free shipping
Lowest By:
$24
Expiration:
March 10
It's pretty hard to find online reviews of unbranded furniture sets, so instead let's go with Wikipedia's assurance that "rattan is a very good material, mainly because it is lightweight, durable, and, to a certain extent, flexible and suitable for outdoor use". A more resounding endorsement of this patio furniture deal you'll never find. It includes a glass-top coffee table (measuring 34" x 18" x 15"), a loveseat (measuring 42" x 21.5" x 30.5" with 790-lb. capacity), and two chairs (each measuring 24" x 21.5" x 30.5" with 400-lb. capacities).
Best Pool Furniture Deal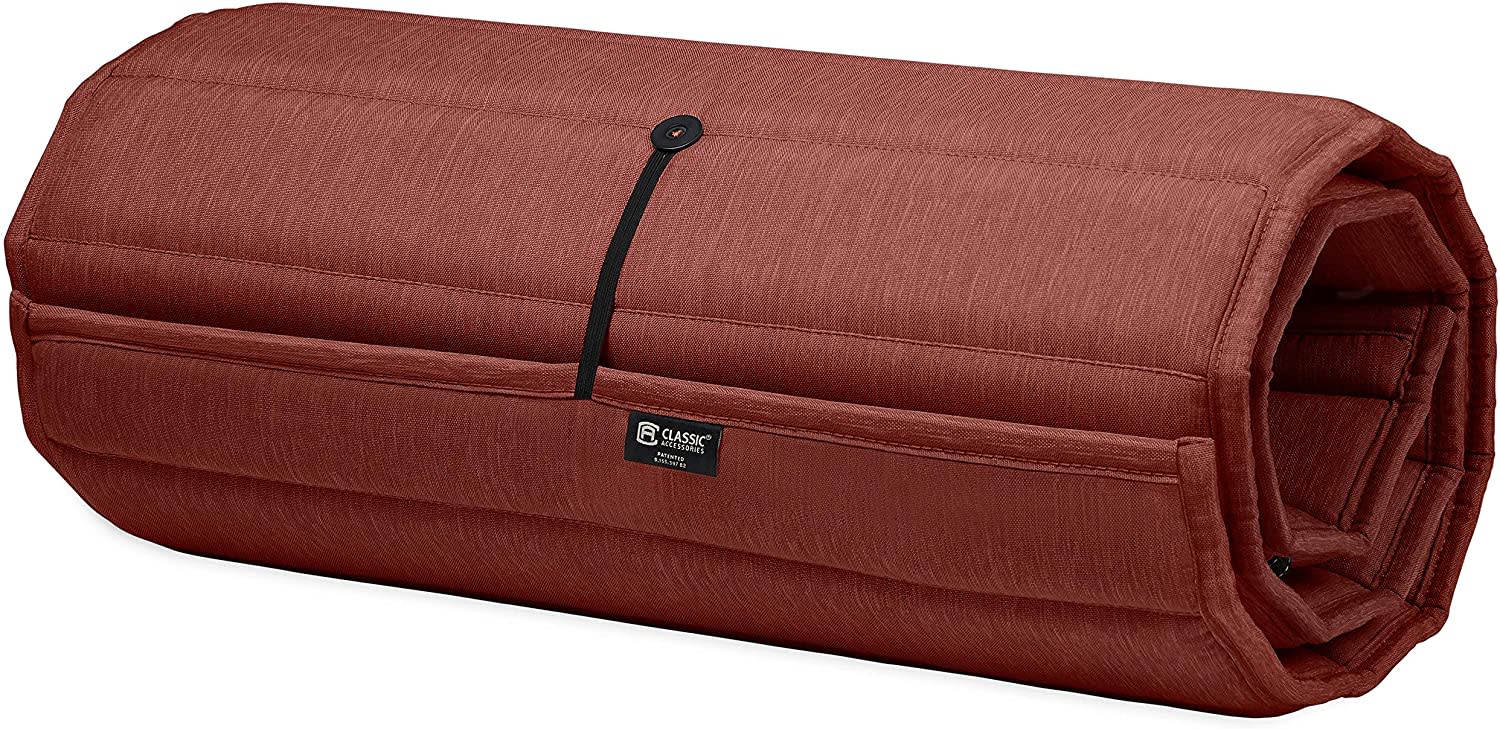 Classic Accessories Storigami Chaise Lounge Cushion
Store:
Amazon
Price:
$88
Shipping:
Free shipping
Lowest By:
$15
It is a truth universally acknowledged, that a chaise lounge in possession of 72x21" dimension, must be in want of a cushion. This Storigami cushion attaches via a buckle, rolls up for easy storage, and features an attached pillow and water-resistant fabric.
Best Patio Set Under $150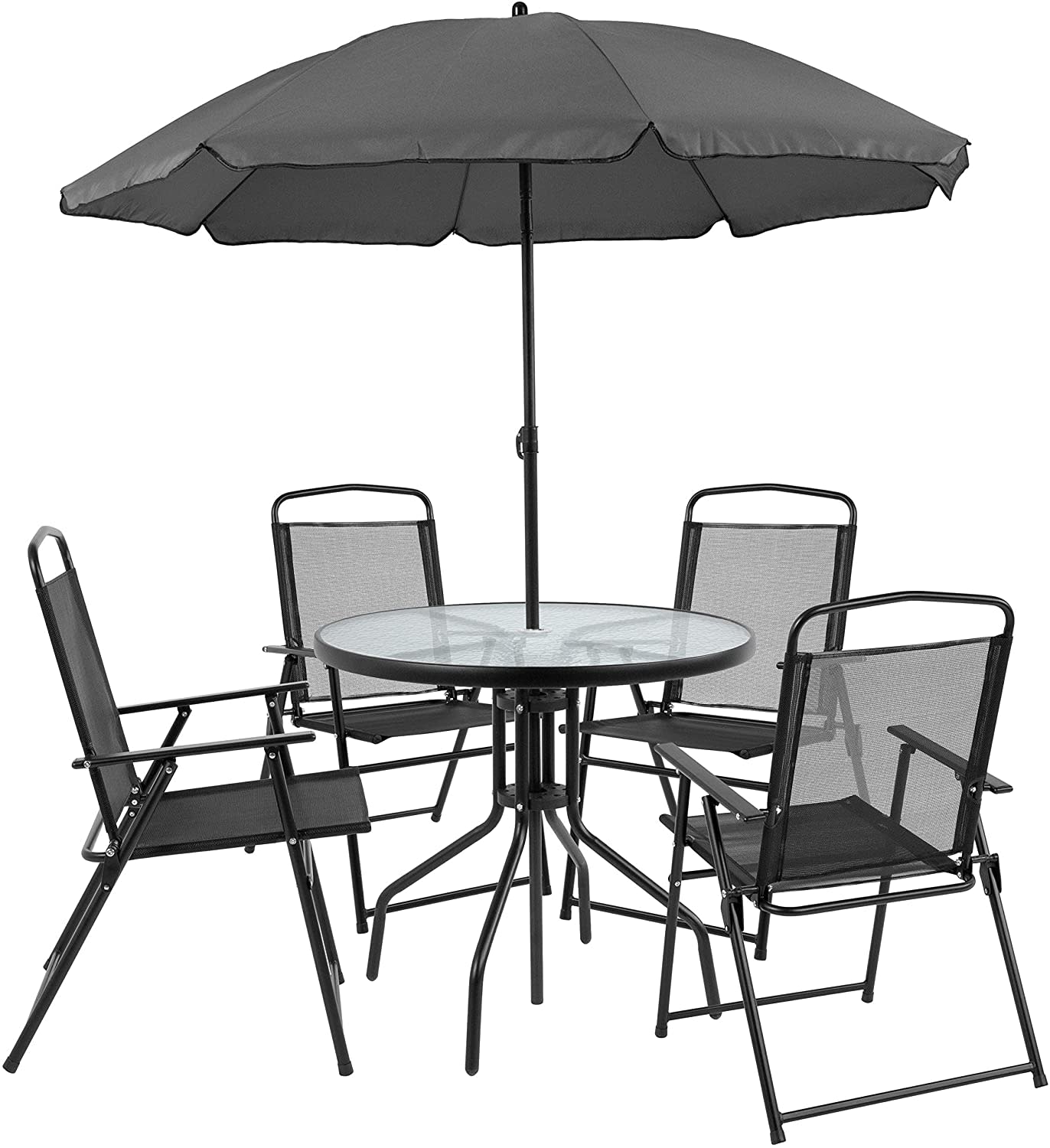 Flash Furniture Nantucket 6-Piece Patio Set
Store:
Amazon
Price:
$149.26
Shipping:
Free shipping
Lowest By:
$15
If you're looking forward to a 2021 spent on the patio, but working with a tighter budget, the best starting point is a discount patio furniture set. This one gets you a full 6-piece set at a hair under $150, and features a tempered glass table top, four textilene folding chairs, and a tiltable umbrella with steel pole.