From dining sets to fire pits to clearance sales, let the experts at DealNews guide you to the best discount patio furniture available today.

Best Wooden Rocking Chair Deal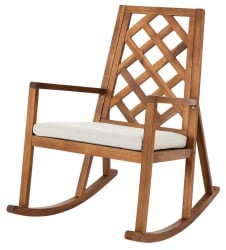 Hampton Bay Willow Glen Patio Rocking Chair
Store:
Home Depot
Price:
$199
Shipping:
Free shipping
Lowest By:
$150
Nothing says nostalgia like the sight of a rocking chair, a shady front porch, and a cold beverage. While we can't offer much in terms of the porch or the beverage, we can introduce you to your new favorite chair. Made of acacia wood with a teak finish, this rocking chair by Hampton Bay... yes, the same company that makes quality ceiling fans... combines style with comfort. You'll also get a UV-resistant seat cushion with a removable slip-cover, so you don't have to worry if you spill your Mint Julep or Iced Tea. So "sit for a spell" in your enchanting, modern rocking chair and maybe yell at some kids to get off your lawn.
Best 3-Person Patio Swing Deal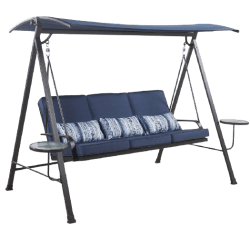 Living Accents 3-Person Swing with Tables
Store:
Ace Hardware
Price:
$249.99
Shipping:
Free delivery w/ Rewards membership
Lowest By:
$180
They say two's a party and three's a crowd, or maybe that's just something the popular kids used to tell me at recess, but with three sets of cushions and a 750-lb. weight capacity, there is certainly enough room for the thrice of you on this steel framed swing. It features a full wicker back, padded seat cushions, throw pillows, and two built-in side tables. It's available in Navy Blue at a savings of 42% off the list price.
Best Patio Bench Seating Deal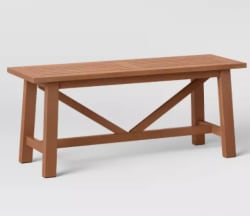 Threshold Morie Wood Patio Farmhouse Dining Bench
Store:
Target
Price:
$96.00
Shipping:
Free shipping
Lowest By:
$18
Summer is the perfect time for dining outdoors with family and friends, especially the little ones that have a tendency to spill things. So instead of banning ketchup from the kids, how about making sure you have plenty of seating at your next barbecue with this awesome wooden bench by Threshold. It's part of Target's Morie Patio Table Suite Collection and the perfect addition to your backyard dining decor. Made of mahogany wood that is Forest Stewardship Council Certified, with rust resistant construction, it's sure to last for many summers to come. So let the kids enjoy their burgers and hotdogs outdoors and away from your Berber carpeting.
Best Zero Gravity Patio Deal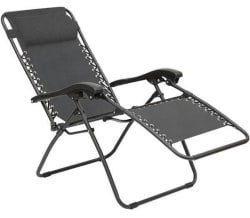 Living Accents Frame Zero Gravity Relaxer Chair
Store:
Ace Hardware
Price:
$34.99
for Ace Rewards members
Shipping:
Free delivery w/ $50
Lowest By:
$30
Picture it...Sicily 1921...you return home after a long day of work and want nothing more than to relax on your patio in your own Zero Gravity chair. Okay, so it's actually 2021, and you're not a Golden Girl, but you can still kick back, rest your head on the built-in pillow, and fully recline into blissful comfort. It comes in three colors, sure to complement any outdoor decor, and with a powder-coated steel frame and double bungee cording for added strength, this is a chair built to last. This price is for Ace Rewards Members only, but it's free to sign up and totally worth it for the savings. At just $35, you can always buy an extra one for your significant other or to make a matching set.
Best D.I.Y. Deal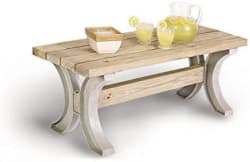 2x4basics AnySize Table Kit
Store:
Amazon
Price:
$26
Shipping:
Free shipping
Lowest By:
$6
If you fancy trying your hand at making your own outdoor table, this kit includes the bench supports, hardware, and instructions for your project. It'll allow you to choose your own style of wood and will likely save some bucks compared to buying a completed piece online. The kit itself is $6 cheaper than eBay's best price.