From dining sets to fire pits to clearance sales, let the experts at DealNews guide you to the best discount patio furniture available today.

Best Patio Heater Deal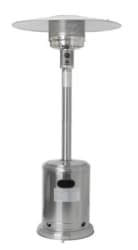 Hampton Bay 48,000 BTU Stainless Steel Patio Heater
Store:
Home Depot
Price:
$99
Shipping:
Pickup
Lowest By:
$50
The chillier evenings don't mean you have to retreat indoors to the comfortable, insulated indoors just yet. This heater's 48,000 BTUs are ready to keep you comfortably reclined in the great outdoors. It heats up to 200 square feet, and looks sort of like a lamp-post cosplaying as Lord Raiden from Mortal Kombat.
Best Gazebo Deal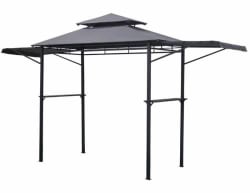 1.Go 7.2x3.7-Foot Vented Grill Gazebo
Store:
Wayfair
Price:
$194.99
Shipping:
Free shipping
Lowest By:
$105
"Grill Gazebo" was actually a very popular journeyman pro wrestler in the late 1970s and early 1980s, well-known for hitting his opponents with his patented "Hamburger Hammerfist". An ill-fated stint in Verne Gagne's AWA territory came to an early end when they tried to put him in a tag team with the greener-than-Greg-Gagne "Charcoal Charlie" to do jobs for The Road Warriors, and Gazebo quit in protest. He left the industry to return to his first love: attaching large pieces of fabric to the tops of study steel frames and selling them at discount. Today, we're still reaping the benefits.