How to Keep Your Cat Out of Your Christmas Tree
The right decorations and deterrents can keep your cat safe... and your tree upright.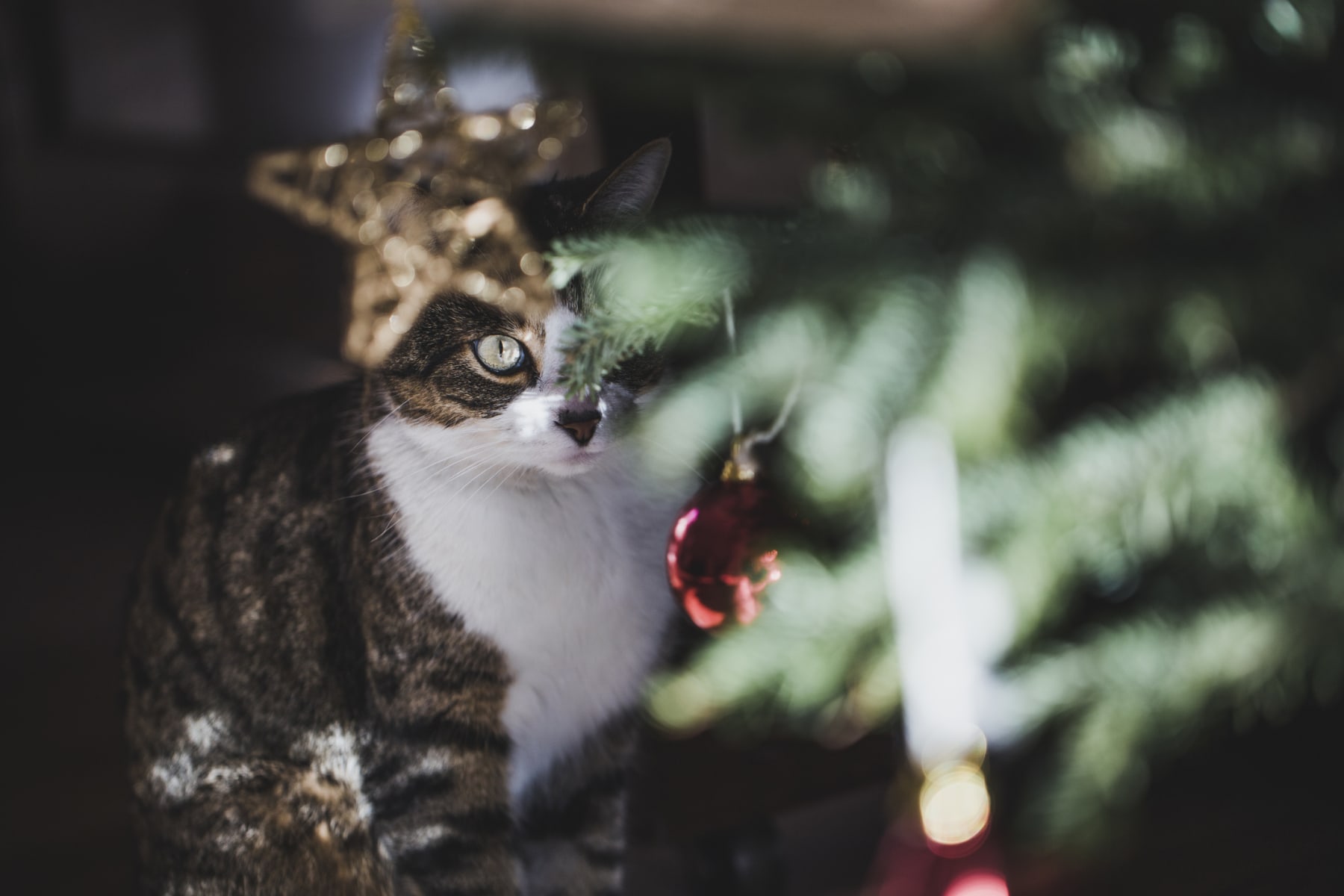 It's the time of year when we drag a tree inside our homes, dangle shiny items from the branches, and then reprimand our cats for playing with them. Broken ornaments or a toppled Christmas tree can be an inconvenience, but some decorations can harm your pet.
Here are some tips for putting together a cat-proof Christmas tree, so you and your pets can stay happy and safe this holiday season.
Get Holiday Deals in Your Inbox!
Looking for the perfect Christmas gift? Sign up for the DealNews Select Newsletter now, and the best deals of the season will come to you.
Click here to sign up!
Buy a Cat-Friendly Christmas Tree
Is it better to get a real or fake Christmas tree for cat owners? Both have potential pros and cons.
Safety is a concern when it comes to cats and real Christmas trees. Fir tree pieces, if ingested, can cause gastrointestinal irritation, vomiting, and drooling in cats, says Dr. Bruce G. Kornreich, D.V.M., Ph.D., DACVIM, associate director of the Cornell Feline Health Center in Ithaca, NY. Fortunately, he adds that these reactions are usually mild and cats often don't eat enough for toxic results.
Remember that other popular holiday plants can be toxic to pets including poinsettias, mistletoe, and holly. Lilies, though they're not usually Christmas plants, are dangerous to cats and can end up under the tree in gifts like bulb kits, Kornreich says. "Plant toxicities are big because people often bring plants in as part of the celebration," he says.
Live fir tree pieces, if ingested, can cause GI irritation, vomiting, and drooling in cats.
Fungus and bacteria can grow in the tree water over time, and can make animals sick if they drink from the tree stand, he says. Additives or aspirin put in the water to prolong the life of the tree can also cause illness in pets. "Overdoses of aspirin can certainly be toxic to cats," Kornreich notes. "It is best to cover the water with a plastic bag or foil so the pets cannot get to it."
Some Christmas tree stands have a covered water reservoir, like Krinner Tree Genie stands, with water level indicators. There are also creative covers for Christmas tree stands, such as a Christmas Tree Box.
"Faux trees are probably safer all around, as the pets are not attracted to the smell in addition to the tempting decorations," Kornreich says. He recommends trees that aren't decorated with artificial snow, though. To create an artificial snow look without flocking, artificial tree maker Balsam Hill suggests cotton, fleece, or desiccated coconut. (Balsam Hill sells sample kits of their tree branches, if you want to test and see which type your pets will leave alone.)
Does your cat want to use the Christmas tree trunk as a scratching post? Balsam Hill recommends wrapping it in foil.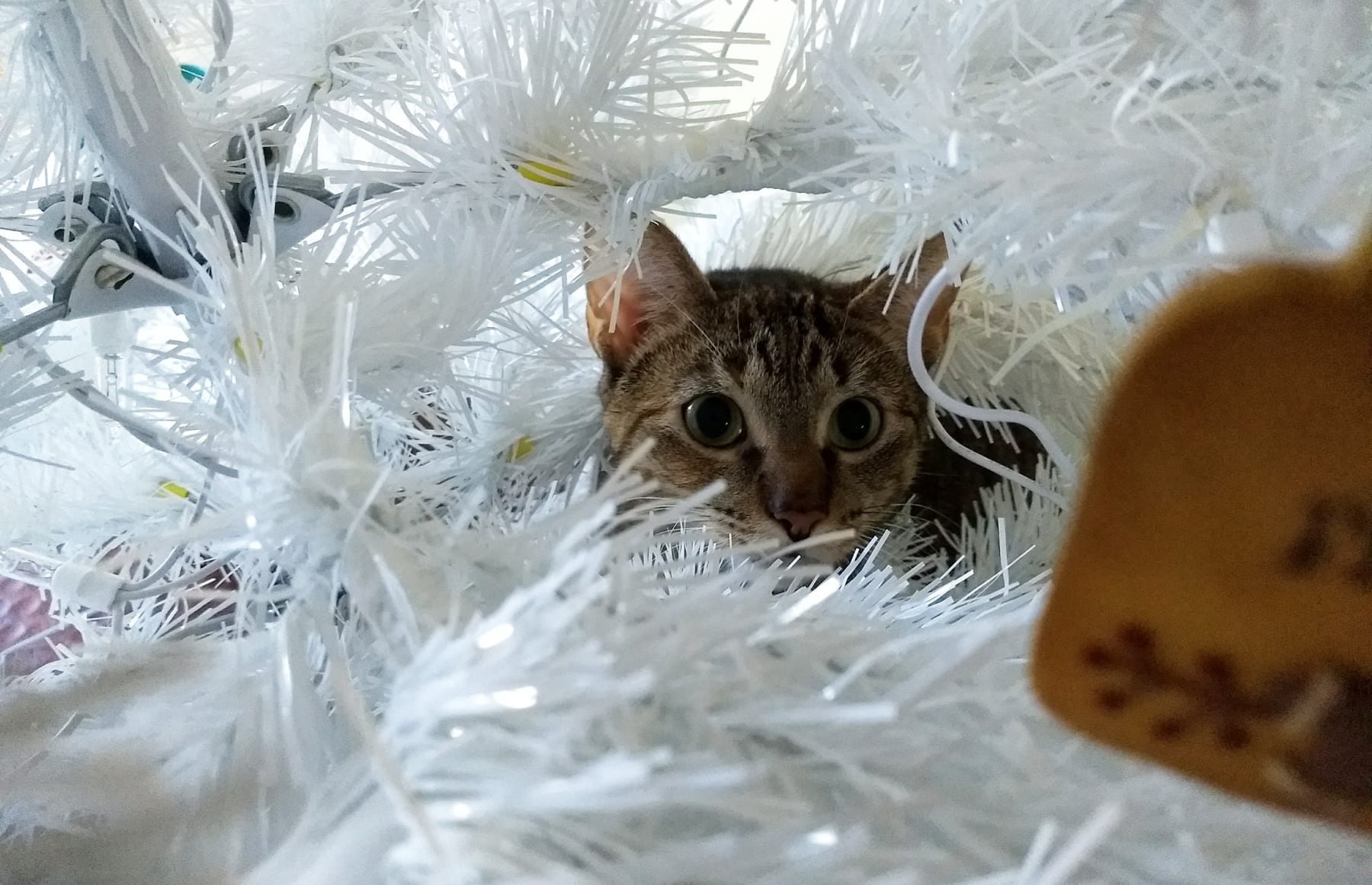 6 Ways to Cat-Proof a Christmas Tree
Keep Your Christmas Tree Stable
A climbing cat or a wagging tail can cause a tree to topple or sway. Make sure the tree is stable in its stand. If possible, keep it near the wall or in a corner.
Try anchoring the Christmas tree to the ceiling or wall using a hook and some string.
"I also recommend anchoring the tree to the ceiling or to the wall with some string and a hook," says Yody Blass, M.A., certified animal behaviorist and owner of Companion Animal Behavior in the Washington, D.C., area. "That way they won't knock the tree over if they do get to it."
Get the Right Size Christmas Tree
The size of the tree affects its stability. Balsam Hill recommends a 5-foot tree for households with pets. A 7-foot tree is more easily toppled. Dogs might be tempted to snatch a small, tabletop tree and run away. (Think the Bumpus dogs in A Christmas Story.)
Branch Out, Up, or Not at All
British company Argos offers a 6-foot "parasol" tree, with a long trunk and the branches clustered at the top. If you're not in the U.K., check out an upside-down Christmas tree. You'll have more room for ornaments out of your cat's reach, and you can go for a Stranger Things feel.
If all else fails, set up a Festivus pole and air your grievances about trying to get a cat-friendly Christmas tree.
Deck the Halls (Without Pets)
Balsam Hill recommends keeping animals in another room while you're decorating, so they don't think you're playing a game.
SEE ALSO: 8 Things You Should NOT Buy Before Christmas
After a few days, pets tend to become less fascinated with the new object. "Most pets will learn to leave the tree alone as they get older and the novelty wears off," Blass says.
In fact, Martha Stewart recommends putting up the tree and then waiting to decorate for three days, so your pet is familiar with the tree (and hopefully bored) by the time you put the ornaments on.
Redirect Your Cat's Attention
If your cat is focused on other objects, then it's not playing with the tree. "Placing a cat tree in the room with the Christmas tree with some dangling cat toys may help to redirect the cat to an appropriate play location," Blass says. Along with standard cat trees, you could go for options like this DIY cat-climbable Christmas tree from Etsy shop Like Kittysville.
Try Cat Repellent
Whenever possible, Kornreich recommends keeping the tree in a room away from the pet — at least when you're not around to supervise.
"The most difficult time is when the animals are young," Blass says. "Kittens, young cats, and puppies are most likely to be curious about the tree and have a hard time leaving it alone."
Blass adds, "It may be necessary to put a gate around the tree to deter the pets from getting to it." While some particularly high-jumping cats won't be put off, dogs might be deterred by a Christmas Tree fence.
Gates, tape, compressed air tools, and balloons can help keep pets away from a Christmas tree.
Putting tape around the tree might discourage cats, who don't like things sticking to their paws, Kornreich says. You can find specific cat-repellent products like Pioneer Pet's Sticky Paws.
Some companies make a compressed air tool with a motion sensor that releases a stream of air to repels cat without harming them, Kornreich notes. However, videos that demonstrate the Ssscat Spray Deterrent in action show the cats jumping pretty high; a startled cat near the tree and decorations could also be a risk.
If you're looking for DIY approaches, ideas from ThriftyFun readers include putting balloons on the tree before decorating (a popped balloon can startle an animal) and putting bells on the lower limbs of the tree to serve as a warning system. Warning: Cats can be most active at night.
Kornreich advises, "The best thing to do in my opinion is to limit access when nobody's there so that they don't get near the tree unsupervised."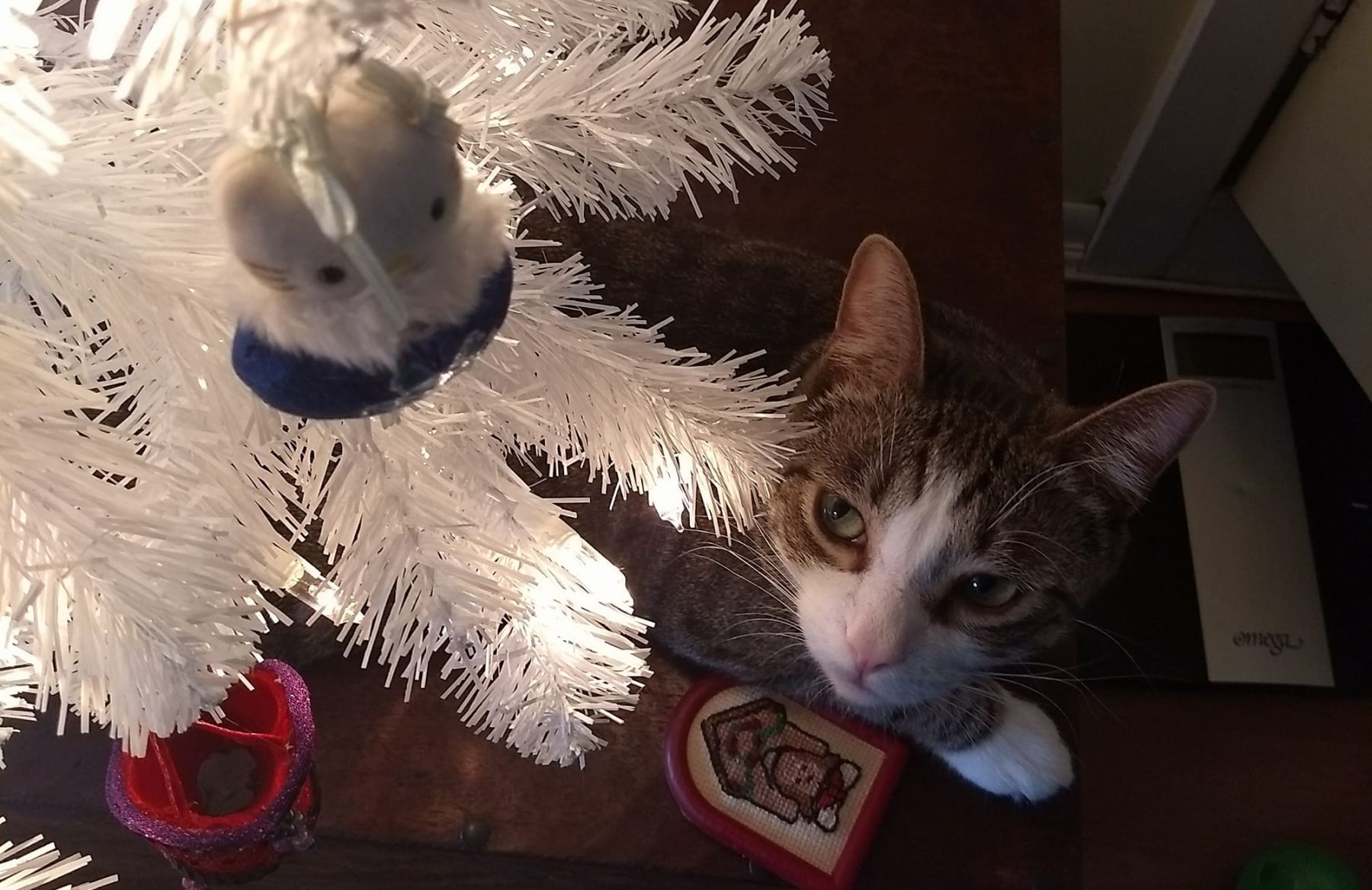 Use Cat-Safe Christmas Decorations
No Tinsel or Garland
Stringy decor is a no-go for pet owners. "Cats are prone to investigate things that are string-like," Kornreich says. Many holiday-related emergencies stem from cats ingesting tinsel, garland, and other linear decor.
SEE ALSO: How Much Does It Cost to Adopt a Pet?
"Avoid using tinsel at all costs," Blass warns. "It is a disaster waiting to happen, as it will end up on the floor and is very dangerous to the pet's intestinal tract if swallowed. Avoid garland, too."
When tinsel or another stringy object wraps around the base of the tongue or sticks in the stomach, it can actually rupture intestines — sawing through the tissue as the animal's bowels move. If you see tinsel or a string sticking out of an animal's behind, don't pull it out; contact your veterinarian instead.
Buy Pet-Safe Ornaments
Keep delicate ornaments toward the top of the tree, away from wagging tails and prying paws. Shattered glass and broken ornament shards can end up cutting paws — or doing worse, if ingested. "Unbreakable/shatterproof ornaments are a must with dogs and cats that are prone to get into trouble," Blass says. "Save your glass ornaments and expensive or sentimental ornaments for when your pet is older and no longer shows interest in the tree."
'Unbreakable/shatterproof ornaments are a must with dogs and cats that are prone to get into trouble.'
Balsam Hill suggests twig or paper decorations as inexpensive ornaments, as well as ornaments made from bronze or silk. Avoid edible ornaments, like strings of popcorn or candy canes.
If you're worried about metal ornament hooks being ingested, form them into circles. Or instead, use knotted loops of string to secure the ornaments. Recycled paper SoftHooks turn soft (hence the name) if they're swallowed.
"Be sure to check all ornaments for any loose parts, strings, feathers, or dangling wires that might tempt cats in particular," Blass says. "Better not to put anything on the tree that is too enticing. Keep ornaments off the lower branches to be on the safe side. You may have an unevenly decorated tree, but you will have safe pets and kids, and that will make it all worth it in the end."
Can Christmas Lights Be Cat-Safe?
Strings of lights can prove irresistible to some cats. "Chewing on a cord can cause electrocution, so make sure to keep cords in a place that are as inaccessible for cats as possible," Kornreich says.
SEE ALSO: 15 Best After Christmas Sales to Shop TODAY
"You can also use cord covers from office supply stores for the end of the cord that is on the floor," Blass says. Other options include taping down the cords or running electrical cords through empty paper towel rolls.
"You can spray the cords with Bitter Apple spray or a diluted hot sauce mixture," Blass says. "Make sure you do this before plugging them in and wait until all the way dry before turning them on."
Some battery-operated holiday lights don't have cords and clip on the tree, with options like white candles, multicolored candles, and snowmen.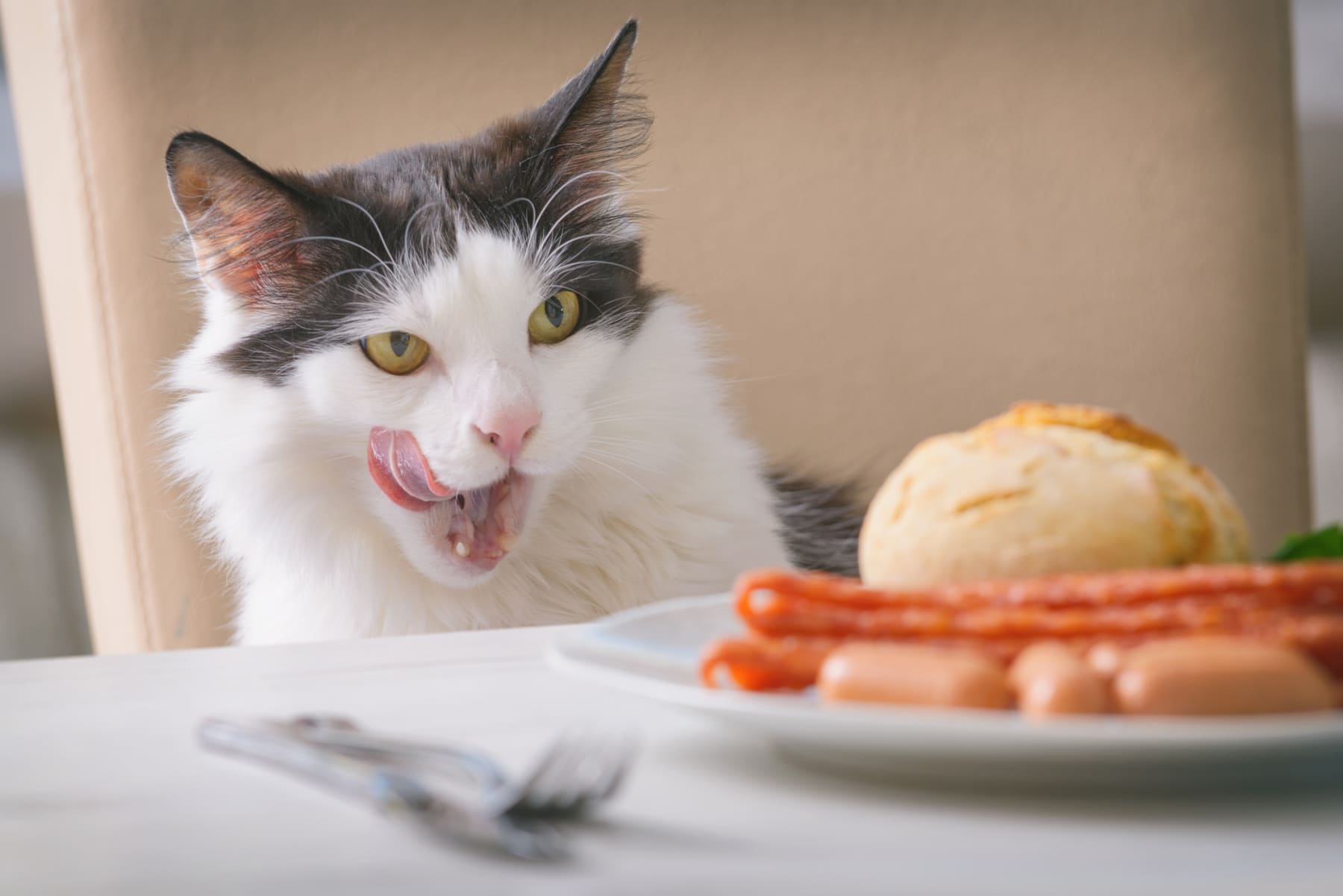 More Holiday Tips for Pet Owners
Keep Calm
We're not the only ones who can become stressed during the holidays. "If you have an anxious pet, the holidays can be stressful, including the changes to the home while decorating," Blass says.
"I recommend using pheromone products made by Adaptil for dogs and Feliway for cats to reduce the stress and encourage good behavior during the holidays. These come in plug-in diffusers, sprays, and the Adaptil for dogs comes in a collar. For cats, I recommend using the spray around the tree daily or add a plug-in near the tree."
Parties can stress cats out, so provide a room or other quiet space where they can retreat.
If you're hosting a party or small gathering, a cat can become stressed. "One really good thing to do is provide a quiet space that they can retreat to, perhaps a room," Kornreich says. "Provide a litter box and food and water that the cat can go to if the cat starts to feel overwhelmed by a lot of people, perhaps people they're not familiar with."
With the arrival of guests and doors opening and closing, a nervous cat might escape. " "Cats can get stuck outside in cold weather and get frostbite," he says. "Make sure cats are microchipped or have some sort of an identification on them (a collar or something like that), so if they do happen to get out, they can be identified and returned home."
Be the Food Police
Maybe the dog licked the smoked duck breast or the cat scarfed down a cheese cube when the party food was left unguarded. Make sure that foods that can be toxic, like garlic and grapes, are not within reach of pets. Another concern, Kornreich says, are foods that can obstruct the GI tract, like a pilfered poultry bone from the garbage.
SEE ALSO: 16 Gifts That Seem Expensive, But Really Aren't
While the holidays do present risks, taking proper precautions can protect animals and their people. To have a safe holiday tree with pets, Kornreich says it comes down to this: "Limit access, provide alternatives that are attractive, and supervise."
Readers, what steps have you taken to keep pets out of your Christmas tree? Let us know in the comments below!
---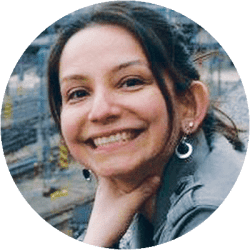 DealNews Contributing Writer
Josie Rubio was a Brooklyn-based freelance editor and writer, who interviewed everyone from Britney Spears to ghost experts during her lengthy journalism career. She visited five continents, and loved to write about travel, food, nutrition, health, gardening... and pretty much everything.

Note: Josie Rubio died on December 3, 2019.
DealNews may be compensated by companies mentioned in this article. Please note that, although prices sometimes fluctuate or expire unexpectedly, all products and deals mentioned in this feature were available at the lowest total price we could find at the time of publication (unless otherwise specified).