From Leg Lamps to Moose Mugs: 10 Things We Want from Great Holiday Movies
Holiday movies are jam-packed with desirable items like leg lamps, mogwais, and more!
Ever watch a holiday movie in which someone is given an awesome gift and you find yourself coveting it (and even better, wanting to score a great deal on it)? It happens to us rather frequently, so we decided to put together this ultimate wish list based solely on items that are only available to people in holiday movies. (Mostly!)
Leg Lamp from A Christmas Story
Price: $139.99 with $35 s&h (a low by $50)
We'd be over the moon to actually receive a full, 1:1 replica of the original movie prop. However, we'd then be faced with the reality of putting a "sexy leg" in our window for all the world to see. We suspect we'd be less like Darren McGavin and more like Melinda Dillon in this respect — that is, embarrassed — but we'd still get a kick out of owning one ... as long as it stayed tucked away in its box, in the attic, away from the judging eyes of neighbors.
Sad Tree from A Charlie Brown Christmas
Price: $7.95 with $6.34 s&h (a low by $2)
Is it weird that we want to own the saddest tree ever captured on film? Essentially, it's a tree that's about to die, right? Yet everyone wants the scrawny/sad version before it's all spruced up. And it's not like we're going to give it the makeover that the Peanuts Gang does, either. Nope, we're going to leave it as is, its potential unfulfilled and looking like a sad twig. Put that way, to own one just sounds cruel.
Candle Hats from The Ref
Yes, they're fire hazards! Yes, they'd drip hot, scalding wax onto your face and anything in the immediate vicinity. But they're super stylish! Isn't the first rule "style before comfort" anyway?
Price: $19.95 with free shipping via Prime (a low by $14)
Even though we've become lactose intolerant, we'd still like to own eggnog mugs. If we had a few of them, we could offer eggnog to our guests and derive vicarious pleasure by watching them drink the forbidden holiday quaff. We'd stare and stare until it became awkward and our guests make their excuses and left. Maybe we should just find a good Soy 'Nog, instead?
Uncle Billy's Raven from It's A Wonderful Life
After being temporary gerbil owners at age 6, we never thought we'd ever want another pet. Enter uncle Billy's raven. You walk around town with a dog on a leash and people think nothing of it. You walk into the DMV with a gigantic raven on your head and people take notice. They'll say, "Who is that man?! Maybe he'd like to get a drink with me!" "SQUAWK!" raven will say. (That's so raven!)
Price: $28.88 with free shipping via Prime a low by $22)
To us, shooting one's eye out seems an acceptable risk if the other side of the coin is getting to go out for Chinese food on Christmas. It's a win/win gift, and we're not sure what all the fuss was about.
Tab from Scrooged
Tab is the only a diet soda we ever thought about putting in our stomachs, but it's totally just a nostalgia thing now. When it was readily available on stores shelves, we never chose Tab over any other soft drink; today it's a forbidden / unavailable fruit, so it's just so appealing. The heart wants what it can't have.
Turbo Man Action Figure from Jingle All The Way
We want one of these guys purely because the movie was so terrible and not many of these dolls were sold; the ones that still exist are rare and valuable! Don't believe us? A quick check of eBay shows that they're going for $200 to $300! Even better, we're pretty sure that these collectibles haven't even hit their peek yet. In about 10 years today's kids will find "Jingle All The Way" nostalgic, and want to spend their disposable income on childhood Christmas memories. So these figurines are a good investment for us older folks now. And that's what wish lists are for, right? Investments in a toy-price speculating future.
An Apartment On Central Park from A Miracle on 34th Street
Price: $60 to $70 million, according to StreetEasy
In the opening scenes of this holiday classic, a precocious little girl is watching the parade go by right outside of her apartment's window. Sure, when we were young we could just as easily watch the parade ... if we got up at 5 am, got bundled up in our warmest clothes, drove an hour into the city, looked for parking for twice as long, walked a couple of miles to the parade route, then stood in the freezing freezing cold behind other miserable people would wouldn't move aside to let a child see. Even though our childhood experiences were so similar to those in this movie, we think we'd still rather have an apartment on the park. Plus, such a home isn't great for just one day of the year (like many gifts), it's the gift that keeps on giving! (You have a place to live ... on the park!)
A Mogwai from Gremlins
After recently watching Blackfish, we're pretty certain that keeping an animal — especially one with indisputable emotions and feelings — in captivity is cruel and a terrible thing to do. That said, just look at how cute Gizmo is! Wouldn't you want a semi-sentient species to put a Santa hat on and teach how to play keyboards (possibly for your Peter Gabriel cover band?!) Plus, wouldn't such a creature be better off with us than with someone else who wouldn't know The Rules?! ... We suppose that's exactly the kind of hubris that eventually got old woman Deagle launched out of her window.
There's plenty more awesome Christmas movie memorabilia in existence, but we thought for sanity's sake (yours and your perception of ours) we'd stop here. What about you, wish-listing readers? Is there anything you've seen in movies that you'd have loved to unwrap as a gift? Let us know in the comments below!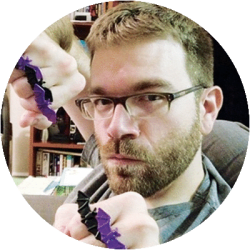 DealNews Contributing Writer
Jeff Somogyi is constantly trying to come up with ways to surprise and delight audiences the world over. He takes humor seriously ... too seriously. (Honestly, we've never seen him laugh ... it's kinda creepy.)
DealNews may be compensated by companies mentioned in this article. Please note that, although prices sometimes fluctuate or expire unexpectedly, all products and deals mentioned in this feature were available at the lowest total price we could find at the time of publication (unless otherwise specified).