The 9 Best Things to Buy in February (Including Presidents' Day Sales!)
Valentine's Day and Presidents' Day are big shopping opportunities, but the month offers deals on everything from TVs to winter clothing.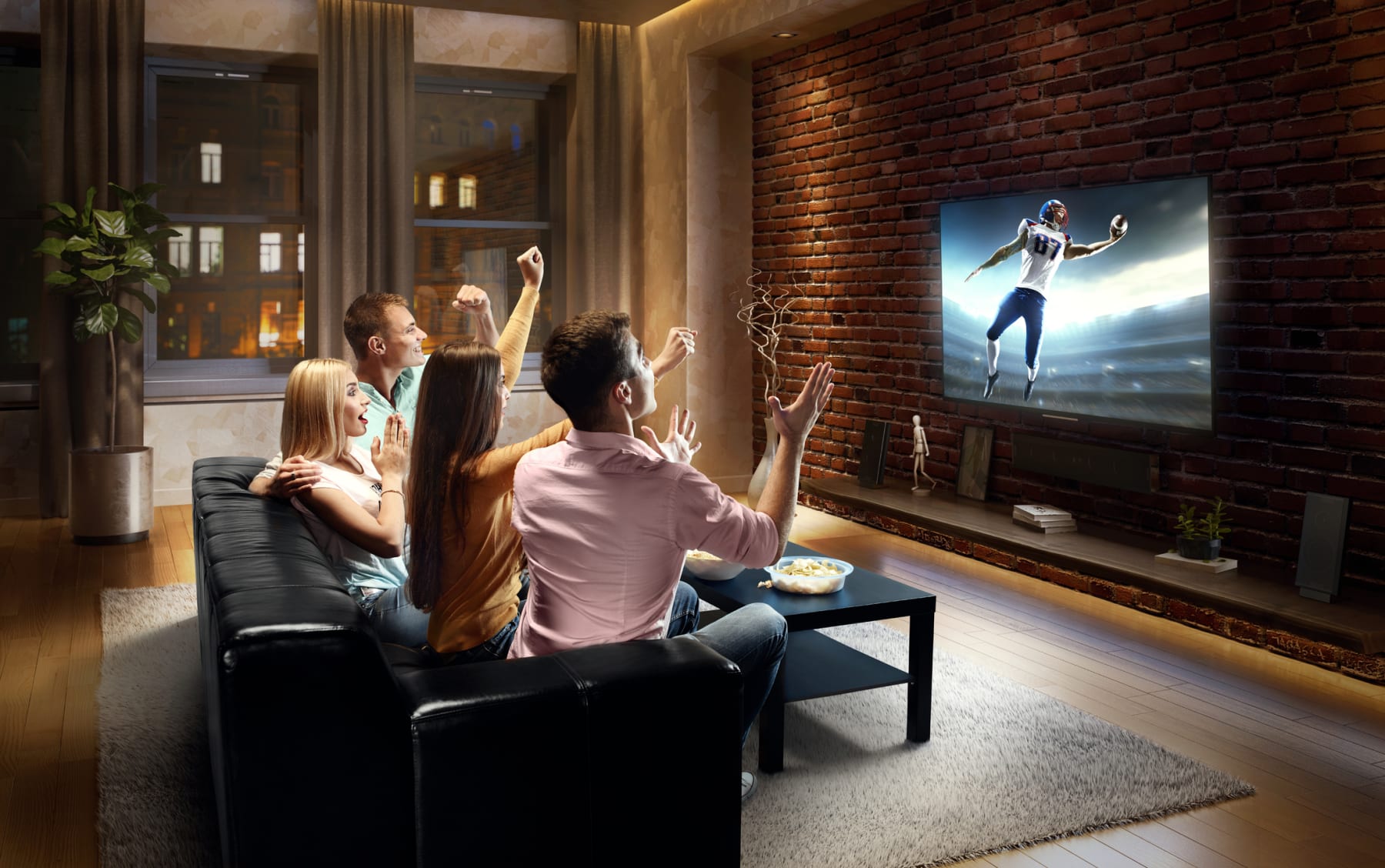 By the time February rolls around, winter is well and truly here, and most people probably aren't thinking about shopping outside of necessities. And if they are, they might not be expecting to find any real deals. But there are a couple of big opportunities to shop and save in February, as well as items that generally see discounts around this time of year.
Check out our guide on what to buy in February below, but don't miss the items to avoid, as well. Those will be on sale later in the year, so it's best to hold off for now.
Top Offers to Shop in February
Auntie Anne's: Rewards members can get a free original pretzel with purchase of Mini Pretzel Dogs and a drink through April 30.
Carvel: Looking for something sweet? Order a $25 Carvel gift card online and receive a $5 reward card. This offer is good through February 21, and bonus cards can be redeemed through February 28.
Cinnabon: There are a few great deals to shop at the cinnamon roll chain this month, including a special bundle that includes two Classic Rolls and two Cold Brew coffees for just $15. This one is valid through March 1. Additionally, get free delivery on any order placed through the Cinnabon app through February 19.

Be sure to become a Rewards member, too, as you'll receive double points on CinnaPacks through April 3.
The 9 Best Things to Buy in February
Our infographic shows five of the top things to buy in February. Below it, you can learn more about the February sales and deals to keep an eye out for.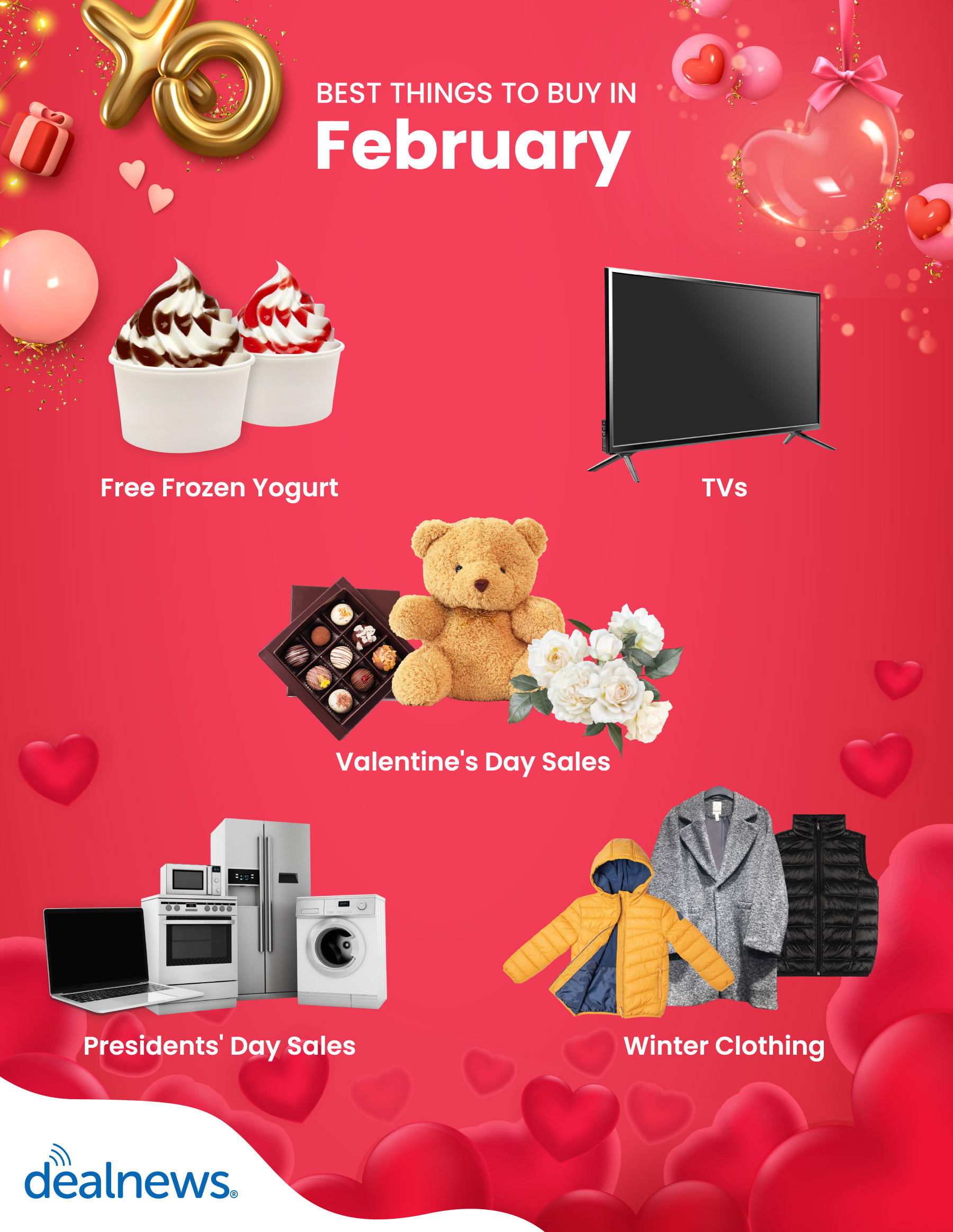 1. Free Froyo
National Frozen Yogurt Day was on February 6, and yes, that's during the middle of winter. But free froyo is still free froyo. While the day has passed for 2023, keep an eye out for "buy one, get one" promotions or even outright freebies next year. For example, this year TCBY was offering customers up to 6 ounces of free frozen yogurt at participating locations to celebrate the day. We recommend following your favorite brands on social media or signing up for emails to stay on top of special offers without having to worry about missing out.
2. Big Screens for the Big Game
When is the best time to buy a TV? Well, it's not February — we usually see a bigger selection of deals during Black Friday — but February also isn't the worst time to pick up a new big screen. And some people do take the opportunity to buy a TV this time of year. We recently conducted a poll asking DealNews users if they were going to buy a new TV for the Super Bowl, and 16% of the 213 respondents said they would be getting a new TV for the game or have done so before.
Super Bowl TV sales in February might not live up to the deals we see around Black Friday, but they're still worth checking out.
We tend to see some decent offers in February ahead of the Super Bowl, but there's usually a smaller pool of options compared to November. That said, we still saw 62 noteworthy deals on TVs in February 2022, with about 19% of them being good enough to qualify for our Staff Pick designation. Some of the best savings we saw were for Amazon Fire TVs. For instance, we listed a 50" set bundled with a free Echo Dot for just $320 and a 55" Fire TV with a free Echo Dot going for $350.
If you aren't concerned about brands, know we also saw a Westinghouse 70" set from Target last February for $385, which was an incredible deal. (You can learn more about how to buy a TV at Target here.) We saw a Hisense 65" set for $600, too. So there are definitely options if you want a bigger set without having to spend at least $1,000.
3. Valentine's Day Sales
February is known for being the month of Valentine's Day and consequently, for having at least some Valentine's Day sales. Though early promotions show up in January, a decent amount can pop up through February 13. We've seen stores like Amazon offer discounted candy in the days leading up to the holiday, like a variety of treats for up to 32% off.
SEE ALSO: Your Guide to All the Holiday Sales in 2023
Interested in something sparkly? At least a few stores tend to also offer jewelry on sale, such as JCPenney; it knocked 35% to 60% off during the first couple of days of the month last year. However, know that discounts for the more traditional gifts can get more modest the closer the holiday draws, so it's good to shop early if you're wanting these kinds of items.
4. Singles Awareness Day and Valentine's Clearance Items
Singles Awareness Day is also known as Singles Appreciation Day, and it's basically the counterpart to Valentine's Day. It's also a great excuse to treat yourself, and since it falls on February 15, that opens up the possibilities of doing so without breaking the bank. That's right, why not treat yourself to Valentine's Day clearance items? No partner to buy you chocolate? Buy it for yourself for at least half off on Singles Awareness Day!
Obviously, you don't have to be single to take advantage of these February sales, and any store that has Valentine's Day items on its shelves almost assuredly offers deep discounts on February 15. The savings may get better over time, but don't wait too long to shop. The selection will dwindle quickly, and the last thing you want is to be stuck with the gross candy no one else wanted.
5. Presidents' Day Sales
Hands down, the other big shopping opportunity in February is Presidents' Day sales. This year the holiday falls on February 20, and it'll be an excellent chance to save on some big-ticket items, including computers, major appliances, furniture, and mattresses. But it'll also be a good time to save on smaller items, as well. These may range from clothing and small kitchen appliances to a range of electronics, including accessories.
6. Winter Clothing
While February is still in the midst of winter, many retailers start trying to clear the racks during the month to make room for spring apparel. Because of that, we should see decent discounts on winter clothing, some of which should be part of the Presidents' Day sales.
In general, though, watch for outerwear offers like the following:
Vests for as little as $13
Jackets from between $15 and $20
Coats starting around $24
We should also see at least a handful of February deals on jeans, with prices starting around $10; some stores may have "buy one, get one free" promotions, too. Lounge pants will likely be priced from $13 or so, while casual pants will probably start around $20. Don't count on a ton of sweaters being on sale, but the ones that are could see serious savings. For example, last year we saw them drop to as little as $5. Sweatshirts and hoodies should also see low prices, with the former dropping as low as $3 and the latter being priced from around $12.
7. Seasonal Produce
With food costs rising due to issues like product shortages and inflation, it's more important than ever to save money on groceries where you can. Shopping for seasonal produce is a good way to do that, and February has a nice variety of items to choose from. Look for veggies like broccoli, Brussels sprouts, cabbage, cauliflower, kale, leeks, parsnips, rutabagas, and turnips and for fruits like grapefruit, lemons, oranges, and tangelos to all be in season this month.
Spring apparel is just hitting the shelves, but if you're looking for cozy winter clothes in February, you'll likely find deep discounts.
Curious about what's native to your area? Check out this seasonal food guide to find out what produce is in season near you.
8. Outdoor Items (Maybe)
There's a chance that home retailers will include patio furniture in their Presidents' Day sales, but there's no guarantee those items will see notable discounts. Even so, if you're in the market for a new wicker dining set or a grill, it's good to check out the sales in case you find a hidden gem. Watch for BBQGuys to once again offer up to 50% off during its Presidents' Day sale, while Walmart and Home Depot will likely include patio furniture in their own savings events.
9. Humidifiers (Maybe)
If you're searching for ways to warm up your home this winter without actually having to, you know, blast the heat, then a humidifier may be the way to go. Many home experts give using a humidifier as one of their top tips for making a residence feel warmer during the colder months. As an added benefit, the increased humidity also means you cut down on the buildup of static electricity, so you can touch metal objects without having to worry about a nasty shock.
SEE ALSO: Presidents' Day Sales for 2023 Are Live! Here's What to Expect
There's no guarantee we'll see humidifiers on sale during February, since they do see bigger demand during winter than at other times of year. But there's a chance we could as department and home stores try to make room for spring items. Keep an eye out for modest discounts on these home appliances, especially in Presidents' Day sales from department stores like Macy's and JCPenney, as well as home improvement stores like Home Depot, Lowe's, and Ace Hardware.
What NOT to Buy in February
| Item | When to Buy | Why? |
| --- | --- | --- |
| Luggage | March | Whether it's related to spring break vacations or something else, luggage often goes on sale during March. So wait to buy until then, when we should see sales from department stores as well as brands like Samsonite. |
| Spring Clothing | April or May | Spring apparel is just starting to hit shelves, so it'll probably be several weeks before we see any kind of discounts. |
| Android Phones | July or November | Some of the bigger flagship phones should be coming out in the first six months of the year, while others will be announced as late as October. Because of that, Prime Day in July or Black Friday in November will likely have the best deals. |
Ready to shop? Check out the best deals available right now!
---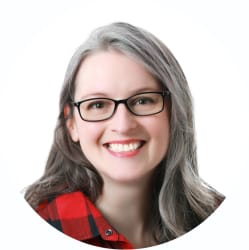 Senior Staff Writer/Consumer Analyst
Julie's work has been featured on CNBC, GoBankingRates, Kiplinger, Marketwatch, Money, The New York Times, Real Simple, US News, WaPo, WSJ, Yahoo!, and more. She's extolled the virtues of DealNews in interviews with Cheddar TV, GMA, various podcasts, and affiliates across the United States, plus one in Canada.
DealNews may be compensated by companies mentioned in this article. Please note that, although prices sometimes fluctuate or expire unexpectedly, all products and deals mentioned in this feature were available at the lowest total price we could find at the time of publication (unless otherwise specified).