The 12 Best Things to Buy in April (Plus 7 Things to Skip)
Spring apparel will start to see discounts this month, but it'll also be a good time to shop home improvement supplies and outdoor items like gardening gear.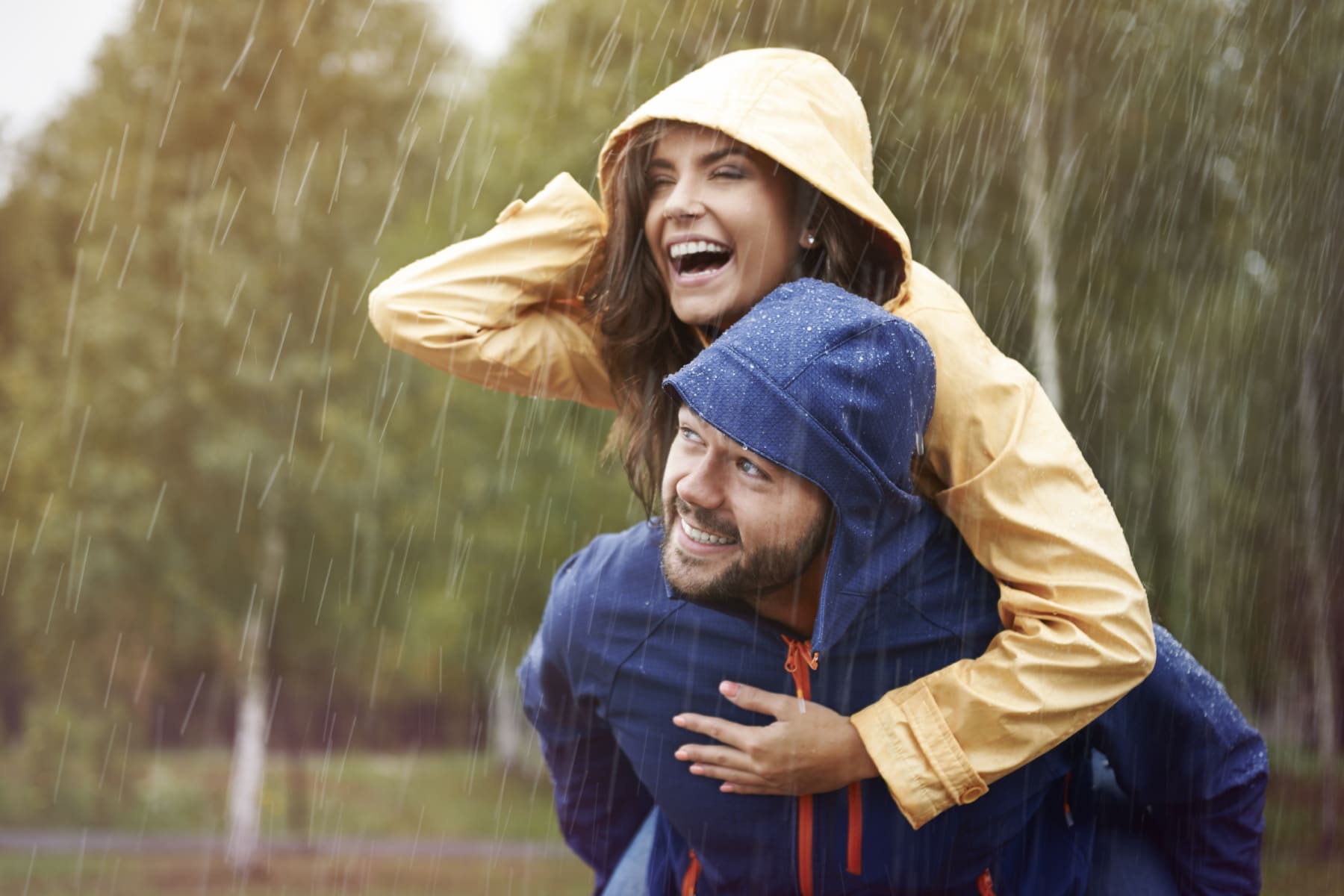 April may not seem like a big month for shopping, but plenty of categories boast good deals. Some of them are more practical, so if you're looking for fun and frivolous products, you may have to dig a little more.
We're here to make the process easier, though, with our guide on what to buy in April. We also go over some categories that could be winners, and several you should hold off on until later.
Top Offers to Shop in April
Cinnabon: To celebrate 20 years since the release of How to Lose a Guy in 10 Days, the chain is offering a "Frost Yourself" deal. Get two Classic Rolls and two new Refresher drinks starting at just $15 when you order online or through the app. This deal is valid through May 31.

Cinnabon is also offering a special gift card promotion for its Rewards members. Buy $25 in gift cards and you'll receive a $5 reward card with this offer, which runs through June 18.
IHOP: Here's another gift card promotion perfect for all the big occasions coming up. Buy a $25 gift card and receive a $5 bonus card. This offer is valid through July 9 and the bonus card can be used on future visits through August 20.
Krispy Kreme: Treat yourself on Tax Day with free donuts! Buy any assorted or original glazed dozen, and get a second original glazed dozen for just the cost of sales tax. This deal is valid only on April 18.

Additionally, every Saturday and Sunday starting on April 15, you can buy a dozen donuts and get a second original glazed dozen for just $2.
Noodles & Company: Rewards members can dine at the restaurant on Sundays in April and enjoy 20% off all regular sized entrees.

Want to celebrate Earth Day? The restaurant is offering an Earth Week deal in which rewards members can purchase protein add-ons for just 450 points. These include Impossible chicken, shrimp, or tofu, and this deal is good April 17 through April 23.
Red Lobster: Shrimp lovers can indulge for a few days thanks to Red Lobster. The Ultimate Endless Shrimp for $20 will allow guests to choose from things like Garlic Shrimp Scampi, Parrot Isle Jumbo Coconut Shrimp, Shrimp Linguini Alfredo, Walt's Favorite Shrimp, and Grilled Shrimp Skewer. You'll start with two shrimp dishes, and once those are gone, you can order one at a time to get your endless shrimp fix. This is valid April 20 through April 23.
Smashburger: Visit the restaurant on April 20 to get four burgers for just $20. It's only valid for 420, so be ready to take advantage of this deal before it's gone.
The Cheesecake Factory: Order online for this offer and take $10.40 off orders of $50 through The Cheesecake Factory website or DoorDash via the code "TAXDAY1040". This offer is valid April 17 through April 21, so you can ease the stress of taxes with discounted takeout before, during, and after the process.
The 12 Best Things to Buy in April
Our infographic shows five of the top things to buy in April. Check it out, then read about all the April sales and deals to watch for.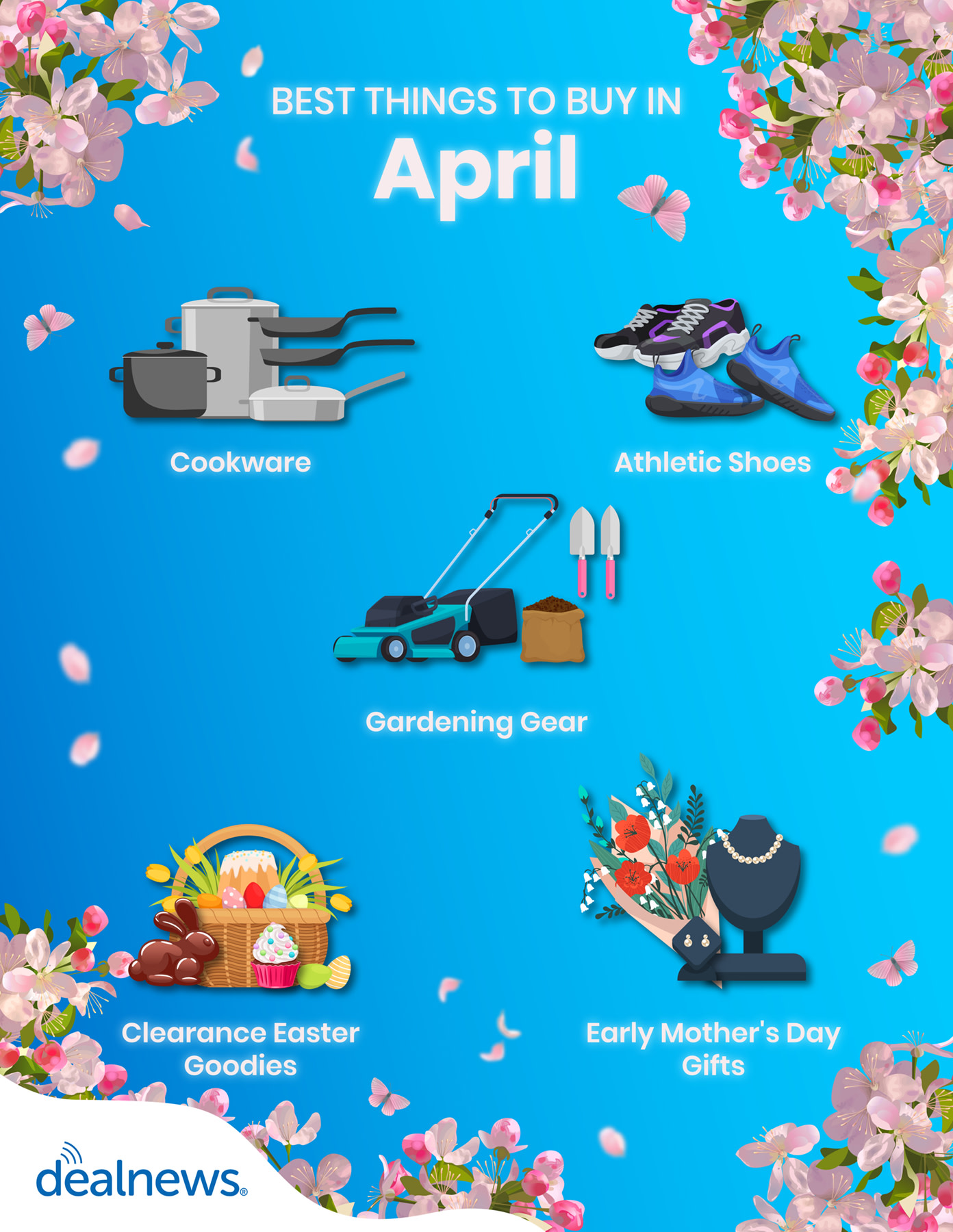 Cookware
Chances are, the reason we tend to see cookware deals in April is because of graduation and wedding season being right around the corner. But whether you need to gift someone else or just need to upgrade your own collection, expect a decent number of offers to shop.
Thanks to the upcoming graduation and wedding seasons, April is a great month to shop for new cookware pieces and sets.
Last April, about 33% of all the cookware deals we listed were Staff Pick-worthy — our term for the "best of the best" deals we see. For instance, we saw an 8" nonstick aluminum fry pan for just $3 at Bed Bath & Beyond and a Winware sheet pan for $9 at Amazon.
Also watch for big April sales from retailers like Sur La Table. Last year they knocked up to 70% off in their cookware event at the beginning of April, and then a couple of weeks later offered up to 50% off once again. It's also a good time to watch for an All-Clad VIP Factory Seconds sale, as that event took up to 74% off last year.
Athletic Shoes
Whether it's due to new items being released or a renewed interest in getting outdoors and exercising more as the weather warms up, April is a good time to look for athletic shoes. Last year, we saw men's and women's athletic shoes for as little as $15.
You should be able to take advantage of several shoe sales, as well. Last year adidas offered a "buy one pair, get a second pair for 50% off" deal, plus several pairs under $100 each and other discounts that took as much as 50% off. But this wasn't the only athletic brand to provide significant savings. We also saw Nike take up to 40% off, and up to 46% off Jordans and up to 47% off Air Max shoes, specifically.
SEE ALSO: The Best Adidas Workout Clothes You Need (Plus Ways to Save)
Reebok, meanwhile, had a few sales we came across in April 2022. One was the April Fools Flash Sale, which knocked up to 50% off. Another was the Reebok Mid Season Sale, and that cut an extra 50% off sale items and up to 40% off everything else.
Even if you don't see your favorite brand having a sale, that doesn't mean discounts won't be available. Look to stores like Shoebacca, which had brand-specific promotions last year that included the following:
Up to 80% off PUMA
Up to 60% off New Balance
Up to 62% off adidas
eBay also offered up brand-specific promotions during the month, including up to 70% off PUMA and ASICS, an extra 25% off $30 purchases of adidas, and ASICS men's running shoes from just $34.
Air Conditioners
March sometimes has a handful of air conditioner deals worth shopping. If you didn't see one you liked in March, April may be the time to check again. In April 2022, we only listed a handful of deals on these products, but if you needed a window or portable unit, they were worth a glance. We saw a 5,000-BTU window unit for as little as $120, while a portable 15,000-BTU air conditioner dropped to $320. Watch for Woot, Amazon, and eBay to have solid deals on these items.
Spring Apparel
We'll likely see a fair amount of clothing sales in April, but many may not indicate they're centered on spring apparel. Instead, it's a good idea to keep an eye out for general sales. For example, last year we saw a PUMA sale that took up to 70% off more than 900 items, while J.Crew Factory knocked an extra 70% off clearance products.
Expect PUMA, J.Crew Factory, and Maurices to offer notable clothing sales in April.
Other notable sales included up to 60% off plus an extra 30% off $40 purchases of adidas outlet items at eBay; up to 70% off in the Maurices clearance sale; and 70%-85% off clearance items at 6pm. These were all Staff Pick sales, but we saw plenty of other offers, as well. In fact, we listed more than 900 deals for clothing and accessories last April, with roughly 19% earning that "best of the best" badge.
Gardening Gear
April brings springlike temperatures to many areas, and that means people get strong urges to go outside and enjoy the weather. Last year we listed more than 350 deals on gardening items in April, with about 14% of those earning our Staff Pick badge. Notable offers included free wildflower seeds, as well as hardwood mulch and all-purpose garden soil for just $2 each.
If you need tools to manage your garden, know that those should go on sale, too. For example, you may be able to score hand trowels for just $3. We could also see the following garden tool deals return this year:
Curved blade hand pruner for $5
Hand cultivator for $10
Nonstick micro-tip pruning snips for $12
We also saw offers for power tools last April, like a certified refurbished electric blower for $14, a refurbished 3-in-1 electric blower/mulcher/vacuum for $28, and a corded electric hedge trimmer for $35.

If none of these appeal to you, keep an eye out for sales. Last year we saw refurbished and certified refurbished outdoor power equipment at eBay for up to 70% off, Worx garden and power tools at Amazon for up to 40% off, new and refurbished lawn mowers at Woot for up to 45% off, and outdoor power equipment at Home Depot for up to $30 off. We also saw over 200 items on sale at Northern Tool during its Spring into Action Event, and free assembly and delivery on lawn mowers over $399 at Ace Hardware. That last offer was for members of Ace's loyalty program.
Home Improvement Supplies
With the weather warming up, many homeowners will be ready to tackle DIY projects around the house, and fortunately we should see at least some deals to help with that. For example, last year we saw gutter guard on sale for as little as 97 cents for a 20' roll, a tool for removing plumbing fittings for around $2, and quart-sized tubs of spackle for just $7.
Other notable home improvement offers included 25' of indoor electrical copper wire for $16, a touchscreen 7-day programmable thermostat for $28, and a sliding bathtub shower door for $182. While these were all Staff Pick offers, they're just a handful of the savings we saw during that time.
General sales were worth checking out, too. Among them were promotions taking up to 57% off home improvement deals at Amazon, 40% off at Blinds.com during its Woven Wood Event, 10% off ladders for members at Ace Hardware, and up to 64% off Moen bathroom and kitchen fixtures at Amazon. Plus, contractor deals of up to 60% off were available at Groupon.
Clearance Easter Goodies
Another big event in April (some years anyway) is Easter, which falls on April 9 this year. That means that come April 10, you'll have a bevy of clearance Easter goodies to shop. While we see Easter sales before the holiday itself, the day after is when you can expect to pick up holiday-themed goodies at significant discounts.
SEE ALSO: Easter Sales for 2023 Are Live! Here's What to Expect
Watch for initial savings to amount to 50% off or so at Target, though waiting a few days could mean discounts up to 70% off or more. That said, if you wait too long the good stuff — like Reese's Eggs — will be gone, and you may find yourself left with off-brand jelly beans.
Secondhand Treasures
As spring is officially underway this month, that can mean more people embracing decluttering as part of their spring cleaning routine. Those items have to go somewhere, and while some people may throw them out, others prefer to donate things that could still be of use. Thrift stores and consignment shops tend to see an increase in donations this time of year, so consider checking out the selection at your local store before opting to buy a brand-new, more expensive item.
Early Mother's Day Gifts
Mother's Day falls on May 14 in 2023. but that doesn't mean you should wait until next month to do your shopping. Plenty of sales will start in April, and shopping early will mean less pressure to buy the first suitable gift you find.
Make your mom proud and do your Mother's Day shopping in April, well ahead of the holiday.
Expect Mother's Day deals on traditional gifts like flowers and plants, such as peace lilies for $19 or Guzmania bromeliads for $28. April is also a good time to watch for sales from 1-800-Flowers, as the earlier deals will likely be better. Last April, we saw bestsellers for Mother's Day from just $25, but the retailer also had other flowers and gifts for up to 40% off.
Looking for jewelry? We expect to see plenty of offers for shiny baubles for Mom, too. Watch for Ashford to take an extra 8% off, including sale styles, while Zales and Blue Nile could both take up to 50% off in their sales.
Rainy Day Gear
If April showers bring May flowers in your area, you may want to consider stocking up on rainy day gear this month. We could see basic rain jackets for as little as $20, but even nicer options from brands like Kenneth Cole could drop to the same low price. Deals on brands like Lacoste could also return this year. Last April, we saw a water-resistant windbreaker for $63 at Macy's, while rugged options made by The North Face, like a Triclimate jacket, could be as low as $87 again. If you enjoy more outdoorsy products, consider watching for Sierra to bring back its clearance sale, which could take up to 75% off again.
Sustainable Products
April tends to have a big focus on sustainability because of the Arbor Day and Earth Day holidays. But the entire month is also known as Earth Month. This means companies will probably give out eco-friendly freebies, such as Air Wick offering free wildflower seeds last year. And Target will likely highlight the sustainable products they carry every day to make it easy for shoppers to find other eco-friendly brands, as well.
SEE ALSO: How to Save During the Spring Deal Drought in March and April
If you're shopping online, consider checking out eco-conscious brands like LastObject — this author loves the reusable LastSwab Beauty Trio Pro and LastRound Pro for her makeup routine. Brands like Papaya, which makes reusable paper towels, and Stojo, which makes collapsible reusable containers, also come highly recommended by other eco-conscious shoppers.
And Hyggelight offers a product that pulls a double whammy. Their Growing Candle is made to be petroleum-free, with cotton wicks and nontoxic fragrance oils. What's cool is that once you burn the candle down, you can then clean out the container and use it to plant the label from your candle, which is embedded with wildflower seeds.
Seasonal Produce
Grocery prices are still causing many households to feel the pinch in their wallets, but one way to save is by shopping in-season produce. For April, that means looking for veggies like artichokes, asparagus, broccoli, cauliflower, leeks, lettuce, mushrooms, radishes, rhubarb, and spring peas to be at their peak freshness. And if you're looking for fruits, keep an eye out for pineapples this month, as they should be more affordable and sweeter than at other times of year.
Curious about what's in season in your area? This Seasonal Food Guide page is a good place to start. You can choose your state, month, and even specific types of produce to find what should be best locally.
9 Items to Consider Buying in April
Eggs
As Easter falls during April, there's a good chance we could see grocery stores offering extra savings on eggs in the lead-up to the holiday. But that might not be the case this year. In fact, we've already noticed some prices creeping back up after the recent relief from sky-high costs. Recently, two dozen eggs at Costco could go for around $5.89, but at the time of publication, we saw them for around $7. That's still not as high as they have been during the egg shortage, but it is a bit concerning.
Look for lower prices on eggs and ham ahead of the Easter holiday.
If you're shopping smaller grocery stores, know that prices at the time of writing could range from $2.49 for a dozen large eggs to $4.41 depending on the store. Since dyeing eggs is a big Easter tradition for many, that'll increase the demand for them. Coming off the shortage due to the avian flu outbreak, there's a chance prices won't dip this year, as retailers may try to prevent supply problems. Still, it's worth checking your local ads as the holiday grows closer.
Ham
Ham is another quintessential Easter item for many families, as it's the centerpiece of their holiday lunch. The good news is that grocery stores will almost certainly have discounted spiral-sliced hams as well as country hams ahead of the holiday. Watch for Honey Baked Ham to offer some kind of promotion to celebrate, as well.
Baking Supplies
Along with ham and eggs, Easter is a popular holiday for baking, as well. While it might not be as big as winter holidays, we'll still likely see mixes for cakes, brownies, and even muffins on sale. Watch for shredded coconut to be on sale, too, as that tends to be popular for Easter desserts. Baking mixes and refrigerated cookie dough will likely end up as part of "buy one, get one" promotions or "two for" offers, with prices varying based on the type and store you're shopping.
Vacuums
If you missed out on vacuum deals in March, the good news is that April is another month to shop around for these household appliances. Watch for certified refurbished robot vacuums to drop to just $76 on eBay, while new Shark robot models could go for $140 or so on Amazon. If you're looking for a more traditional vacuum setup, know that the Shark Rocket cordless pet stick could be as little as $120 again this year. And if you want a Dyson, watch for offers on those, too.
SEE ALSO: The Best Things to Buy Every Month of the Year in 2023
Last April, we saw a certified refurbished Dyson V8 Animal+ for $246, and a new Dyson V7 Absolute cordless model dropped to $250 at eBay while going for the full $400 elsewhere. In fact, eBay may be your best bet overall, as that month they offered 20% off Dyson products, up to 30% off the Dyson outlet, and up to 60% off certified refurbished cleaning equipment.
It won't be just eBay offering up sales, though. We also saw sales from iRobot last year that took up to $500 off, and appliances and floorcare discounts at Home Depot knocking up to $225 off.
Beauty and Skin Care Products
Colors and scents tend to change with the seasons, so in April some beauty brands may be adjusting their lineup to prep for summer. That could mean spring palettes and fragrances will go on sale this month, but with people looking ahead to summer, we could see some skin care items on sale, as well.
Online retailer eBay could shine once again here, as last April it knocked up to 80% off a variety of fragrances, while Bath & Body Works offered 40% off everything, plus an extra 10% off and free shipping on $50. Not only was that an excellent discount in general, but the retailer doesn't always have free shipping, so even with the minimum purchase required, it was well worth shopping and good enough to earn our Staff Pick badge. The retailer also had a "buy three, get three free" event that provided another great opportunity to stock up.
Sales on skin care will come from brands like Elemis, which took 20% off sitewide last April, while Kiehl's took 25% off in an early Mother's Day sale. Watch for Amazon to provide a "buy one, get one 50% off" promotion for skin care again, and Ulta will likely have another Spring Haul sale that takes up to 50% off.
Earth Day Sales
We don't usually see a ton of retailers hosting Earth Day sales, but at least a few tend to do so. In April 2022, eBay offered up to 70% off select items for its Earth Month refurb home and garden sale, while Blinds.com took up to 45% off in its Earth Day sale, and Ecco took 30% off to celebrate. Even Steam got in the spirit by offering up to 90% off games with environmental, adventure, and postapocalyptic themes.
Car Maintenance Items
April is National Car Care Month, so it may be a good opportunity to pick up maintenance items for your vehicle. For example, look for oil filters to be just $4, while quart bottles of oil could also drop to $4 or $5 each.
It'll also be a good time to look for items to care for the interior of your car. Last year we saw a leather and vinyl repair kit for $10, and an Armor All 5-piece complete car care gift pack for just $12. Watch for an 8-pack of microfiber applicators to go for $9 and a 2-pack of Armor All microfiber car wash mitts to go for $14 at stores like Amazon.
Last-Minute Travel
If you have flexibility and are wanting to take a trip, watch for some last-minute travel offers in April. For example, watch for 3-night Bahamas cruises for as little as $318 for two, or four nights on a Caribbean and Bahamas cruise from $338 for two. Check for specials from amusement parks, too, like ones that let you buy three days at Universal Orlando Resort and get two more days free.
SEE ALSO: Ask an Expert: How Can I Get Last-Minute Spring Break Deals?
Jewelry
While early Mother's Day sales will offer savings on jewelry, they won't be your only opportunity to find deals. There's a good chance we could see Swarovski crystal earring and pendant sets for $15 or a pearl necklace with pink overtones for $40. Macy's could also have another diamond sale. Last year, it took between 30% and 70% off, plus an extra 20% off select pieces.
And 7 Things to Skip in April
| Item | When to Buy | Why? |
| --- | --- | --- |
| Mattresses | May, July, September | Mattresses tend to go on sale around big holidays like Memorial Day, the 4th of July, and Labor Day, so if you can hold off until one of those to do your shopping, you'll find much better deals. |
| Major Appliances | May, July, September | This is another category that tends to see big discounts around Memorial Day, the 4th of July, and Labor Day, though Black Friday typically has notable offers, as well. Hold off until one of the big holidays to do your shopping unless you really need an appliance now. |
| Summer Essentials | July, August, September | Summer essentials like pool items, patio furniture, and outdoor games are just going to be hitting shelves this month, so expect them to be at full price. If you're looking for discounts, you're better off waiting for summer to start winding down. |
| Summer Clothing | July, August, September | Summer clothing like swimwear is just hitting the shelves, so we won't see any real discounts on these items until 4th of July sales at the earliest. |
| TVs and Electronics | July, August, Black Friday | Black Friday is still largely the best time to shop electronics, but the 4th of July and Back to School sales could have a selection of offers worth checking out. |
| Grills | September or October | These will be in high demand for the next few months, and while some deals will pop up, overall it'll be better to buy in September or later when the demand is lower. |
| Small Kitchen Appliances | Black Friday | While we may see deals on small kitchen appliances around big shopping holidays like Memorial Day and the 4th of July, the deals around Black Friday just seem to be better overall. |
Ready to shop? Check out the best deals available right now, and follow us on Facebook and Instagram for more great ways to save.
---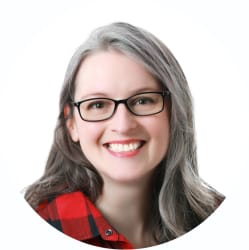 Senior Staff Writer/Consumer Analyst
Julie's work has been featured on CNBC, GoBankingRates, Kiplinger, Marketwatch, Money, The New York Times, Real Simple, US News, WaPo, WSJ, Yahoo!, and more. She's extolled the virtues of DealNews in interviews with Cheddar TV, GMA, various podcasts, and affiliates across the United States, plus one in Canada.
DealNews may be compensated by companies mentioned in this article. Please note that, although prices sometimes fluctuate or expire unexpectedly, all products and deals mentioned in this feature were available at the lowest total price we could find at the time of publication (unless otherwise specified).