The 12 Best Things to Buy in January (Plus 6 Things to Wait On)
Fitness gear and bedding top the list, but there are many more items to save on during the first month of the year.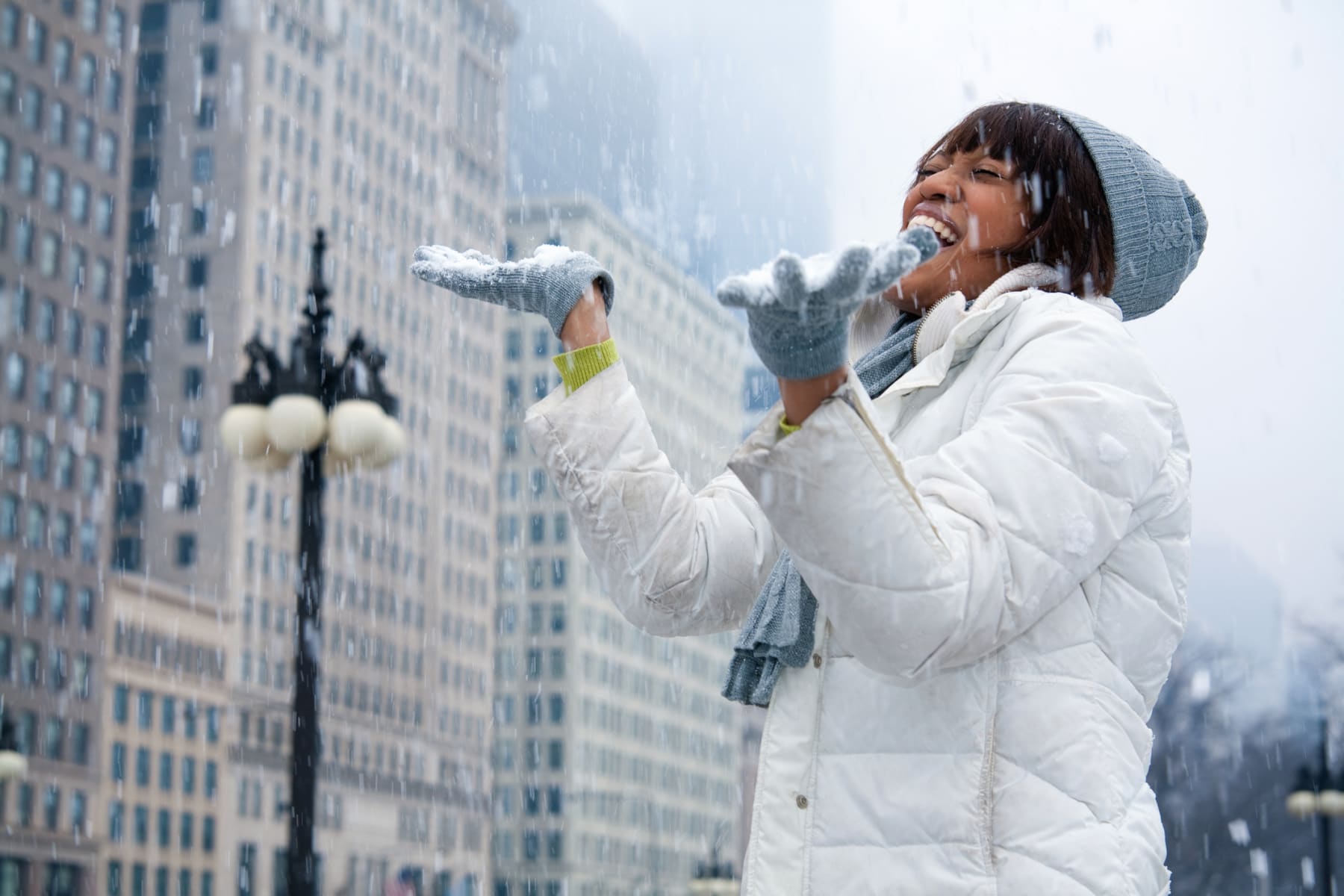 January comes on the heels of the busy Black Friday and holiday seasons — and all the sales that go with them. So it's no surprise that many people don't think about saving in the first month of the year. But like any other time, January boasts categories that'll offer up great discounts, plus others that are better to hold off on for the time being.
Check out our guide below to learn what to buy in January, as well as the items to avoid until February or even later.
The 12 Best Things to Buy in January
Our infographic shows five of the best items to buy in January. Below it, you can learn more about the January sales and deals you can expect to see.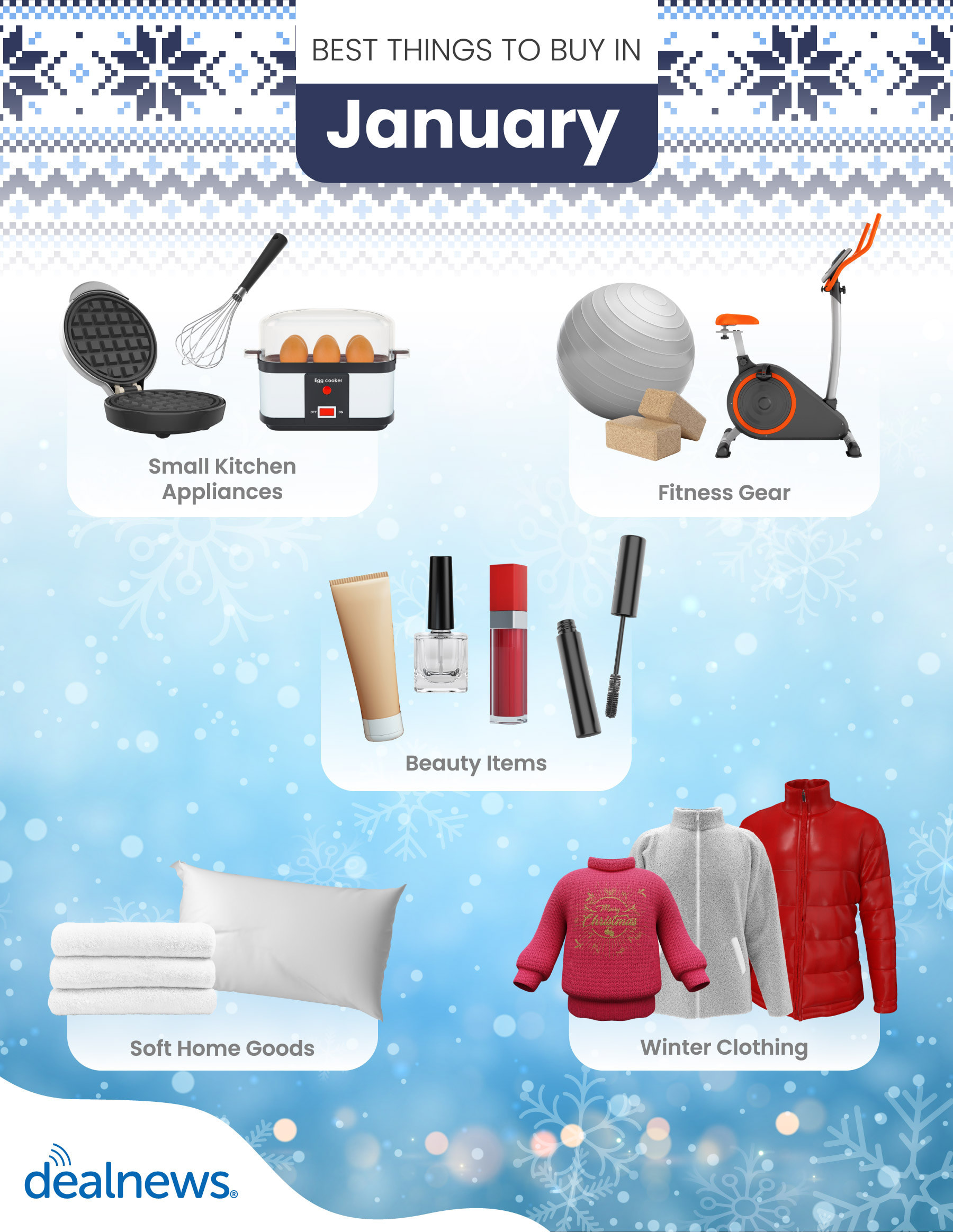 Holiday Decor (Maybe)
We saw After Christmas sales kick off around December 26, and those bring massive price drops on holiday decorations. But lingering items could get even deeper discounts in January. We could see more "boring" products, such as Christmas light storage boxes for $8, Christmas tree storage bags for as little as $8-$13, or over-the-door wrapping paper organizers for $17.
SEE ALSO: Every Major Store's Holiday Return Policy
But you'll have other options, too. For instance, last January we also saw 300-count boxes of string lights for $15 and a figure of a snowman riding a tractor for $25. We found sales on holiday items at a variety of stores, as well, including up to 49% off at Home Depot, Christmas products at craft stores for 75% off, and at least 70% off products at Macy's.
Holiday Leftovers
By holiday leftovers, we don't mean the weird salad your great-aunt brought over for the holiday dinner. Instead, we're talking about holiday-themed items that retailers weren't able to sell off during the After Christmas sales. For instance, last January we saw a Budweiser 2021 plaid holiday beer stein for $20 and a holiday-themed Cook with Color milk frother set from Macy's for $6. The department store also offered holiday-themed sheet sets for as little as $7. And shopDisney had a Mickey Mouse holiday light-up wand with snow bubbles for $13, showing that even holiday toys could be part of these offers.
We also saw a 10-piece holiday gift collection of Booze Hound spirit-inspired sauces for $13, an Armor All car care gift bucket for $20, and Naked Wines holiday packs in 9- and 15-count packages for $50 and $80, respectively. All that to say there are plenty of different kinds of discounted items to shop when the holidays are over.
Small Kitchen Appliances
You can score surprisingly good deals on small kitchen appliances at the start of the year. Chances are, the discounts are at least partially due to New Year's resolutions around eating healthier or dining more at home, rather than relying on takeout. Because of that, you can expect to see a variety of small kitchen appliances for $15 each, including panini presses, nonstick electric skillets, and electric egg cookers.
Select small kitchen appliances could go for as little as $12 in January.
Watch for hand mixers and refurbished mini-prep food processors to be on sale, too — we saw these items for as little as $17 last January. There's a good chance we'll see waffle makers on sale, as well. In January 2022, we saw a Belgian waffle maker for $18, a bubble waffle maker for $23, and even a mini heart waffle maker for $12. That last one was perfect if you were already thinking ahead to romantic Valentine's Day breakfast ideas.
Fitness Gear
Some of the most common resolutions for the new year relate to getting in shape. That means January is an excellent time to shop for fitness gear of all kinds. However you prefer to exercise, the odds are good you'll find a discount on the equipment you need.
Watch for toning ropes to cost as little as $9, while yoga accessories like blocks and straps could go for $12. And medicine balls should be priced from around $22, depending on the size and weight you opt to buy. Plus, you can expect all-purpose weight sets of around 40 pounds to cost only $23. Keep an eye out for pullup bars that go in a doorway, weightlifting bars, portable gym kits, and even multifunctional stations and exercise bikes to be on sale, too.
Gym Memberships
If you don't have room for exercise equipment at home — or just prefer a gym for your workouts — the good news is that there should be specials on gym memberships in January. There are things to keep in mind when you're trying to save on gym memberships, but the first month of the year often brings lots of different promotions. Look for gyms to offer discounted rates, waived sign-up fees, or even bonus perks such as free access to other areas of the gym.
SEE ALSO: 11 Ways to Get Cheap Gym Memberships
However, beware of any "perks" that aren't available yet. If a feature hasn't been built or implemented and there's no concrete date in place for it, then you may want to cross that gym off your list.
Beauty Items
Resolutions around the new year also focus on other types of self-care, which means retailers discount a variety of beauty and personal care items to entice shoppers. On top of that, stores may also be trying to get rid of lingering gift sets from holiday sales, so January could be a good time to stock up. Look for beauty items like lip- and eyeliners to be as little as $2 each from brands such as Revlon and NYX, while Rimmel lip gloss and Covergirl BB cream could be under $2.50 each. Also watch for nail polishes from brands like ORLY to be as little as $5, and for tools like hair dryers to go as low as $7.
Check stores like Macy's, too. In January 2022, they offered a Mistletoe Farms 6-piece spa set in two different scents. Each one included two washcloths, a scented candle, a pumice stone, bath salts, and bath fizz. Some retailers will offer excellent sales, as well. Here's a sampling of the January sales that happened in 2022:
Kiehl's took 30% off in its Winter Flash Sale
eBay knocked up to a whopping 92% off designer fragrances
Burt's Bees cut up to 40% off in its Biannual Sale
PMD cut an extra 25% off sitewide
You'll also have big sales to look for, like up to 75% off during the Bath & Body Works Winter Sale, up to 50% off at Philosophy, up to 60% off at The Body Shop in its Seriously Sweet Sale, and up to 50% off at Urban Decay in its New Year, New You Sale.
TVs
Black Friday still reigns supreme when it comes to shopping for new TVs, thanks to the huge volume of deals and wide range of prices available to suit any budget. But if you missed the Black Friday boat, you may be able to find some good deals in January. The CES tech event is being held January 5-8, and the Super Bowl will be on February 12; both of these events will likely lead to retailers dropping prices on select TV sets. Don't expect as much variety as November had, though. Last January, we listed about 49 TV deals, and only about 12% of those were good enough to earn our Staff Pick badge.
White sales in January will offer a variety of soft home goods at deep discounts, with prices starting as low as $3.
But there were still options worth shopping. We saw prices as low as $150 on Insignia 24" and 32" Fire smart TVs, while a Hisense 43" smart set from 2021 went for just $271. If you're looking for the best offers, though, know that we saw a Samsung The Frame 32" smart TV for $389, while a certified refurbished Samsung 65" smart TV went for $500.
Look for sales at Best Buy, as well. The electronics retailer took up to 30% off Amazon Fire TVs and up to $700 off select TVs in general last January. Plus, Target will likely get in on the action toward the end of the month. Last January, it knocked between 20% and 25% off select TVs during sales related to the big game.
Soft Home Goods
January is the month when white sales pop up at a number of retailers, including department stores like Macy's and Kohl's. While these events may be mostly known for discounted bed and bath linens, you can find savings on a ton of soft home goods. Look for deals like the following:
Bath towels from $3
Pillows from $9
3-piece comforter sets from $12
Fleece throws from $18
Bamboo sheet sets from $19
Valentine's Day Flowers
If you want traditional Valentine's Day gifts like flowers, now's the time to start looking for deals! In 2022, early floral offers popped up as soon as January 18, when 1-800-Flowers offered up to 50% off during their winter sale. This was a great option if you wanted to consider items besides roses. But if you do want long-stemmed red roses, know that FromYouFlowers offered a dozen of them for $35 for Valentine's Day.
SEE ALSO: 6 Things That Will See a Price Drop in 2023
In general, though, you can expect sites like 1-800-Flowers to offer modest savings on traditional romantic arrangements. The site only knocked 20% off Valentines' Day flowers via a coupon code in late January.
Winter Clothing
Winter is in full swing by January, so it's no surprise that we see discounts on cold-weather apparel during this time. We saw more than 130 deals on coats in January 2022, with about 23% of them qualifying as Staff Picks. Packable vests were priced as low as $18, while knit hooded jackets went for $26. If you're interested in shopping sales, watch for Moosejaw to take up to 61% off winter jackets. Men's outerwear, meanwhile, could go for as little as $18 or $20 at Nordstrom and Men's Wearhouse, respectively.
You'll be able to save on more than coats, too. Sweaters will also be on sale, and you can count on prices being seriously low. Last January, we saw women's sweaters start at $4, while men's sweaters started at $10. Eddie Bauer should have kids' fleece jackets for as little as $16, with men's and women's outerwear starting at $38. And Kohl's could take up to 60% off outerwear for the whole family in general.
Laptops
Black Friday and Back to School season are typically the best times to shop for new laptops. However, January may also provide some great deals. In January 2022, we saw refurbished Chromebooks for as little as $70-$109 at retailers like eBay.
Watch for Best Buy to knock up to $200 off Windows laptops and up to $250 off gaming laptops in January.
There should be a handful of sales to take advantage of, too. Watch for Best Buy to knock up to $200 off Windows laptops and up to $250 off gaming laptops. Lenovo, meanwhile, may offer more modest savings in the realm of 20% off select Yoga models, and Woot could have refurbished HP laptops from $130. Dell Refurbished will likely take 50% off select models in January, as well.
Seasonal Produce
In the middle of winter, you might not think fresh produce is a good buy, but there are plenty of fruits and veggies to build meals around. Look for citrus to be in season, especially lemons, oranges, and grapefruits. But January is also good for root vegetables, including beets, turnips, and celery root. Aside from these items, look for excellent prices on in-season cabbage, kale, collards, broccoli, and cauliflower, as well as winter squash varieties.
Prefer to shop local? Check out this seasonal food guide to see what's available in your area.
And 6 Things NOT to Buy in January
| Item | When to Buy | Why? |
| --- | --- | --- |
| Mattresses | February | Mattresses should see a ton of discounts during Presidents' Day sales, so it's best to hold off until then if you're in need of a new bed. |
| Major Appliances | February | This is another category that will be discounted around Presidents' Day; wait until then if you can. |
| Jewelry | February | Jewelry will see some discounts around Valentine's Day in February, but note that you may have better luck finding deals on pieces that aren't designed with the holiday in mind. |
| Snow Gear | March | Items for snowy weather are in high demand the first few months of the year, so you'll likely find better discounts when the season begins to wind down in March. |
| Luggage | March | The third month of the year can be big for luggage deals, which could be related to people traveling for spring break vacations. Whatever the reasoning, we could see rock-bottom prices then. |
| Spring Clothing | April or May | Spring officially starts in March, but the clothing will show up long before then. That said, we don't expect price drops until April at the earliest. |
Can't wait for the best deals of January? Check out the most excellent offers available right now, and follow us on Facebook to stay up to date on the latest savings.
---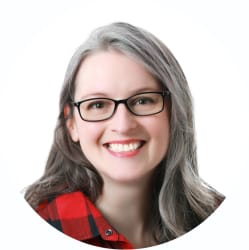 Senior Staff Writer/Consumer Analyst
Julie's work has been featured on CNBC, GoBankingRates, Kiplinger, Marketwatch, Money, The New York Times, Real Simple, US News, WaPo, WSJ, Yahoo!, and more. She's extolled the virtues of DealNews in interviews with Cheddar TV, GMA, various podcasts, and affiliates across the United States, plus one in Canada.
DealNews may be compensated by companies mentioned in this article. Please note that, although prices sometimes fluctuate or expire unexpectedly, all products and deals mentioned in this feature were available at the lowest total price we could find at the time of publication (unless otherwise specified).