The 12 Best Things to Buy in November (Before Black Friday!)
Look for deep discounts on Halloween goods as well as significant savings on cookware, baking supplies, and food storage containers.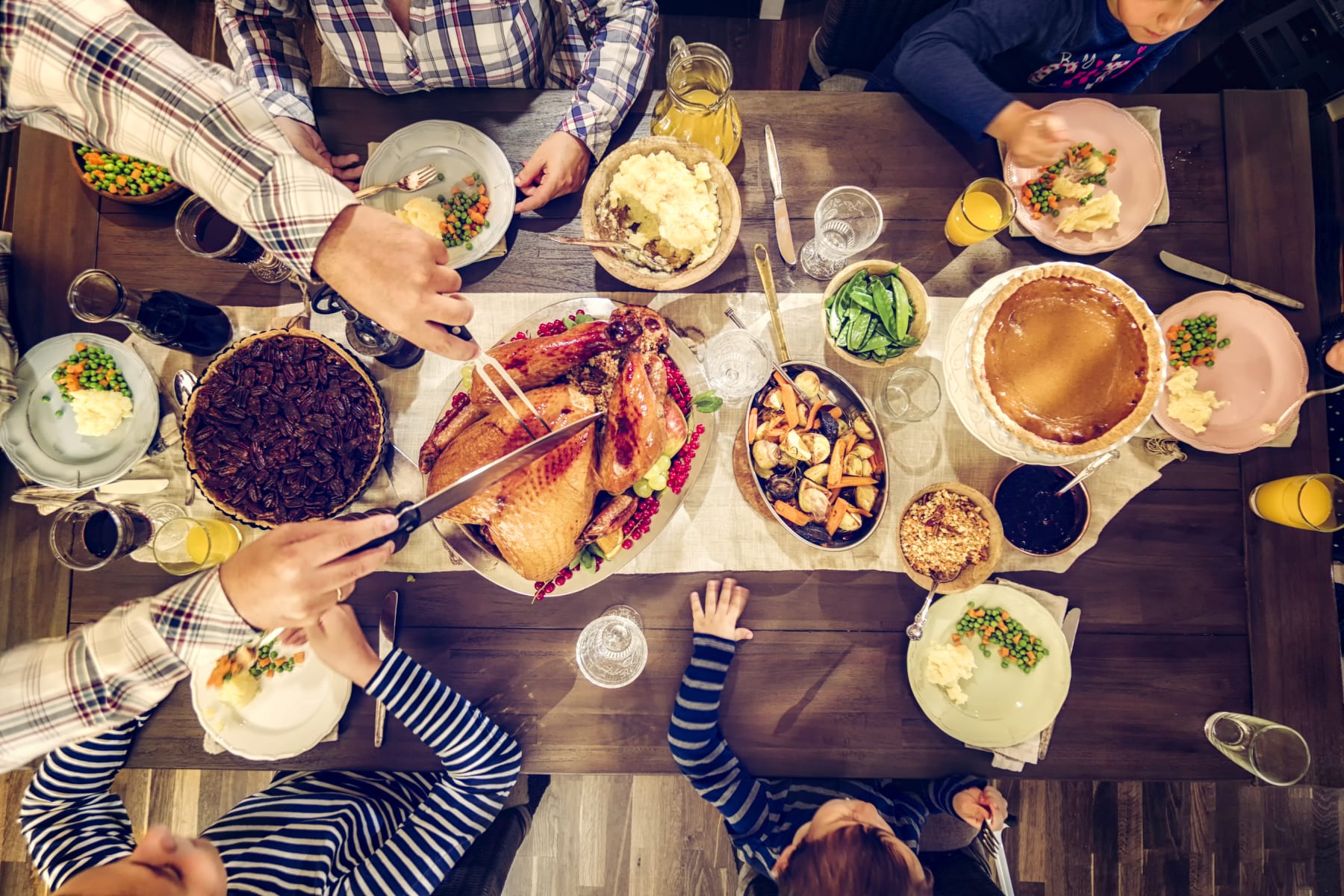 When it comes to shopping in November, most people probably think of Black Friday and Cyber Monday almost immediately. Those come at the end of the month, but that doesn't mean there aren't great deal opportunities before then. Check out our guide on what to buy early in November, as well as what you should shop for in the coming months instead.
Top November Offers to Shop
BioLite: Take 25% off sitewide and 30% off FirePit+ and accessories for Black Friday. This offer is valid November 21 through December 5.

Alternatively, shop between December 6 and December 12 and save 20% sitewide, or 30% off FirePit+ and accessories. Note that both sales exclude BaseCharge, SolarPanel 100, and new 2023 HeadLamp models.
Essentia: Take 25% off your purchase and get two free organic pillows when you buy an Essentia organic mattress. this offer is valid November 7 through November 27.

Alternatively, you can shop on November 28, and take 25% off your purchase and earn up to $300 in Essentia Bonus Cash.

Finally, shop during Cyber Week, from November 29 through December 5 and save 25% off your purchase.
Ibotta: Get yourself a free Thanksgiving dinner when you sign up for a free account! New users can add offers that are 100% cash back, then go shopping as normal. Once you're done, upload a picture of your receipt and you'll receive cash back on qualifying offers within 24 hours.

Already a seasoned user? Ibotta Savers can earn 100% cash back on Thanksgiving staples, too. See the app for more details on how to get started. Whether you're a new user or seasoned saver, this offer is valid through November 23.
Krispy Kreme: Get a free original glazed doughnut on Election Day with no purchase required. You don't even have to show any proof that you voted — just show up and take advantage of a delicious freebie. This offer is valid only on November 8.
Noodles & Company: Need catering to make the hectic holiday easier? Starting on November 21, you can save 20% off catering orders. Big pan meals serve 8, but catering packages are also available.

Also, you can take $4 off orders of $12 on Black Friday, November 25.

Additionally, purchase any regular-sized entrée and receive a drink or dessert completely free. This offer is valid every Friday, Saturday, and Sunday in November except on Thanksgiving weekend.

Note that all of these offers are valid for Noodles Rewards members, which is a loyalty program you can join for free.
Sea to Summit: Pick up new camping gear during Black Friday and save 50% off Basecamp and Amplitude sleeping bags, and the Comfort Plus sleeping mat in limited colors. This offer is valid November 25 through November 29.
Proof: Shop the brand's Black Friday sale and save 25% off your purchase starting on November 23. Even better, starting November 25, you'll also earn free shipping on your purchase. In both cases you'll need to use the code "THANKFUL" to take advantage of these offers, which are valid from 3 am ET on November 23 through 2:59 am ET on November 28. Gift cards and bundles are excluded from this deal.

You can also shop the Cyber Monday sale, which offers 30% off your purchase plus free shipping when you use the code "THANKFUL". This offer is valid for one day only and runs from 3 am ET on November 28 through 2:59 am ET on November 29. Gift cards and bundles are excluded from this sale as well.
The 12 Best Things to Buy in Early November
Our infographic gives you a look at five of the best buys of November. Below it, you can learn more about the deals and sales you'll likely see before Black Friday.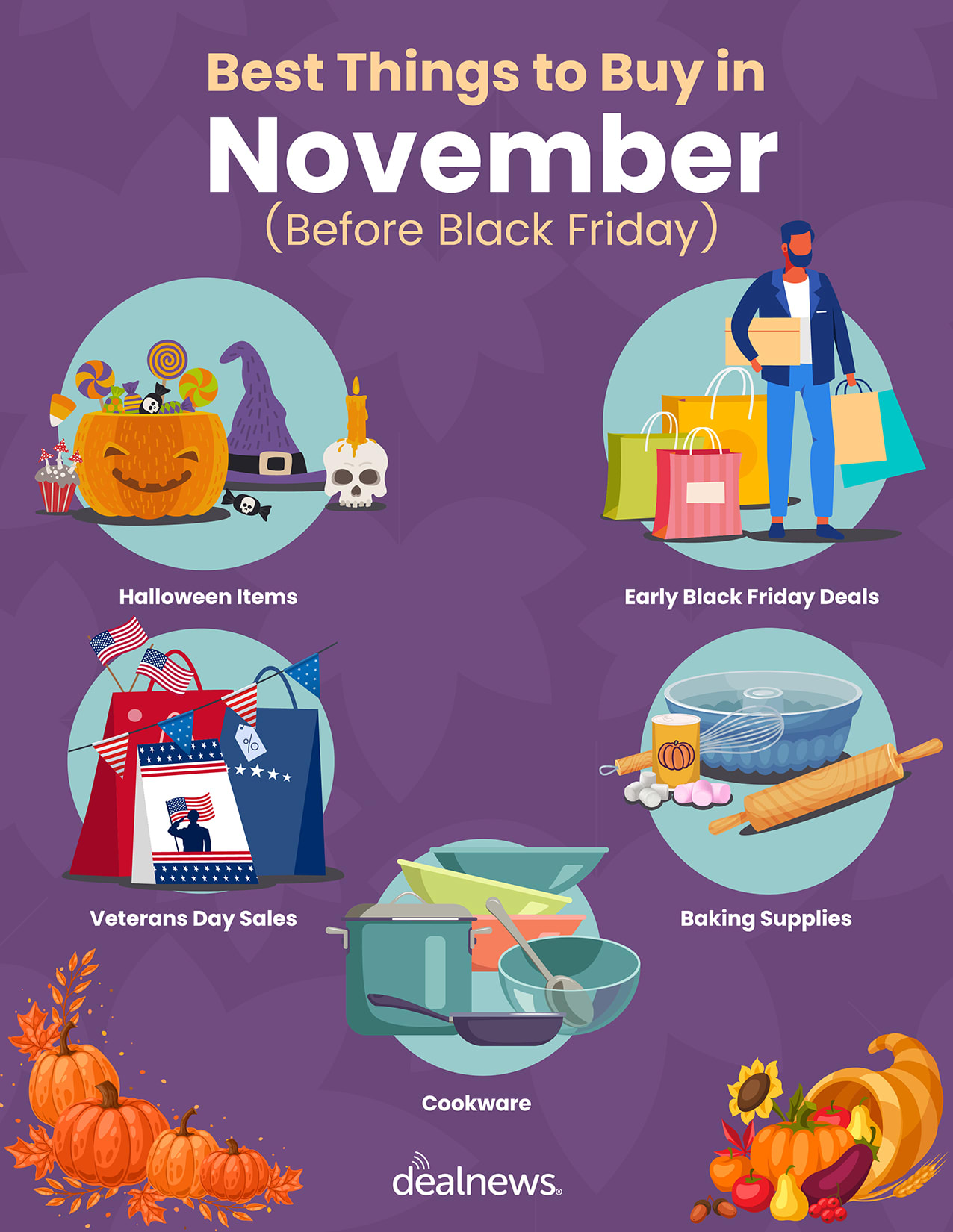 Halloween Candy
While stores like Target have noteworthy discounts on Halloween candy throughout October, the day after the holiday is when rock-bottom prices really kick in. Expect discounts of at least 70% off whatever sweet treats may be hanging around in early November. They could include Halloween mixes, pumpkin- and ghost-shaped goodies, and spooky offerings like Witch's Brew Kit Kat bars, Hershey's Kisses Dracula candies, and Ghoulish Green Snickers and Twix bars.
However, there's also a chance that these goodies may be harder to find in November, as they're the premium candies everyone could've stocked up on before Halloween itself. Be prepared to see shelves stacked high with candies that are probably less popular, like candy corn, autumn mixes, and even seasonal Peeps.
Halloween Costumes
Like candy, any remaining Halloween costumes on the shelves should see huge discounts on November 1. Shoppers may have been able to find decent savings a few days before the holiday itself, but the start of November is when to look for discounts of around 80% off, if not higher.
Shop all kinds of Halloween items on clearance in early November, with discounts as high as 80% off.
The selection will likely be small, so these November sales may be best for purchasing accessories you can use with multiple costumes. If you know what you want to dress as for Halloween 2023, then you may be able to pick up the look at a ridiculously affordable price. But there's no guarantee, so temper your expectations accordingly.
Halloween Decor
If you want spooky decor for next year — or just enjoy creepy vibes year-round — consider picking up discounted goods on November 1. Expect to see discounts ranging from 50% off to 75% off. But if there's anything in particular you want, grab it right away. Don't risk waiting for the discounts to get better, especially if you're shopping stores like HomeGoods or T.J.Maxx, where the selection may already be limited.
Early Black Friday Deals
Shoppers could take advantage of early Black Friday deals in 2022 even before November. The holiday season "creep" might have made its biggest leap yet this year — we saw Black Friday–branded deals as early as October 4. They'll likely continue as we get closer to the holiday itself, so it's worth taking a look at any you come across to see if they're worth grabbing.
SEE ALSO: When Do Black Friday Ads Come Out?
Even if most stores aren't using Black Friday language yet, the deals are reflecting what we normally see around the big event. For instance, Amazon offered a 55" Fire TV Omni Series 4K smart TV for $109.99 as one of its Lightning Deals during October's Prime Early Access Sale.
Veterans Day Sales
Veterans Day events used to serve as the last big shopping opportunity before Black Friday rolled around, but now they're just extra sales in a discount-heavy season. These tend to pop up before the holiday itself, much like what happens with any other shopping event. Last year, we saw sales pop up around November 3; Veterans Day happens annually on November 11.
These won't be the best offers of the year, or even of the season, but they're still worth checking out if you're getting into your holiday shopping early. Last year, we saw deals like up to 45% off at Blinds.com, 40% off at Eddie Bauer, an extra 20% to 65% off at Macy's, and an extra 40% off any item at Dell Refurbished.
Baking Supplies
If you enjoy baking during the holiday season, know that we should start seeing plenty of deals on staple ingredients this month. Regularly check your local grocery ads and take advantage of nonperishable items that go on sale, like canned pumpkin, marshmallows, green beans, cream of mushroom soup, and fried onions.
Prepare to stock up on baking supplies, cookware, and food storage containers for even less in November.
But be aware of the butter shortage being forecast by industry experts. It's highly recommended that you stock up now and freeze your supply to ensure you have enough to tackle all the pies, cookies, and other holiday goodies you're planning to make this year. And while you're at it, take note of other shortages, too, on items like bread, turkey, and French mustard. They're happening due to various climate issues, supply chain challenges, and the Russia-Ukraine war.
Wedding Dresses
It may seem like a weird time to be thinking about weddings, unless you're getting married in the near future. But this time of year is when dress retailers are typically trying to clear out last season's stock. If you need a dress, it's a good time to start looking, as you may be able to find even better discounts as stores try to make room for new looks in the new year. In general, expect November discounts to range from 20% off to 40% off, although clearance racks could see savings of up to 80% off this month.
Cookware
If thinking about cooking for the holidays has you questioning your current cookware collection, know that November is a good time to update your pieces. This time last year, we saw a significant amount of cookware deals, with about 29% of them earning our Staff Pick badge.
SEE ALSO: 18 Ways to Prepare for Black Friday and Get the Best Deals
Watch for standout offers this month to include ones like a 10-piece set for around $220 from BergHOFF Leo at Nordstrom Rack. Alternatively, if you're looking for a more affordable set, Kohl's could offer another 10-piece Food Network set for around $76 — that one could be made even better with potential Kohl's Cash earnings. If you just need a few pieces, check Target, which could offer three pieces of Farberware nonstick cookware for only $10!
Home Services
There's a good chance you could see significant discounts on different kinds of home services in November, depending on where you live. When temperatures start to cool, demand for home services goes down, so contractors and other professionals may be willing to work with you on pricing projects you have in mind. They could also be offering discounts in general with demand down, so check around and see what kinds of promotions are available in your area.
Main Dishes for Holiday Celebrations
If you have turkey every year for your holiday celebrations, be prepared to spend a little more on the bird this year. Due to a bird flu outbreak, some industry experts are expecting a shortage of the main dish, as well as higher prices on the turkeys that are available. Because of that, it's going to be important to buy a turkey early in the month, long before the rush starts. And if you prefer fresh birds over frozen, it's in your best interest to place an order as soon as they're available, before the offerings sell out entirely.
We may see turkey shortages this year, so consider buying a turkey early in November, long before the rush starts.
Food Storage Containers
This one really shouldn't come as a surprise, but at the same time, some consumers may not think about picking up food storage containers for cheap early in November. Be prepared to shop stores like Target, where you could find a 30-piece Rubbermaid set for just $8 or a 22-piece glass Pyrex set for about $20. Kohl's, meanwhile, could offer up a 20-piece Anchor Hocking glass set for as little as $15.
Seasonal Produce
If you think fresh produce is off the table now that temps are cooling in many places, you'll be happy to know that's just not the case. Expect the best fresh veggies in November to include beets, broccoli, Brussels sprouts, cabbage, cauliflower, leeks, mushrooms, parsnips, pumpkins, rutabagas, spinach, sweet potatoes, turnips, and winter squash. And if you're on the hunt for the freshest fruit, look for cranberries, oranges, pears, persimmons, pomegranates, and tangerines.
And if you want to shop local, check out your state's produce guide for the best items to find near you.
And 3 Things NOT to Buy in November
| Item | When to Buy | Why? |
| --- | --- | --- |
| Winter Clothing | January | Black Friday will likely have some deals on winter-suitable apparel, but January should bring more offers in general, so consider holding off until then. |
| Gift Cards | Early December | Some deals will pop up around Black Friday and Cyber Monday, but by early December, we're expecting a ton of special gift card offers from restaurants and retailers that will make your dollar go further. |
| Exercise Equipment | January | The new year brings health-related resolutions for many people, so exercise equipment tends to go on sale around that time. |
Can't wait to shop? Check out the best deals available right now!
---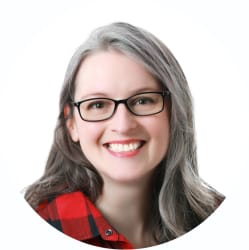 Senior Staff Writer/Consumer Analyst
Julie's work has been featured on CNBC, GoBankingRates, Kiplinger, Marketwatch, Money, The New York Times, Real Simple, US News, WaPo, WSJ, Yahoo!, and more. She's extolled the virtues of DealNews in interviews with Cheddar TV, GMA, various podcasts, and affiliates across the United States, plus one in Canada.
DealNews may be compensated by companies mentioned in this article. Please note that, although prices sometimes fluctuate or expire unexpectedly, all products and deals mentioned in this feature were available at the lowest total price we could find at the time of publication (unless otherwise specified).