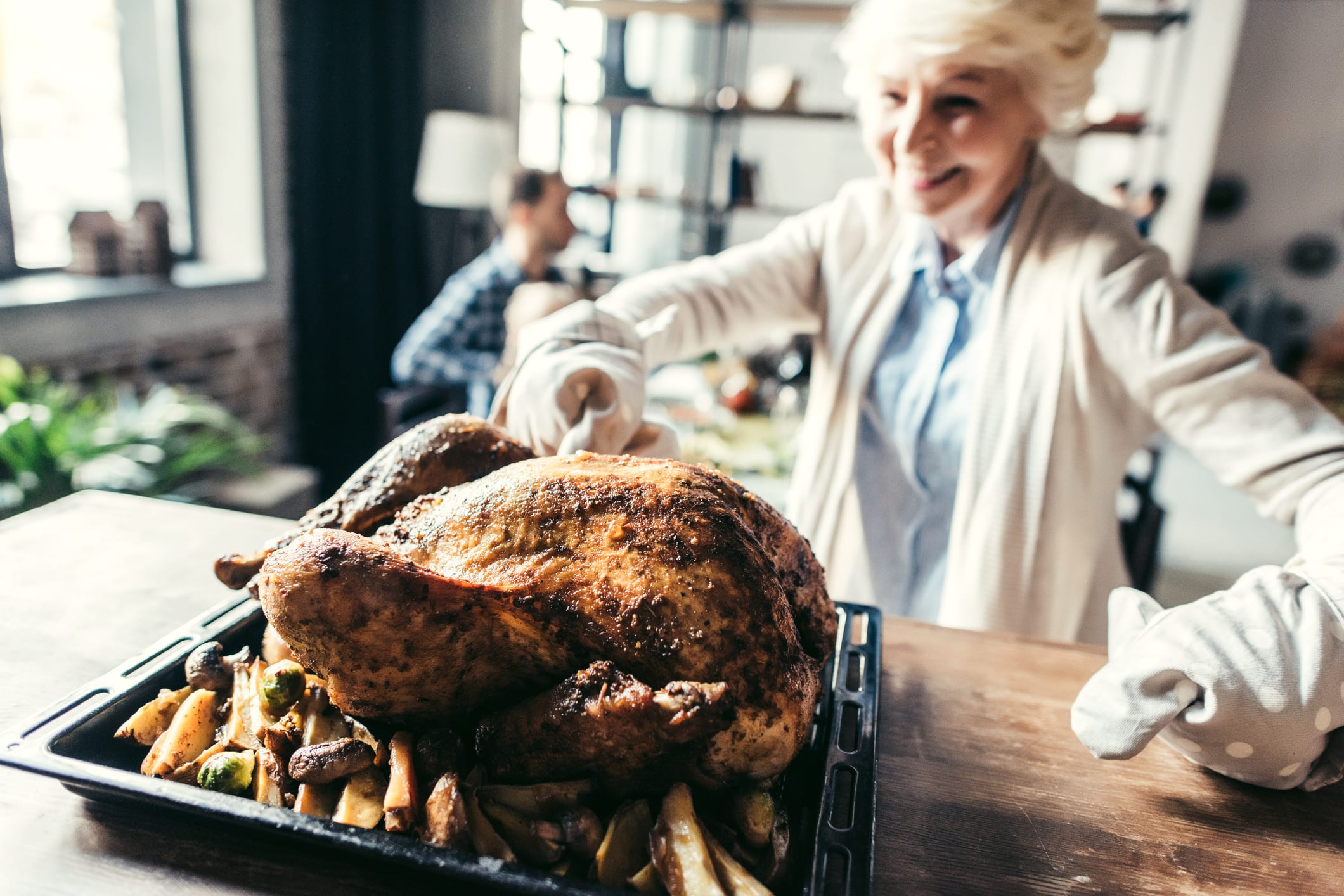 We're in the business of finding deals every day, but it's not until November that we see the best offers on almost everything. Thanks to the big three shopping days — Thanksgiving, Black Friday, and Cyber Monday — most of your favorite stores will slash prices to all-time lows this month.
Read on for our November shopping tips, then check out our Black Friday predictions and subscribe to the DealNews Select Newsletter to take full advantage of this month's best deals!
9 Things to Buy in November
Large Appliances
Whether you've been saving for a high-end Dyson vac or need to upgrade your refrigerator, November is by far the best month of the year to shop for home appliances. In fact, you can expect nearly one-third of all appliance deals to get our Editors' Choice mark this month, which is well above the monthly average.
Get Black Friday Deals in Your Inbox!
Sign up for the DealNews Select Newsletter now to get the best deals every day. When Black Friday deals go live, the best offers will come to you.
Click here to sign up!
Most of the great vacuum cleaner deals will be for Dyson, iRobot, and Hoover models. Last year, 40% of the vacuum deals listed in November were worthy of our Editors' Choice designation, with upright Dyson models falling as low as $130.
Chest freezers sold for $100 at Sam's Club last year, and you'll find the best deals on washers, dryers, and dishwashers at Home Depot and Lowe's. Both should host some of their best sales of the year on appliances in November. In fact, they're already cutting up to 40% off this month for their Black Friday appliance sales.
Apple iPhones
November can be a great time to shop for a new-and-improved iPhone, as long as you follow two simple rules: buy one generation behind, and don't buy from the Apple Store.
You can expect to see the first-ever price drop on the recently released iPhone XR — we saw the first significant discount on last year's iPhone 8 on Cyber Monday last year. (We recently saw the first drop on the unlocked iPhone XS and XS Max, too.) But know the best savings will come from stores like Sam's Club and Target. They'll likely offer the phones at list price, but with hefty $200 to $300 gift cards.
Expect to see a high number of Editors' Choice deals on the previous-gen iPhone 8 and 8 Plus.
What you'll see in droves, however, are Editors' Choice deals on previous generations of iPhones, most notably the iPhone 8 and 8 Plus. Over half of the top deals should come from reputable 3rd-party eBay sellers, while T-Mobile is expected to host the best contract deal. It had a buy one, get one offer on the iPhone 7, 7 Plus, and 8 around Black Friday last year.
Apple Watches
Again, if you're looking to shop Apple's newest gadgets, you don't stand to save much money this November. The recently released Apple Watch Series 4 is unlikely to see Editors' Choice-level lows, unless you're willing to use bundled store credits to make it worth your while. (One of the best deals we saw on the Series 3 last year had it bundled with $105 in Kohl's Cash, and that's likely to be the case with the Series 4 this year.)
You can, however, expect to see significant price lows on the first three generations of Apple Watches. In fact, we expect to see 2017's Series 3 drop to just $250 around Black Friday (with the right coupons), making it a much better buy than any Series 2 model (which will likely sell for around the same price). The Series 1 38mm and 42mm watches should fall as low as $149, especially since Apple has discontinued selling the first-generation units.
Clothing
It may come as no surprise that we list more clothing deals come November than any other type of offer, except for home and garden items. What might surprise you, though, is that you'll see a higher percentage of Editors' Choice deals on Thanksgiving than on Black Friday.
SEE ALSO: The Ultimate Buying Guide
Expect to see sitewide coupon offers at Gap, Hollister, and Express that halve item prices. Jos. A. Bank will likely sell men's suits for as low as $50, while designer 2-pieces from the likes of Kenneth Cole Reaction should sell for $100 or less.
In-season outerwear could drop below $10 at department stores like Walmart, while Columbia, The North Face, and Uniqlo could sell higher-end pieces at the best prices of the year.
For those shopping new shoes, know that men's adidas and Converse sneakers should sell for as little $22 at stores like Foot Locker, while women's boots should start at around $20 at Macy's and Kohl's.
TVs
We've been telling our readers to hold off on that big TV purchase for months, but thankfully, the time to buy will soon be upon us. Consistently, around half of all TV deals have reached Editors' Choice lows in November.
You can expect to see the most impressive offers at Dell. Keep in mind that most of these deals are only at best-ever prices because they come with gift cards. If you don't use the gift card, then you're missing out on the value of those deals. Best Buy will alternatively host the best outright prices on a wide selection of big- and small-brand units.
Look for 90% of the top TV offers to be on 4K models, with 49" units falling as low as $175.
We expect to see the bulk of the best offers on 4K sets. Last November, nine out of every 10 Editors' Choice TV offers was for one of these high-resolution units. Look for doorbuster deals to feature 49" 4K TVs for just $175, while 55" units could hit the shelves of stores like Target for around $250.
Also notable from our research is that about 50% of the curved TV deals we saw throughout November 2017 received our Editors' Choice mark. Although they won't make up the bulk of deals listed in the TV category, you can expect to see around 25% more offers on curved TVs this November than in any other month of the year.
Laptops
November is the best month to buy most things tech, including budget-friendly laptops. You can shop Intel Celeron-equipped builds at Dell for $130 or Chromebooks at Best Buy and Amazon for just $100. Most midtier laptops should go for $530 and up, while gaming rigs will likely drop to around $1,000.
Apple fans know MacBooks don't generally see big discounts during the Black Friday season, but B&H Photo Video could offer the best deals. eBay sellers should host the best price on the previous-generation MacBook Air, however — last year we saw one for just $745!
Smart Home Devices
Retailers like Target, Walmart, and Amazon make Black Friday a great time to shop all things smart. You can expect over half of this year's smart home deals to be marked Editors' Choice, but make sure to shop quick, as many deals could last for less than a day.
SEE ALSO: Top 5 Stores for Black Friday Deals Online in 2018
Amazon devices, like the new Echo Dot and Echo Plus, will almost definitely hit their best prices of the year over Black Friday. The Apple HomePod is expected to drop by $49 from list price and sell for around $300, but keep an eye out for eBay coupons that could drop it to as low as $272.
Video Games
Like most electronics, video game consoles drop in price come November. Competition between stores like Walmart and Target should push the cost of popular bundles down. In fact, we saw more than twice the number of console deals last November compared to the monthly average for the past year; over 50% of the November offers were Editors' Choice lows.
Although it's been on shelves for only a year, we're expecting to see the Xbox One X fall to $375 around Black Friday. Sony's PlayStation 4 Pro has previously retailed at $320, so we're hoping to see the 2016 release hit an all-time low of $315 or $310 this November.
And those wanting to score a budget-friendly deal on the Nintendo Switch should know that we expect to see it drop to at least $249.
Not only are we expecting big deals on consoles, but November promises exciting price lows for video games on all platforms. Although we see a similar number of offers in December, you can expect to shop the most Editors' Choice offers this month.
Popular AAA video games could drop to $25 around Black Friday.
Look for many AAA titles to hit lows of $25 at Amazon and Best Buy, and depending on their release dates, select games even sold for as little as $15 last year. Games like Call of Duty: Black Ops 4 and the new Spider-Man PS4 game could get their own discounts in 2018. (Those shopping Red Dead Redemption 2 shouldn't anticipate deals this good on the highly anticipated game, however.)
PC gamers can expect discounts, too, as Green Man Gaming and Steam host November sales and knock up to 90% off some titles. Last year, two-thirds of the PC game deals listed were Editors' Choice picks, as well.
Kitchen Items
From cookware to small appliances, many kitchen necessities see big discounts in November. Last year, we listed over 550 deals in the category, and over 30% of those hit Editors' Choice price lows.
Kohl's and Macy's should be the best spots for top deals on small appliances like slow cookers, griddles, and toaster ovens. All of those fell to $7 or $8 after mail-in rebates last year. You can also expect to shop coffee makers and Rubbermaid storage sets for $7 at Target.
SEE ALSO: 7 Tips to Save Money on Your Thanksgiving Day Dinner Menu
Walmart will likely be the best place to shop cookware, though, as the store hosted a stellar deal in 2017 — a popular 10-piece set of stainless steel pans fell to just $20!
Wait to Buy...
Winter Apparel
Offers at Gap and 6pm could mean price drops on outerwear, but those shopping for winter pieces won't see the best deals of the year until January. That's when the wintry season is in full swing and these items start to move to the clearance section.
Coats and jackets in particular should see their biggest discounts in the new year. In January 2018, roughly one in five deals was marked Editors' Choice.
Gift Cards
Although we see plenty of gift card deals in November, you should know that we'll see almost double the number in the run-up to the holidays in December. Target traditionally knocks 10% off all gift cards, and Xbox gift cards can reach best-ever prices.
SEE ALSO: 10 Things NOT to Buy on Black Friday
Exercise Equipment
Few people hit the gym hard outside of January, so wait until then to take advantage of sales on fitness equipment. While we saw some deals in the category last November, none of them got our Editors' Choice mark during Black Friday week. Come January, we saw almost 100 offers, with more than 10% receiving our editors' seal of approval.
Jewelry
If you're shopping for diamonds and pearls, hold out until December. That's typically the best month of the year for jewelry deals. You can expect to see about 25% more offers in that category next month, with some good enough to be deemed Editors' Choice.
Readers, what items are you planning to buy in November? Which ones are you waiting on? Let us know in the comments below!
---