The 7 Best Things to Buy in Early November (Plus 3 Things to Wait On)
You don't have to wait till Black Friday to save on Halloween goodies, Veterans Day sale items, and baking supplies.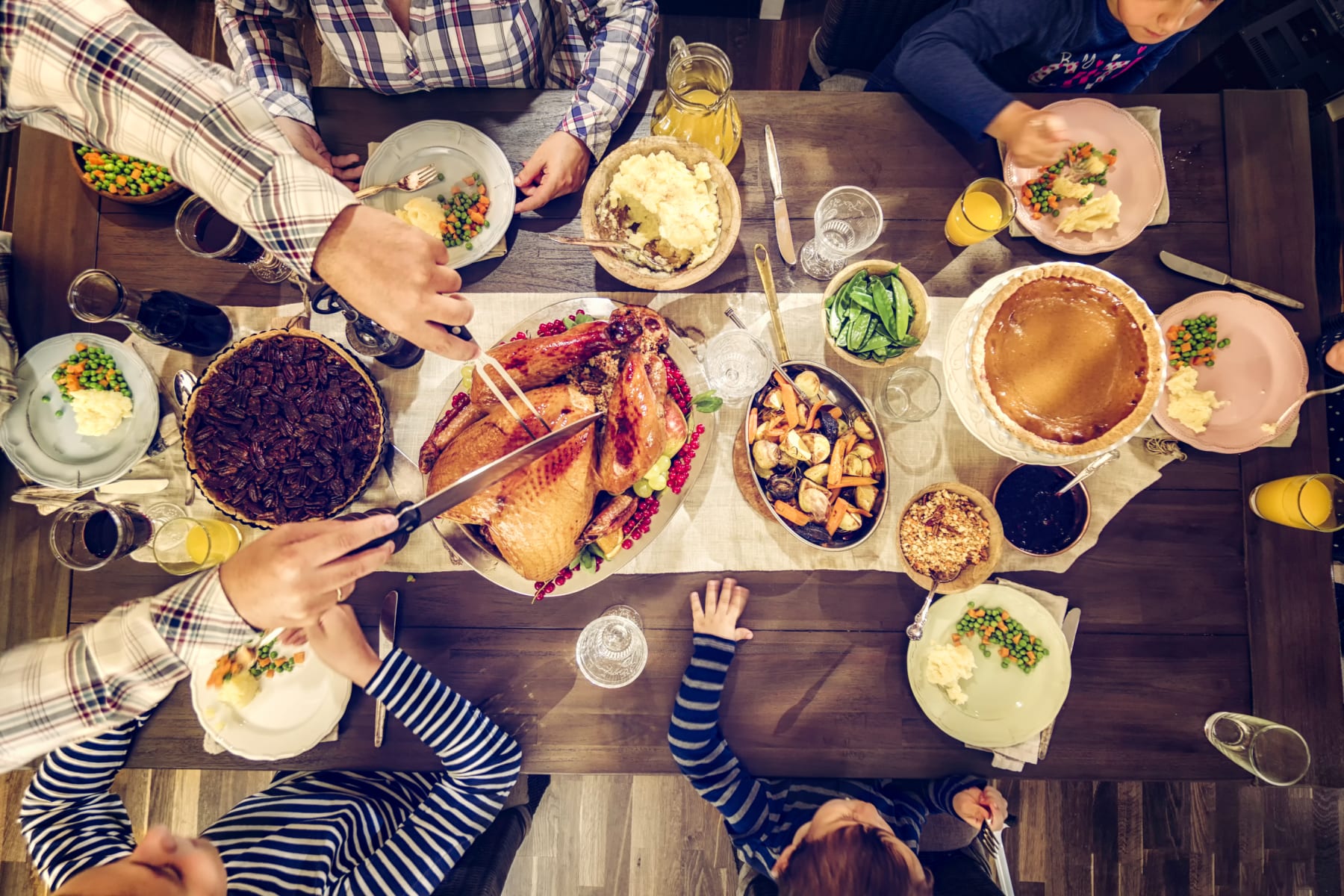 Many consumers probably think of Thanksgiving, Black Friday, and Cyber Monday as the only worthy shopping days in November. However, there are plenty of items to shop and save on early in the month, as well.
Check out our guide on what to buy in early November, and be sure to take a look at our Black Friday 2021 predictions, which can help you prepare for the biggest sales. Then maximize your shopping expertise by learning what to buy every month of the year!
The 7 Best Things to Buy in Early November
Our infographic shows you five of the best items to buy in early November. Below that, you can read all about the discounts to expect, plus get other helpful info.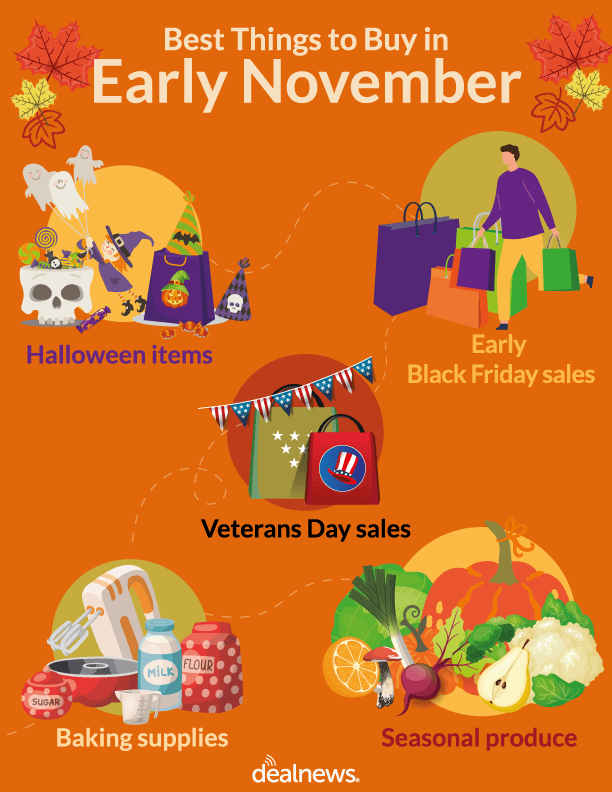 Halloween Candy
It's common to see discounted Halloween candy throughout the month of October. For example, Target has offered a "buy one, get 25% off another" discount to shoppers who utilize same-day delivery or pickup services. If you haven't taken advantage of these candy offers, though, don't wait! Like other holidays with a strong candy focus, the discounts the day after Halloween tend to be huge — expect up to 50% off right away, although there could be deeper price cuts later in the week.
However, know that by waiting, you may end up with very big discounts on the least-wanted candy. Additionally, remember that these sales in November tend to be solely for Halloween-themed goodies, like pumpkin-shaped treats, Hershey's Halloween Vampire Kisses, and M&M's Ghoul's Mix. The huge bags with spooky-themed packaging meant for trick-or-treaters also go on sale — if you can find them.
Halloween Costumes
Much like Halloween candy, any lingering costumes see deep discounts as soon as the clocks roll over to November 1. Significant savings sometimes start as early as a couple of days before Halloween itself, but without a doubt, the first day of November is when we see deals boasting up to 80% off. Look for these kinds of offers to be popular at stores like Target, especially, although any store with Halloween gear will likely cut prices in an effort to clear out costumes quickly.
Retailers have been encouraging consumers to shop early and are offering early Black Friday sales to help.
Halloween Decor
As with the other big Halloween-themed items, spooky decor also tends to see serious savings on November 1. The biggest problem with this in 2021, though, may be the immediate lack of selection. Decor in general has been harder to shop this year because of supply chain disruptions, so while stores may have discounts as high as 50% to 75% off right away, the inventory may be severely limited.
If you love all things spooky, your best bet is to hit the sales first thing on November 1 and grab all the items you want while you can. That means you'll need to get going with your shopping, if you haven't already.
Early Black Friday Sales
This year might not feel exactly like last year, but that doesn't mean everything is smooth sailing either. Retailers have been encouraging consumers for a couple of months now to prepare to shop early, and they're taking that encouragement one step further by offering early Black Friday sales.
SEE ALSO: When Do Black Friday Ads Come Out?
Walmart is planning three events again for Black Friday 2021, with one starting online on November 3 and another beginning on November 10. We don't have details on when the third will begin, but there's a chance it could start around November 17, although that may be too early. It shouldn't be surprising to learn that Sam's Club has announced multiple events, as well, with a November Savings Weekend taking place from November 6-8, and November Instant Savings that will be valid through November 24.
Veterans Day Sales
In a typical year, Veterans Day sales are the last big hurrah before Black Friday. Retailers started sales even earlier last year, however, and seem to be doing the same in 2021. But this means we might actually see more Veterans Day deals, rather than less. For example, in 2018 we listed nine sales for the holiday, but in 2019 we listed 23. Then last year, we listed more than 30 offers related to Veterans Day, which isn't exactly what we expected.
If those sales return again this year, watch for retailers like eBay to take up to 80% off a huge variety of categories, including tech, appliances, and tires. Other notable sales last year included ones from Eddie Bauer, which took an extra 50% off sitewide; Kohl's, which took up to 58% off small appliances, as well as an extra 15% off and $10 off $25; and Target, which offered a military and veterans discount worth an extra 10% off. (See more military discounts here!)
Baking Supplies
Is baking for the holidays part of your festive game plan? Then know that early November is an excellent time to start watching your local grocery ads. You may see bakeware on sale, but more than likely you'll find discounted supplies to use for holiday dinners. Watch for staples like flour and sugar to be on sale, as well as more seasonal items like chocolate chips, canned pumpkin, and cranberry sauce.
Watch for staples like flour and sugar to be on sale, as well as seasonal items like canned pumpkin and cranberry sauce.
We might not see the same lack of inventory as last year, when marshmallows seemed to be missing for weeks at a time. But there's a chance that supply chain disruptions could impact these items. So if you have any doubt, start stocking up now.
Seasonal Produce
You might not be thinking of produce as a good buy in the colder months, but there's plenty to take advantage of. Shop the best of winter veggies in November, including beets, broccoli, Brussels sprouts, cabbage, cauliflower, leeks, mushrooms, parsnips, pumpkins, rutabagas, spinach, sweet potatoes, turnips, and winter squash. And if you're on the hunt for the freshest fruit, look for cranberries, oranges, pears, persimmons, pomegranates, and tangerines.
If you want to see what's in season locally, be sure to check out your state's produce guide.
And 3 Things to Buy Later
| Item | Don't Buy | Buy | Why |
| --- | --- | --- | --- |
| Winter Clothing | In November | In January | There might be a few good November deals on these apparel items, but you'll see better discounts on a wider variety if you wait to shop until January or later. |
| Gift Cards | In November | In early December | November will bring some gift card deals, but we expect December to bring far more. It's best to stock up then, especially if you need last-minute gifts. |
| Exercise Equipment | In November | In January | Fitness equipment of all types should see excellent deals in January, when everyone is focused on resolutions for the new year. |
Can't wait to shop? Check out all the best deals available now!
---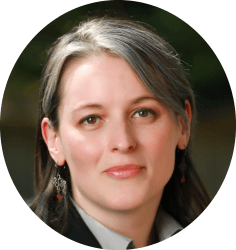 Senior Staff Writer/Spokesperson
Julie's work has been featured on CNBC, GoBankingRates, Kiplinger, Marketwatch, Money, The New York Times, Real Simple, US News, WaPo, WSJ, Yahoo!, and more. She's extolled the virtues of DealNews in interviews with Cheddar TV, GMA, various podcasts, and affiliates across the United States, plus one in Canada.
DealNews may be compensated by companies mentioned in this article. Please note that, although prices sometimes fluctuate or expire unexpectedly, all products and deals mentioned in this feature were available at the lowest total price we could find at the time of publication (unless otherwise specified).