11 Things NOT to Buy on Black Friday
Skip off-brand TVs and hold off on beauty purchases until Cyber Monday.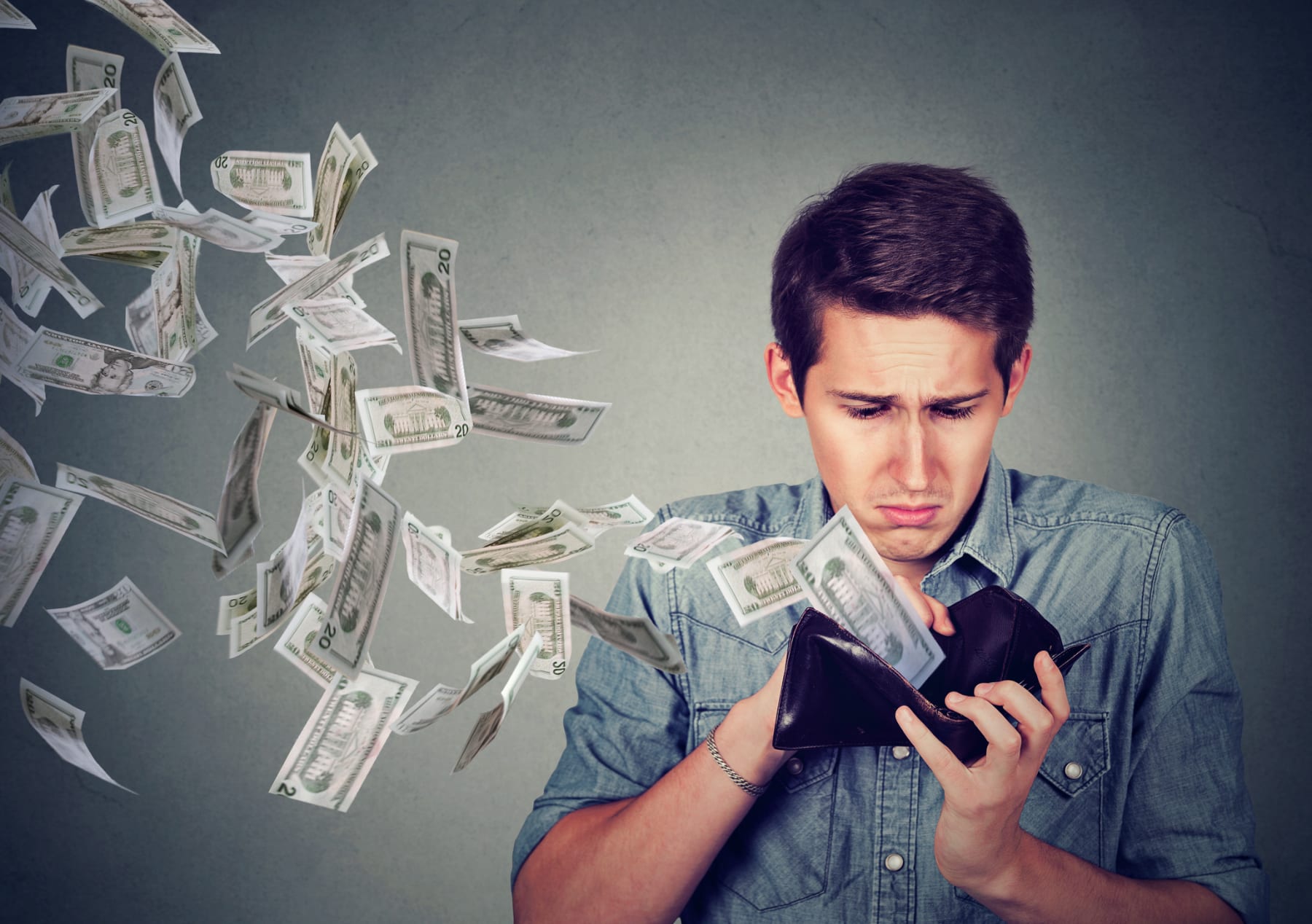 The past few years, retailers seem to have tightened the purse strings on Black Friday deals. Perhaps it was the pandemic or the catastrophic supply chain issues. This year, we may find bigger, better, and more surprising deals and discounts than we've seen in a while. But not every item is going to be a great buy on Black Friday itself.
Keep that in mind as we look ahead to what not to buy on Black Friday in 2022. For example, maybe go ahead and purchase the "buy one, get one free" pillow on Black Friday, but hold off on bedding until January. Our guide has 11 more things that could be bad Black Friday buys, but may be better to purchase at other times of year.
11 Things NOT to Buy on Black Friday
Check out our infographic showing five of the top things not to buy on Black Friday. Then keep reading to learn more about these items, plus others you may want to think twice about purchasing on this shopping holiday.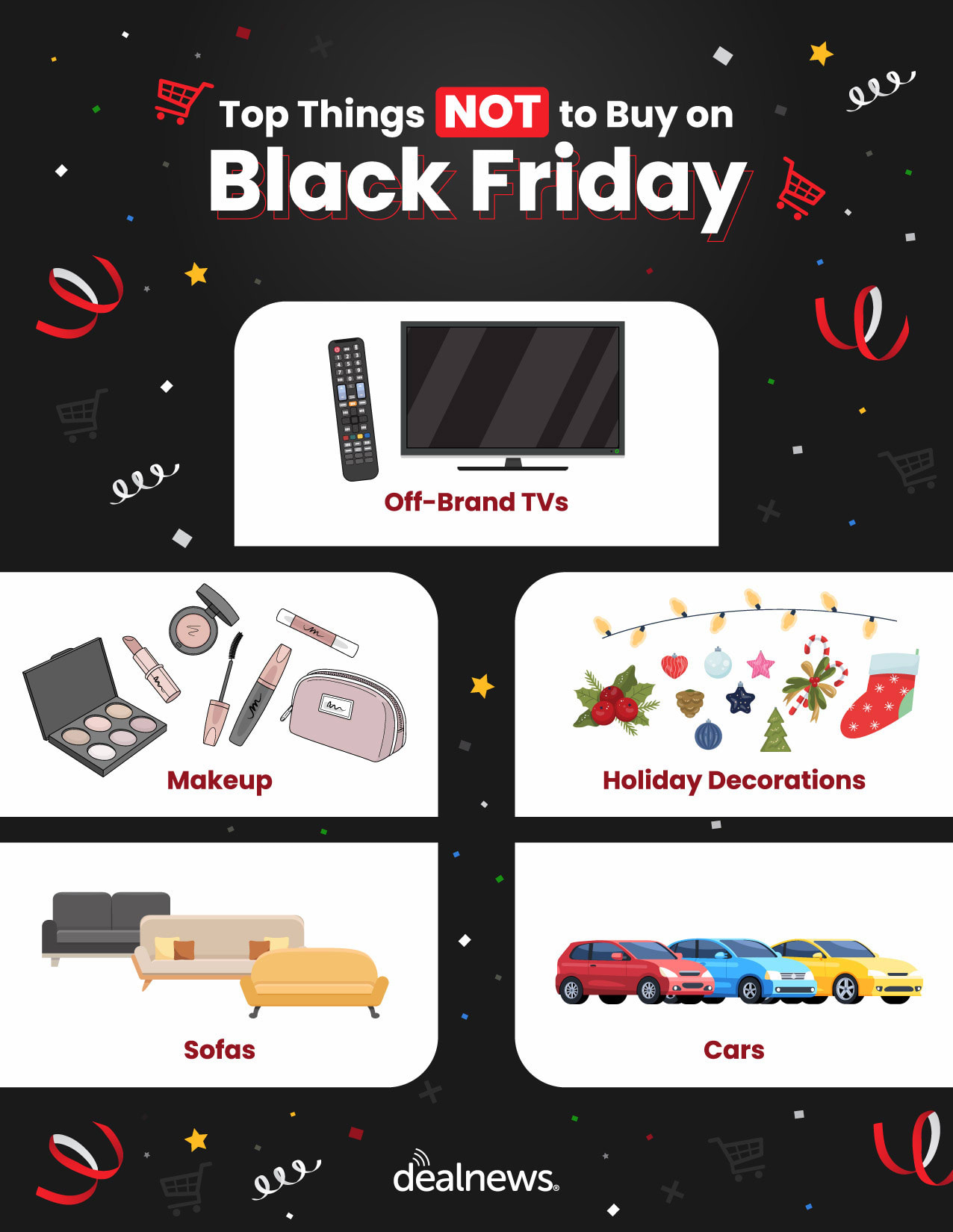 1. Off-Brand TVs
Like a lot of the technology on offer at big box retailers, certain televisions can prove to be bad Black Friday deals. Sure, on the big day you can get cheap TVs, but what you don't want are cheap model TVs, which tend to be mixed in with the legit offers.
TVs can be a great Black Friday purchase, but be mindful of the deals and the brands stores are offering, to make sure you're not buying a dud.
If you aren't seeing a solid model within your budget, you may as well save your pennies until around the Super Bowl in February, when we should see nicer models go on sale. It makes sense to spend a bit more on a better piece of technology you can use longer than a model you'll have to replace in a year.
2. Makeup
Ready to refresh your stash of beauty products? These kinds of items can be some of the weakest Black Friday purchases because of the lower volume available. There may be some decent discounts, but there are usually fewer choices compared to Cyber Monday. If you can hold off until then, though, the odds of landing more great deals on makeup and beauty supplies increase significantly.
3. Power Tools
If you want to gift someone — or even yourself — shiny new power tools this year, Black Friday might not be your best option. Father's Day in June may be a better bet for scoring great deals. That said, if you can't wait that long, know that December tends to have solid tool bargains, as well.
4. Holiday Decorations
It might seem obvious, but the best time to buy holiday decor is immediately after said holidays! After Christmas sales are generally your best bet for snagging deeply discounted ornaments, lights, and inflatables in order to be well prepared for next year. But if you need something for this season, Black Friday sales should offer up at least some savings.
5. Sofas
Need to spruce up your living room furniture? Black Friday isn't exactly known for being the best time to upgrade your sofa to something more plush. While there might be a few deals here and there, you'll likely find better ones during Presidents' Day sales, as well as in early spring right up through Memorial Day. Unless you need a piece right away, it's best to file furniture under "what not to buy on Black Friday."
SEE ALSO: Deals on Thanksgiving vs. Black Friday vs. Cyber Monday: What to Buy Each Day
6. Toys (Maybe)
There will be toy deals at stores like Target for Black Friday, but chances are good that we'll see more toy offers in general in December. That's when retailers know what's selling well and what needs a little extra push.
7. Cars
If you can avoid Black Friday and wait a little longer, December might yield massive savings on a new car, according to CARFAX. Maybe the pro move here would be to wrap a gift of a Hot Wheels model as a placeholder until you're ready to head to the sales floor of the dealership.
8. Flooring
No matter how much turkey gravy someone spills onto your white carpet on Thanksgiving, Black Friday isn't the time to shop for new flooring. There may be a few deals available, but December and especially the start of the new year have better options to shop. Lower demand may impact prices, but it's also when the latest models are typically stocked and last year's offerings have to go, with prices to reflect just that.
9. Cameras
According to Space.com, there are a number of significant sales events for cameras every year. The best time to buy a camera isn't only Black Friday — Cyber Monday could also be a winner. But if you don't see what you want on sale, know that post-holiday sales in December and January could also provide some great bargains.
10. Engagement Rings
Given that Black Friday tends to be a good time of year to find a deal on almost anything, it may seem like the best time to buy a diamond engagement ring, as well; but that isn't necessarily the case. According to the experts at The Knot, 16% of respondents to a survey they conducted noted that they shopped for rings three to four months before the actual proposal. That would mean Black Friday would potentially be good for popping the question around Valentine's Day. However, jewelers are also extremely busy during the holiday season, which can mean limited selections and longer lead times.
Jewelry sales happen around Black Friday, but might not provide the discounts you want if you're shopping for an engagement ring.
The Knot also notes that "Black Friday and Cyber Monday jewelry sales are definitely a thing," but that doesn't mean there will be huge discounts. Instead, there might be other perks offered, like expedited shipping or even free gifts with your purchase.
11. Small Business Deals
Want to support indie vendors and small businesses? Rather than buying on Black Friday, consider waiting until the next day, which is known as Small Business Saturday! The deals might not match what you'll find at bigger chains, but the satisfaction of supporting small could make up for it.
Additionally, some Black Friday deals might be better than expected due to excess inventory some retailers are still managing.
Feel like shopping now? Check out all the best deals currently available, and head over to our TikTok page for more great deal info.
---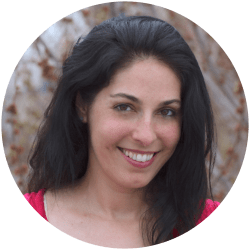 Contributing Writer
Joselin's work has appeared in The New York Post, Elle.com, Morning Edition, Life of the Law and xoJane. Her books include
The Family Gene
and
The Gamification Revolution
. She sometimes remembers to tweet with a handle that economically combines her first and last names:
@joselinder
DealNews may be compensated by companies mentioned in this article. Please note that, although prices sometimes fluctuate or expire unexpectedly, all products and deals mentioned in this feature were available at the lowest total price we could find at the time of publication (unless otherwise specified).