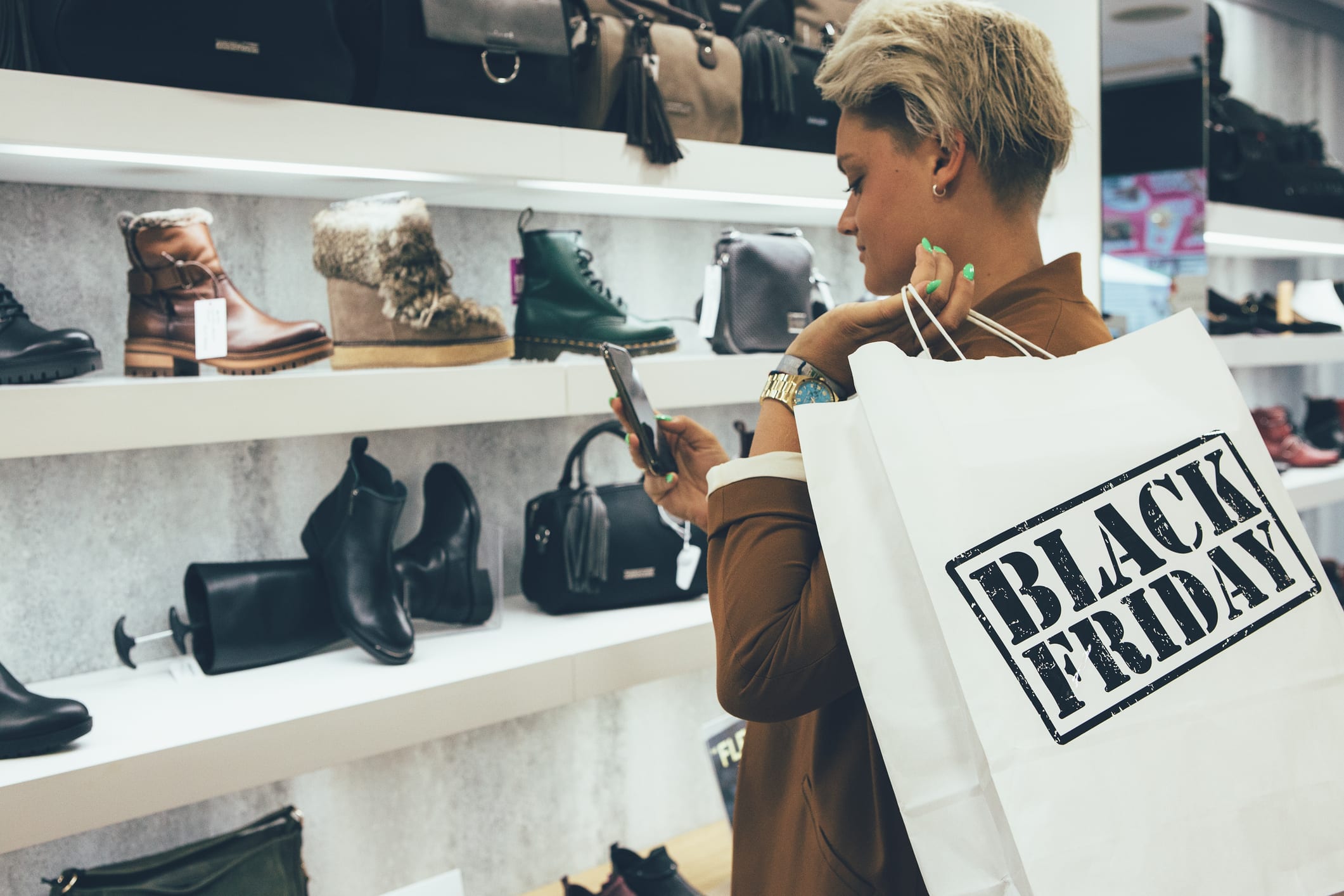 Are you planning to shop Black Friday sales? Whether you're going to stock up on holiday gifts, or just shop for yourself, you'll want to make the most of every minute. Get ready for the 2019 sales by avoiding these 10 common Black Friday shopping mistakes.
10 Ways You're Doing Black Friday Wrong
1. You're Skipping Black Friday
Sales happen all the time, no matter the season. Amazon Prime Day, for example, is a huge sale event in the summer. When you get to the fall, back-to-school sales and Labor Day sales are impossible to miss. So it's no surprise if you're wondering, "Is Black Friday really worth it? Is Black Friday really cheaper?"
Yes! We can assure you that Black Friday sales are worth shopping. You'll find sales for practically every product category, and it's easy to find your favorite products marked down by 50% or more. Even Apple products — which rarely go on sale — can often be found at around 30% off during Black Friday.
While you shouldn't jump into Black Friday and impulse-buy everything you find, there are some great deals to be found. You just need a good shopping strategy.
2. You're Only Shopping on Black Friday
Everyone talks about Black Friday as if it's only a day, but it's really morphed into a full season. Most sales start the week of Black Friday and continue right through the next week. During the two weeks around Black Friday in 2018, we saw over 3,000 deals — and about 46% of those deals were among the best prices we'd seen all year.
SEE ALSO: Thanksgiving vs. Black Friday vs. Cyber Monday: What to Buy Each Day
This year, Thanksgiving falls on November 28, and Black Friday sales have already started in earnest. Conversely, expect sales to start slowing down at the end of next week, on December 6.
3. You're Not Planning for Black Friday in Advance
With so many sales happening, you need a game plan to make the most of Black Friday. The majority of Black Friday ads are already out. Now's the time to browse the ads and think about how to craft your Black Friday shopping list.
DealNews can help with the ability to set alerts on any must-have items, so you'll know immediately if they hit your desired sale price. If there's anything you know you want to buy this holiday season, it's easy to set up a deal alert. And if you just want to browse, we have all of the Black Friday sales in one place for you to review.
Different days offer different deals. For instance, Thanksgiving has great sales on iPhones, but toys are super cheap on Cyber Monday.
As you make your shopping plans, remember that every day of the Black Friday season tends to offer different deals on different items. Thanksgiving — usually the day with the most sales — is historically a great day to buy iPhones, tablets, gaming items, and headphones.
Black Friday is usually the time to stock up on large appliances, TVs, Android phones, and laptops. And Cyber Monday is likely to have the best deals on toys and beauty items. That doesn't mean you won't find a great TV for sale on Thanksgiving — again, reviewing the Black Friday ads is key.
4. You're Assuming Every Black Friday Deal Is a Good Deal
As we said earlier, you can expect thousands of deals to go live during the height of the holiday sales season — but not every Black Friday sale will be good.
Before you add any deal to your cart, do a price check — or focus your shopping on our Staff Picks. Don't just impulsively buy anything sporting a sale sign; do a little research so you can be confident you're getting the best possible price.
5. You're Ignoring Black Friday Doorbuster Deals
A lot of retailers try to tempt you into stores with short-lived sales. These bargains are usually called doorbuster deals because you want to be first in line when the store opens to buy them — and you'll typically only find doorbusters on Black Friday and Thanksgiving. So are early Black Friday deals worth it?
SEE ALSO: How to Get Black Friday Doorbusters in 2019
While it can definitely be a hassle to get out of bed early, doorbuster prices can be worth your effort. Last year, we saw some fantastic TV doorbuster deals, such as an Element 55" 4K TV for just $200. We also saw a super-sized LG 70" 4K TV for $700. Convenience aside, you'd be hard-pressed to beat the prices of many doorbusters.
6. You're Only Shopping in Stores on Black Friday
While many Black Friday doorbuster deals are only available in stores, the vast majority of general deals during the Black Friday season will be available on retailer websites. If you aren't interested in a doorbuster, there's no need to get out of your pajamas.
When you peruse the Black Friday ads, check out the doorbuster deals and determine whether they'll be in-store only, or can also be found online. Then you can decide whether any Black Friday doorbusters are worth getting.
7. You're Not Spending Your Black Friday Gift Cards
A lot of sales during the Black Friday season, particularly sales from Kohl's and Dell, are bundled with gift cards or store credit. You may receive a modest discount on an item, but it'll come with a big gift card. These gift card bundles turn okay deals into fantastic deals — but only if you'll spend the gift cards.
Some Black Friday discounts are just okay, but they're bundled with awesome gift cards.
Before you're tempted by the savings of these bundles, think about whether you'll really use the bundled gift cards. If you won't, you're not really getting the best deal.
8. You're Ignoring Refurbs or Open-Box Deals
You can find refurb products anywhere, but eBay, in particular, tends to offer deep discounts on refurbished or open-box products for Black Friday.
SEE ALSO: Top 6 Stores for the Best Online Black Friday Deals in 2019
In many cases, "refurbished" means the product has been repaired to be like new (sometimes even with original packaging). And "open-box" products are usually just items that have been returned unused, with the box opened.
Though it's a good idea to double-check the return policy in case you get a dud, these deals are already good — and Black Friday sales can make them even better.
9. You're Expecting Free Shipping on Black Friday
Amazon Prime has spoiled us with shipping that's fast and free. But not all stores will offer free shipping for Black Friday. Expect most online retailers to have an order minimum to meet for free shipping, even during the holidays. While some stores will drop this minimum to entice shoppers, others will still require purchase amounts like $100 or more.
If you aren't spending the minimum, consider opting for in-store pickup. Many stores will let you order online and pick up at the nearest store, thus letting you skip shipping costs.
10. You're Expecting Black Friday Price Matching
Every deal hunter loves to pit stores against each other with price matching. Sadly, price matching doesn't always work on Black Friday. Even stores that typically price match may suspend price matching for the Black Friday shopping season. So think of price matching as the exception, rather than the rule during the holidays.
Be sure to check the store's policy before you waste your precious shopping time arguing for a lower price that a retailer just isn't going to give out.
---