Black Friday TV Deals 2022: What Can You Expect for Every Screen Size?
Small sets will once again drop to $80, while TVs in the 60" size class could cost less than $500!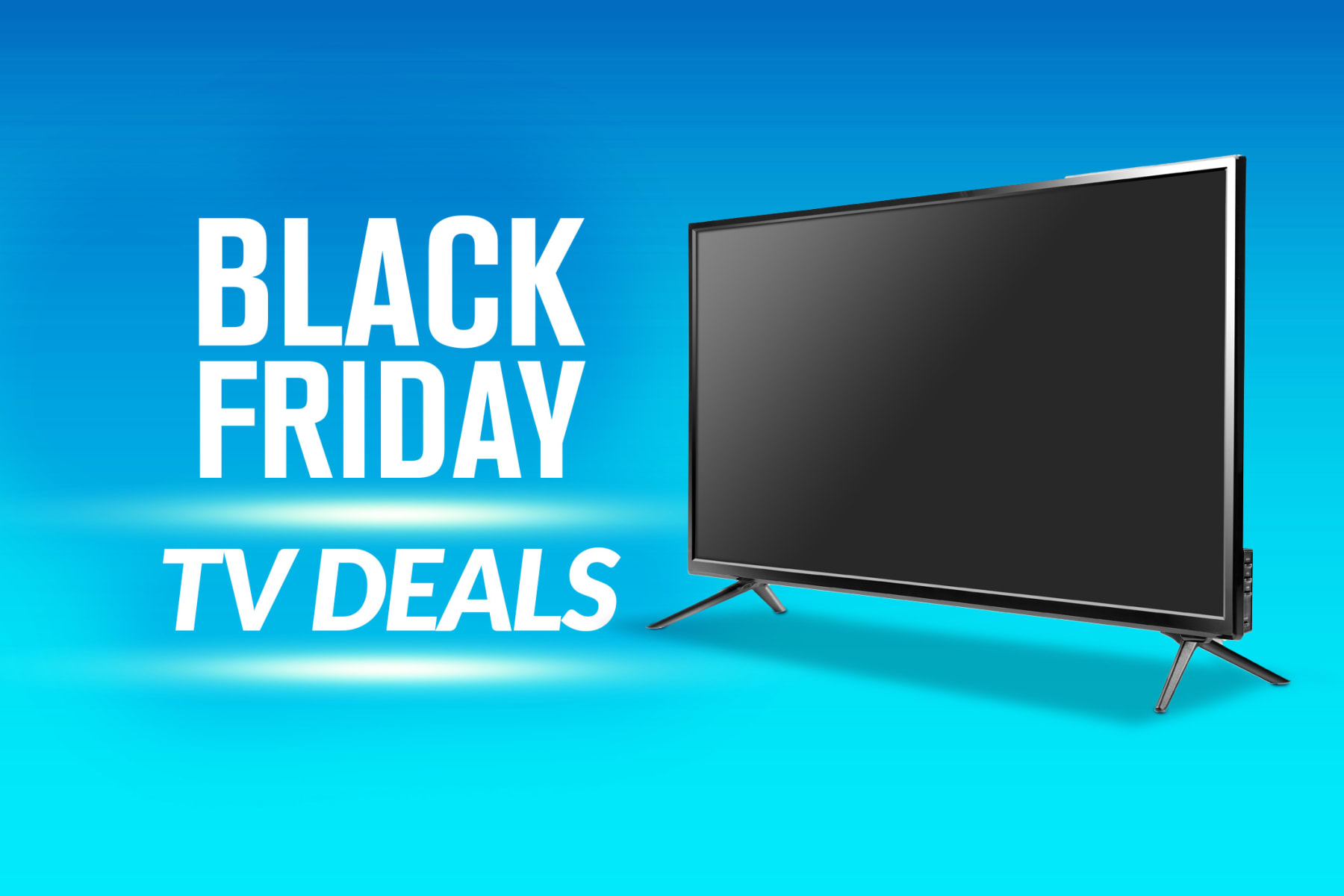 One of the best times of year to shop for TVs has to be Black Friday. Not only does this shopping holiday bring some of the best prices of the year, but it also tends to have a bigger selection on sale.
With inflation being a real concern for many shoppers this year, it's important to look for the best Black Friday TV deals if you want a new set. Check out our guide on the lowest TV prices you can expect to see, average discounts for each size class, and the brands to keep an eye out for in 2022.
The Top Black Friday TV Deals in 2022
The Top Black Friday Streaming Deals in 2022
Want to figure out what to watch on your new TV? Then check out these Black Friday deals from various streaming services.
NOTE: The information below was compiled before the Black Friday ads came out. Please refer to the ads above before making any shopping plans.
Key TV Predictions
What to Expect From Black Friday TV Deals in 2022
In order to make solid Black Friday TV predictions for 2022, we took a deep dive into all the TV deals we listed during the time frame last year. The below table offers at-a-glance info on the most popular brands, plus the lowest and average Black Friday price for each TV size class. It can give you an idea of what to look for during Black Friday 2022.
| TV Size Class | Brands With Most Deals | Best Black Friday Price | Average Black Friday Price |
| --- | --- | --- | --- |
| 39" and below | Insignia | $80 | $110 |
| 40" - 49" | LG | $128 | $496 |
| 50" - 59" | TCL | $250 | $514 |
| 60" - 69" | Sony | $448 | $916 |
| 70" and above | LG and Hisense | $398 | $1,112 |
The infographic below provides another way to look at the data from the table. As you can see, you can expect the best Black Friday prices to increase as TV screen sizes get larger, except in the case of 70"-and-above TVs. In that size class, you may see lower prices than you would in the 60"-69" class!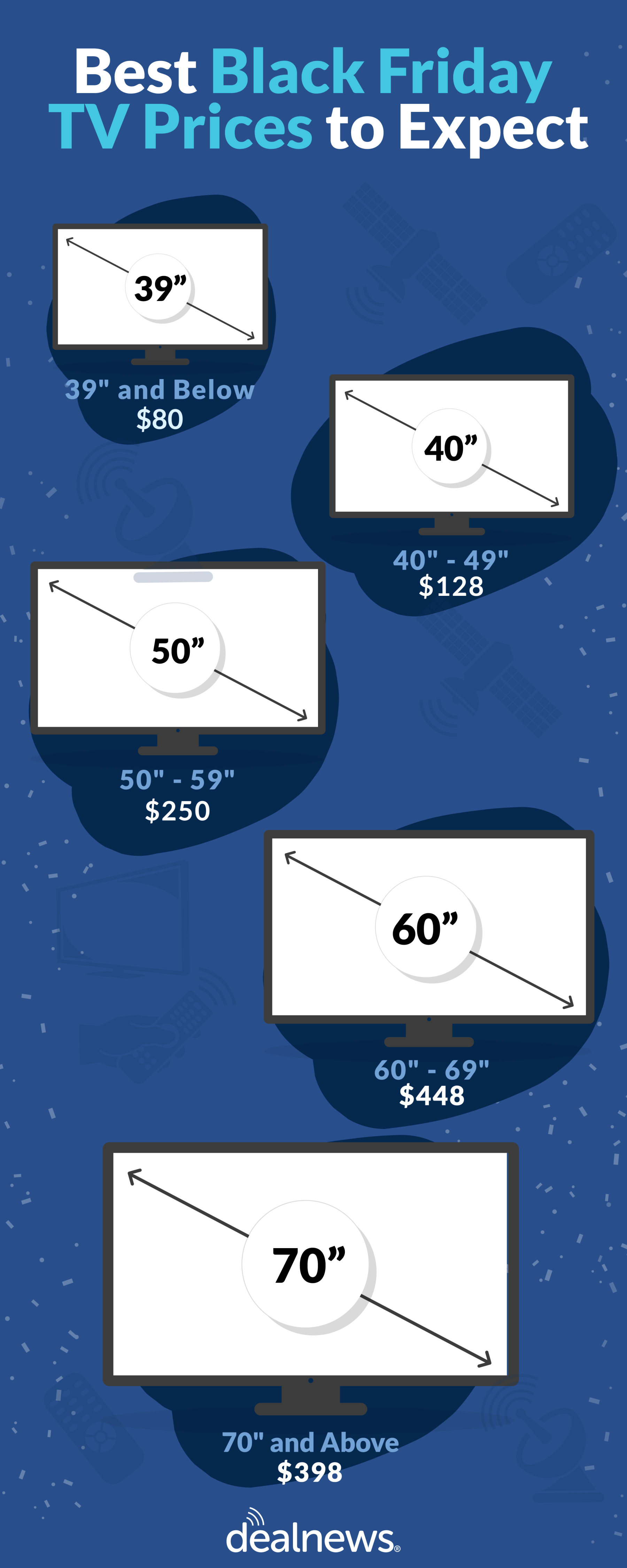 Small Displays Could Hit $80 Again
We may not see many deals on smaller sets around Black Friday, but there are usually at least a handful to watch for if you're looking for compact entertainment. Keep in mind that even 39"-and-under TVs are likely to have smart features now. So if you're hoping to find a "dumb" TV — that is, one that doesn't connect to the internet — you may be out of luck, even on Black Friday.
Last year, Insignia dominated this size class for deals, with a 19" set falling to $79.99. Ordinarily, we see a 32" set for between $79 and $99 around Black Friday, but that wasn't the case in 2021. Rather, a 24" set went for $100, a 32" set had a price of $120, and a 39" TV was $140. The increase in prices could be related to the fact that they were smart sets. Even so, these are pretty great prices for smaller TVs, so if you need one for the kids' room, kitchen, or another tiny space, Black Friday is a good time to shop.
Sets in the 40" Size Class Could Cost Less Than $150
The 40"-49" size class isn't hugely popular, though it does have a few notable deals every Black Friday, and last year was no different. An Onn 40" set offered the lowest price at $128, but be aware this Onn is a Walmart-exclusive brand that many may consider bottom-tier. If you're worried about quality and having a set that lasts, you may want to look at other brands.
Fortunately, there are some well-known, solid brands in this category that are still affordable. We saw 43" sets from TCL and Pioneer for around $260, as well as 43" TVs from Best Buy for as little as $230. One thing to keep in mind is that certain sets even in this smaller size can be pricey if they're on the "fancier" side. For instance, we saw Samsung's The Serif 43" set for a whopping $800 during Black Friday 2021. At that rate, you may be better off shopping a different model and size to get a better value.
Deals on Midsize TVs Should Average Around $500
If you're looking for a midsize set, the 50" size class is usually a safe one to browse. It's also one of the more popular size classes, so we tend to see quite a few deals at any given time for TVs between 50" and 59". In fact, more than a quarter of the TV offers we saw around Black Friday 2021 fell in this range, with the lowest price being a TCL 50" Roku TV for $250.
The average Black Friday deal price for a 50"-59" TV was around $514. That's not bad, considering the wide range of brands available, as well. Some of the most notable deals we saw were a Toshiba 50" smart Fire TV for $300, plus two Sony 55" smart sets for $800 and $1,400 — one of which was an OLED TV. These were good enough to earn our Staff Pick badge for "best of the best" savings.
60" Sets May Go for Less Than $500
If you have the room both in your home and in your budget, you may want to consider upgrading your midsize set to a 60" or larger one for Black Friday 2022. Last year, this size class had the second-highest number of deals, with about one-fourth of the offers we saw falling between 60" and 69".
SEE ALSO: Black Friday Travel Deals 2022: What Discounts Should You Expect?
Even better, the prices on these sets could be seriously impressive. Last year, a Hisense 65" Roku TV took the lowest-price honor for the 60"-69" range, coming in at just $448. On average, this size class featured deal prices of around $900, so don't expect all the price tags to be as excellent as the Hisense one.
But there should be a vast array of offers to choose from in the 60"-69" range, as it's such a popular size class. Around Black Friday 2021, we saw a Vizio M-Series 65" set for only $598, a 2020 Sony 65" OLED set for $1,500, and a 2021 refurbished Sony Bravia 65" OLED TV also for $1,500; all of these deals were Staff Picks. In fact, Sony dominated the deals in that particular size class last year, with 29% of those offers being from the big brand. But if Sony doesn't appeal to you, know that we should see plenty of other notable brands, including Amazon, LG, Samsung, and TCL.
Huge Screens Will Average Around $1,100
You know what they say: go big or go home. If you're looking for the biggest TV this Black Friday, know that it's probably going to require a bit of an investment. The average deal price for 70"-and-larger TVs during Black Friday 2021 was around $1,100, although we did see a 70" set for only $398. Note that this TV was from the Onn brand at Walmart, and remember that often "you get what you pay for," especially with products like electronics. We're not saying you should avoid the brand entirely, but be aware of possible pitfalls.
Pay attention to brand when shopping Black Friday TV deals. Even if you aren't worried about the big names, you still want to get the best value for the price.
That said, you'll find plenty of other reliable brands to shop in this size class, including TCL, Samsung, Vizio, LG, Hisense, and Sony. And some of those come at super affordable prices, as well. Last year, we saw a Samsung 70" TV for $600, which is an excellent price for a set that large. We also saw a Vizio 70" V-Series set for $498 — a deal that was so good, it earned our Staff Pick designation. Needless to say, if you're looking for deals on big-screen TVs, there will be an option for nearly every budget.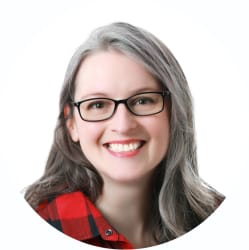 Senior Staff Writer/Consumer Analyst
Julie's work has been featured on CNBC, GoBankingRates, Kiplinger, Marketwatch, Money, The New York Times, Real Simple, US News, WaPo, WSJ, Yahoo!, and more. She's extolled the virtues of DealNews in interviews with Cheddar TV, GMA, various podcasts, and affiliates across the United States, plus one in Canada.
DealNews may be compensated by companies mentioned in this article. Please note that, although prices sometimes fluctuate or expire unexpectedly, all products and deals mentioned in this feature were available at the lowest total price we could find at the time of publication (unless otherwise specified).