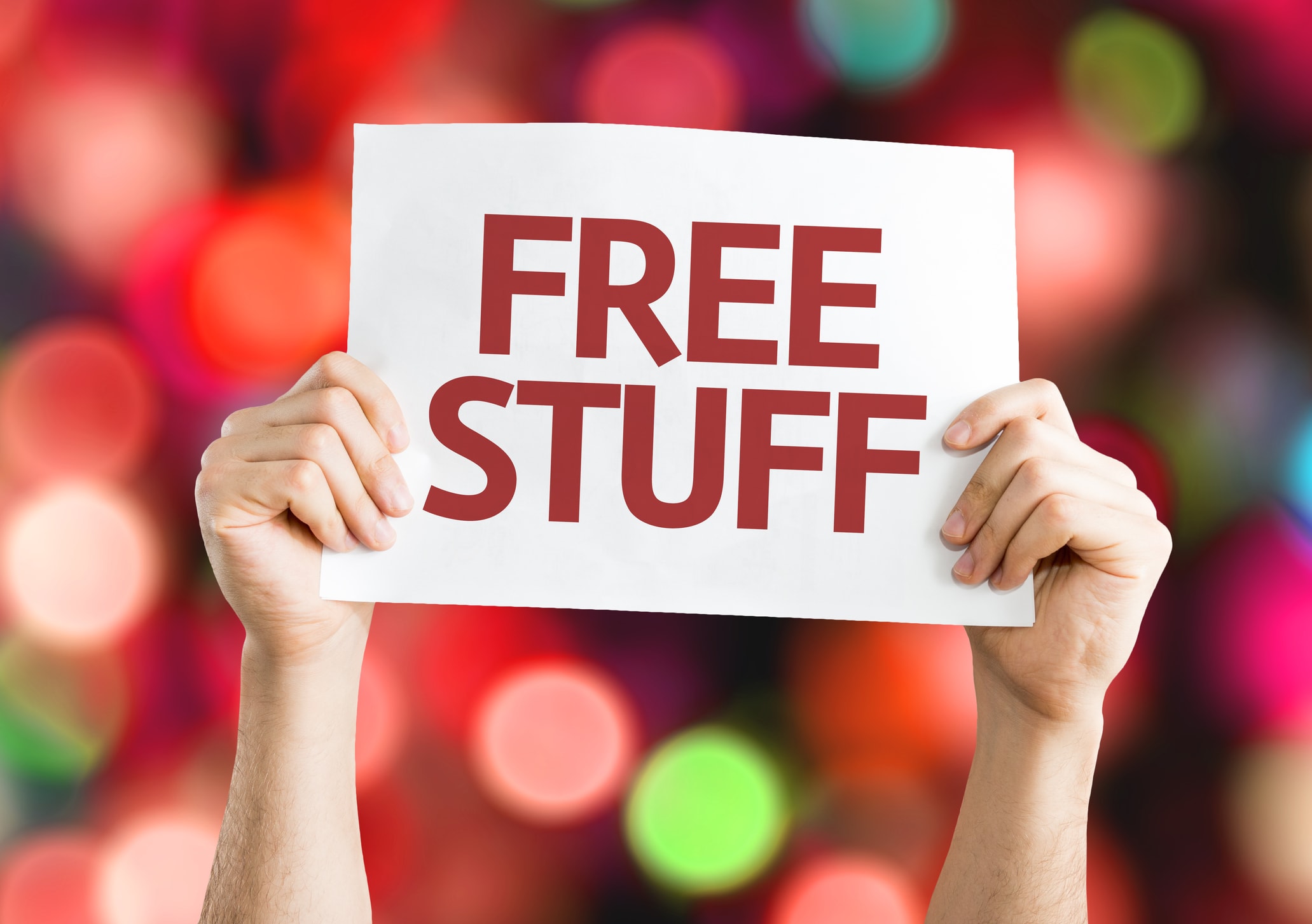 After a big dinner on Thanksgiving, the last thing you may want to do on Black Friday is roll out of bed early for in-store shopping. But being one of the first shoppers through the doors can pay off in multiple ways. For one, you can have better luck nabbing inventory before it sells out, and you could also score notable freebies that make Black Friday deals even better.
SEE ALSO: The 5 Best Gift Card Deals
Read on to see the freebies retailers are offering on Black Friday 2018 (that's today!). And keep checking back! We'll update this page with more Black Friday freebies as we learn about them.
Be Prepared to Stand in Line
Many freebie deals are available on a first-come, first-served basis. This means you'll have to head to the stores early. And as you'll see, some of the freebies only apply to the first 100 or so customers, so you'll need to be in line before others arrive to ensure you can grab these items.
Get Black Friday Deals in Your Inbox!
Sign up for the DealNews Select Newsletter now to get the best deals every day. When Black Friday deals go live, the best offers will come to you.
Click here to sign up!
That may sound like a lot of trouble for a small freebie, but when you're trying to save money on Black Friday, these little perks can go a long way.
Every Black Friday Freebie You Can Score Today
Confirmed! Barnes & Noble: Shopping for booklover gifts early on Black Friday? Stop by the cafe in your local store and enjoy buy one, get one free Starbucks drinks until 10 am local time.


Confirmed! Bass Pro Shops: Stop by now through December 24 and score a free photo with Santa. Plus, you can also get a free plush with your photo. The plush offer is valid Mondays through Thursdays only, from 5 pm to 7 pm local time, and is available to the first 100 kids who have their photo taken with Santa. There will also be free crafts, games, and activities to take part in.

This Saturday and Sunday, the first 300 guests in-store will receive a mystery prize, in addition to a light-up Christmas spinner. Plus, donate a new toy to Toys for Tots on those days, and you'll receive a free photo package.


Confirmed! Belk: The department store will give away at least 100 gift cards today. They'll be valued between $5 and $500, with one $500 winner per store. The cards are redeemable in-store only.


Confirmed! Conn's: Be one of the first 21 people in-store today, Saturday, or Sunday, and you'll receive a scratch ticket. Today one winner will receive an Apple Watch, while the other 20 tickets will be worth $200 cash back. Tomorrow, the prize is a Samsung 55" 4K TV, and on Sunday, one person will win an Xbox. Both days over the weekend, 20 people can get up to $200 "match your tax" cash back.


Confirmed! Dunkin': Need to fuel up for the big shopping day? The rebranded doughnut shop is teaming up with Lyft and offering customers a free ride to their local Dunkin' today. Simply be one of the first 25,000 users to use the code "SipDunkin" by 3 pm ET today.


Confirmed! Fred Meyer: Swing by the store today for free coffee, juice, and doughnuts. The first 100 customers could also receive a free gift card.


Confirmed! Half Price Books: The first 100 booklovers through the doors today are receiving a free tote bag and a $5 gift card. If that's not enough to drag you out of bed early, one tote bag contains a $100 gift card.


Confirmed! Lowe's: Drop by between 6 am and 8 am today, and you'll receive a gift card worth between $5 and $500. Quantities are limited, so the earlier you show up, the better chance you'll have of grabbing one!


Confirmed! Macy's: The department store is offering several items for free after a rebate, including glassware sets, pearl earrings, and slow cookers. Click here to see the full list.


Confirmed! Mills Fleet Farm: The first 500 customers through the doors today are receiving a free plush toy.


Confirmed! Petco: Shop at Petco on Black Friday and get a free gift for your furry friend! If you make any in-store purchase with your Pals Rewards card, you'll receive a free pair of antlers for your dog or cat.


Confirmed! Stage Stores: The first 75 guests in-store today can grab a free holiday tote and a $5 Thank You coupon, also valid on doorbusters.

Plus, stores will be raffling off a Sharper Image Bluetooth speaker tomorrow. Tag a picture of yourself in line and receive an extra raffle ticket.


Confirmed! Stein Mart: Get to the store early on Black Friday and search for the hanger with the gold hanger sticker. If you're the first to find it, you'll win either $500 or $5,000. A $500 gift card will be available in every store, but the $5,000 prize will only show up in one store.

Additionally, the first 100 shoppers in the door before 10 am today or tomorrow will receive a gold scratch-off ticket. It could be worth $5, $25, or $100.


Confirmed! World Market: Be one of the first 100 customers in-store today, tomorrow, or Sunday, and you'll receive a free tote bag, as well as a $10 gift certificate.
Readers, what Black Friday freebies will you be trying to snag this year? Let us know in the comments below!
---