You already know that Black Friday is a great time to shop for clothing and electronics. But it's also a prime opportunity to find notable travel deals. Whether you're hunting for Black Friday airline deals, affordable hotel rooms, cheap cruises, or sales on vacations, there's a discount for every traveler.
SEE ALSO: Black Friday Sneak Preview 2019: See All Our Deal Predictions!
"The good news is that like most things on the internet, all different types of travel deals will typically see massive discounts during the week of Black Friday and Cyber Monday," says Will Lardinois, Travel Editor at DealNews. Check out our guide to Black Friday travel deals, and you'll learn exactly what to expect and when to book.
The Best Black Friday Travel Deals in 2019
Here are the best travel deals we've seen for Black Friday.
The Top Black Friday Hotel Deals
Hotel Stays for up to 25% off at The Harbor Club
Hotel Stays for up to $70 off at Hotwire
Black Friday Sale with Flash Sale Deals on hotels at Priceline
The Top Black Friday Vacation Deals
Select Vacation Trips for $1,200 off per couple at EF Go Ahead Tours
40+ Trips Worldwide for up to 20% off at Trafalgar
Black Friday Travel Deals for up to 20% off at EF Ultimate Break
The Top Black Friday Flight Deals
The Top Black Friday Cruise Deals
NOTE: The information below was assembled before the Black Friday ads came out. Please refer to the ads above before making any shopping plans.
You can click any of the links below to jump ahead on this page and learn more about that topic.
Black Friday Airline Deals
Black Friday Hotel Deals
Black Friday Cruise Deals
Black Friday Vacation Deals
5 Tips for Booking Black Friday Travel Deals
1. Shop Carriers and Online Travel Agencies
You can take a few measures to ensure your travel deal shopping proceeds smoothly. For one, check both individual carriers and online travel agencies (OTAs), such as Expedia. As Lardinois notes, "If it's a sale, these prices will often trickle down to the various OTAs... but coupons will most likely require booking through the carriers themselves."
2. Be Flexible With Your Travel Plans
Everyone we interviewed stressed that remaining flexible with your plans will ensure you get the best Black Friday travel deals. "We often find the best prices for airfare and hotels by moving around the travel dates," Lardinois says. "For instance, weekends are typically the most expensive days to travel [or] stay at a hotel. ... Flying and vacationing during the middle of the week tends to yield the best possible prices."
3. Do Research Ahead of Time
Lardinois also recommends conducting price research before Black Friday arrives. Keep an eye on DealNews in the lead-up to Black Friday for insight on what travel offers will be available. That said, the really great vacation deals will go quickly. He says to "assume that these offers will not last long."
4. Leave on the Right Day
If you're trying to determine the best time to depart, know that it depends on where you're flying. "In general, if you're getting away for a weekend, you should plan to depart on Saturday for domestic flights, and depart on Thursday for international flights," notes Hayley Berg, economist for the travel app Hopper.
5. Check Out Multiple Airports
Berg also says that being open to other airports can help you get the best rates. "Be flexible with airports if you are flying out of or into an area with multiple airports," she advises. "There may be a fantastic deal to another airport in the area that you're missing out on."
Black Friday Flight Deals Preview
Book Your Winter Travel on Black Friday
While you can expect to see travel deals of all types during the holiday season, Black Friday airfare discounts will be the most prominent. "The strongest discounts and/or coupons we've seen have traditionally been on airfare deals," Lardinois says. "The great news about this is they usually last throughout the week or weekend of Black Friday."
SEE ALSO: Best Black Friday Phone Deals 2019 Preview: Save More When You Buy Multiple Apple iPhones
Even so, don't expect these significant savings to be applicable immediately. According to Berg, "If you're shopping for flight deals on Black Friday, Cyber Monday, or Travel Deal Tuesday, you can expect to find great deals for dates in the winter (after the holiday season) and spring."
Though many people have made their holiday travel plans by that time, future travel is still in question. "Most travelers have already booked their holiday airfare, but haven't started planning their winter getaways yet," Berg says. "[Airlines are] able to increase demand by incentivizing travelers with great deals."
Save Up to 40% on Travel Deal Tuesday
So are flights cheaper on Black Friday, or should you get tickets on another day? And do airlines have Black Friday sales? Berg says while airlines tend to host airfare sales on Black Friday and Cyber Monday, the folks at Hopper have found the best day for deals is Travel Deal Tuesday. This event occurs the Tuesday after Thanksgiving, so Travel Deal Tuesday is on December 3 in 2019. "Historically, we've observed more flight deals on Travel Deal Tuesday than Black Friday and Cyber Monday combined," Berg adds.
'We typically observe discounts on 20% of all routes' during Travel Deal Tuesday.
And how are the discounts on Travel Deal Tuesday? According to Berg, "We typically observe discounts on 20% of all routes so you can expect great domestic and international deals. We typically see savings upwards of 40% (or, in certain cases, even more)."
Don't expect these airfare sales to only come from budget airlines, either. "Last Travel Deal Tuesday, we saw airlines like Hawaiian Airlines, Cathay Pacific, Icelandair, Avianca, South African Airways, and Qatar Airways offering deals to bucket-list destinations like Sydney, Beijing, Tokyo, Costa Rica, Reykjavik, Cape Town, and Bangkok," Berg says. "We're expecting even more deals this year as traction around this shopping phenomenon grows."
Expect 1-Way Flights to Be Priced From $19
If you're looking for cheap getaways, watch for 1-way airfares to cost as little as $19 around Black Friday. While those are likely to come from airlines such as Frontier, bigger carriers like Southwest Airlines will also have deeply discounted tickets. Around Black Friday 2018, we saw 1-way flights via Southwest drop to $49, while Alaska Airlines offered roundtrip fares starting at $76. Even international fares could be as cheap as $200 — last year, that was the lowest price we saw for roundtrip flights to Europe.
SEE ALSO: Black Friday Laptop Deals 2019 Preview: Save Up to $700 on Alienware Gaming Rigs
Regardless of which Black Friday airline deal you book, be sure to consider a credit card that will reward you for your travel. "There are plenty of good airline credit cards out there, as there are rewarding frequent flyer programs," says Jill Gonzalez, analyst at WalletHub. "Some of the best programs include Delta SkyMiles, United Airlines (MileagePlus)... and JetBlue Airways (TrueBlue)."
Black Friday Hotel Deals Preview
Save 15% to 35% on Hotel Stays
Wondering where to stay during your next getaway? Black Friday travel deals will feature plenty of warm destinations, so you can shake off winter's chill. During Black Friday 2018, we saw up to 35% off winter stays in Myrtle Beach, South Carolina. What's more, Expedia offered a coupon that cut an extra 15% off select hotel stays during its Black Friday sale.
During its Black Friday sale last year, Expedia offered a coupon that cut an extra 15% off select hotel stays.
Black Friday Hotel Rates Could Drop to $39/Night
Expect a variety of sites to have notable hotel deals. Last year, Travelocity offered New York hotel stays for as little as $39 per night, while hotel and ski packages in Salt Lake City started at $81 per person. Are you dreaming of a resort trip? Riu Hotels & Resorts offered up stays for $97 per night last Black Friday.
Larger Travel Sites Will Have the Best Coupons
"While specific hotel chains often have Black Friday and Cyber Monday sales, I'd tend to say that the absolute best coupons for hotels (and hotel/airfare bundles) tend to come from the largest OTAs, such as Expedia," Lardinois points out. "However, there's a major caveat — these coupons (especially from Expedia) are usually extremely limited in number of uses. Very much a 'blink and you'll miss it' type of ordeal for the absolute best of the deals."
SEE ALSO: Black Friday Smart Home Deals 2019 Preview: Echo Dots Will Be a Steal at $20
You can prepare ahead of time, though. Lardinois suggests looking at the larger travel sites the week before Black Friday. Often, they'll publish all the coupons they'll offer on Black Friday itself. Once you know what deals to expect — and when they'll go live — you'll be better equipped to snap them up.
Black Friday Cruise Deals Preview
Cruise Sales Will Go As Low As $149/Person
According to Lardinois, a few great cruise sales could happen around Black Friday. But overall, he says, better discounts typically pop up during the "wave season" — that is, January through mid-to-late March. It's "the period when most cruise lines try to fill out their summer sailings with deep discounts," he explains.
Norwegian Cruise Line rates went as low as $149 per person around Black Friday last year.
The good news is these deals aren't restricted to a particular area. Rather, they tend to be worldwide. Lardinois says this is due to the fact that the Black Friday cruise discounts most often appear in the form of cruise line sales. Watch for these events to offer rates as low as $149 per person — Norwegian Cruise Line boasted this deal around Black Friday last year.
Avoya Travel had a notable sale, as well, dropping rates on various cruise lines to a starting price of $293 per person. You can also expect to procure serious savings on last-minute cruises, such as three nights to the Bahamas from $398 for two people. Black Friday cruise deals will include many locations. Just know that warmer destinations like the Caribbean will likely be more popular during these sales.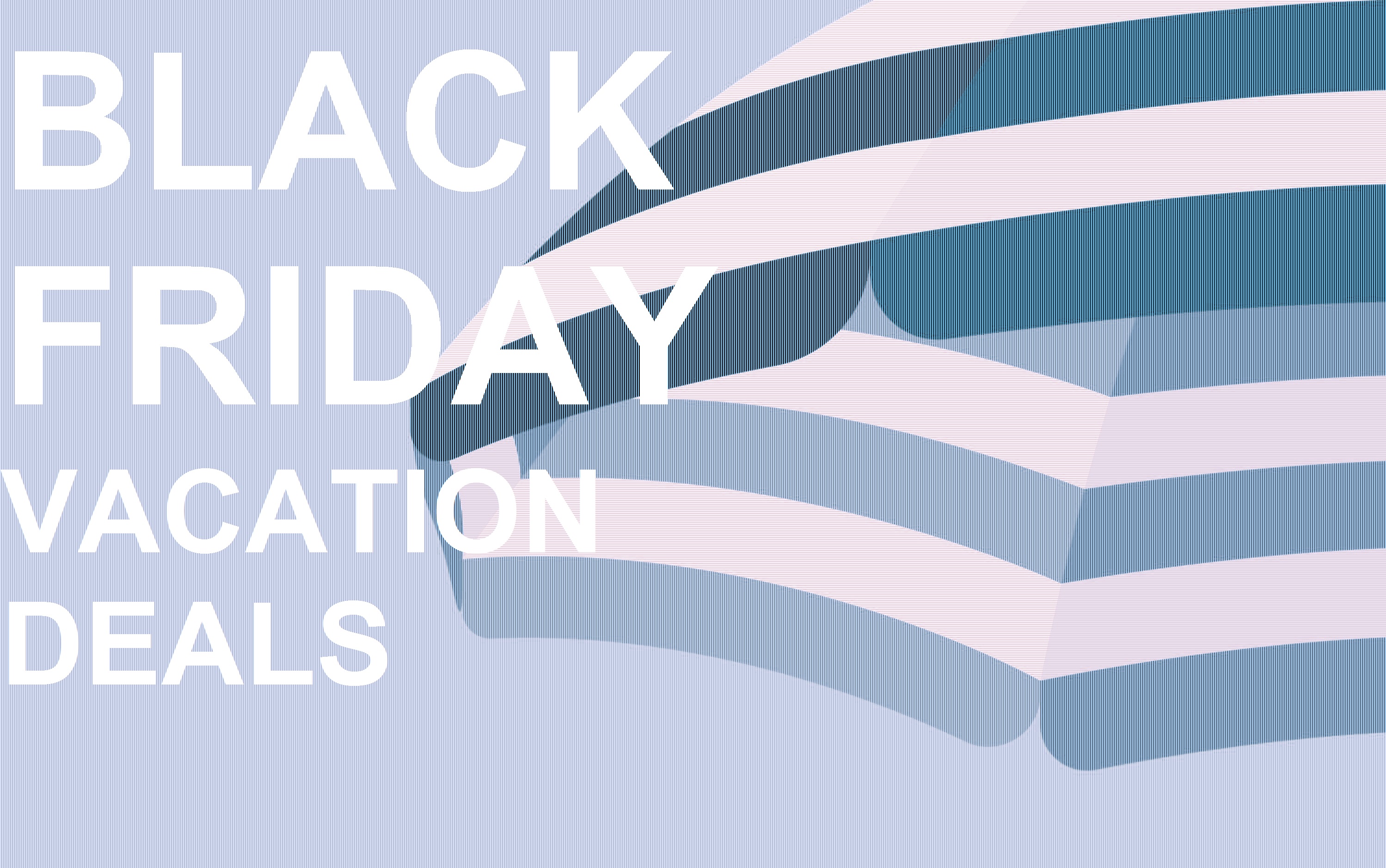 Black Friday Vacation Deals Preview
Book a Trip for As Little As $425/Person
Booking an all-inclusive getaway for as little as $425 per person may sound too good to be true, but that's exactly the type of vacation deals you'll see during Black Friday. You can easily find affordable 2- and 3-night trips to Los Cabos and Riviera Maya. What's more, you'll also find deeply discounted weeklong stays in Ireland and even New Zealand.
SEE ALSO: Black Friday Clothing Deals 2019 Preview: Score BOGO Shoes and Jeans
Wherever you're traveling to, Gonzalez recommends booking with a credit card during hectic seasons like Black Friday. It's best to use a travel rewards credit card, as you'll not only receive more points and miles, but because these cards typically include additional benefits, she notes. "Some of these include waived baggage fees, or trip cancellation or interruption insurance, which could save you hundreds of dollars," she explains.
Gonzalez also clarifies that it's important to be flexible, and you should plan your trip with plenty of time in advance. "This should ensure you don't encounter any issues along the way," she adds.
See All the 2019 Black Friday Sneak Previews!