Whether you're looking for a budget machine, a fully loaded gaming laptop, or a device that's somewhere in between, there's bound to be a laptop deal for you around Black Friday. While Windows laptop deals and Chromebook deals will be prevalent, we could also see a few MacBook deals — but don't expect any extraordinary deals on Apple laptops.
SEE ALSO: Black Friday Sneak Preview 2019: See All Our Deal Predictions!
Check out our guide below to learn what to expect from Chromebooks, MacBooks, and more.
The Best Black Friday Laptop Deals in 2019
Here are the best laptop deals we've seen in the Black Friday ads.
The Top Apple MacBook Black Friday Deals
The Top Chromebook Black Friday Deals
The Top Windows Laptop Black Friday Deals
The Top Budget Laptop Black Friday Deals
HP AMD A9 Radeon R5 14" Laptop for $200 at Best Buy
HP 14z AMD E2 14" Laptop for $170 at HP
Dell Inspiron 14 3000 14" Laptop for $130 at Dell Home
NOTE: The information below was assembled before the Black Friday ads came out. Please refer to the ads above before making any shopping plans.
You can click any of the links below to jump ahead in this article and learn more about that topic.
Apple Black Friday MacBook Deals
Black Friday Chromebook Deals
Black Friday Windows Laptop Deals
Apple Black Friday MacBook Deals Preview
Apple Will Bundle MacBooks With Gift Cards
On the Apple website, the only MacBooks you can buy right now are MacBook Pro and MacBook Air models. As such, some of the best deals we've seen this year are on the regular MacBooks from 2017. You won't find any superpowered models here, but a previous-gen MacBook should be fine for anyone who doesn't have heavy graphics demands.
Some of the best deals we've seen this year are on the regular MacBooks from 2017.
For example, we saw a 12" Apple MacBook with an Intel Kaby Lake Core m3 CPU for $799 in March. Only two months later, the same model could be found for $800 and that included a 3-month subscription to Apple Music.
Apple is notorious for rarely offering deals on its devices. Even when it has a Black Friday sale, the promotion tends to be unremarkable. For instance, during last year's 4-day Apple Black Friday sale, you could get gift cards when you paid regular price for a number of devices. The highest gift card amount was $200. It was bundled with the most expensive purchases — that is, select MacBooks, iMacs, and the Mac Pro.
But there is good news if you decide to buy directly from Apple: you should receive a free year of Apple TV+ when you purchase a new Mac. Just don't expect any discounts to go along with this offer.
Black Friday Chromebooks Deals Preview
Basic Chromebooks Will Go for $99
Chromebooks tend to be thought of as cheap machines that can't do much. But they actually range from those basic gadgets to devices that cost as much as any other full-blown laptop — and they can boast similar capabilities.
Around Black Friday last year, we saw a Samsung Chromebook for $99 at Walmart.
If you only want a machine for surfing the internet, handling emails, and maybe some light writing, then a basic Chromebook at $99 will suffice. But just because it's affordable doesn't mean it'll come from a no-name brand. Around Black Friday last year, we saw a Samsung Chromebook for this price at Walmart. Features included the following:
Intel Celeron N3060 1.6GHz dual-core processor
11.6" 720p LED LCD display
4GB RAM and 16GB eMMC storage
802.11n wireless and Bluetooth
At the more advanced end of the spectrum, we saw both Samsung and Lenovo Chromebooks going for less than $500. For instance, Amazon offered a Samsung 12.3" Chromebook Pro for $420. It had better specs than the basic model, such as:
Intel Core m3-6Y30 900MHz dual-core processor
12.3" 2400x1600 LCD touchscreen display
4GB RAM and 32GB flash storage
802.11ac wireless and Bluetooth 4.1
And Lenovo offered one of its Yoga models for $480. That model was capable of much more than just browsing the internet, thanks to these specs:
Intel Core i3-8130U 2.2GHz dual-core processor
1080p IPS touchscreen display
8GB RAM and 64GB eMMC internal storage
This year, we'll almost certainly see similar prices, with basic Chromebooks at $99 again and deep discounts on high-end models. While more versatile Chromebooks could fall under $500, some at the higher end of the range could be closer to $600 or $700.
SEE ALSO: Apple Black Friday Preview 2019
For instance, we saw Google's high-performance Chromebook — the Pixelbook — at $699 for Black Friday last year. (That was an impressive $300 off the list price.) This year, we've seen a refurbished Pixelbook for $600 and a new one for $899, and we expect lower prices for Black Friday.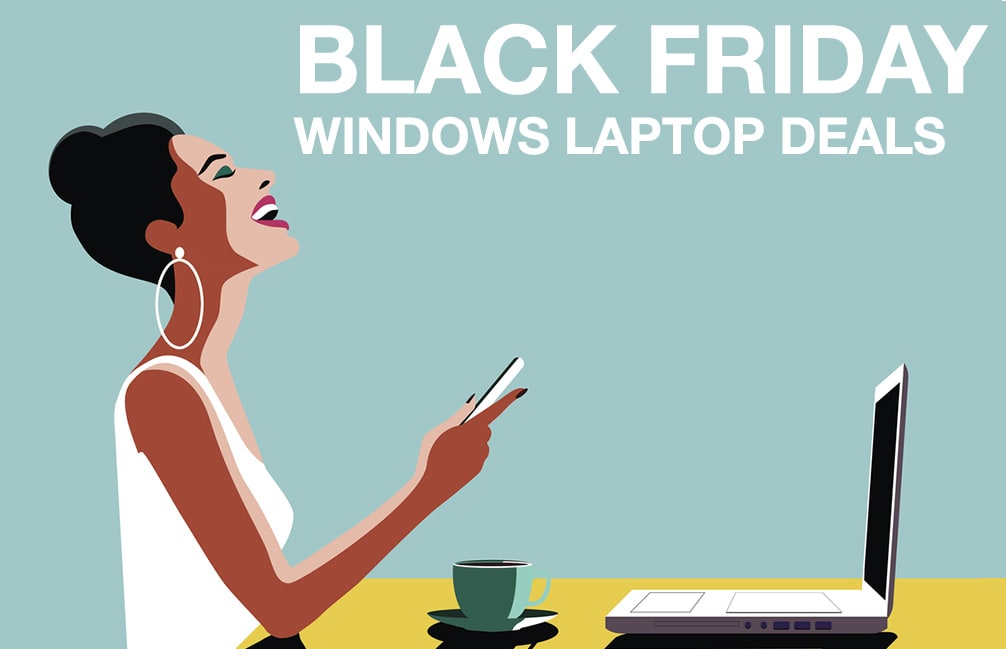 Black Friday Windows Laptop Deals Preview
Budget Black Friday Laptops Could Drop to $200 or Less
If you prefer Windows laptops, you're in luck! We expect a plethora of Black Friday deals for Windows PCs. Dell will make up the bulk of the deals we see, but a fair number of Lenovo and HP laptop offers will be available, too.
Dell will slash prices for Black Friday and cut 15% off via a stacking coupon code.
Dell tends to give customers 15% off around holidays, and Black Friday will be no different in that respect. However, deals will still be better; Dell will likely cut prices for the holiday and cut 15% off via a stacking coupon code. With discounts like that, we easily expect budget laptops to fall under $200. Those devices will have specs like these:
AMD 1.5GHz dual-core processor
4GB RAM and 32GB eMMC flash storage
802.11n wireless and Bluetooth 4.0
Most budget laptops will be similar, even those that are priced slightly higher. Look for machines around the $200 mark to have features such as these:
Intel Celeron N4000 1.1GHz dual-core processor
15.6" 1366x768 LCD display
4GB RAM and 500GB hard drive
802.11ac wireless and Bluetooth 4.1
Save Up to $300 on Microsoft Surface Products
If you're eyeing higher-end devices, such as the Microsoft Surface line, be prepared to pay premium prices. You can expect to save up to $300, though cheaper machines will see more modest discounts. For example, the Surface Go will likely drop by $50 to a final price of $349, depending on the build you choose.
SEE ALSO: Black Friday Gaming & Toy Deals 2019 Preview
However, if you're wanting a heavy-duty device that can handle more tasks, know that the Surface Book 2 could get $300 off. This 2-in-1 laptop with a detachable keyboard is reportedly capable of handling gaming, tablet writing, and Office apps.
Alienware Gaming Laptops Could Be Up to $700 Off
Are you hoping for a ton of Black Friday gaming laptop deals? There's a good chance Alienware machines will see discounts as high as $700 off. In fact, this year we've already seen the Alienware Area-51m price fall by $500 to $700, depending on the build. And considering the starting price for the laptop is about $2,000 (as of this writing), that's a decent discount to look forward to.
See All the 2019 Black Friday Sneak Previews!