Target Black Friday Ad Update: Competitors Will Top Many of These Deals
Target's full Black Friday Ad is revealed. It's good, but not amazing.
Last week, Target showed the world a small sliver of its in-store Black Friday deals. After relatively little time to let the populace gawp in wonder at its benevolence, Target already released its full ad. Our analysis of the preview ads was that it was slightly disappointing; however, there were a few gems in there. The full ad reveals more gems, but also more yawners, so it's a stalemate! There are still some decent deals to look forward to, but only if you choose carefully.
Decent Discounts on TVs, But Better Deals Might Be on the Horizon
Element 50" 1080p LED HDTV for $229
This TV deals crushes all other 50" TV deals we've seen and could easily become the best TV deal of the season. While there's still time for other surprises, this confirmed deal is worth keeping an eye on if you're in the market for a big-screen TV and don't care about brand names.


Samsung 40" HDTV for $397.99
Barring deals from other retailers, this will be the lowest price we've seen for any Samsung 40" HDTV since February. However, around this time last year we saw several stores offer a similar Samsung for slightly less, so we wager that this deal won't necessarily stand alone. Though the ad is vague on specs, we doubt the TV will feature anything other than a meat-and-potatoes 1080p LCD panel with very few bells and whistles. If you're looking specifically for a Samsung TV, then this is worth taking note of; however, if you're just looking for any 40" TV, we see off-brand units far below this price all the time. Plus, in our Black Friday TV predictions, we said that you're likely to see no-name 42" TVs as low as $180 this year.


Vizio 47" HDTV for $379.99
The lowest total price we've previously seen for a Vizio 47" HDTV is $420, and most other deals have checked in at $500 or more. And though $380 sounds like a steal, our Black Friday prediction for this size TV is $269. That would naturally apply to off-brand TVs, and while Vizio's quality is much higher, the household brand name is still capable of this kind of off-brand pricing. And we would not be surprised if a Vizio of this size popped up online for less than what Target is offering.


NEW: All the Other Black Friday TV Deals
With the release of Target's full Black Friday ad, we were able to take a gander at all of the TVs on sale. Regrettably, none of them — not even the non-name-brand ones — live up to where we are expecting TV prices to be. A Westinghouse 40" 120Hz 1080p LED HDTV for $199.99? Blah! We still think you're going to see 42" sets for $180.
Cleaning Up with Savings
Dyson DC35 Digital Slim Multi Floor Cordless Bagless Vacuum Cleaner for $199.99
The last time we saw a non-refurb deal on this model was in June; it was $263. In fact, outside of refurbs, we just don't see that many deals on this model at all. Since it's $63 under our last mention, we're calling this one a true doorbuster.


NEW: Dyson DC24 Ball Bagless All-Floors Upright Vacuum Cleaner for $259
Don't want the smaller, hand-held Dyson just to save some money? Well, Target delivers a 1-2 punch of clean by offering the Dyson DC24 upright for $259. That's the lowest total price we've seen for this vacuum in almost two years. Keep in mind, though, that Home Depot is currently offering it for only $10 more and with free shipping. (And $10 more might well be worth avoiding a store on Black Friday.)
Rock Down to Electronics Avenue
Nintendo 3DS XL Handheld Game System for $149.99
If you can beat out all the other Black Friday-ers in the foot-race to the gaming aisle and snatch one of these consoles at this price, you'll be nabbing it for the lowest total price we've ever seen by $9. The next lowest-ever price of $159 was from a deal waaaaay back in December, too; normally we see this handheld system on sale for about $170.


Monster Beats by Dr. Dre Solo Headphones for $119
Listen up! (Get it? Puns!) Outside of refurbs, we've not seen these headphones for less than $130. However, Walmart got in on the game and will offer them for $4 less than Target — and, it'll be a guaranteed doorbuster.
Is Someone in the Kitchen with Bargains?
KitchenAid Classic Stand Mixer for $199.99
Ah, this old chestnut! This mixer (and ones like it) have been a staple of Black Friday ads for as long as we can remember ... and very few are worth noting. This offering is not the exception to the rule: we've not listed this mixer for more than $167 over the last two years! Further humiliating this deal is that last Black Friday, Kohl's sold this same stand mixer online for $149 after rebate and threw in $45 Kohl's Cash. This is a poor attempt at a doorbuster.


UPDATE: T-Fal 20-Piece Cookware Set for $99.99 $49.99
The preview of the Target Black Friday ad quoted this item selling for $99.99. Since we found it being sold at Target online for that same price, it was decidedly not a deal in any way, shape, or form. We should have known something was screwy ... because it was. The full ad reveals that this set's price is going to be slashed an extra 50% off, dropping it to $49.99. Now that's a deal and a current low price by $59.
Some Good Apples
Discounting a desirable phone will always lure customers into stores; it's a marketing ploy that entices shoppers to then buy more things — things with a greater mark-up! So, as predicted, Target is going to offer the new iPhone 5S 16GB Smartphone (in any color) for $179.99 and bundle it with a $30 Target gift card. If you're a regular Target shopper, that's as good as $30 cash back and essentially means you're nabbing the latest iPhone for $149.99. That's $50 off! However, Walmart will offer the phone for $189 with a $75 gift card — that's a higher price but a much larger credit.
Target's ad also makes note of a greater "Smartphone Event," but the only other phones it mentions by name in the circular are the Samsung Galaxy S4 and S3 for $39.99 and 1 cent, respectively. We stand behind our prediction that you'll be able to get popular Android smartphones for profit (though likely only via a store credit or gift card), and we've already seen that Best Buy will offer the S4 for free. Target's smartphone deals are only lukewarm and we expect other merchants, especially online, to offer better bargains that will put both a phone and money into your pocket.
Some More Good Apples
It's not just the iPhone that Target decided to turn into a loss-leader this year, but all the hottest Apple products! If you're willing to get up early, you can swing by Target and wait in line for several hours to nab the new iPad Air 16GB WiFi Tablet for $479. It comes with a $100 Target gift card, so that's essentially $379, or $120 off what Apple sells it for. That blows away our predicted price point by $61, but that's an error we're glad to make! Similarly, even though the new iPad mini is going for its list price of $299, Target is throwing in a $75 gift card, as well. But again, Walmart is besting this offer by giving out a $100 gift card.
The (Video) Games People Play
Target's entire gaming section can be summed up in one word: Typical. Older games priced at $10, newer titles for around $30; the newest titles will set shoppers back about $35 and Assassin's Creed IV: Black Flag will cost you $59.99, but both come with a $20 Target gift card. That's not particularly exciting, as we're still predicting these newer titles to hit $30 or less, probably online.
As for other toy and game deals, some of the ones covered in Target's ad might seem appealing, but never forget that the best time to buy toys is in the weeks after Black Friday, so have a little patience.
If we have not convinced you to hold your toy-shopping horses, maybe we can still convince you to at least skip Target's toy aisles on Black Friday. Target will be selling the Disney Infinity Starter Packs for various gaming systems for $49.99 each and Toys "R" Us has already announced via its Black Friday circular, that they'll be $37.49 on Thanksgiving Day. Similarly, Target is offering a buy two, get one free deal on All SkyLander toys, but Toys "R" Us again beats Target to the punch with a buy one, get one 70% off deal. And, because three examples make a trend: Target is offering a selection of motorized ride-on toys for $99 each and, yes, you guessed it, Toys "R" Us has a similar selection (albeit different car models) for $49.99 each. So even if you don't want to wait until toy prices get better later in the season, there's still no reason to shop Target for toys.
Predictable Movies (The Butler Did It)
Target does its best to make us look like Nostradamus ... if Nostradamus bothered predicting movie prices. Just as we theorized, Blu-ray titles are on offer for as low as $4. Hotter and newer Blu-ray movies, like World War Z, Star Trek: Into Darkness, and Hangover Part III are on sale for $9 each or up to 75% off. Target is also offering Billy Madison, Do The Right Thing, and American Pie Reunion for a buck each.
Y'all Come Back Now, Ya Hear?
Why shop once when you can shop twice? That's the question Target is positing to every in-store and online shopper who chooses Target for their Black Friday buying. Any customer who spends $75 or more in one transaction will receive a coupon for 20% off another shopping trip they make to Target between December 1 and 7. Since that's not the week when toy deals hit their peak this year (it's the next week; December 8 to 14), it won't help you out in that department. Overall, it's quite a gamble, especially if you find yourself trying to stretch your cart to get up to the $75 minimum just for the honor of buying more later. We suggest you don't chase this dream!


Now that we've seen Target's entire Black Friday ad, we're going to upgrade them from a "try harder next time" to a "meets expectations." Some really good deals sprinkled among a bunch of items that are exactly where we predicted them to be. What do you think? Is there anything in this preview that you'd wake up early or stay up late for? Let us know your reaction to this updated Black Friday sale from Target by leaving a comment below.
---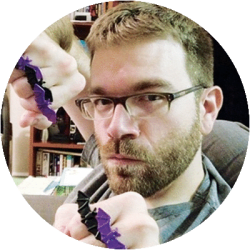 DealNews Contributing Writer
Jeff Somogyi is constantly trying to come up with ways to surprise and delight audiences the world over. He takes humor seriously ... too seriously. (Honestly, we've never seen him laugh ... it's kinda creepy.)
DealNews may be compensated by companies mentioned in this article. Please note that, although prices sometimes fluctuate or expire unexpectedly, all products and deals mentioned in this feature were available at the lowest total price we could find at the time of publication (unless otherwise specified).