'I Bought 8 TVs at Once': Stories From People Who Have Camped Out for Black Friday
Is it actually worth waiting several hours in line for a doorbuster? Maybe, if you follow the tips from these two Black Friday veterans.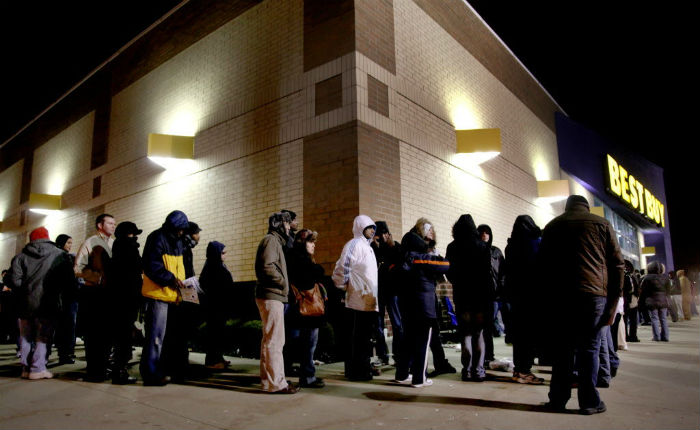 'Tis the season to go shopping, which leads some foolhardy types to jump into the retail fray unprepared. But if you're former New Yorker Matt Ham, you hop on impulse into a ginormous Black Friday queue outside a major consumer electronics store that's just a smartphone's throw from one of the busiest intersections in the world. Mind you, it's just for the fun of it — even though you're about to blow off your roommate for dinner and don't have a jacket warm enough to brave the cold.
"I was bored," recalls Ham, who was attending Columbia University in 2011 when he strolled past the Best Buy store just off Times Square. "There wasn't really a reason. I saw people waiting and so I jumped in that line."
Some 20 hours later Ham was still planted there, just inches away from the Promised Land of PCs and preposterously low prices. So what did he learn? What did he experience? And perhaps more importantly, what did he score?
DealNews spoke with Ham and a kindred spirit on the West Coast, Julianne Shannon of Woodland Hills, California, to get the skinny on big fat bargains and the challenge of doing the Black Friday line ritual right — or at least getting some fun stories to tell.
Sleep or Stay Up? That Is the Question
As a veteran of that 20-hour wait — and more than a dozen long-line shopping scenarios in the recent past — Ham says that every Black Friday warrior needs to start with a strategy for maintaining stamina. "One option is to sleep in line, and the other is to pull the all-nighter," says Ham, now president and owner of the Florida-based Computer Repair Doctor. "I see people who come with chairs and lights to read with, and other people come with sleeping bags. Bring something to do and plan for it because if you don't, you're going to get bored." You'll also be far less energized once the doors open and Black Friday becomes a running of the bulls.
Eight Ain't Enough: Invasion of the Flat-Screen TVs
Maybe you're the frugal type who has owned less than five TVs over the last decade. If so, you need to have a friendly chat with Shannon, a self-employed hairdresser and mother of two. She has purchased eight flat screens in one frenetic night. "I paid $1,600 or so total," the Black Friday veteran recalls. "I just know I didn't pay more than $250 for any single TV, and some were just $100."
SEE ALSO: Busted!: The 15 Biggest Myths About Buying a TV
And what exactly does one do with eight flat screens? "I resold one because I just didn't need it and gave two as gifts for family members." That leaves five she kept: "One in every room." Though probably (hopefully?) not the bathroom.
Drink Plenty of Fluids? Not.
Black Friday's a marathon, alright. But one lesson Ham learned from his past is to go against the grain of more conventional athletes. Coffee might help you stay up, for example, but definitely don't drink too much. If you do, nature will call a lot louder than that screaming bargain. "Go low on the liquid because if you need to go pee, you're not going to get out of line," he says.
One work-around is to ask your fellow Friday warriors to hold your spot while you run into a nearby fast food restaurant or coffee shop to relieve yourself. Remember that ducking behind a bush in public for such purposes is illegal, but what you do in case of emergency is your business.
Welcome to the Black Friday Theater of the Absurd
Maybe you've seen the commonplace strangeness of people having pizzas delivered to the line. But that pales when compared to what Ham witnessed four years ago. "When you spend an entire night on the street in New York, you run into a lot of characters," he notes. "We had one person come up to us in line trying to sell us stuff that was completely random. We asked him where he got it and he said, 'I stole it.'"
And? "We saw drunk people, and we saw a guy who was very upset and threw a trash can into a car — and there was someone in the car." Only in the Big Apple, folks.
Make Friends With Store Employees Ahead of Time
Shannon doesn't want to waste time waiting around at a single store. In fact, she prefers bouncing between stores — Target and Walmart are among her faves — to land score after score. But to do so, she starts her work way in advance.
"Ask [a store employee] how many of the item you want is left, then count the number of people ahead of you, many of whom may want the same thing, and figure out if staying there is worth it."
Here's how she does it: "First, make friends with employees months or weeks before Thanksgiving, so you can politely ask them for insider info on sales," she says. Then, "Start visiting the stores one to two days ahead, and ask those employees for information on the items you specifically want." Finally, collar those same workers heading in and out to get the latest. "Ask how many of the item you want is left, then count the number of people ahead of you, many of whom may just want the same thing, and figure out if staying there is worth it."
And Have Friends Waiting in Line Too
If wrestlers can tag-team, why not clever folks wrestling for a bargain? After so many times jumping into the fray, Ham uses texting to his advantage. "If I really want an item but don't want to wait again, I can text my buddy in line and he'll tell me, 'You can just go get some sleep' or 'You've got to get in line and get one.' Or we can just take turns waiting in line." That also goes for one person doing intensive searches on a laptop while the other holds the spot by that door, about to hit the floor.
To the Rookies: Watch and Learn
With all the combat tales out there from Doorbuster Central, it's easy to assume you can hit your favorite store, walk in, buy the big deal, and emerge victorious. But not so fast. Shannon cautions that you'd face the equivalent of pitting an amateur golfer versus Tiger Woods. "What's very important for the first time is to treat it like a learning experience," she says. "Don't expect to be a pro. It takes the experience to learn what works and what doesn't." It's too bad they don't offer workshops in this stuff... yet.
Let's face it: If you compare your hourly wage to the number of hours you camp out for a $200 savings, you may not come out ahead. But is that really what the serpentine lines of Black Friday are all about? Ham points to the camaraderie that forms amongst psyched shoppers. "Depending on the event, people get there way ahead of time, and a core group will stay there all night," he says.
So chat folks up; share your food; compare notes on where the bargains might lurk — and put away your nasty game face, which will strain your cheeks after two days anyway. Granted, finding a doorbuster marks a definite highlight. But finding new friends reinforces a time-honored theme: We're all in this together.
Readers, do you wait in Black Friday lines or choose to steer clear? If it's the former, what are your top tips for those long line waits? Share your thoughts in the comments below!
---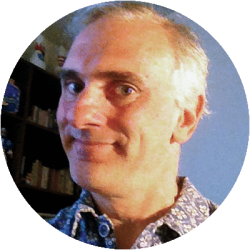 DealNews Contributing Writer
Lou Carlozo is a DealNews contributing writer. He covers personal finance for Reuters Wealth. Prior to that he was the Managing Editor of WalletPop.com, and a veteran columnist at the Chicago Tribune.
DealNews may be compensated by companies mentioned in this article. Please note that, although prices sometimes fluctuate or expire unexpectedly, all products and deals mentioned in this feature were available at the lowest total price we could find at the time of publication (unless otherwise specified).