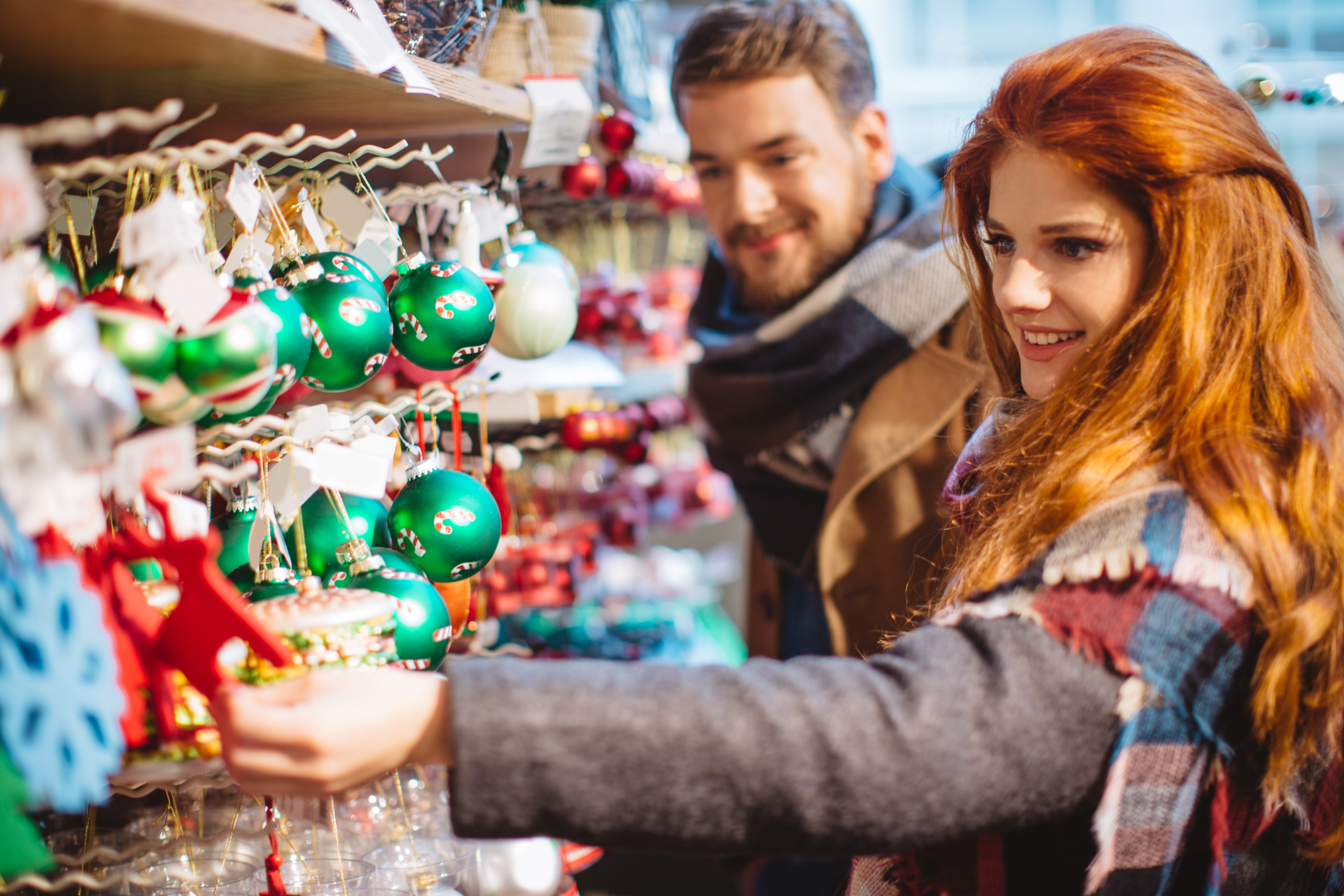 Black Friday isn't your only opportunity to score seasonal deals. There's plenty of time to get your holiday shopping wrapped up (and ensure Christmas delivery), thanks to the fantastic sales throughout December.
But not all December deals are good. Before clicking that "buy" button, you'll want to look at our list of the best things to buy in December — including the best deals after Christmas — plus the worst items to get this month.
What to Buy Before Christmas
Green Monday Sale Items
Green Monday falls on the second Monday of December — that's December 9 in 2019 — and has become a big day for online sales. In fact, we listed 40 Green Monday-branded offers in 2018. Most discounts typically aren't as big as those on Black Friday or Cyber Monday, but you can still save 20% to 40% at clothing, electronics, and other types of retailers.
SEE ALSO: What Is Green Monday? Don't Miss This Big Shopping Day
Some stores go above that 40% mark on Green Monday, too. In 2018, The Body Shop took 50% off during its Green Monday sale, with all orders receiving free shipping. And Eddie Bauer took 50% off sitewide, plus it boasted a free shipping offer. Levi's, Belk, NFL Shop, and Dockers have also hosted solid Green Monday sales.
DVDs and Blu-Rays
Whether you're looking for stocking stuffers or just stocking up your own home video collection, you can expect December to have more than twice as many deals on DVDs and Blu-ray discs as January. Early December deals are plentiful, and they focus on sets — from James Bond to Seinfeld — at up to 60% off. These tend to be the best buys for anyone looking to beef up their home library.
Expect to score up to 60% off on DVD and Blu-ray sets — from James Bond to Seinfeld.
You'll likely still find deals after the holidays, with a grab bag of individual Blu-rays for as little as $1 each. They should still be good deals, but expect a lot less of them, and it's hard to say if you'll find anything you really want in the mix.
Gift Cards
December has particularly good gift card deals, with sales offering up to 40% off face value. While you'll likely find sales throughout the month, more than 75% of them were before Christmas last year, so they're an excellent gift option for anyone who's a little hard to shop for. The most common offers on gift cards last year were for clothes, but there were also deals for Target (10% off), Lowe's (10% off), Google Play (20% off), and Starbucks (30% off) cards.
SEE ALSO: Here Are the 123 Best Christmas Gift Card Deals for 2019
Almost all gift card offers are only available for specific denominations, and around half of those deals last December were for $50 gift cards. However, if you're shopping for stocking stuffers (or easy gifts for the office holiday party), know that sales started on gift cards worth as little as $15.
Jewelry
December is the time to jump on jewelry deals. You're likely to find a few more sales than in November, along with more Staff Pick deals, which are our "best of the best" offers. If you're planning ahead for Valentine's Day, don't count on finding this many sales in January, so it may pay to shop early.
Expect many of these sales to be on modestly priced pieces that would make good stocking stuffers or small gifts, like Alex and Ani for up to 70% off. But you'll probably find sales on higher-end pieces, too: last year we saw up to 40% off Helzberg Diamonds jewelry at Amazon, and up to 25% off from Larson Jewelers.
Headphones
While Black Friday season — which encompasses most of November — has a slew of tech deals, headphones can be a special case. Last year we saw similar numbers of headphone sales in November and December, but December had more Staff Pick sales. Look for steals on big brands like Beats, Bose, and Sennheiser. And if you're on more of a budget, you'll likely be able to find headphones from Panasonic or JBL for under $10.
Look for steals on big headphone brands like Beats, Bose, and Sennheiser.
The timing of the best headphone deals can vary, though. Last year, the vast majority of them arrived before Christmas, but we have seen excellent buys just after Christmas. If you're in the market for headphones, keep your eyes open and jump on a good deal when you see it.
What to Buy After Christmas
Victoria's Secret Sale Items
Victoria's Secret offers up its semi-annual sale twice a year, and in 2018 the winter event started on December 28. Assuming this trend continues, the next Victoria's Secret Semi-Annual Sale will begin on December 27, 2019. For two to four weeks, you can expect big discounts on bras, panties, and clothing such as pajamas and loungewear. It's worth checking out the goods at the beginning of the sale, too, before many sizes sell out.
SEE ALSO: When Is the Victoria's Secret Semi-Annual Sale?
Look for the lingerie retailer to take 40% to 60% off a wide variety of items when the sale starts. Bras will almost certainly drop to $10 each (depending on the style), and other clothing items may also be that cheap. Last year, we saw leggings and a bow-back tank top drop to $10 each, and the tank fell to $7 later in the sale.
All Toys, but Particularly Video Games
December has a massive number of toy sales: last year we counted almost 600 gaming and toy deals, and 47% of those were Staff Picks. That's a lot of toys at some of the best prices we saw all year. You'll find particularly good sales on video games, consoles, and accessories — about 60% of the video game sales we listed last December were Staff Picks.
Last December, about 60% of the video game deals we listed were Staff Picks.
But while there are a ton of toy deals in December, the best deals tend to happen after Christmas. The majority of post-holiday toy sales in 2018 were Staff Picks, so it's hard to go wrong. But again, video games were the best buys, with 71% of post-Christmas video game sales earning our Staff Picks designation. Last year we saw a lot of hot titles, like Assassin's Creed Odyssey and Fallout 76, going for up to half off. It's a good time to stock up on great games to go with any game console you may have picked up over the holidays.
Holiday Decor
The conventional wisdom on seasonal items is that you ought to buy them just after the season if you want the best prices. But last year we saw a surprising number of sales on holiday decor throughout December. We counted a total of 31 sales, including some that began quite early, like Amazon offering up to 50% off holiday decor starting on December 6.
Deals like that mean you certainly can find reasonable prices on Christmas decorations before Christmas, but the real clear-outs start at the end of the month. During the last week of December 2018, we saw retailers trying to clear out the last of their Christmas stock, with Home Depot, Lowe's, Walmart, and Macy's cutting prices by 50% to 80%. By January, your options for holiday glam will be pretty picked over, so jump on post-Christmas sales quickly if you want to stock up on decor for next year.
Don't Buy These Things in December
If you're in the market for any of these items, hold off for now, because prices will be better soon.
| Item | Don't Buy | Buy | Why? |
| --- | --- | --- | --- |
| Exercise Equipment | In December | In January | Expect December to have about 80% fewer deals than January, when retailers will use sales (and New Years' resolutions) to tempt you into buying new fitness gear. |
| Bedding | In December | In January | Last year, we saw quite a few sales on bedding in December, but don't be tempted — January's white sales led to twice as many Staff Pick deals on bedding, sheets, towels, and similar soft home goods. |
| Winter Clothing | In December | In January | We saw 21% more sales on apparel in January 2019 than in December 2018. Winter wear is a good January buy in particular, as retailers start to make space for warm-weather stock. Look for up to 80% off at major retailers starting in January. |
Readers, what are you planning to shop for this December? Let us know in the comments below!
---