September can be an excellent month to shop, thanks to its plethora of Labor Day, summer clearance, and back-to-school sales. But not everything will be worth parting with your hard-earned cash. Check out our guide below to learn what to buy in September, and what you might want to skip for now.
Once you're done reading about September deals, sign up for the DealNews Select Newsletter to get the best deals delivered to your inbox every day.
The 9 Best Things to Buy in September
Apparel at Labor Day Sales
Labor Day marks the unofficial end of summer for many people, and consequently, sales around then are excellent opportunities to stock up on summer apparel. This year the holiday falls on September 2, but Labor Day sales were already underway by late August.
Many retailers will be trying to clear out their summer inventory, so expect plenty of clothing sales for Labor Day. Last year, we saw Gap and Calvin Klein both knock 40% off items sitewide. Meanwhile, Nautica took 50% off sitewide, and Backcountry offered up to 50% off select items.
Get up to 50% off during Labor Day sales at Gap, Nautica, and Calvin Klein.
Also watch for kids' clothing to go on sale. Last year, Carter's and OshKosh B'Gosh cut 50% off sitewide and offered a coupon code for an extra 25% off orders of $40. On top of that, all orders qualified for free shipping.
2-for-1 Broadway Tickets
Theater enthusiasts will appreciate the chance to save on Broadway tickets during NYC Broadway Week. From September 3-16, customers can grab two tickets to select Broadway shows for the price of one.
Both classics and newer productions will be part of the event. Shop tickets for shows such as Chicago, The Phantom of the Opera, Harry Potter and the Cursed Child, and Mean Girls.
Cheap Pizza
September has two delicious pizza-related holidays. Thursday, September 5, is National Cheese Pizza Day, while Friday, September 20, is National Pepperoni Pizza Day. So this month is an excellent time to look for pizza deals.
If last year's trends repeat, Uno Pizzeria & Grill will offer "buy one, get one free" takeout pizzas via a printable coupon. And we'll be watching for Pizza Hut to bring back its 2018 offer: a medium pepperoni pizza for $1 with the purchase of a large pizza at regular price.
Older iPhones
Apple isn't known for having big discounts and deals, at least not directly. However, for the past seven years, September has brought a flashy event where Apple introduces its latest iPhone models. The company then immediately drops the prices of its previous-gen models, making this month a good time to buy older iPhones. The next Apple event will fall on September 10.
SEE ALSO: When Is the Best Time to Buy a New Phone?
In 2017, Apple knocked $100 off the price of the iPhone 6s and iPhone 7 as soon as it announced the iPhone 8. But in 2018, it discontinued the iPhone X when the iPhone XS, XS Max, and XR debuted. Because of that move, there was no official price drop. This year, we expect the iPhone 11 to be announced, though we also expect the return of the price drop on older models.
Your Columbus Day Flight
Planning a fall getaway? This is the month to go ahead and book your Columbus Day flight. Specifically, book no later than September 16 for the best price — according to the travel app Hopper, $269 will be a good round-trip fare.
Other Airfare
While September is a good month to book your Columbus Day flight, it's also a time to grab cheap airfare in general. Look for 1-way nationwide fares to fall as low as $19 from airlines like Frontier and JetBlue. Meanwhile, Alaska Airlines, Southwest, and United will have 1-way tickets between $40 and $44.
Flying internationally? Watch for Icelandair to offer great prices on round-trip tickets to Europe. Last year, we saw starting prices fall to between $319 and $330.
Free Museum Tickets
September 21 is Smithsonian magazine's Museum Day, a 1-day event where patrons can enjoy free general admission to select museums. Download a ticket here — one ticket per email address is allowed. Each ticket provides free general admission for two people on Saturday, September 21. Choose from more than 400 art, 120 childrens', and 1,000 history museums and cultural institutions, plus much more.
On September 21, you can score free admission to select museums and cultural institutions.
Free or Discounted Coffee
National Coffee Day is September 29, which falls on a Sunday in 2019. Places like Cinnabon, Cumberland Farms, Barnes & Noble, and Krispy Kreme will offer up free hot or iced cups of java. And restaurants like McDonald's will have their coffee drinks discounted for the day.
Be sure to keep an eye on your favorite online vendors, as well. Peet's and Community Coffee Company, for example, have knocked off between 25% and 30% on select whole bean coffees.
In-Season Fruits and Veggies
September brings the official end of summer, but that doesn't mean seasonal produce will disappear. This month is a prime opportunity to shop cheaper apples, cantaloupe, figs, grapes, mangoes, persimmons, pomegranates, and tomatoes. As for veggies (and fungi!), expect better-quality acorn squash, beets, butternut squash, cauliflower, eggplant, green beans, lettuce, mushrooms, okra, peppers, pumpkins, spinach, sweet potatoes, and Swiss chard.
Curious about the best produce in season near you? Check out this seasonal food guide and learn what to look for in your area and when.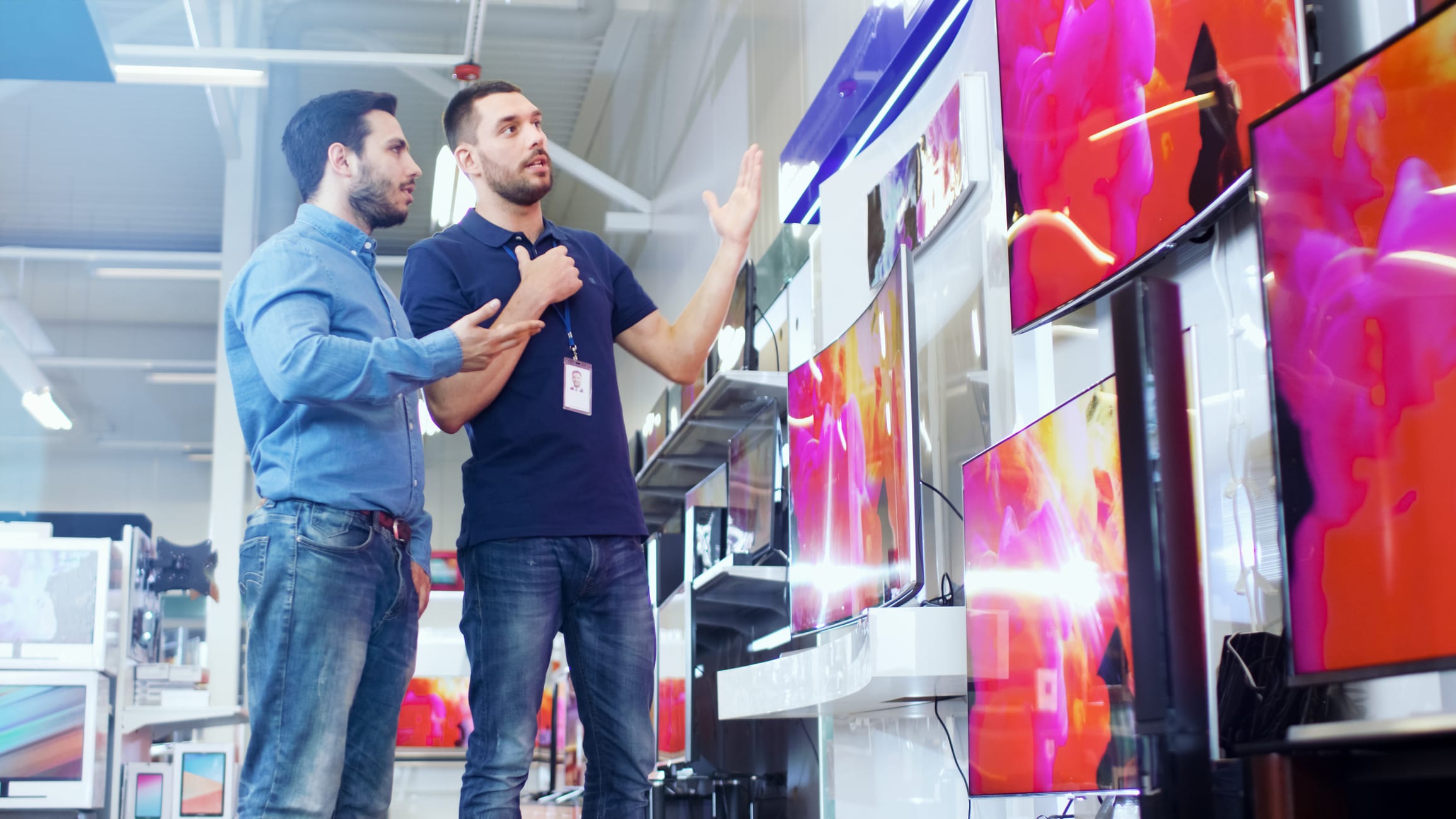 Be Careful With Products Affected by Tariffs
The U.S.-China trade war has been in the news for over a year now, with tariffs rolling out on certain goods. September 1 brought another round of what are essentially tax increases. The United States Trade Representative initially announced plans for an additional 10% tariff on about $300 billion of Chinese imports, but the number was bumped up to 15% in late August.
And the consequences could reach far beyond this month. For the affected products, we can expect companies to pass the cost along to consumers, at least in some respect.
Keep in mind that the tariff situation is ongoing. If changes occur, we'll provide updates as we can.
Tariff Workarounds to Try
The following items are expected to be hit by tariffs, but we're also including ways you can get around the likely price hikes — at least temporarily.
Cars
The new tariffs could bring price increases on new models, so you shouldn't wait too long to buy. Currently, you might have better luck with your loan, as interest rates are still low as of this writing. Don't wait until the last quarter of the year, and don't buy new. Buy used, and be sure to have a trusted mechanic inspect the car before you sign your name on the dotted line.
SEE ALSO: 11 Essential Things to Know When Buying a Used Car
Smartphones
Ordinarily, we'd say wait to buy a new phone, especially if you want flagship models. However, we expect smartphones assembled in China to increase in price due to the tariffs. If it's any consolation, the tariffs on these are delayed until December 15. This could mean we'll still see excellent deals come Black Friday, so plan to shop no later than that.
Laptops and Tablets
This is another category that will be hit by tariffs, but fortunately, not until December. Black Friday could bring notable deals worth shopping before the prices increase.
Baby Items
While several baby items will likely see price increases due to the tariffs, you won't necessarily be out of luck. Watch for Target to have a baby sale this month, helping you save a little extra on a variety of items.
Plus, even though car seats are no longer on the tariff list, it's worth knowing about the bull's-eye retailer's car seat trade-in event from September 3-13. Customers will be able to trade in an older car seat and receive a coupon for 20% off the purchase of a new one.
Buy This, Not That
Due to the tariffs, certain products aren't worth buying right now, or are only worth getting in certain situations. And commodity prices make some items better buys than others. The chart below offers tips on when to purchase these types of products, plus alternatives to consider.
| Item | Don't Buy | Buy | Why? |
| --- | --- | --- | --- |
| TVs | At full price | During Black Friday | Tariffs will likely lead to price hikes, but Black Friday will still have the best discounts. |
| Beef | Right now | Poultry | Beef is a commodity that's seen higher prices since June, while chicken is currently cheaper. |
| Peanut oil | Right now | Coconut oil | Peanut oil prices are up and coconut oil costs are down, so it could be worth buying the latter right now. |
| Office and school supplies | In-store | Online on Amazon's marketplace | Marketplace sellers could be offering better prices in bulk. |
| Baby products | At full price | During sales or using stacking coupons | Many baby products are set to be affected by the tariffs, so you'll need to save where you can. |
| Shoes | At full price | During Black Friday | Footwear could get pricier due to the 15% tariff. |
| Winter clothing | At full price | During post-seasonal sales | With increased prices, you might have some luck on Black Friday. Otherwise, you'll see the best prices in the spring. |
| Video game consoles | At full price | During Black Friday | December tariffs could lead to a 19% increase (or an average jump of $56) in console prices. Black Friday is your best chance to see notable deals. |
| Home improvement items | At full price | During Black Friday | This includes a variety of items, including major appliances. Watch for better deals to (hopefully) surface during Black Friday. |
Readers, what are you shopping for in September? Let us know in the comments below!
---