The 12 Best Things to Buy in September (It's More Than Labor Day Sales!)
Shop and save on grills, school supplies, bicycles, bedding, and lots of other items.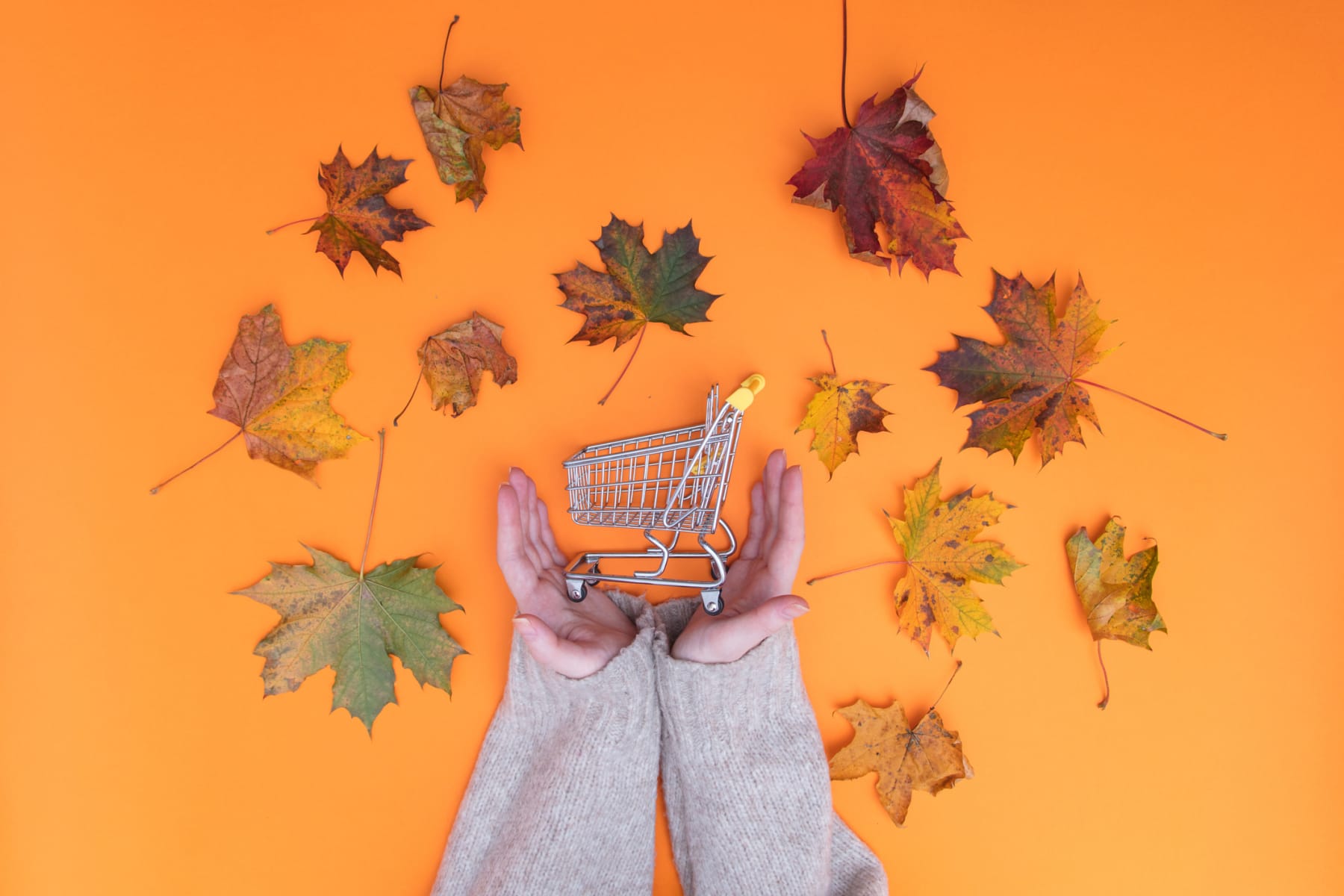 September marks the end of summer — both officially and unofficially — which is disappointing to many people. Add in the fact that Halloween is still several weeks away, and it may seem like September has nothing fun to offer.
But we have good news! This month is an excellent opportunity to shop several items, meaning you don't have to wait until Black Friday for top-notch bargains. Even better, it features more than just Labor Day sales. Read on to learn what to buy in September — and what you should hold off on for now.
The 12 Best Things to Buy in September
Our infographic shows five of the best things to buy in September. Below it, you can read more about the September deals and sales we expect to see this year.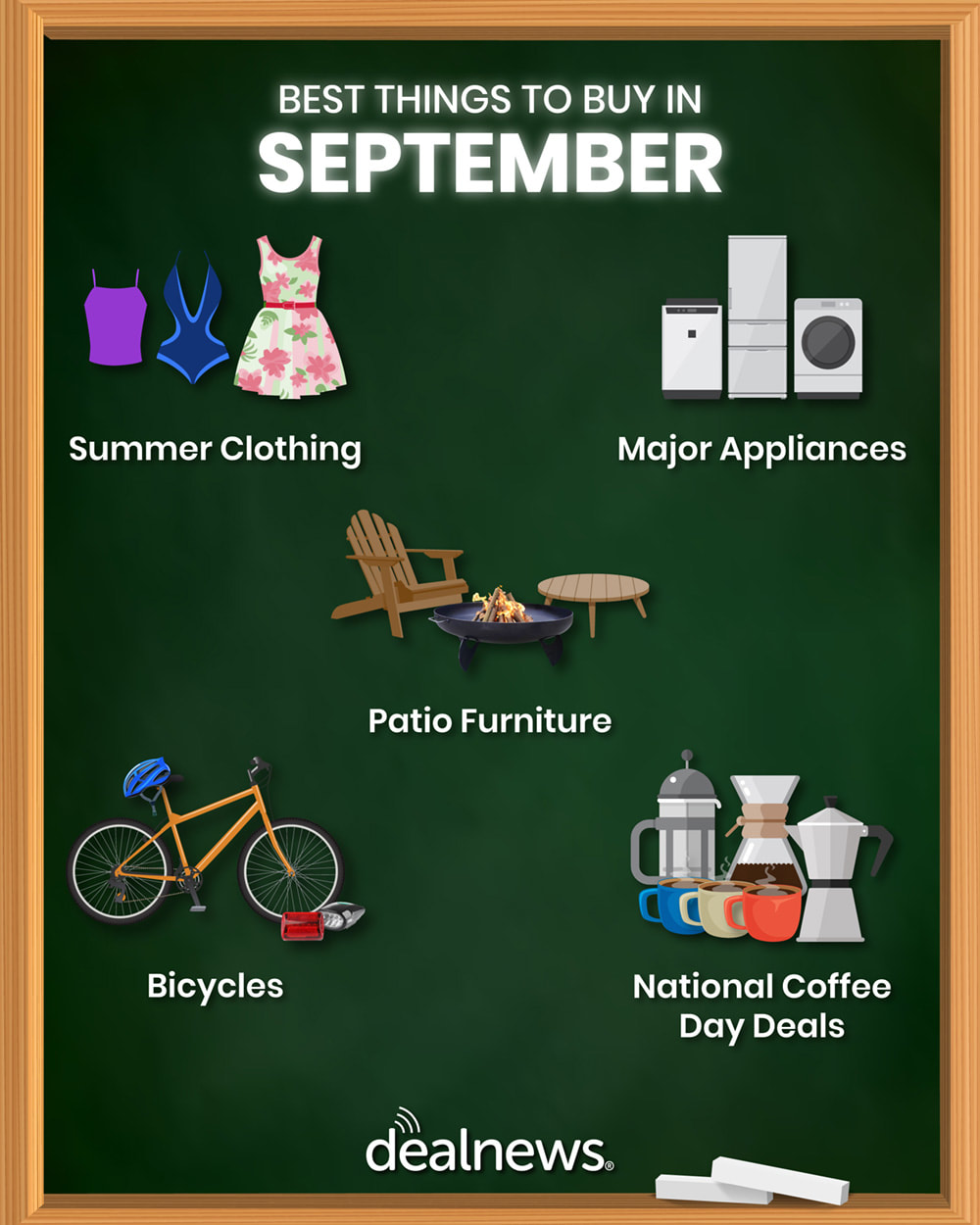 1. Summer Clothing
With summer winding down this month, it's the perfect time to shop for warm-weather apparel. Labor Day sales will be an excellent opportunity to find deals, but even without those, we should still see deep discounts.
If you need kidswear, look to Target, which knocked 20% off more than 500 kids' wardrobe basics in September 2022. Watch for kid-specific retailers like The Children's Place to have great September sales, as well. Last year it knocked up to 70% off during both its Fall Sale and Labor Day Weekend Sale, and dropped clearance items to a starting price of just 99 cents.
Save up to 80% on summer clothing, up to $1,500 on major appliances, and as much as 70% on mattresses in September.
Expect apparel options for the rest of the family to also go on sale. Keep an eye out for Macy's Labor Day Sale, which could once again take up to 60% off as well as an extra 15% to 20% off, while JCPenney could knock up to 80% off clearance items. Check outlet stores, too. Last year, J.Crew Factory knocked up to 72% off, plus an extra 50% off!
2. Major Appliances
Labor Day is one of the last sales periods of the year when you can reliably expect savings on major appliances. You can shop the usual destinations like Lowe's and Home Depot, but also watch Best Buy and the appliance manufacturers themselves.
Last September, Samsung cut as much as $1,200 off washers and dryers, as well as up to $1,500 off refrigerators. While Best Buy and Lowe's offered their own appliance deals, those varied by brand and category, so there wasn't a concrete percentage to point to. The savings typically ranges from 30% to 40% off, though sometimes discounts can reach as high as 50% off or more.
3. Mattresses
Labor Day is also an excellent time to shop for a new mattress, with online retailers and brick-and-mortar stores alike holding sales. You can find mattress deals past Labor Day, too. Last year, Home Depot cut up to 30% off a range of items, mattresses included, while Wayfair offered select Sealy mattresses from $235. The retailer also knocked up to 70% off mattresses and more later in the month, while Amazon knocked 20% off select Tuft & Needle mattresses.
4. Grills
Plenty of people enjoy grilling long into football season and during the chilly temperatures of fall, but grills are still a summery item. Because of that, retailers tend to discount a variety of grills just in time for tailgating in September. (Check out the best tailgating deals here!)
SEE ALSO: Labor Day Sales for 2023 Are Live! Here Are the Top Deals
Check Walmart for deals, like portable charcoal grills for $50 or electric smokers for $88, but watch for Amazon to offer notable savings, too. Last September, they had a Char-Griller Akorn Jr. Kamado Charcoal Grill for only $139. Sales will provide great opportunities to save, as well. Keep an eye out for Woot! to take anywhere from 20% to 30% off and BBQGuys to cut up to 60% off clearance items again this year.
5. School Supplies
Back to School shopping may not be at the forefront of many people's minds in September; they may have already checked off all the items on their lists. But others may have been waiting to buy student supplies as a way to deal with inflation.
If you still need to buy school supplies, watch for retailers to offer up last-minute savings as they try to clear out the shelves and make room for fall and winter items. Look for Amazon to discount big brands like BIC by up to 64% and academic planners by 40%. They may also offer extra savings in the form of $5 off supply purchases of $20 or more. Additionally, watch for tech discounts, like at least 50% off Rocketbook reusable notebooks at Woot! Staples, meanwhile, will likely discount school supplies by up to 40% off, and have prices starting at or below 40 cents.
6. Patio Furniture
With summer winding down, it's a good time to shop for a variety of patio items. Discounts on patio furniture suitable for summer are to be expected, but September is a good opportunity to shop for other patio gear, too. For instance, consider shopping for items for winterizing your patio furniture and protecting it from the elements. Last September, we saw waterproof fire pit covers for $11 and water-resistant stackable patio chair covers for $15.
As for actual pieces of patio furniture, look for retailers to offer wicker ottomans and end tables for $36 each, bistro chairs for $43, and folding Adirondack chairs for $67. With temperatures dropping, it's also a great time to look for deals on fire pits — last year we saw them drop as low as $40 in September — but also patio heaters, as we saw those drop to $69.
Of course there will be a variety of September sales to check for, too. Watch for Wayfair to take up to 56% off, eBay to knock up to 50% off plus an extra 15% off, Macy's to discount patio furniture by up to 80% off, and Home Depot to offer deals taking up to 67% off. Kohl's might not be on your patio furniture radar, but it should be. Last year, the retailer offered up to 70% off select pieces, plus an extra 20% off.
Previously, Overstock.com was a store worth watching for discounts on patio furniture; it took 70% off the category last September. But the store acquired Bed Bath & Beyond's intellectual property assets in 2023, so now you'll want to check BedBathandBeyond.com for these deals. Since the Bed Bath & Beyond relaunch took place recently, we may not see discounts that high this month, but it's worth keeping an eye out just in case.
7. Bicycles
September is also an ideal month for buying bicycles. Plenty of people use bikes year-round, but demand drops when it cools off, so many outdoor retailers discount these items to clear the shelves. Watch for Dick's Sporting Goods and Woot! to take up to 50% off, while eBay could discount kids' bikes by up to 60% off and take an extra 15% off. Amazon could also offer up to 40% off Schwinn and Mongoose bikes again this year. Watch for REI to get in on the action, too, taking up to 30% off bikes.
Watch for Dick's Sporting Goods and Woot! to take up to 50% off bikes in September.
Accessories will probably be a part of many sales, but expect plenty of individual offers, too. Last year we saw an LED rear bike light for $20 and Scott helmets for $50. So even if you're just getting started on your biking journey, you should be able to find September deals for pretty much everything you need.
8. Bedding/Linens
While you're shopping for a new mattress, you might as well pick up discounted bedding to go with it! Some retailers may offer bundled deals on mattresses and bedding, but those might not appeal to everyone. And if you're simply looking to refresh your bedding, you don't need those bundles, anyway. The good news is that September should bring sales on different kinds of sheets and blankets, so it's an excellent time to swap yours out for new ones.
Look to eBay to offer 4-piece sheet sets for as little as $17, while Belk could have an array of bedding sets from $20 or less and Amazon could discount select pillows by up to 43%. Another store to keep an eye on will be Bed Bath & Beyond. Last year it took up to 60% off bedding, and we could see savings on bedding again this year. However, since the retailer has only recently been revamped, the discount might not be quite that high again, so temper your expectations just in case.
9. Airfare
It's not a guarantee, but you could find a good rate for holiday airfare by shopping in September. In general, about six to eight weeks before departure is when you want to book airfare for the best prices, so the tail end of September will bring the right time frame for Thanksgiving flights. Online travel agencies will likely offer sales for Labor Day, but the discounts might not be as great as they were pre-pandemic.
SEE ALSO: Your Guide to All the Holiday Sales in 2023
And when planning your trip, consider long layovers in case of flight cancellations. By giving yourself longer layovers, you'll be padding your schedule with extra time to account for delays — or worse. Also check the dashboard from the U.S. Department of Transportation if you're going to book a flight. It shows the amenities different airlines offer in the event of controllable delays and cancellations.
If we're lucky, we might see the return of Frontier Airlines' coupon for a free flight. Last year, it took 100% off nonstop travel in the continental U.S. on Tuesdays and Wednesdays through mid-November.
10. Summer Gardening Gear
If you need new garden tools for summer outdoors work, know they're one more category that sees serious discounts as the season winds down. Expect to find products like a hand weeder for $9, an all-season garden hose for $15, a rake or hoe for $22, and a leaf blower for $24. Also watch for open-box Worx LeafPro leaf collection systems to drop to $22 and Sun Joe cordless string trimmers (the tools only) to cost as little as $52. Prefer to look for sales? Amazon could once again take up to 52% off while Woot! discounts fall gardening items by up to 50% off.
11. National Coffee Day Deals
Every year, National Coffee Day falls on September 29, and plenty of restaurants use it as an opportunity to entice customers with deals. Watch for doughnut shops and convenience stores alike to offer free coffees. Sometimes they'll be completely free — especially for members of loyalty programs — while other times you might have to make a purchase.
Even if you do have to buy something, you can usually redeem these offers by purchasing a simple item like a glazed donut for relatively cheap, and you'll receive a cup of your favorite java for free.
Last year on National Coffee Day, we saw Aroma Joe's offer a free hot or iced 16-ounce coffee, while Tim Hortons provided caffeine fiends with a medium hot or iced coffee for 25 cents. Looking for other offers? Watch for Peet's Coffee to offer 20% off and $5 shipping via a coupon code, while Amora Coffee could take 50% off sitewide plus add in a free mug. And if you need new hardware, watch for Best Buy to once again take up to 60% off coffee makers and mugs.
12. In-Season Fruits and Veggies
Even though September 23 marks the first day of fall, you still have plenty of time to enjoy seasonal summer produce before it's all gone. Shop for ripe fruits that skirt the line between summer and fall, including apples, cantaloupe, figs, grapes, mangoes, persimmons, pomegranates, and tomatoes. On the lookout for fresh veggies? Be ready to indulge in the tastes of autumn with acorn squash, beets, butternut squash, cauliflower, eggplant, green beans, lettuce, mushrooms, okra, peppers, pumpkins, spinach, sweet potatoes, and Swiss chard.
Interested in shopping local? Check out seasonal food guides to see what kinds of produce are native to your area and what times of year you can find them at their peak.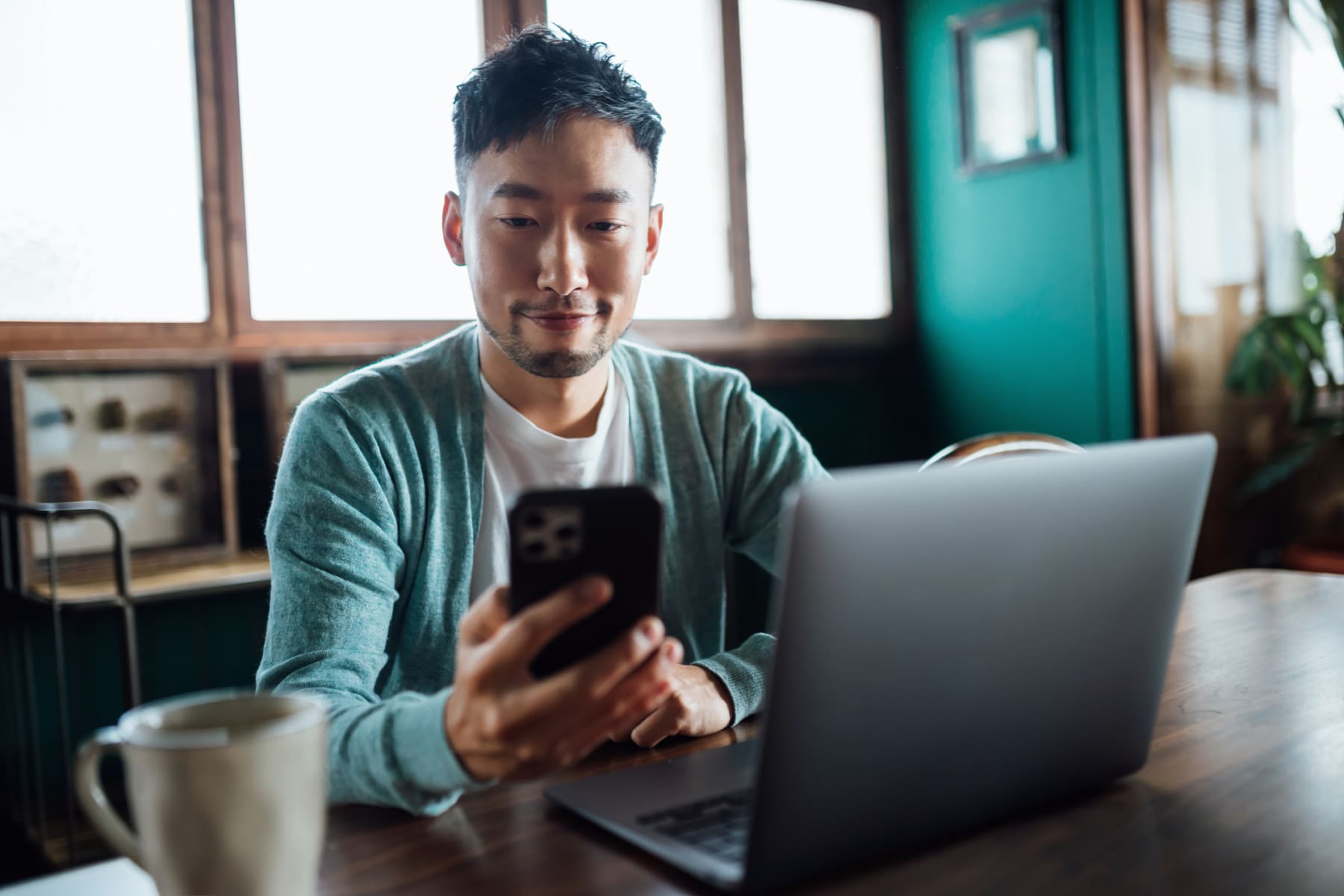 And 5 Things To Consider Buying in September
Previous-Gen iPhones
Apple routinely announces new iPhones, Apple Watches, and other tech it finds thematically appropriate during a big event each September. Last year's Apple event fell on September 7, while this year's will be on September 12. And we may see permanent price drops on previous-gen models once the new iPhones come out. That could mean if you're in the market for a new iPhone, you can cash in on immediate savings by opting for last year's iteration.
Unless you see an excellent deal on an iPhone in September, it may be best to shop for one around Black Friday instead.
Price drops may be modest at this point, however, and if you can wait until Black Friday, you should. If you see an outstanding offer on an old or new iPhone, then don't pass it up. But if you're coming across bare-minimum discounts, wait until November, when we should see significant savings on both new and older models.
Laptops
Ordinarily, Black Friday is one of the best times — if not the best time — to buy a new laptop, due to the sheer volume of deals on offer and the wide range of discounts. But September could also be a winning time to shop, particularly if you aren't concerned with buying refurbished. Last year, we saw very basic refurbished HP Chromebooks for as little as $38, while refurbished Lenovo Chromebooks dropped to $70. However, if you want a new machine, know we could see some excellent offers on those, as well. In September 2022, a Lenovo Chromebook 3 hit $79, while a Lenovo 100e Gen 2 11" laptop fell to $99.
As for sales, watch for Lenovo to take up to 70% off in a Summer Clearance Sale or similar event, Best Buy to have laptop deals from $99 in its eBay storefront, and the HP outlet at eBay to offer up to 75% off.
Fitness Equipment
Fitness equipment tends to boast its best prices in January and June, when many shoppers have motivation to get into shape. As warm weather starts to disappear, though, some retailers will offer up exercise equipment deals as part of other seasonal sales. Last year we saw kettlebells for as little as $4 and rubber-encased hex dumbbells for as little as $10. The month will be a good time to look for bigger pieces of equipment, too. In September 2022, we saw rowing machines for $160 and exercise bikes for as little as $190.
SEE ALSO: 11 Ways to Get Cheap Gym Memberships in 2023
Looking at name-brand products? You may be able to find notable discounts on those, as well. Last year, the Bowflex C7 indoor cycling bike fell to $351, while we saw a NordicTrack S22i commercial studio cycle for $1,050. If you'd rather check out the sales in September, watch for Woot! to once again take up to 73% off home gym items, while Nike could take up to 50% off in its own equipment sale.
TVs
TVs is another category that we typically advise waiting until November to shop, but some notable offers could pop up this month. Last year we saw a TCL 5-Series 55" 4K HDR Google smart TV for $400, an Insignia F30 Series 65" 4K HDR smart TV for $390, and a Vizio M6 Series 75" 4K HDR smart TV for $699. Keep an eye out for sales, too, such as up to $800 off Samsung, Sony, and LG TVs at Best Buy or up to $1,200 off Samsung TVs and projectors at Amazon.
Home Furniture
It's not just patio furniture that has good deals in September; indoor selections could also see great discounts this month. For instance, last year Home Depot offered up to 50% off entryway furniture, while Macy's took up to 48% off leather furniture. Additionally, Wayfair had bedroom basics starting at $68 and Homary cut up to 70% off home office items.
Need a new piece for your living room? Macy's knocked up to 60% off sofas plus took an extra 10% off in September 2022, while Amazon offered up to 67% off a variety of living room furniture.
5 Things NOT to Buy in September
| Item | When to Buy | Why? |
| --- | --- | --- |
| Halloween Items | October | September may bring early deals on Halloween items, but October will be when they really pop up, as people start decorating and shopping for the holiday. |
| Cruises | November | Travel deals may show for Labor Day, but we tend to see a fair amount of cruise deals pop up around Black Friday and Travel Tuesday, and in the winter months as people are looking for warm-weather getaways. |
| Fall Clothing | November, December | Any fall apparel on the shelves now is brand new, so we won't see serious discounts for a couple of months at least. Black Friday will be a good opportunity to shop, as will December, when the season is winding down. |
| Winter Holiday Decorations | November, December | You may see a few decorations in September, but the selection of these items will grow over the next few months, and the discounts probably won't hit until November and December. |
| Toys | November, December | The toy hype is just starting to build in September, so the discounts won't really be there. But around Black Friday and into December, we tend to see a generous selection of toy deals. |
Can't wait to shop? Check out the best deals available now, and follow us on Facebook for more shopping tips!
---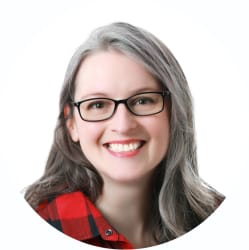 Senior Staff Writer/Consumer Analyst
Julie's work has been featured on CNBC, GoBankingRates, Kiplinger, Marketwatch, Money, The New York Times, Real Simple, US News, WaPo, WSJ, Yahoo!, and more. She's extolled the virtues of DealNews in interviews with Cheddar TV, GMA, various podcasts, and affiliates across the United States, plus one in Canada.
DealNews may be compensated by companies mentioned in this article. Please note that, although prices sometimes fluctuate or expire unexpectedly, all products and deals mentioned in this feature were available at the lowest total price we could find at the time of publication (unless otherwise specified).