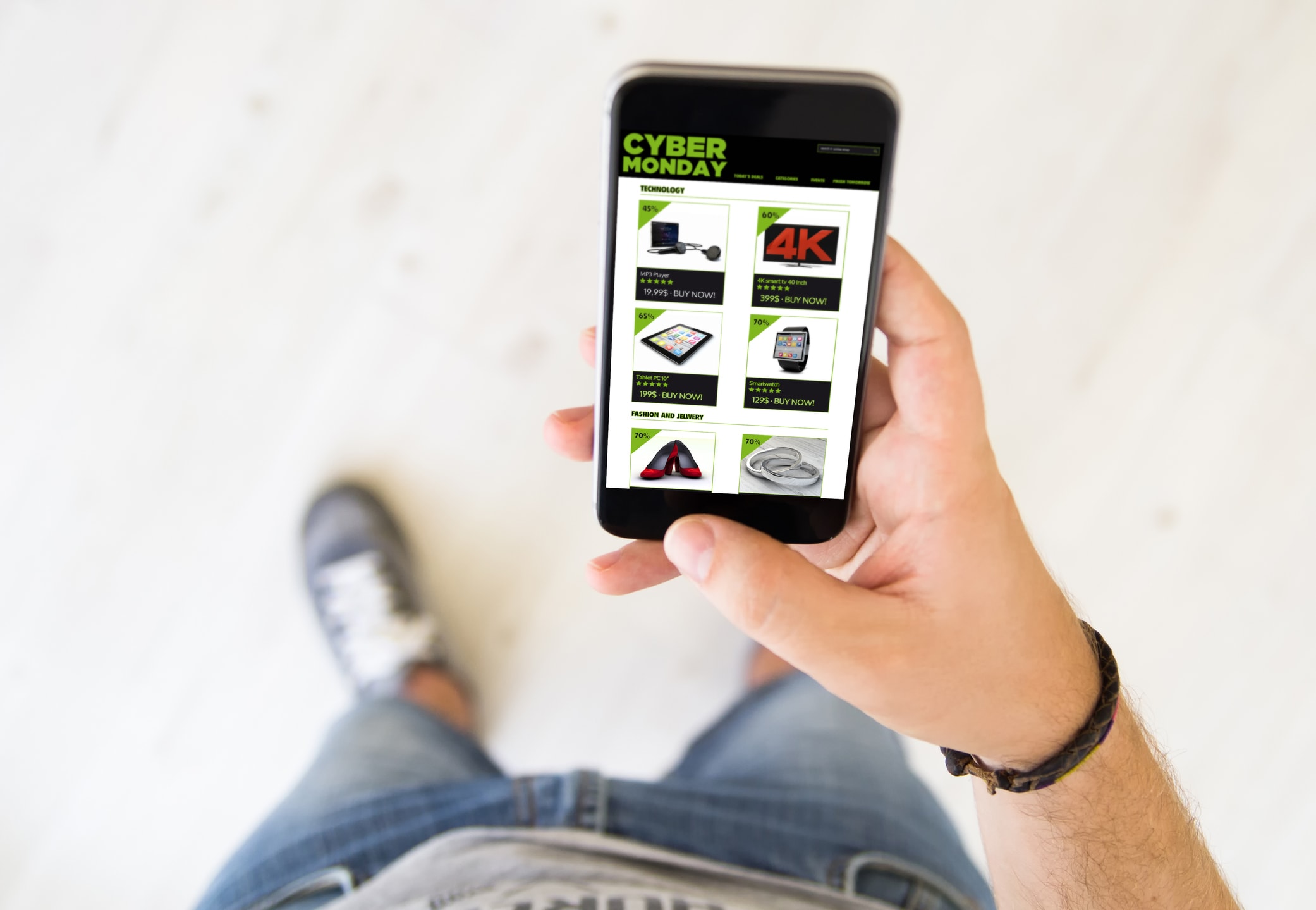 What is Cyber Monday? Well, if you aren't interested in rushing out right after Thanksgiving dinner to snag Black Friday doorbuster deals, Cyber Monday may be the shopping holiday that's more your speed. And apparently that's true for many Americans, who spent a projected 27% more money online on Cyber Monday than on Black Friday last year. The convenience factor of Cyber Monday is strong.
But despite some truly excellent offers, Cyber Monday has a bad reputation for being Black Friday leftovers. To help you weigh Black Friday vs. Cyber Monday, we go over the big differences between the shopping holidays.
What Is Cyber Monday?
Cyber Monday is an annual online shopping holiday that falls on the Monday after Thanksgiving. This year, Cyber Monday is on December 2.
SEE ALSO: Thanksgiving vs. Black Friday vs. Cyber Monday: What to Buy Each Day
Cyber Monday is a bit nearer the holidays than it was last year. That means the sales will run very close to Christmas, but even early birds may benefit from waiting for Cyber Monday (and the week that follows) to do their shopping because of the great deals expected.
9 Ways Cyber Monday Is Different From Black Friday
Cyber Monday Has More Deals
While Black Friday gets all the press, we actually posted 10% more deals on Cyber Monday last year — and 16% more deals that earned our Staff Pick designation, meaning they were among the best sales we saw. Thanksgiving Day itself had more offers than Black Friday or Cyber Monday, but Cyber Monday bested both for the number of Staff Pick deals.
Last year, we posted 10% more deals on Cyber Monday than on Black Friday.
If you're just picking one day to shop, wait until Cyber Monday.
It's More Online-Focused
Online sales dominate Cyber Monday. On Monday alone last year, we listed over 100 deals from online megastore Amazon. But stores with physical locations will usually have the same offers online and offline. And even if you do prefer to shop in-store, brick-and-mortar retailers are likely to be less crowded on Monday than Friday.
You May Have to Pay for Shipping
With Cyber Monday being more online-oriented than Black Friday, shipping can be a bigger factor when shopping. Many retailers offer free shipping — with or without a minimum purchase required — for Cyber Monday, but not all of them will do so. That can add an unexpected price premium on the deals, so keep your eye open for sales that include free shipping — or double-check the shipping costs before you buy.
SEE ALSO: These 10 Stores Will Offer the Best Cyber Monday Deals in 2019
And remember that you can often save by opting for in-store pickup when shopping online on Cyber Monday. This service is available from most major brick-and-mortar retailers.
There's Less Time to Prep
Savvy shoppers know that making a plan is the key to savings success. And Black Friday offers plenty of time to plan ahead, as deals are often advertised weeks in advance. Cyber Monday sales are typically more of a surprise: you won't see as many Cyber Monday ads, and when you do, they may not show up until after Black Friday.
To keep tabs on the best sales, get on your favorite retailers' mailing lists. Additionally, sign up for the DealNews Select Newsletter and set up deal alerts on products you want. They'll help you find sales you might otherwise miss.
It's All About the Lightning Deals
Though you won't have to wait in line for doorbuster deals on Cyber Monday, sales that day do tend to come and go quickly. Many of the best deals will only be around for a day or two, and some items with very limited quantities — like Amazon Lightning Deals — may sell out within hours or even minutes.
SEE ALSO: What to Expect From Amazon Cyber Monday Sales in 2019
However, it's a mixed bag, as Cyber Monday has slowly turned into Cyber Week. We only posted 30% of Cyber Week offers on Monday last year, meaning that even if you skip out on Monday shopping, there will be more deals to snag later.
Fewer Items Will Be Out of Stock
Though we just said that Cyber Monday deals come and go quickly, you can still expect more items to be in stock on Cyber Monday than they were on Black Friday. According to Adobe, an out-of-stock message popped up for 2.4% of product page visits last Cyber Monday, compared to 2.8% on Black Friday.
Depending on what you're shopping for — toys are often a particularly hot product on Cyber Monday — that could make a big difference.
Cost Comparisons Are Easier
When you're in-store, you can always pull up your smartphone to do a cost comparison when you buy, but slow cellular data can make the task frustrating. During Cyber Monday, comparing prices is as easy as alt-tabbing — plus you can use browser add-ons like Honey and CamelCamelCamel to see if you're getting the lowest price straight from your web browser.
It's Simpler to Shop Wherever You Want
If you go store to store on Thanksgiving or Black Friday, it takes a lot of time. You may have to drive to multiple locations in the cold, get stuck in crowds, and hunt for parking spots.
Going from store to store on Cyber Monday is as quick and easy as opening a new browser tab.
But going from store to store on Cyber Monday is as quick and easy as opening a new browser tab — which makes it simple to buy from whatever retailer you want.
Different Items Are on Sale
Though some deals last throughout the massive Thanksgiving/Black Friday/Cyber Monday extravaganza, sales are different every day. Cyber Monday is typically the best time to buy speakers, toys, and beauty products, while Black Friday is better for TVs, tech, and travel.
If you shop in the right product categories, you can get the best deals on each day.
Readers, do you prefer to shop on Black Friday or Cyber Monday? Share your thoughts in the comments below.
---