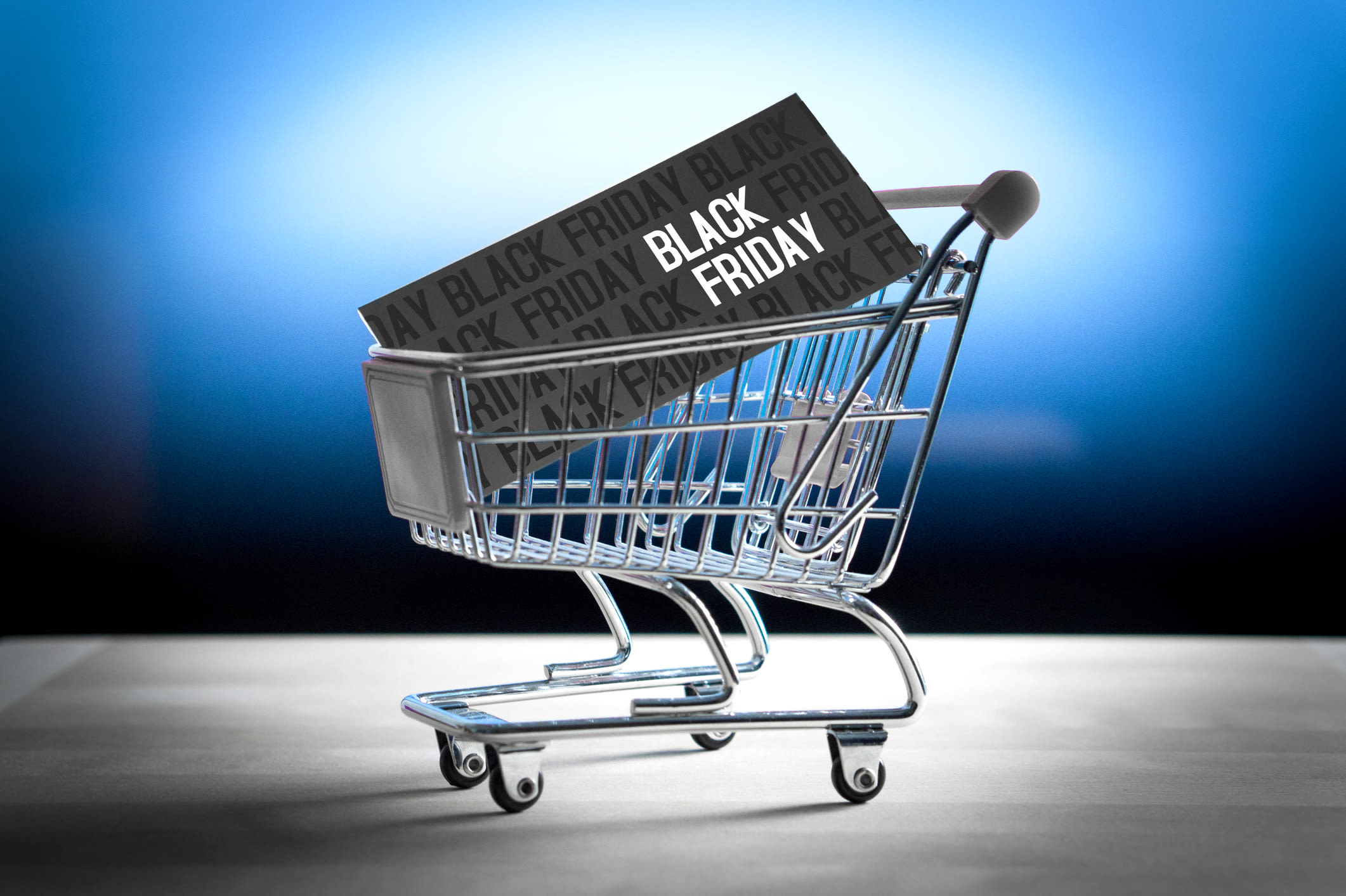 Black Friday hype is real, and it's hard not to get caught up in it. With retailers starting the season even sooner this year and running deals longer than before, the hype has started sooner, too.
Not all of the Black Friday deals are worth shopping, though. If you let yourself be caught up in the hype, you could end up with buyer's remorse. Before you jump on any early doorbusters, check out our guide to these deals, and whether or not Black Friday doorbusters are worth it in 2020.
What Are Black Friday Doorbusters?
Doorbusters are notable deals that typically offer great savings — but not always. Because they're meant to entice shoppers into spending more, they're often majorly discounted and advertised widely. Doorbuster items are in limited supply, too. So when they're gone, that's it.
In the past, in order to snag the best Black Friday doorbusters, you'd probably find yourself lining up hours at a store before the doors opened. Fortunately, these offers have moved online more and more in the last few years. And in 2020, we're expecting an even bigger push online than we've seen before, as more stores are promoting online shopping in the wake of the COVID-19 pandemic.
Are Black Friday Doorbusters Worth the Trouble?
Some doorbusters are genuinely great deals, but you'll have to do your homework to find out. Certain "doorbuster" sales feature good but not great prices — and are definitely not worth the effort it takes to get them.
We're not expecting shoppers to line up outside of stores as much this year, so the "doorbuster rush" we're used to seeing might not happen a lot. For one thing, we're expecting to see more doorbusters in general, as many retailers are stretching out their Black Friday events for 2020. A number of sales are taking place over a few weeks rather than a few days. If retailers offer doorbusters every time they have a Black Friday event, we should see more overall this year than in previous years.
Some Black Friday doorbusters are genuinely great deals, but you'll have to do your homework to find out.
Before you add a doorbuster to your cart — in-store or online — do a little research. With stores all vying for your shopping dollars on Black Friday, you can expect prices to be competitive, so you may find similar prices across a variety of retailers. You won't know if a deal is truly good until you check around. DealNews' own Staff Picks can help you tell the difference between a mediocre deal and a magnificent deal, as we'll always point out when we're seeing items at their lowest possible price.
Also pay attention to the brand names attached to doorbusters. Some retailers advertise in huge print about their discounted 55" 4K TVs, but if you keep reading, you'll realize the TVs are from a no-name brand. This may not matter to you if the price is good enough. Still, you'll want to read the fine print to know what you're getting before you line up to buy.
When Do Black Friday Doorbusters Start?
In any other year, we'd expect Black Friday doorbusters to show up by the day before Thanksgiving, or on Turkey Day itself. However, in 2020 stores like Target, Best Buy, and Walmart have started their Black Friday sales even sooner, which means the Black Friday doorbusters are appearing long before the shopping holiday.
SEE ALSO: Black Friday Store Hours 2020: What Will Be Closed on Thanksgiving?
Because Black Friday is being spread out this year, it's more important than ever to pay attention to when the deals begin. Check out your favorite stores on social media, so you'll know when they reveal their plans for Black Friday — though many already have.
Can You Score Black Friday Doorbusters Online?
Even with doorbusters traditionally being in-store offers, in the past few years we've seen plenty of them move online. Ones that are in-store-only tend to be clearly labeled as such in Black Friday ads, and often have the rock-bottom prices that would cause a site to crash if left online. An example might be a 32" TV for $80.
That doesn't mean online doorbusters aren't noteworthy, though. Whether it's New Balance shoes under $30, up to 60% off tech, up to 80% off clothing, or super-low prices on new Instant Pots, plenty of worthy deals are available online.
Do You Have to Wait in Line to Snag a Black Friday Doorbuster?
If you're venturing out this year to shop in-store for Black Friday, you should be prepared to wait in line, period. Many retailers are trying to push their events online, but they realize some consumers still want to shop in-store. Knowing that, they're making arrangements like increasing sanitizing stations, having workers on hand to keep shoppers 6 feet apart, and only allowing a certain number of people in a store at one time.
If you're planning to shop in-store, be prepared to wait in line. Some retailers will limit the number of people allowed inside at one time.
That means if you're shopping in person, you'll likely find yourself waiting for at least a little bit. Is the weather due to be unpleasant? Maybe just stay home and shop online in your pajamas. Need that deal right away? See if you can opt for curbside or in-store pickup — at least that will lower the amount of time you spend in the store.
How to Get the Best Doorbuster Deals
We've already put together an in-depth Black Friday strategy guide, but the most important step is going to be research. You can make your wish list now and note the prices you're seeing — we recommend making a spreadsheet. Then, when the Black Friday sales you want to shop officially start, you'll be able to easily see if a promotion is a deal or a dud.
We expect stores to advertise their doorbuster deals well in advance of Thanksgiving, so you'll have plenty of time to review them. Look for the following:

Items that aren't just good deals, but great deals. The Black Friday season boasts plenty of excellent deals, and it's not worth waiting in line for a deal that's just okay.


Deals that you can't find online. We don't expect many in-store-only doorbusters this year, but there's a chance we could see a few. Be absolutely sure you can't buy the item online (or buy similar deals online) before you risk heading out to shop in person.
Don't Get Your Hopes Up
Especially this year, it's important to temper your expectations. Even if you do absolutely everything right, you may not get a doorbuster. Limited item quantities can mean that if you aren't one of the first few people in line or on a site, you'll walk away empty-handed.
SEE ALSO: Is Black Friday Worth It? 10 Ways You're Doing Black Friday Wrong
If you can, make a contingency plan for any must-have items. Even if you miss out on a doorbuster, you can probably find pretty good prices on the same item (or a similar one) elsewhere. You may even be able to buy an alternative option right from your smartphone the minute the doorbuster you've been waiting for sells out. Knowing your options can help you avoid potential Black Friday disappointment.
Readers, how will you be shopping for Black Friday doorbusters this year? Let us know in the comments below.
---