When Amazon Reviews Get Ridiculous
Late last year, we compiled an ultimate list of the best joke reviews on Amazon, and now we're back for another round. Join us again as we wade through the many products on Amazon's intimidatingly vast digital shelves. However, we don't plan on bringing you the best late-summer hammocks (get those from the Hammock District) or recommending the hardest of hard drives. No, today, we go in search of the one thing the internet produces above all else (aside from lists and cat memes and deleted search histories): snark. And spelling errors. But mostly snark.
Before we move on, it's important to remember that leaving sneering, sarcastic product reviews on Amazon is a lot like swearing: It's neither big, nor clever. But like swearing, it is fantastically funny. So, like outwardly-disapproving-but-secretly-proud parents telling their friends of the impressively-syllabled cuss their son invented and brazenly shouted at his teacher, we present this selection of immature, juvenile product reviews. Behavior that we in no way condone. Nope. Not one bit.
The 2009-2014 Outlook for Wood Toilet Seats in Greater China
China: Home to the world's fastest growing economy, the Back Dorm Boys, and approximately 1,359,020,000 people. That's a lot of butts on a lot of toilet seats! (2,718,040,000 individual cheeks!) So perhaps this $495 PDF file isn't as ridiculous as you thought. Plus, you always need something to read in the bathroom. So.
WARNING - **NOT** a MicroSoft product: "I was thinking, 'Sweet! Finally a version of Outlook that will run on my wooden Chinese toilet seats!!' Little did I know this has **NOTHING** to do with Outlook for Windows or any other MicroSoft product. It is NOT a five-year wooden-toilet email/calendar software product, but is in fact some kind of WELL-DONE REPORT ON TOILET SEATS!! By coincidence, still entirely useful to me in my line of business but now I will have to find some other way to coordinate my inter-seat schedules and emails!! Buyer beware!!"
I don't get it: "I'm not sure what all these rave reviews are about. I was just as excited as the next man to order this highly anticipated follow-up to 'The 2002-2009 Outlook for Wood Toilet Seats in Greater China' but it left me flat. It felt forced and unneeded. I think the author just wanted another payday without having to come up with something original. I can't believe they got Nicholas Cage for the movie... or I guess I can."
Amazing read. Couldn't put it down, much to girlfriend's dismay: "This publication is the pinnacle of riveting storytelling! I loved every moment of it. SPOILER ALERT! The Brown Wedding scene was shocking and horrific and amazing! As soon as I read that the Winds of Wastemere were played I knew ALL of the wooden toilet seats I came to love were in trouble. Terrible and intense. Two thumbs up!"
Nao Badonkadonk Land Cruiser/Tank
Entering the mobile armor market wasn't an obvious move for Amazon, but then neither was dodging astonishing amounts of sales tax, and they still managed that one. Thus, The Badonkadonk: the semi-unofficial tank of the always-wonderful Bugle Podcast, and probably the only tank with a name plundered from Urban Dictionary. It's currently unavailable, which is either a good thing (no crazies buying tanks on the internet) or a bad thing (lots of crazies already did).
You can afford it!: "Perhaps you are thinking: 'But a tank costs several million dollars, not including floor mats. I don't have that kind of money.' Don't be silly. You're a consumer, right? You have credit cards, right? Perhaps you are thinking: 'Yes, but how am I going to pay the credit-card company?' Don't be silly. You have a tank, right?"
Finally, a tank you can trust: "Shopping for a personal tank can be a bit daunting. Many times in the past I've purchased overpriced, so-called 'battle tanks,' then driven them into battle only to be wrecked in 10 minutes. But this tank R-O-C-K-S! Literally — the 400-watt sound system keeps me rockin' like a crazy man as I'm dishing out justice commando style. And the kids love it, too; imagine the look of terror in the eyes of the enemy as I'm dropping off my kid's team to their soccer game. Shock and awe, my friends, SHOCK AND AWE!"
Wenger 16999 Swiss Army Knife Giant
For the serious — and seriously scary — tool enthusiast, this collectible colossus boasts a spectacular 87 implements and 141 functions. Although, upon closer inspection the list on the product page mentions "reamer" twice, so maybe it's not the bargain that its $1,386.35 price tag would suggest.
Found this...: "...stuck into a stone while on vacation. I'm impressed with it, generally. Unfortunately, it turns out that removing it made me the new king of Switzerland, which is a lot of responsibility."
Think it over: "I was about to order this but a vision of MacGyver appeared and told me to be a man and use a paperclip."
Cool, but be careful: "This knife has one tool too many. I started playing with it on the bus on my way to work, and I accidentally impregnated the woman sitting next to me. I never found the tool responsible, but when I do, you can be certain I will be demanding a full refund."
Playmobil Security Check Point
Look, we can all buy our kids toy airplanes and watch them fall in love with the marvel that is modern aviation. Any parent could take their kids on holiday, give them a window seat, and watch their faces light up as they see the ground below fade into a cloudy haze. But only a select few parents would ever buy their children this TSA-touting toy, and to those security-conscious parents, we doff our collective cap. Then we take off our shoes and remove our laptop from our bag, because you're probably pretty nuts about that.
Already looking for a replacement: "Had this item three or four days now, and things were going fine, until some of the 'passengers' began complaining of missing items from their luggage. I found the items in a Playmobil Security Manager's Office, which I hadn't realized I ordered. I'm thinking of complaining to the Playmobil Shop Steward but I'm not sure I'll get anywhere."
Great lesson for the kids: "I was a little disappointed when I first bought this item, because the functionality is limited. My 5-year-old son pointed out that the passenger's shoes cannot be removed. Then, we placed a deadly fingernail file underneath the passenger's scarf, and neither the detector doorway nor the security wand picked it up. My son said 'that's the worst security ever!' But it turned out to be okay, because when the passenger got on the Playmobil B757 and tried to hijack it, she was mobbed by a couple of other heroic passengers, who only sustained minor injuries in the scuffle, which were treated at the Playmobil Hospital."
Datastroyer Model 1000 Disintegrator
Looking to destroy an entire rainforest's worth of paper? Trying to get rid of that pesky Badonkadonk you've had lying around? This is probably what you need: a disintegrator that sounds like a Terminator and looks like 1948's third most expensive electron microscope. Fresh from its cameo appearance in Pacific Rim, this 14,000-lb. behemoth is probably the herald of the robot apocalypse, but until then, hey, let's make jokes.
Great Product: "This is a great disintegrator, but it really should have come with a childproof lock. We are going to miss little Byron so I can only give it three stars."
Maybe turn it on from a distance with a stick or something...: "I'm a coyote that lives in the desert and ordered this product to help catch a pesky roadrunner in the area. It arrived well-packaged and after covering it in tumbleweeds I put a pile of roadrunner pellets under it, as is my custom. In a few moments the roadrunner showed up and started eating the pellets so I turned away and snickered while pointing my thumb in his general direction as if to say, 'He has no idea he's about to be disintegrated,' but when I did I failed to notice a lynch pin had slipped out and the disintegrator had swung directly over my head. When I turned around, the roadrunner had finished the pellets and was looking at me so I scowled at him and pushed the 'On' button while maintaining eye contact. I was immediately disintegrated into a pile of ashes with two eyes, so I minused a star for the loose hingepin. The roadrunner 'beep! beep!'-ed at me and disappeared down the road, bending it as he did so, and I held up a sign on which I had written: *sigh*. Overall a good disintegrator."
There are certainly more hijacked review threads out there, and there are probably better ones as well. There might even be some enterprising young reviewer right now taking a look at a novelty pair of American Flag Pants, and thinking: "Yes. This could be next." Unfortunately, we can't be everywhere, but you can, readers. So leave any hilarious reviews that we've missed in that comments bit below. (Down there. Do you—? No, look, it's right down there. There you go.)
---
Related dealnews Features: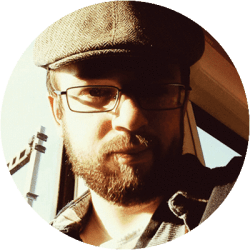 Associate Editor
Alan Byrne is actually quite busy watching Frasier, finding jokes to steal for his next blog. His areas of expertise are video games and "assorted nonsense."
DealNews may be compensated by companies mentioned in this article. Please note that, although prices sometimes fluctuate or expire unexpectedly, all products and deals mentioned in this feature were available at the lowest total price we could find at the time of publication (unless otherwise specified).