Weird Facts: Amazon Sells Kurt Vonnegut Fan Fiction and Pink Floyd Wine
Amazon began as an online bookseller in the 1990s, but quickly expanded its model of fast, cheap delivery by providing music, movies, electronics, and apparel. From Amazon Local (daily deals) to Amazon Wireless (cell phone plans), the mega online retailer is on a quest to provide pretty much everything under the sun to consumers. But there are some arenas in which Amazon is not the obvious forerunner. Yet. But the retailer keeps on trying! As such, we've compiled 10 lesser known facts about Amazon's growing empire that are fascinating, hilarious, and strange.
Netflix and Instagram Rely on Amazon Servers
While you might only think of Amazon as your go-to for shopping, the mega-retailer actually also provides servers and web services to some of your other favorite websites. Organizations that use Amazon Web Services' cloud-based system to host at least part of their online presence include Adobe, Airbnb, Ericsson, Flipboard, The Guardian, Netflix, Newsweek, Pinterest, reddit, Tweetdeck, Spotify, and Yelp. When severe thunderstorms knocked out Amazon servers in Northern Virginia in 2012, many of these popular sites went down simultaneously.
Amazon Owns the Rights to Kurt Vonnegut's Characters
It's common to think of Amazon when purchasing a book, but beyond that, the association between the seller and the industry seems to weaken. So why did Amazon purchase the rights to characters created by one of the 20th century's most revered authors? Did Amazon CEO Jeff Bezos just want to be a responsible steward for Vonnegut's legacy? Not exactly. Because...
Amazon Found a Way to Legally Sell Fan Fiction
Likely in the hopes of encouraging more 50 Shades of Grey-like hits, Amazon decided to buy the likeness rights to various cultural characters, so that aspiring auteurs like you and me can legally create stories based around existing personalities (aka, fan fiction). The company already own the rights to characters from select TV shows — Vampire Diaries, Pretty Little Liars, and Gossip Girl — as well as those from authors a little closer to Vonnegut's world, like sci-fi writer Neal Stephenson. Dozens of titles are now available from amateurs and pros alike, and fan fiction authors reportedly get a percentage of the sales (though titles are priced as low as $0.99).
Amazon Sells Rock-Themed Booze
Amazon began selling wine in 2012, bringing bottles from wineries directly to consumers. Although the site features bottles that cost up to $250 a piece, some of the site's best-sellers are from the label Wines That Rock. This winemaker distributes such fine blends as Pink Floyd Dark Side of the Moon Cabernet, Rolling Stones Forty Licks Merlot, and Woodstock Chardonnay.
Amazon Sells Million-Dollar Artwork
While Amazon got into the fine art game just last month, its department features everything from $10 prints to a Norman Rockwell original selling for $4.85 million. Danielle Rahm at Forbes notes the innate weirdness of buying fine art online, most notably because Amazon does not require the seller to list the condition of the work, and there is no way to check anyway. But hey, free shipping!
Combined with its wine department, Amazon's fine art business is a sign that the mega retailer is trying to bring easy online shopping to arenas that are mostly intimidating and inaccessible to the average consumer. Sports cars may be next.
Amazon Is Trying to be a TV Studio
You probably binged on House of Cards, Arrested Development, and Orange Is the New Black on Netflix. But just wait until you catch Alpha House and Betas, both upcoming comedies made by Amazon, which will soon be available on Amazon Prime Instant Video. And while Alpha House may come from Pulitzer Prize-winning cartoonist Garry Trudeau and star John Goodman, anyone can get in on the game: Amazon Studios is currently accepting scripts for development.
Amazon Wants to Replace Your Grocery Store
Introduced to the Seattle area by invitation-only in 2007, AmazonFresh offers free same-day delivery of groceries and a subset of Amazon items over $35 to PrimeFresh members. This service is free to regular Prime members for 90 days, but thereafter upgrades Prime members to PrimeFresh members at a total cost of $299 per year. While a PrimeFresh membership may seem steep (a 1-year FreshDirect delivery pass costs $119), the service has proven popular enough in the northwest for Amazon to have expanded it to Los Angeles this past June.
Amazon Wants to Master Same-Day Delivery ... So It Can Sell You EVERYTHING
Some analysts think that Amazon Fresh is just a Trojan Horse that'll help Amazon take over the world of same-day delivery. If Amazon can bring its consumers perishable goods like dairy and produce fast enough, then it can bring consumers just about anything at any time. This move would effectively fulfill consumers' need-it-now needs and do away one of the last remaining advantages of shopping brick-and-mortar retailers. Amazon has already learned that faster shipping and better deals creates loyal customers who will buy just about anything online: Amazon Prime customers pay $79 a year for free 2-day shipping, but spend $700 more annually than other shoppers.
But Amazon is perfecting same-day delivery, rivals like eBay are already pushing same-hour delivery. Game on, Amazon.
Amazon Started Selling Fresh Flowers Because Obviously
Fine art, wine, perishable groceries. What more could the warehouse behemoth sell? How about fresh floral arrangements. While Amazon has long sold flowers through third parties, just last month it quietly rolled out the Amazon Curated Flower Collection. This program has a long way to go, though: it still doesn't offer scheduled deliveries, which are kind of a problem for most people who'd want a bouquet on Valentine's Day or an anniversary. But seriously: is no segment of the retail industry safe from Amazon?
Amazon Wants to Run Your Trivia Night
Amazon has a trivia website where players can test their knowledge of science, sports, and more, for fun and to earn badges. Surprisingly, there's no explanation of the site, and no apparent media coverage. Maybe the company just wants to help users prepare for their next game of Trivial Pursuit? Or maybe Amazon is cleverly inspiring shoppers, as the answer to each question does feature an ad for a related Amazon retail section.
It's no surprise that Amazon is about more than just the simple act of purchasing an item, but the retailer's reach is, in many ways, quite astounding. We look forward to the day when Bezos and company find a way to also raise our children, perform routine medical procedures, and send us hangover cures before we even realize we drank too much.
---
Related DealNews Features: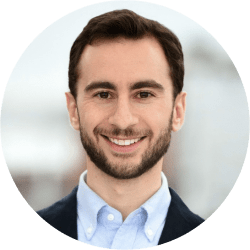 DealNews Contributing Writer
Ben was Features Editor at DealNews from 2014 to 2017, when his shopping insights were highlighted by Good Morning America, Reuters, the Washington Post, and more. Though no longer in consumer news, Ben still loves getting a great deal (and writing about it!).
DealNews may be compensated by companies mentioned in this article. Please note that, although prices sometimes fluctuate or expire unexpectedly, all products and deals mentioned in this feature were available at the lowest total price we could find at the time of publication (unless otherwise specified).