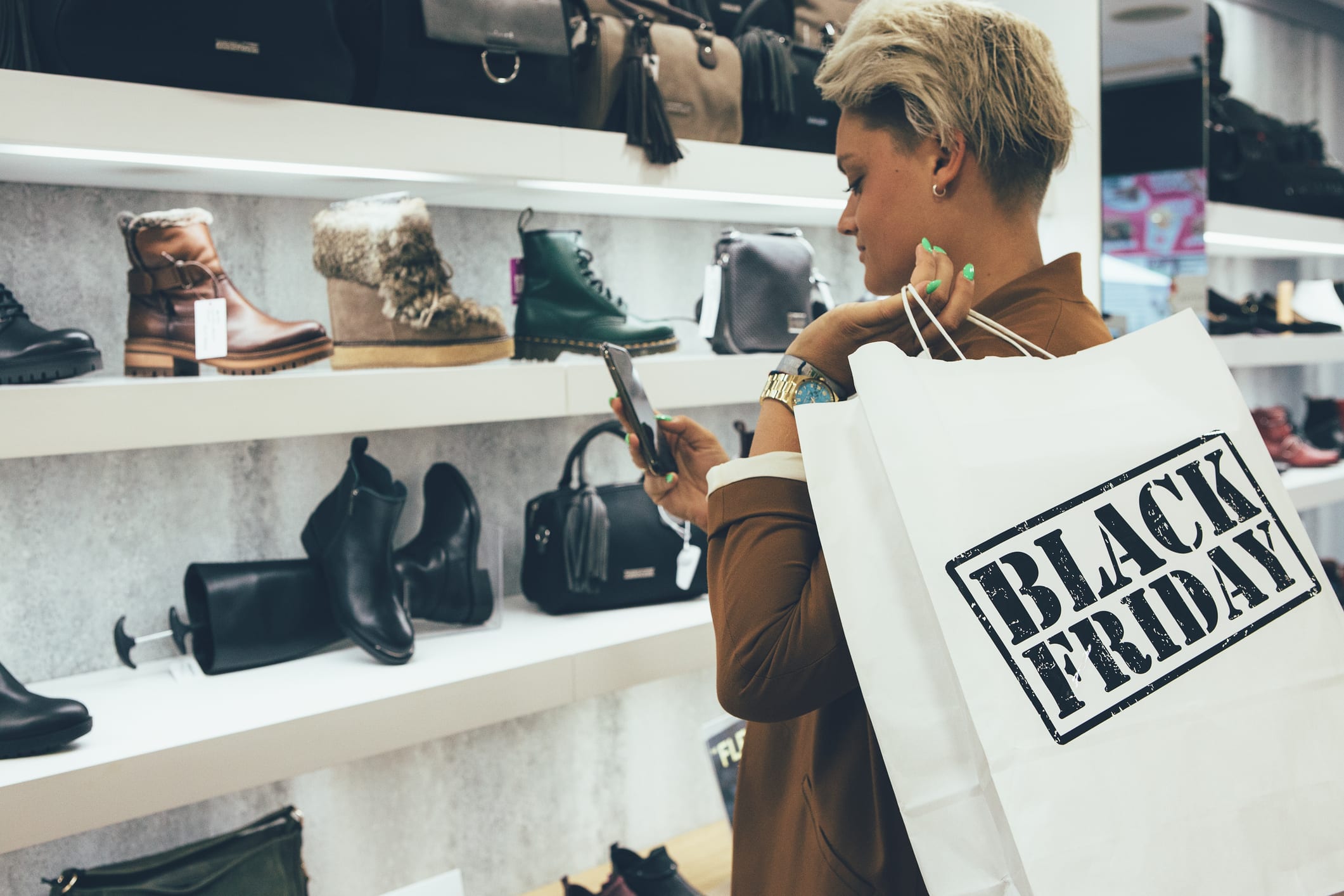 It's easy to get excited about big Black Friday sales, but you could be approaching this shopping extravaganza all wrong. If you want to grab the best bargains during Black Friday — and throughout the Black Friday season — be sure you aren't making these common shopping mistakes.
UPDATE: Black Friday deals are live! Click here to see the latest offers.
Get Black Friday Deals in Your Inbox!
Sign up for the DealNews Select Newsletter now to get the best deals every day. When Black Friday deals go live, the best offers will come to you.
Click here to sign up!
You're Not Shopping on Black Friday
Black Friday gets a lot of hype. So much hype, in fact, that you may assume it's overhyped and skip out on shopping entirely. But the numbers don't lie: Black Friday 2017 had more than double the number of sales of any other shopping holiday this past year (outside of Thanksgiving, Cyber Monday, and July's Prime Day).
Speaking of Cyber Monday and Thanksgiving, between those three November shopping days in 2017, we posted the most deals on Black Friday. On top of that, more than 30% of those Black Friday sales were cream-of-the-crop, Editors' Choice picks.
SEE ALSO: Thanksgiving & Black Friday 2018 Store Hours: Know When to Go!
If you ignore Black Friday, you're going to miss some of the best sales of the year. Even if you decide there's nothing you need on Black Friday, it's worth reviewing the ads to look for must-have bargains.
You're Buying Anything With a Sale Sign
Are all the Black Friday deals worth it? While there are plenty of good (and great!) deals on Black Friday, not everything is a steal. As we mentioned before, despite Black Friday having more sales than you're likely to find on any other day of the year, only about 30% of deals received our Editors' Choice mark in 2017.
That doesn't mean the rest of the sales are bad, but it does mean you should do a bit of homework to be sure you're actually getting a good deal — and our Black Friday resources can help by highlighting the best offers.
You're ONLY Shopping on Black Friday
Though not shopping on Black Friday can be a big mistake for deal hunters, only shopping on Black Friday can be just as much of a problem. Despite the high number of sales on this shopping holiday, you won't see fantastic prices on every product. And even though we posted the most deals on Black Friday itself in 2017, both Thanksgiving and Cyber Monday featured more Editors' Choice deals.
If you're looking for electronics, Thanksgiving tends to have better deals than Black Friday.
Still, that doesn't mean you should ditch Black Friday entirely. Throughout the Black Friday season, there are clear trends as to when different products go on sale. Black Friday will likely be the best day to get deals on kitchen goods, clothes, tools, beauty products, toys, laptops, and appliances.
But if you're looking for most types of electronics, Thanksgiving tends to have better deals. We're predicting Turkey Day will have the best deals on smartphones, speakers, tablets, headphones, and video games in 2018. And if you want to buy a television or book your next vacation? Cyber Monday is probably the best time to shop.
Smart deal hunters will take the time to check the best bargains this week and next week, because the best sales could pop up at any time.
You're Disregarding Doorbuster Deals
Though we just said Cyber Monday should have the best TV sales of the season, there's one big caveat: doorbuster deals. Typically, doorbusters are hugely discounted items available in very limited quantities — and you won't find them on Cyber Monday.
SEE ALSO: Our Guides to the Top Black Friday Retailers
Among the doorbuster TV deals we expect this year are 32" sets for $80 to $100, 55" TVs priced from $275, 60" TVs as low as $498, and 70"-plus sets as low as $850. And while TVs make popular doorbusters, expect to see these limited-quantity types of sales across all product categories.
The big doorbuster deals might only be available in-store. To get them, you'll need to make a plan. Because they tend to sell out fast, you'll want to be in line in front of the store before opening, which can mean braving miserable weather. Be sure to find out the store's hours!
You're Ignoring Online Sales
Online shopping isn't only for Cyber Monday. Though some amazing Black Friday deals are only available in-store, you can still find Black Friday doorbusters online. For Black Friday 2017, more than 70% of the online retailers we saw offered completely free shipping or free shipping with a low minimum order (often between $25 and $50), so shopping online usually won't cost you any more than shopping in-store.
Last Black Friday, more than 70% of the online retailers we saw offered completely free shipping or free shipping with a low minimum order.
You Think There's Only One Best Place to Shop
Price matching can happen during the holiday shopping season, but that doesn't mean you can pick one retailer and ignore the rest. It's particularly easy for bargain hunters to gravitate toward Amazon. (After all, Amazon has started giving everyone free shipping for the holidays.)
SEE ALSO: Your Black Friday Price Match Guide for 2018
But while Amazon often has more products on sale than the competition, other stores will offer their own selection of Editors' Choice-quality deals. Mega-retailers Walmart and Target will both have plenty of Black Friday deals.
And if you're looking for electronics, Best Buy and Dell always have some real bargains. If you want the very best deals this season, you can't limit your shopping to just one store. Whatever you're buying, be sure to shop around.
Readers, what do you think are the biggest mistakes people make during Black Friday? Let us know in the comments below!
---