The Amazon Name Game: Do Amazon Search Results Match Your Personality?
These days, shoppers have a tendency to turn to Amazon for almost all of their needs, whether its pantry items, sporting goods, back-to-school necessities, or $1.4 million Monets. But from this expansive selection of goods comes the occasional offbeat search result.
As our overnight shift of deal slingers discovered recently, you can search virtually any full name on Amazon and receive a robust list of product results that pertain to said name in one way or another. (Our overnight staff sometimes gets a bit punchy in the wee hours and, hey, you take fun wherever you can find it, right?) Go ahead, search your own name and see what pops up!
Since Amazon does sell a lot of stuff, this is maybe not a terribly surprising occurrence. But, we wanted to bring this fun new game to a more metaphysical level. We started wondering if these results could actually shed light on a shopper's personality, almost like windows to the soul. Could we save money on palm readers by just asking Amazon to tell us our personality type via its search results? If so, that could significantly cut down on our annual fortune-telling budget.
To test our theory, we searched the names of several of our staff members. Here are the very first results from those searches, along with each employee's assessment of whether or not the item is an appropriate representation of their truest self. Read on to find out how eerily accurate Amazon can be! And be sure to tell us about your own results in the comments below.
Subject: Marcy Bonebright
Search Result: "All My Heart: Deborah Voigt Sings American Songs" on CD (Out of Print)
Bonebright suspects that this "used, good condition CD filled with some chick singing American opera" suggests that she is "an amalgamation of pretension, patriotism, and low self-esteem, spending [her] days clinging to Luddism and [her] nights weeping over a liberal arts degree."
Accuracy: Off Key
Bonebright says, "Sorry, I've always been more of a Nine Inch Nails fan."
Subject: Alan Byrne
Search Result: "Philip Lynott: Renegade of Thin Lizzy" Paperback by Alan Byrne
*Note: For Ireland employees, we searched Amazon.co.uk
Byrne interprets his first Amazon result to mean that "all Alan Byrnes are pretty good at taking some niche interest and a bit of skill with a word processor and turning that into paid work." Further, since the subject of the book is a rock band, Byrne goes on to say that it suggests all Byrnes "seem to be super nerdy about rock music."
Accuracy: The Boys Are Back in Town
Outside of an Alan Byrne "who runs a fitness center nearby, thus ruining [the] theory," it does seem to hold up that all Alan Byrnes (at least these two) tend to get paid for writing about music. After all, we essentially paid Alan to write the quotes we included in this article. Self-fulfilling prophecy?!
Subject: Alison Barretta
Search Result: "The Adventures Of Elmo In Grouchland" on Amazon Instant Video
According to the synopsis, this film is about Elmo, a monster, who loses his "well-worn blue blanket" in Grouchland and goes on a quest to find it. The lesson the story teaches, according to Barretta, is that "if you treasure something, you do all that you can to hold on to it, even if it means traveling to, what I can only surmise is, the sketchiest region of the Muppetverse."
Relevance: Near (Not Far)
"If I lost a treasured 'well-worn blue blanket' (which, let's be real, [would] probably be a cat), I would travel all the ends of the Earth to get it back." says Barretta. Plus, "'Grouchland' can certainly be another term for [my home town], Philadelphia."
Subject: Dan Leadbetter
Search Result: "Teaching with Joy: Educational Practices for the Twenty-First Century" in Hardcover
This book "addresses the growing need for ideas and methods conducive to holistic educational practices, and aims to encourage more personal growth in students too often distracted by the background noise of war, violence, racism, and environmental deterioration."
Accuracy: DEFCON 5 (The lowest DEFCON level)
"It thinks I live in an apocalyptic war zone," says Leadbetter. Though his home state of Arizona has a lot of deserts full of scorpions and Gilla Monsters and Black Widow spiders, it's not really that bad.
Subject: Jeff Somogyi
Search Result: "No Free Lunches" eBook by Jeffrey Somogyi
Somogyi's first Amazon search result is for the eBook version of a short story that he wrote. This could be interpreted to mean that Jeff's personality is one of constant self-promotion and marketing of his own stuff.
Accuracy: Highly Self-Serving
Somogyi's take? "You should all totally read that short story!" He went on to say, "And check out my blogs!"
Subject: Louis Ramirez
Search Result: Heroes Volume 2, Episode 11 "Powerless" on Amazon Instant Video
Ramirez admits that this item may be hinting at his "comic book nerd personality from back in [his] Spider-Man, Ghost Rider, and DarkHawk days," but that those days were a long time ago.
Accuracy: Cancelled
"Aside from 'The Walking Dead,' there's not a single show I religiously watch," Ramirez admits. "I never gave 'Heroes' a shot because the second season got blasted by everyone I know. Maybe this is a sign? I guess it means I need to watch more TV."
Note: The efficacy of using Amazon search results as a guide to direct your future decisions is not under scrutiny here, so we cannot make a call to its accuracy as a predictor. (However, we'll totally investigate that, if we run out of features ideas again.)
Subject: Emily Dovi
Search Result: DOVI Name Home Bar Pub Beer Mugs Cheers Neon Light Sign
Dovi says that this sign is "the epitome of kitsch and I kind of love it."

Accuracy: One More For The Road
As someone who does have dreams of one day opening a bar ("'Buds & Suds' ... part-laundromat, part-bar"), this item is definitely applicable to Dovi's personality. And if the bar doesn't pan out, she'll hang it in her "basement bar, next to the 'Soup of the Day: Whiskey' sign."

"Scientists" will tell you that personality-divining systems can appear to be eerily spot-on, until you realize that the results could be interpreted in so many ways to fit so many people. That said, we're still gonna say that Amazon can, with 100% accuracy, see into your soul and that it knows the real you. We speculate that Amazon has tapped into arcane powers and we're worried that it's playing with forces it don't understand. If only Amazon would apply its dark powers to give us accurate book recommendations, instead. ("50 Shades," seriously?!)
---
Related dealnews Features: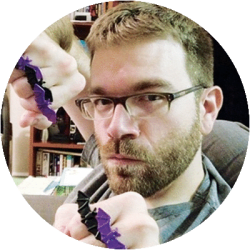 DealNews Contributing Writer
Jeff Somogyi is constantly trying to come up with ways to surprise and delight audiences the world over. He takes humor seriously ... too seriously. (Honestly, we've never seen him laugh ... it's kinda creepy.)
DealNews may be compensated by companies mentioned in this article. Please note that, although prices sometimes fluctuate or expire unexpectedly, all products and deals mentioned in this feature were available at the lowest total price we could find at the time of publication (unless otherwise specified).