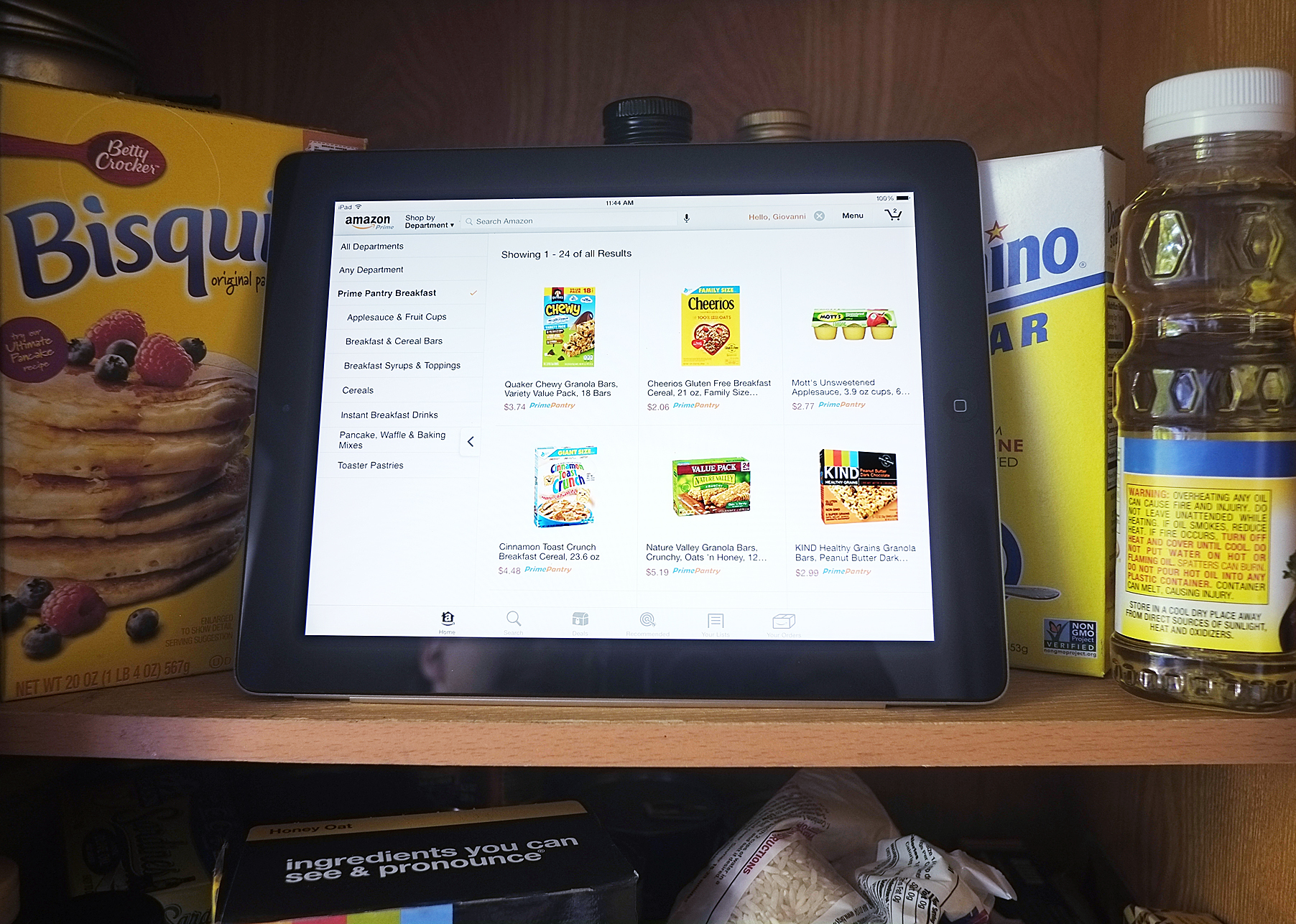 Amazon has plenty of programs meant to make your shopping easier. One of those is Prime Pantry, but this service comes with a laundry list of rules and restrictions.
Interested in giving Prime Pantry a try? Check out our complete guide below.
What Is Amazon Prime Pantry?
Amazon Prime Pantry is a subscription service that allows Prime members to shop for a variety of groceries and household products. The items come in the same sizes you'd find at your local store.
Prime Pantry lets you shop for groceries and household products in the sizes you'd find at your local store.
How Much Does Prime Pantry Cost?
Prime members can try Prime Pantry for free with a 30-day trial. After that, it's $4.99 per month, and you can cancel at any time. Additionally, AmazonFresh members don't have to subscribe to the service — free shipping on $10 orders is a perk of that program.
How Does Prime Pantry Work?
Prime Pantry members can shop on the service's Amazon page. A blue-and-black Prime Pantry logo should appear next to the info on each item, or else it may not be eligible for the program.
SEE ALSO: 30 Amazon Prime Benefits You Should Be Using
Once everything is in your cart, you can earn Prime Pantry free shipping in one of two ways. Members who purchase the monthly Prime Pantry subscription receive free shipping on all orders of $10 or more; other Prime members only get free shipping on orders over $35.
Any orders under those thresholds will incur a flat $5.99 shipping fee. It's important to note that the quantity of items or the number of boxes will not affect that fee.
4 Pitfalls of Prime Pantry
Though Prime Pantry is one of the benefits of Prime membership, it does have drawbacks. Here are four downsides of the service:
You have to pay extra.
Prime Pantry costs an additional $4.99 per month. That will likely only be worth it if you order household essentials more than once a month.


Prime members can't count on 2-day shipping.
Instead, Prime Pantry orders can take up to four business days to arrive.


Orders will get split up.
Even if you order non-Prime Pantry items at the same time, they won't be shipped with your groceries. Regular Amazon orders and Prime Pantry orders are shipped separately.


Lots of delivery exclusions apply.
Prime Pantry orders can only be shipped within the contiguous United States, as they're delivered via ground shipping. Therefore, Alaska and Hawaii are exclude, along with P.O. boxes, APO/FPO, dorms, and Amazon Lockers.
Prime Pantry also can't be used by customers who are purchasing for the purpose of reselling. These orders might also be subject to sales tax.
How Can I Save With Prime Pantry?
Before you give Prime Pantry a try, know that you can actually save even more using coupons and sales with the program.
A recent Prime Pantry deal took $6 off when you bought five items.
At the time of writing, you could purchase five items to save $5, buy 10 to save $10, or buy 15 to save $15. Of course, deals like this are really only worth it if you were planning to buy the items in the first place.
You can also redeem Prime Pantry coupons. Once again, these are most valuable when you're already planning to purchase the eligible products.
Is Amazon Prime Pantry Worth the Money?
If you're not already a Prime member, it's likely not worth signing up just to access Prime Pantry. But if you already have Prime, it could definitely help you stay stocked up on essentials like toilet paper.
The service isn't useful for last-minute purchases, either. But if you plan your grocery trips ahead of time, Prime Pantry could limit your visits to local stores.
SEE ALSO: Amazon Prime Music vs. Other Streaming Services: How Do They Compare?
That said, do some price comparisons. Your local grocery store might actually be cheaper than Prime Pantry in select cases.
Also keep in mind that Prime Pantry only offers nonperishable foods and household items, so you won't be able to purchase staples like eggs, milk, or fresh meat and produce. Be sure to factor that in when deciding whether Prime Pantry can serve your needs.
---