The 10 Best Products to Sell Online in January 2022
Sellers may want to focus on the home this month by offering cleaning products, bathroom supplies and hardware, and even chef's knives.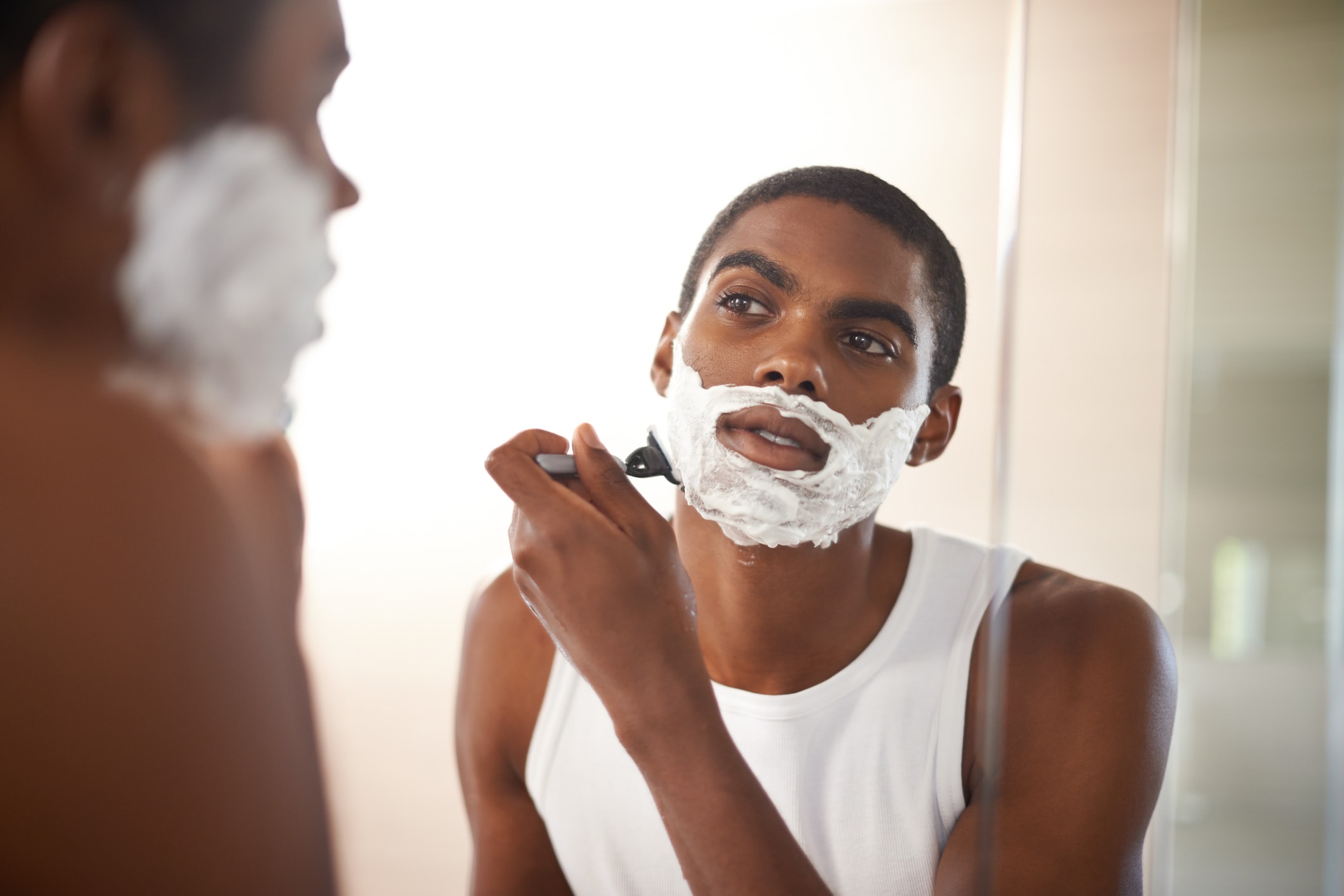 January may offer a breather to Marketplace sellers after the hectic holiday season, but we all know that people will still be shopping come the new year. So what are going to be the best items to sell in January 2022?
To answer that question, we looked at DealNews shopping trends from both January 2021 and January 2020, which should give you an idea of what to sell this coming January. Plus, we discuss this month's sales opportunities, as well as the types of products that might be better to sell in future months.
The 10 Best Items to Sell Online in January 2022
Our infographic shows some of the top products to sell in January. Below that, read about specific items that resonated with DealNews readers, and about other popular categories.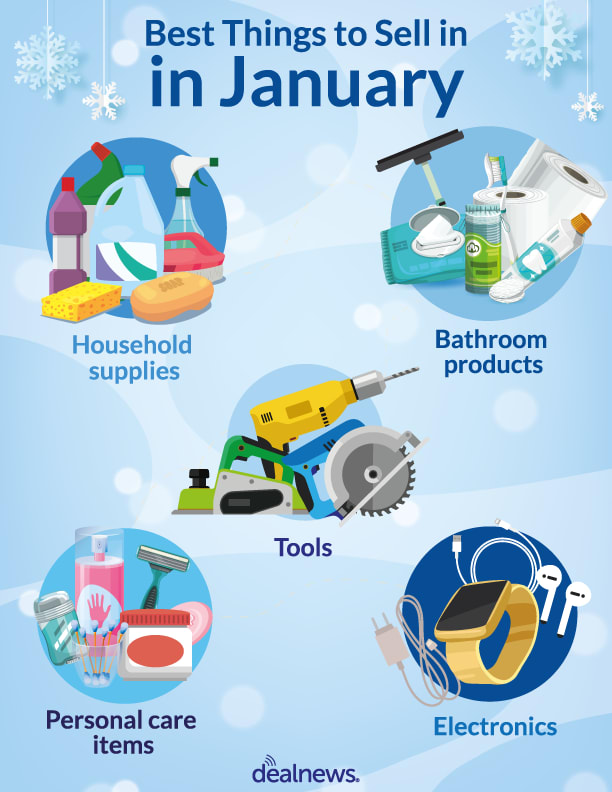 Household Supplies
First up are household supplies, which seem to appeal to DealNews readers month after month. It probably helps that the products in this category need to be replaced periodically! In January 2021, one household item our readers really gravitated toward was disinfecting wipes. Also popular were 3-packs of multisurface cleaner, plastic scrubbing pads, laundry detergent pods, battery storage products, and packages with both battery chargers and batteries.
SEE ALSO: The 9 Best Products to Sell Online in December 2021
Products for the Bathroom
Maybe a lot of people made New Year's resolutions to renovate their bathroom last January, or maybe these products appealed to our readers for another reason. Either way, you may want to consider selling items in this category during the first month of the year. In January 2021, readers went for products like bathroom hardware sets, toilet paper rollers, drain hair catchers, toilet repair kits, linen-scented toilet paper, and automatic toilet bowl cleaner.
Tools and Home Improvement Items
Get ready, because our readers shopped for a lot of tools and home improvement items last January. They included pull-down kitchen faucets, along with products that can connect hoses to faucets. Tools like 1 ½" clamps, window scrapers, LED penlights, and pen multitools were also popular, as were tool accessories like thin cutting wheels. Other home improvement products to consider selling are 6' extension cords, super glue, and both outlet adapters and flexible downspout adapters.
Outdoor Items
Some folks find the cold temps of January hard to deal with, so perhaps they're buying outdoor products that month to help them look forward to the warmer days to come. Other people may even be traveling to warm-weather locales then and are seeking out products for their vacation. Whatever the reason, selling certain outdoor products could be a good move in January 2022. Trending items among our readers last January included portable folding stools to bring on camping and fishing trips, as well as pop-up baby beach tents that come with built-in mini pools.
Packaged Food and Drink
Nuts have a lot to offer in terms of health benefits, and they seem to be popular with our readers month after month. In January 2022, consider selling nuts like sweet Thai chili-flavored almonds, wasabi and soy sauce-flavored almonds, roasted and salted pistachios, and honey-roasted pistachios. Other grocery items that could be solid bets include 1-pound boxes of baking soda and bags of dark-roast ground coffee.
Grocery items like nuts, 1-pound boxes of baking soda, and bags of dark-roast ground coffee resonated with readers in January 2021.
Home and Kitchen Products
Do you like to sell practical items people use around the house? Then you may have good luck selling Command replacement strips, outdoor Velcro fasteners, smoke and carbon monoxide detectors, chef's knives, and holiday decor in January. Our readers gravitated toward these items in the first month of 2021.
Personal Care Products
Like household supplies, many personal care products need to be replaced from time to time, and that may be a factor in why they're reliably popular among DealNews readers. Last January, trending items included bars of antibacterial soap, dry-skin body lotion, 3-packs of body wash, and sensitive-skin razors and razor blades, but also electric callus removers, and cordless hair clippers, which may need to be replaced less often.
Automotive Supplies
Car owners often purchase items that keep their vehicles looking great and in top working condition. In January 2021, our readers leaned toward automotive products like jump starters, glass cleaner, and vehicle parking aids.
Health Items
Flu activity tends to peak between December and February, according to the Centers for Disease Control and Prevention. That could explain why certain health-related products appealed to many of our readers last January. The COVID-19 pandemic likely had something to do with it, too, as January 2021 had particularly high case numbers. Popular products included infrared forehead thermometers, reusable respirators, bottles of 70% isopropyl alcohol, and zinc caplets.
Electronics
If you sell electronics — or are interested in doing so — you may want to focus on smaller products at the start of the year. Items that appealed to our readers in January 2021 included iPhone-related gear like iPhone charging cables and cases, as well as used iPhone XS devices. Other popular electronics were 6-outlet surge protectors, magnetic charging cables, smartwatches, and on-ear headphones.
How Did January 2020 and January 2021 Compare?
Let's jump back another year and go over the items that resonated with DealNews readers in January 2020. That way, you can see how January 2021 and 2020 differed, and get a broader view of what to sell online in January 2022.
SEE ALSO: 6 Amazon Seller Programs You Should Know About
Here's a rundown of products that trended with our readers in January 2020.
Tools and home improvement items, such as garage door lubricants, LED garage lights, garage door insulation kits, super glue, reusable twist ties, keychain multitools, keyed padlocks, and 5-packs of cutting wheels
Personal care products like liquid hand soap, body and face lotion, moisturizing shampoo, hair sculpting paste, men's deodorant, and men's razors and razor blade refills
Dental care items, including floss picks, toothpaste for sensitive teeth, and battery-powered toothbrushes
Packaged food ranging from Danish butter cookies and peppermint breath mints; to raw, unfiltered honey, and roasted and salted pistachios; to Jolly Ranchers and Twizzlers variety mixes
Outdoor items like lockable duel carabiners and sporks/knives for camping and fishing
Electronics, such as 32GB USB flash drives, USB-A to USB-C charging cables, wireless charging pads, refurbished iPhone XS and XS Max devices, wire-organizing reusable ties, no-stud TV wall mounts, refurbished noise-cancelling headphones, and open-box Bluetooth headphones
Dog supplies like ear-cleaning products and bacon-scented ball toys
Household supplies, including laundry bars, washing machine cleaner, slow cooker liners, AAA batteries, and coin batteries
Products for the bathroom, ranging from toilet paper to flushable wet wipes
Automotive supplies, such as cabin air filters for Honda and Acura vehicles, glass treatment products, leather conditioning wipes, brake fluid, and wiper blades
So how do the popular items from January 2021 and January 2020 compare? Home and kitchen products tended to resonate with our readers more in January 2021, and that month also seemed to have a wider variety of popular health and bathroom items. In January 2020, meanwhile, dental care items seemed to be a bigger draw — same with dog supplies.
Roasted and salted pistachios, DeWalt cutting wheels, and super glue all resonated with our readers both years.
Did any items trend with readers during both years? Yes! Most of the popular product categories overlapped. In terms of specific items, roasted and salted pistachios, DeWalt cutting wheels, and super glue all resonated with our readers in January 2020 and January 2021.
What Are the Big Sales Opportunities in January?
January doesn't have much to offer in terms of sales holidays, though that may be welcome after a busy holiday season. New Year's resolutions and white sales could be events worth selling around this month, however.
According to the market research firm YouGov, the most common New Year's resolution for U.S. adults in 2021 was exercising more, with losing weight and saving more money coming in at No. 2 and No. 3, respectively. So getting fit is on the minds of a lot of people when the new year arrives. We tend to see a lot of exercise equipment deals in January, so it could help to feature offers on fitness-related items during the first month of the year.
January is also the prime time for white sales, which feature discounts on household linens, and bed and bath items in particular. If you sell these types of items normally, consider having a coupon or deal for them come January.
What NOT to Sell in January 2022
| Item | When to Sell | Why? |
| --- | --- | --- |
| Cold-Weather Accessories | February | Many people are still looking for items that help them stay warm in February. For February 2021, items that trended with our readers included thermal neck warmers and winter trapper hats. |
| Home Office Products | February | Want to help out all those remote workers in February? Then consider selling items like LED desk lamps, ballpoint pens, and video conference lighting kits. |
| Gardening and Grilling Items | April | April seems to be a time when more of our readers head outdoors — or are at least thinking about it. Popular products in April 2021 included grill cleaning brushes, other griddle and grilling accessories, weed control products, and grow lights for indoor plants. |
---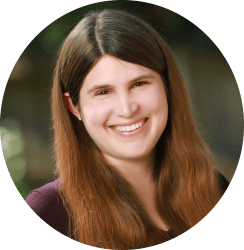 Blog Editor
Katie has more than a decade of experience in online and magazine publishing. She contributes regularly to the DealNews Marketplace Blog, and her work has also appeared on eMarketer and Retail Minded, as well as in Dogster Magazine, Milwaukee Magazine, and other publications. She's a fan of trivia, animals, and the Indiana Hoosiers.
DealNews may be compensated by companies mentioned in this article. Please note that, although prices sometimes fluctuate or expire unexpectedly, all products and deals mentioned in this feature were available at the lowest total price we could find at the time of publication (unless otherwise specified).