The 8 Best Items to Sell Online in February 2022
Home improvement items, groceries, and pet products could all be winners this month, and don't forget about the February holidays either.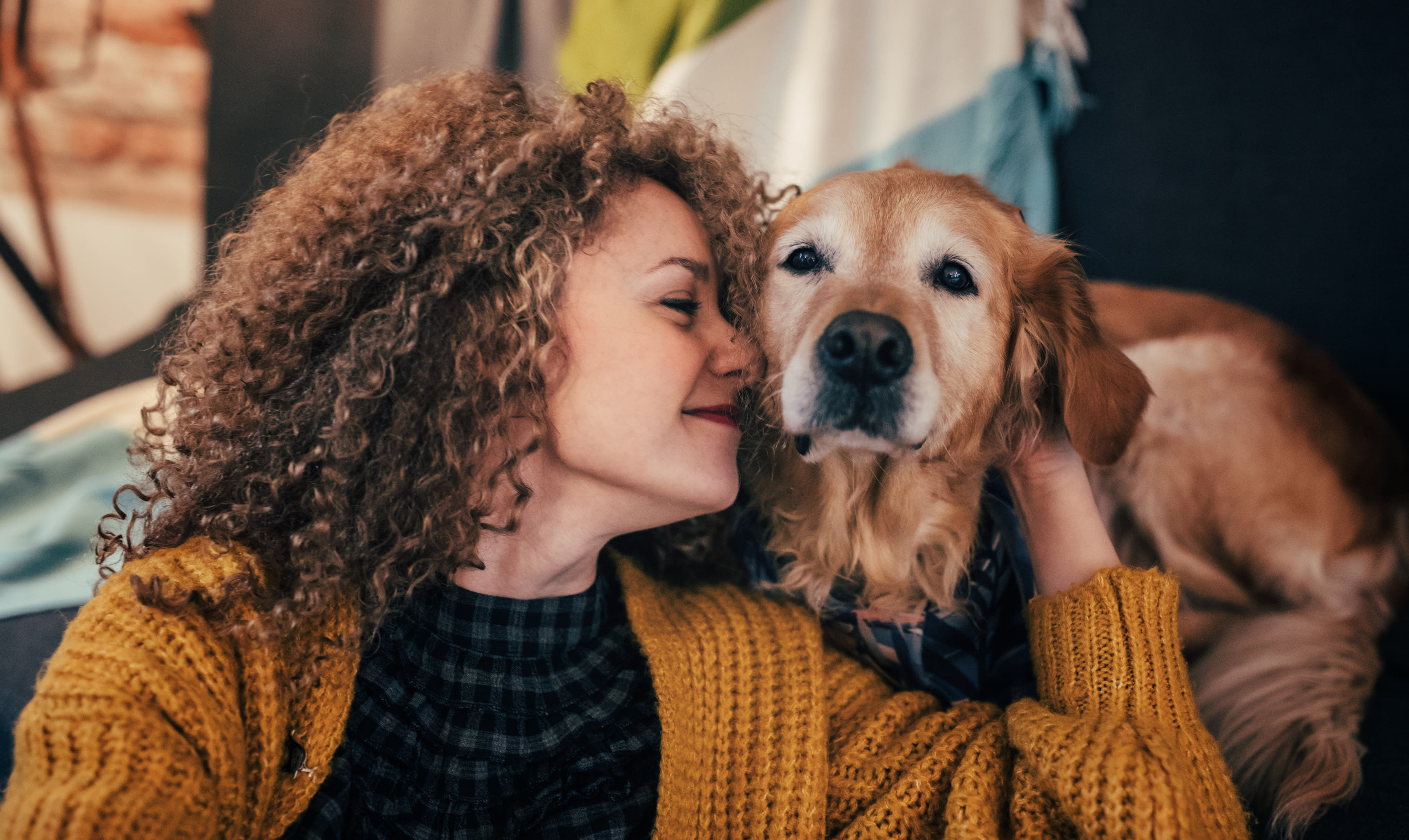 February may be the shortest month of the year, but that doesn't mean it's lacking in good sales opportunities. Marketplace sellers can work in promotions for Valentine's Day and Presidents' Day during the month, as well as offer items that will resonate with consumers overall.
We examined the February 2021 and 2020 shopping trends of DealNews readers to give you an idea of the best things to sell online in February 2022. Additionally, we go over the month's holiday sales and the items you should sell later in the year.
The 8 Best Items to Sell Online in February 2022
Check out our infographic to see some of the top products to sell in February. Then read about specific items that were popular with DealNews readers, plus learn about other categories that resonated.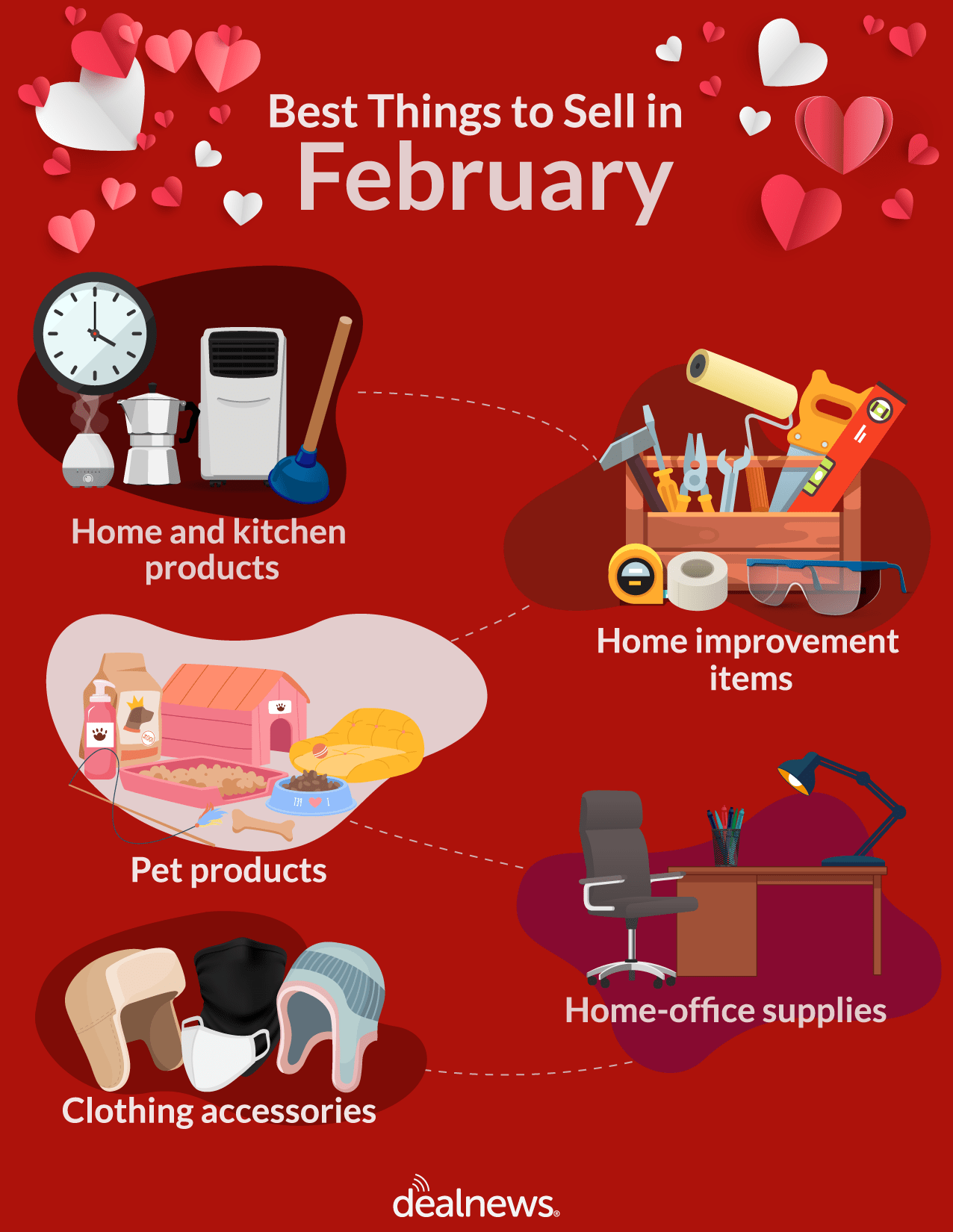 Home and Kitchen Products
Let's get straight to the products that were popular with DealNews readers last February, because the home and kitchen category encompasses a lot of different items. Readers tended to gravitate toward touchless soap dispensers, toilet plungers, air purifiers, wall clocks with hidden compartments, stovetop coffee makers, and outdoor Velcro fasteners. (That Velcro product was also a hit in January, by the way.)
The popularity of touchless soap dispensers and air purifiers in particular could depend on the state of the pandemic in February. The omicron variant of COVID-19 is now showing up across the U.S., and if case numbers are high that month, consumers could be looking for products that help them stay healthy and practice good hygiene.
SEE ALSO: The 10 Best Products to Sell Online in January 2022
Tools and Home Improvement Items
It's hard to exaggerate the wide-ranging appeal of tools and home improvement items among our readers last February. They went for lighting products like solar-powered outdoor lights, motion-sensor closet lights, and LED garage lights, plus protective items such as rubber-cap knee pads and clear safety glasses.
Here's a look at other tools and home improvement supplies that were trending in February 2021:
Rivet nut tools
Window scrapers
Wire-stripping tools
Cordless soldering irons
Toolboxes
Hardware assortment kits
125-volt electrical outlets
6-outlet wall plug adapters
Bottom seals for shower doors
Painter's caulk
Weather-resistant tape
Multi-surface painter's tape
Household Supplies
Household supplies may not be the most exciting products, but they seem to be consistently popular among DealNews readers. So which ones should you focus on selling in February? During that month in 2021, items that resonated included disinfecting wipes, toilet bowl cleaner, linen-scented toilet paper, liquid laundry detergent, drain strips, and lithium coin cell batteries.
Personal Care Products
Personal care items are mainly products you use to take care of your skin, teeth, and hair, and like household supplies, they're things people buy repeatedly. And that means they present good opportunities to sellers throughout the year.
Household supplies may not be the most exciting products, but they seem to be consistently popular among DealNews readers.
If you're interested in dental-care products, consider selling mouthwash or 2-packs of mint-flavored toothpaste in February. Want to offer other personal care items? Last February, DealNews readers gravitated toward healing hand cream, 12-counts of men's razor blade refills, and medicated lip balm.
Grocery Items
Selling food comes with its own challenges, mainly because it eventually expires. If the product doesn't move at a decent pace, it could become unsellable sooner or later. At the same time, we're talking about items people need and buy repeatedly, so they're at least worth considering. Here's a sampling of grocery products that were popular with DealNews readers in February 2021:
Bottles of ground chipotle pepper
1-pound boxes of baking soda
Kits with tuna salad and crackers
Bags of roasted and salted pistachios
Bottles of organic extra virgin olive oil
Bottles of whisky
Pet Products
In 2020, consumers spent more than $103 billion on their pets, and in 2021, that number is projected to reach almost $110 billion, according to the American Pet Products Association. If you want to join the pet retail space in February, you may have good luck with dog tie-out stakes, pet crate beds, and pizza-flavored textured chew toys. These items all resonated with DealNews readers in February 2021.
Home-Office Supplies
Don't expect the work-from-home trend to disappear in 2022. According to the analytics firm Gallup, "when the pandemic wanes and something close to 'normal' returns, we conclude that there will be a 37% reduction of in-person days worked per week for those 60 million employees who can work from home." Basically, you can bet on a huge number still using their home offices next year.
So what do people want for these workspaces? In February 2021, popular items among our readers included LED desk lamps with wireless chargers, video conference lighting kits, black ballpoint pens, mesh-back chairs, and electric height-adjustable desks.
Clothing Accessories
Clothing accessories is another category that could hinge on the amount of COVID-19 spread this winter. Last February, readers gravitated toward 25- and 50-packs of disposable face masks in Black, thermal neck warmers — a product some people use as face masks — and winter trapper hats. If case numbers are high in February 2022, these items could be solid sellers. And the trapper hat could, too, as it's designed for the cold of winter.
How Did February 2020 and February 2021 Compare?
To give you a broader view of what to sell in February, we also looked at our shopping trends for February 2020. This was the last month before the World Health Organization declared COVID-19 a pandemic, so comparing the two months could give you an idea of how shopping behaviors changed — and how they stayed the same.
SEE ALSO: How to Decide What Products to Sell on Amazon
Here's a rundown of products that resonated with our readers in February 2020.
Household supplies, such as stainless steel cleaner, lithium coin cell and AA batteries, liquid laundry detergent, 8-roll packs of paper towels, 18-roll packs of toilet paper, 6-packs of flushable wipes, toilet bowl cleaner, disinfecting wipes, and dishwasher detergent pods
Pet products like peanut butter dog chews, wild bison dog chew treats, dog shampoo, bacon-scented ball dog toys, and pet stain and odor remover
Tools and home improvement items, including garage door lube spray, 6- and 24-packs of LED lightbulbs, and multi-surface painter's tape
Grocery items, such as roasted and salted pistachios; Bold Sriracha-flavored almonds; cans of mineral water in lemon, strawberry, and watermelon flavors; taco seasoning mix; peppermint-flavored sugar-free gum; popcorn variety packs; and squeeze bottles of honey
Personal care products, including foaming hand soap, 2-packs of battery-operated toothbrushes, toothpaste for sensitive teeth, shampoo, jars of moisturizing cream, foaming body wash, 2-packs of antiperspirant and deodorant sticks, Creme Brulee-flavored lip balm, and shave cream
Automotive supplies like 4-packs of car air freshener, 14" wiper blades, and headlight lens restorer kits
So how did February 2020 and February 2021 stack up? Product categories that were more popular among our readers in 2021 included home and kitchen products, home-office supplies, and clothing accessories. It's safe to assume that the latter two categories may have resonated more because of the pandemic. After all, a larger number of people were working from home, and the majority of the clothing accessories we mentioned were face masks, or could be used as one. In 2020, meanwhile, automotive supplies appeared to be more popular than they were in 2021.
We saw similarities, too, though. In both February 2020 and February 2021, our readers gravitated toward lithium coin cell batteries, bags of roasted and salted pistachios, Lemon & Lime Blossom-scented disinfecting wipes, and multi-surface painter's tape. If you're looking for the safest bets to sell this February, these four items may be it.
What Are the Big Sales Opportunities in February?
It's worth mentioning the holidays in February that tend to drum up big sales, as they could be good times to offer coupons, discounts, or other promotions. First up is Valentine's Day on February 14. Last February, 24-stem roses were one of trending items with DealNews readers, and we're guessing that was directly related to Valentine's Day.
In both February 2020 and February 2021, our readers gravitated toward bags of roasted and salted pistachios, scented disinfecting wipes, and painter's tape.
February also has Presidents' Day, which falls on February 21 in 2022. This long weekend is a popular time for retail sales. Over the past couple of years, our readers have gravitated toward events offering an extra 20% off certified refurbished items and ones featuring an extra 15% off purchases of $25, among other promotions.
What NOT to Sell in February 2022
| Item | When to Sell | Why? |
| --- | --- | --- |
| Electronics | March | You may have better luck selling electronic devices if you wait one more month. In March 2021, popular products among our readers included portable camera lights, smart bracelets, wireless earbuds, and surge protectors. |
| Smartphone Accessories | March | Consider holding off on these items for another month, too. Trending products last March ranged from gimbal stabilizers, to 6' charging cables, to HDMI adapter cables |
| Gardening and Grilling Items | April | Perhaps more of our readers start heading outdoors in April. Popular products last April included weed control products, grow lights for indoor plants, grill cleaning brushes, and other griddle and grilling accessories. |
---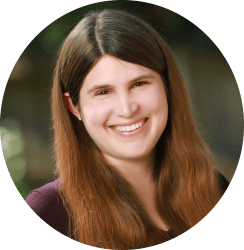 Blog Editor
Katie has more than a decade of experience in online and magazine publishing. She contributes regularly to the DealNews Marketplace Blog, and her work has also appeared on eMarketer and Retail Minded, as well as in Dogster Magazine, Milwaukee Magazine, and other publications. She's a fan of trivia, animals, and the Indiana Hoosiers.
DealNews may be compensated by companies mentioned in this article. Please note that, although prices sometimes fluctuate or expire unexpectedly, all products and deals mentioned in this feature were available at the lowest total price we could find at the time of publication (unless otherwise specified).