The 11 Best Products to Sell Online in February 2023
Don't forget about Valentine's Day and Presidents' Day when planning your promotions.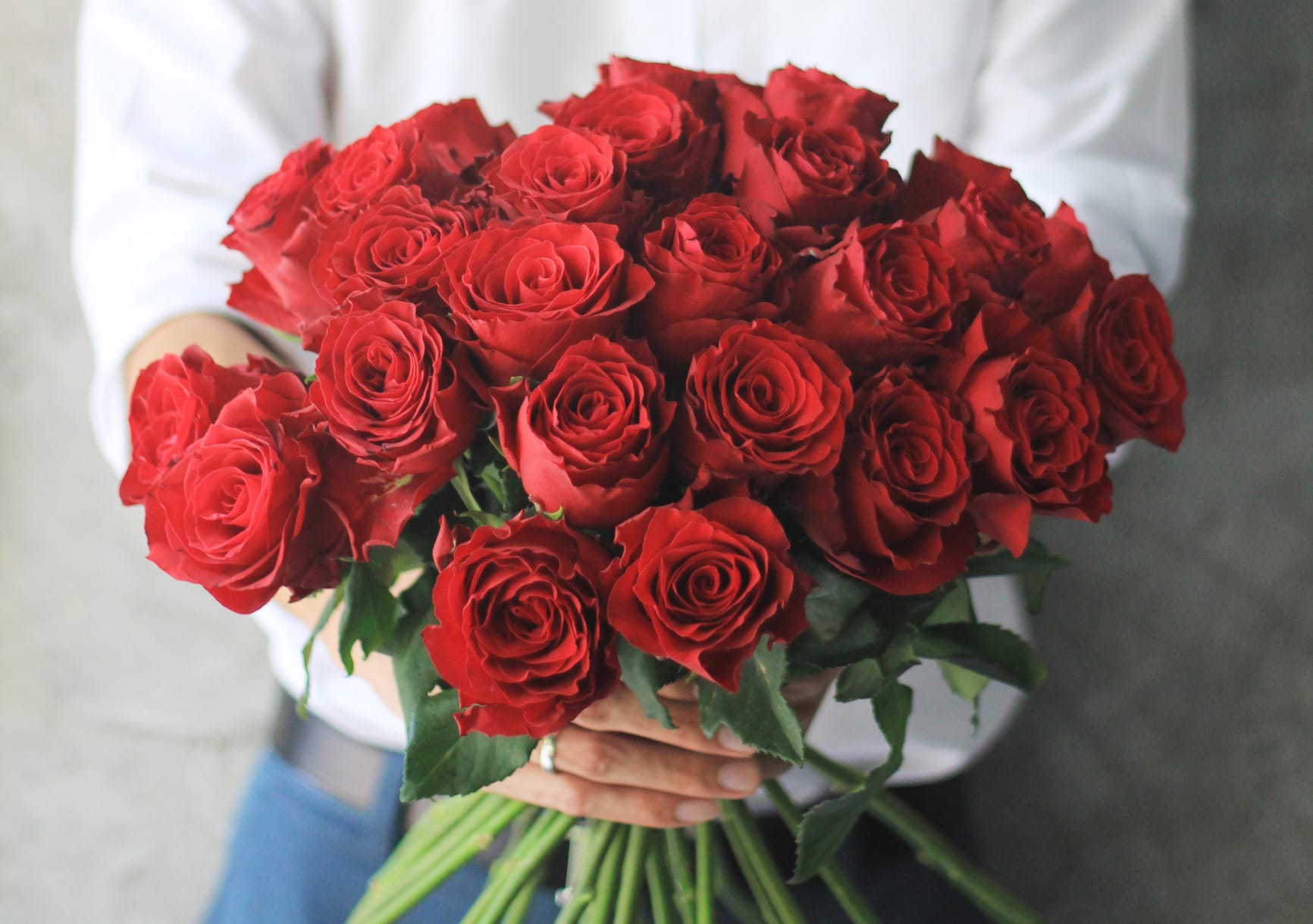 February is a surprisingly eventful shopping month. It brings sales and other promotions around Valentine's Day, Presidents' Day, and even the Super Bowl. And of course, people will be buying products outside of those events, as well.
Given this shopping landscape, what are the best items to list in February 2023 if you're a Marketplace seller? To get you the answer, we examined the shopping trends of DealNews readers from February 2022. Read on to learn what to sell online in February, what you should know about the month's big sales opportunities, and what you should consider selling later instead.
The 11 Best Products to Sell Online in February 2023
The below infographic shows five of the top items to sell online during February. Take a look, then read about all the categories our readers were drawn to in February 2022.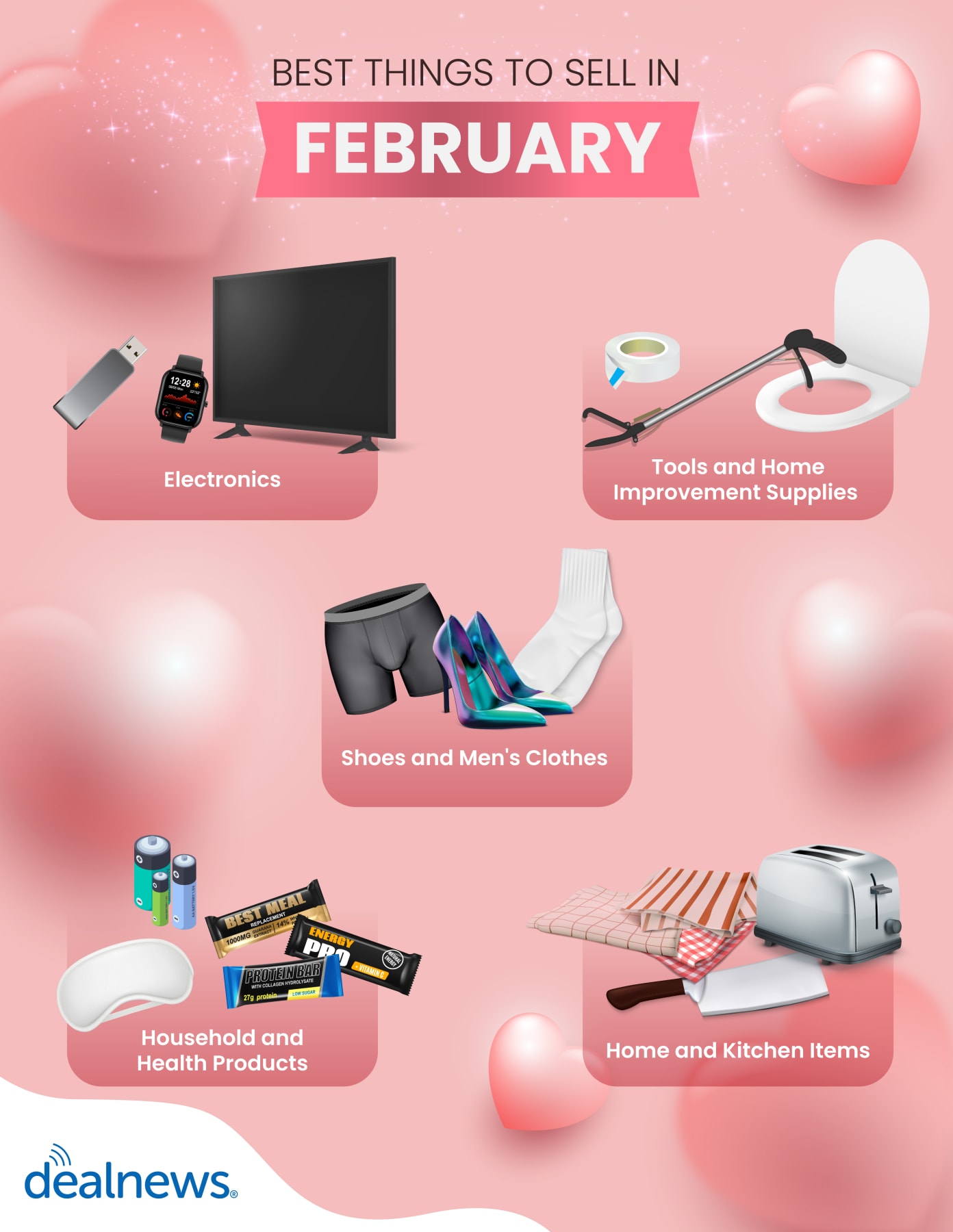 Tools and Home Improvement Supplies
Tools and home improvement was the most popular category among DealNews readers in February 2022 — a spot it's taken in several of our monthly "what to sell" lists. If you're interested in the "tools" side of the equation, consider selling items like grabber tools, keychain tape measures, mini black-light flashlights, cordless power-tool combo kits with batteries and chargers, and circular-saw edge guides. They all resonated with our readers in February 2022.
SEE ALSO: The 10 Best Products to Sell Online in January 2023
Catering to the consumers renovating their bathrooms could also be a good move, as several related items trended with our readers last February. One of them — a 2-in-1 sink stopper and strainer — was also popular in January. Other items to consider include peel-and-stick caulk for tubs and floors, quiet-closing toilet seats, and faucet and sink installation tools.
If none of those products sound appealing, you still have other options. Our readers gravitated toward outdoor solar spotlights, 2-packs of LED garage ceiling lights, 42" ceiling fans with LED lights, and interior/exterior spackling compound last February, as well.
Electronics
With the Super Bowl coming up on February 12, some shoppers may be seeking out TVs so they can watch the big game. And indeed, one of the popular items among our readers last February was a 50" 4K Roku smart TV. Besides sets themselves, it may be worth listing or doing promotions around projectors, remote controls, or even fan gear like jerseys.
Tools and home improvement items are always a safe bet for selling, but consider electronics for February as well.
Computers and related products could also be a good bet for February. During that month in 2022, our readers went for refurbished Dell laptops, plus laptop stands for desks, 128GB USB 3.0 flash drives, 256GB USB 3.1 flash drives, and 2TB internal solid-state drives.
Need other ideas? Here are other products that trended with our readers in February 2022:
Smartwatches with three extra straps
45mm GPS Apple Watches
Outlet extenders with night lights and USB ports
Power strips with outlets and USB ports
Refurbished Bose earbuds and audio glasses frames
Shoes and Men's Clothes
Men's clothing basics may not be the most exciting items to sell, but our readers sure were attracted to these offers in February 2022. And multipacks in particular may be a smart choice. Last February, readers went for 8-packs of low-cut running socks, 6-packs of boxer briefs, and 5- and 6-packs of T-shirts. Also resonating were men's reversible leather jackets, field jackets, and both men's and women's shoes.
Household and Health-Related Products
The flu is still typically going strong in February, and this has already been a challenging season for respiratory sickness in general. So you may see success with virus prevention and testing products in February 2023. During that month in 2022, popular items included 50- and 100-packs of disposable face masks, along with 2-packs of rapid COVID-19 tests. Other trending health items were sleep masks with a 3D contoured design, first-aid antibiotic ointments, and protein bars in a Crispy Apple Pie flavor.
Prefer to sell household products instead? Then consider aerosol air care systems, 18-roll packs of toilet paper, and 8-packs of rechargeable AA batteries. They all resonated with our readers in February 2022.
Home and Kitchen Items
The home and kitchen category is no doubt a broad one, but DealNews readers leaned toward certain types of items in February 2022, which could give you an idea of what to list in 2023. Popular products on the home side included reversible throw blankets, 90L clothing storage bags, and furniture. As for kitchen items, you could have good luck with manual can openers, meat cleavers, and small kitchen appliances.
The Rest of the Best
SEE ALSO: What to Know About How to Sell Clothes on Amazon
If you're looking for other top selling options for February, we have plenty more ideas for you. Consider the following items, too, which also attracted DealNews readers in February 2022.
Packaged food like 16-piece assortments of Japanese Kit Kat bars, 16-ounce jars of peanut butter and honey spread, and 12-packs of tuna pouches
Dental care items, such as rechargeable toothbrushes, 50-count packages of dental picks, and 6-packs of cavity-protection toothpaste
Beauty and personal care products, including jaw exercisers, lighted haircutting and body-grooming tools, and beauty items from brands like Olay, Old Spice, and Pantene
Automotive supplies like portable car vacuums, fuel-system cleaners for high-mileage vehicles, and shop towels
Outdoor and fitness items, including 72-piece survival and first-aid kits, Smith & Wesson knives and tools, and home gym products
Lawn and patio products, such as 10-packs of portable stones, lockable package boxes, and 4-person patio seating
What Are February's Big Sales Opportunities?
Expect Valentine's Day and Presidents' Day to bring the biggest sales opportunities this month, and both occur within a week of each other. Valentine's Day falls on February 14, but sales for the holiday can start in early- to mid-January, so you don't need to wait to start your promotions. You could offer coupons, discounts, or other promotions around typical gift items like flowers, or use the holiday to host more general sales.
Valentine's Day and Presidents' Day are big events in February, but you could have luck framing promotions around the Super Bowl as well.
In both February 2021 and February 2022, offers for 2-dozen roses were popular with our readers. But they also shopped sales offering savings on bed and bath, clothing, and furniture items, plus coupons knocking 15% off a variety of non-Valentine's-related products.
Presidents' Day, meanwhile, will be on February 20 in 2023. We've seen sales for the holiday kick off at the beginning of February the past few years. In February 2022, one Presidents' Day sale that resonated with readers featured a general-use coupon that took an extra 15% off. You could even take advantage of Presidents' Day to offer an end-of-season promotion!
What NOT to Sell Online in February 2023
| Item | When to Sell | Why? |
| --- | --- | --- |
| Gaming and Toy Items | March | You may see more success selling drones with HD cameras, funny coloring books, and gaming consoles in March. These items were popular with our readers in March 2022. |
| Insect- and Lawn-Control Products | April | Once spring gets going and more people head outdoors, items for controlling weeds and pests may grow more popular. "Weed and feed" products, wasp and hornet killer spray, and indoor/perimeter insect killer resonated with our readers last April. |
| Phones and Phone Accessories | April | Phones and accessories seemed to be a bigger draw with our readers last April. Among the trending items were refurbished Google Pixel smartphones, USB-C charging blocks, and magnetic car mounts. |
---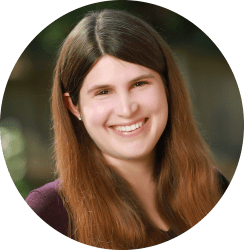 Blog Editor
Katie has more than a decade of experience in online and magazine publishing. She contributes regularly to the DealNews Marketplace Blog, and her work has also appeared on eMarketer and Retail Minded, as well as in Dogster Magazine, Milwaukee Magazine, and other publications. She's a fan of trivia, animals, and the Indiana Hoosiers.
DealNews may be compensated by companies mentioned in this article. Please note that, although prices sometimes fluctuate or expire unexpectedly, all products and deals mentioned in this feature were available at the lowest total price we could find at the time of publication (unless otherwise specified).