The 9 Best Products to Sell Online in December 2021
Supply chain issues could make for a challenging holiday season, but you'll likely have good luck selling household supplies, kitchen items, and personal care products.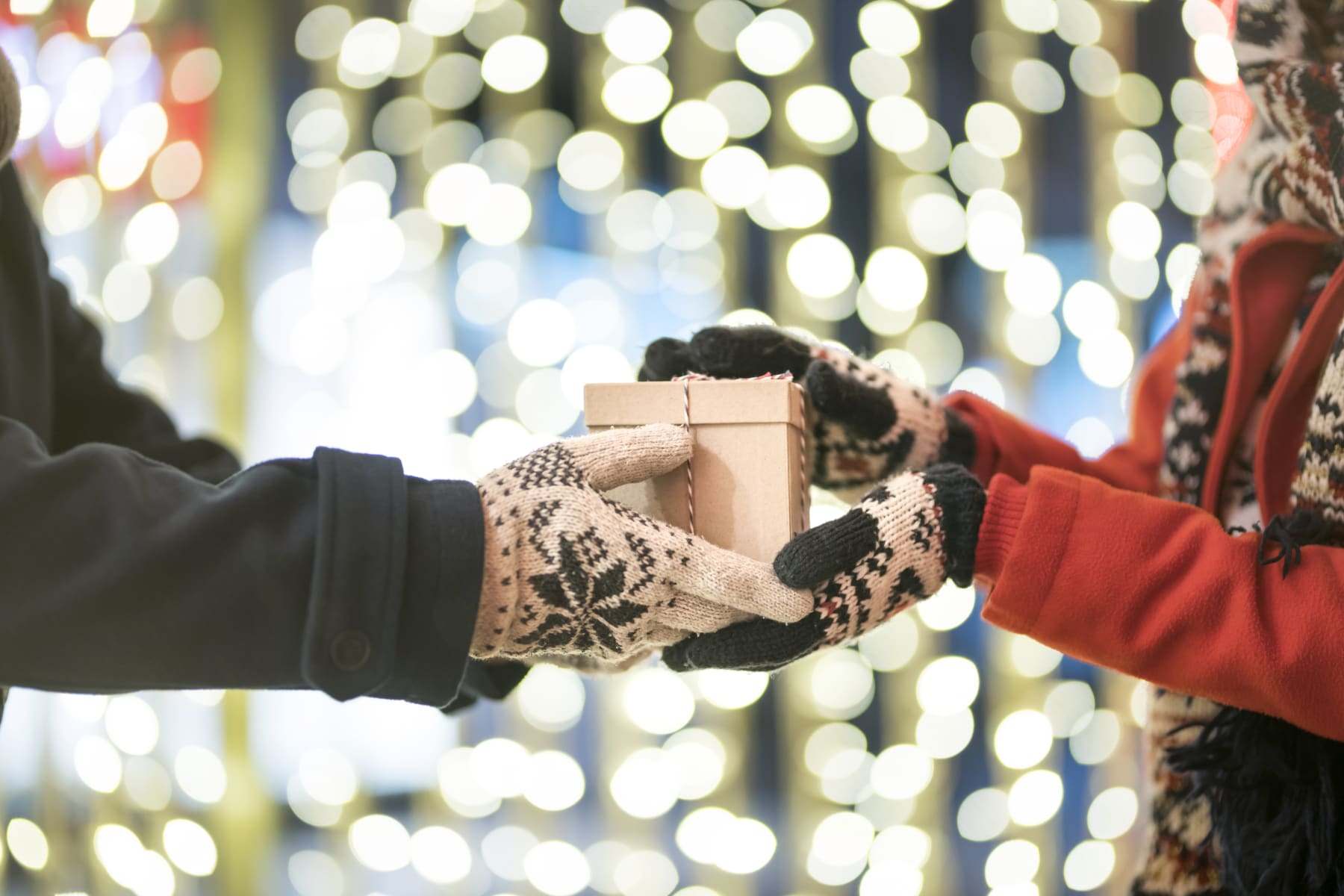 If Deloitte's holiday retail forecast comes to fruition, Marketplace sellers could be looking at a pretty great December in 2021. According to the company's projections, e-commerce sales from November to January are going to grow by 11% to 15%, compared with the same period last year. So how can sellers make the most of December?
One way is to sell items that will resonate with consumers. We looked at DealNews shopping trends from December 2020 and December 2019, to give you an idea of the top products to sell this December. We also go over the issues to be aware of during the month, and the items you may want to sell later instead.
The 9 Best Items to Sell Online in December 2021
Our infographic shows some of the top categories to sell in December. Below that, read on about specific items that resonated with DealNews readers, as well as other popular categories.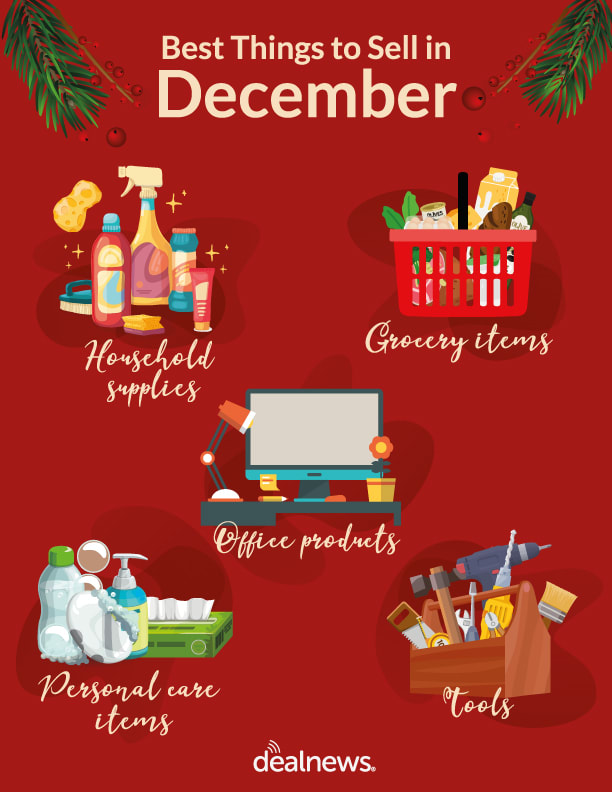 Household Supplies
Household items are nothing if not reliably popular, and it probably helps that people have to buy these products repeatedly. Last December, DealNews readers gravitated toward disinfecting wipes, toilet paper, toilet bowl cleaner tablets, and drain strips. Other popular items included 6-packs of scrub sponges, tall kitchen trash bags, laundry sanitizer, and lithium coin cell batteries.
Tools and Home Improvement Products
Have you ever heard people talk about how they basically live at Home Depot, Lowe's, or another home improvement store? Well, folks who tackle DIY projects tend to need a lot of items to do so, and that can be a boon to sellers. In December 2020, several tools and home improvement products resonated with our readers, including 1.5" clamps, screwdriving bits, power tools, and painter's tape. Also popular were LED lighting products, such as desk lamps, garage lights, and tactical flashlights.
SEE ALSO: How to Decide What Products to Sell on Amazon
Other trending products ranged from smart bulbs and smart thermostats to reinforcement locks and door draft stoppers. That last item helps keep cold air out and warm in, so we weren't surprised to see it appealed to readers during this winter month.
Grocery Items
Like household supplies, grocery items need to be restocked from time to time, so they can make for consistent sellers. If you're wondering what foods are best to sell in December, think snacks and pantry staples. Snacks that were popular with our readers last December included pistachios, cashews, trail mix with nuts and chocolate, cookie snack packs, and instant miso soup. They also gravitated toward pantry staples like extra virgin olive oil and medium grain rice.
Personal Care Products
Personal care items can encompass a wide range of products and price points, to say the least. Wondering which ones might be good to sell in December? Trending items last year included liquid hand soap refills, antibacterial hand wash, and 3-in-1 lotion for men. A variety of devices were popular, too, such as electric shavers, body hair trimmers, refurbished hair dryers, and electric toothbrushes.
E-commerce sales from November to January are going to grow by 11% to 15%, compared with the same period last year.
Health and Wellness Items
Flu season and the ongoing COVID-19 pandemic could make December a good time to focus on health and wellness products. Turmeric supplements, motion sickness tablets, and massage guns were all popular items among our readers in December 2020.
Office Products
Lots of folks are still spending the workday in their pajamas, it seems. According to August 2021 data from the Bureau of Labor Statistics, 13.4% of employed people said they had teleworked in the previous four weeks because of the pandemic. And these people may still need supplies for their at-home workspaces. Office products that trended in December 2020 include washable double-sided tape, "extreme" permanent markers, and electric height-adjustable desks. Also popular were 100-packs of "forever" stamps and matte photo prints, which may have appealed to those sending out holiday cards.
Small Electronics
Electronics always seem to be a big draw during the holiday season, and our readers gravitated toward a variety of small devices in December 2020. These ranged from smart speakers, to Bluetooth earbuds, to streaming media players.
Data Storage Products
Memory cards tend to hold their appeal with our readers from month to month, and that stayed true in December 2020, as well. Popular items included microSDXC memory cards with adapters; the 128GB and 256GB sizes seemed to resonate most. Readers also gravitated toward other data storage products, namely 1TB internal solid state drives.
Kitchen Items
December's holiday celebrations make it a big month for cooking and baking. Among the trending kitchen items last year were silicone spatula sets, garlic presses, and 10.5" cast iron griddles.
SEE ALSO: The 11 Best Products to Sell Online in November 2021
How Did December 2019 and December 2020 Compare?
Let's turn our attention now to December 2019. Which items were popular with DealNews readers that month, and were they different from last year's trending items? This should provide a broader view of the best items to sell in December.
Here's a rundown of products that resonated with our readers in December 2019.
Household supplies like AA, AAA, and lithium coin cell batteries; liquid laundry detergent, laundry detergent pods, and laundry bars; dishwasher detergent tablets; 6-packs of scrub sponges; toilet paper and paper towels; and gallon-size storage bags
Personal care products, such as moisturizing bath bars and lotion, antibacterial bar soap, men's grooming products gift sets, men's razor blade refills, travel packs of cotton swabs, and cavity protection toothpaste
Small electronics, including smart speakers and displays, Bluetooth earbuds, and indoor wireless smart-home cameras
Tools and home improvement products like cutting wheels, entry knobs, 25' tape measures, hand tools, WD-40 spray, square LED bulbs, and smart plugs
Data storage products, including 32GB, 128GB, and 256GB memory cards with adapters, along with 32GB USB flash drives
Automotive items, such as leather conditioning wipes, automotive gas treatments, and synthetic motor oil
Health items, including 7-day pill organizers and naproxen sodium tablets
Nuts, such as pistachios with a sweet chili flavor and single-serve packs of almonds
Toys and games, ranging from LEGO minifigure building kits to remote app-control cars with tracks to board, table, and card games
Gift cards, such as those in mini envelopes or holiday boxes, or ones that come with credits or at a discount
Now you know about the popular products from both December 2019 and December 2020, so let's see how they stack up against each other. Items that seemed to resonate more with our readers in 2020 included office products, groceries, and kitchen items. Among household supplies, disinfecting wipes seemed to be a much bigger deal last December, compared to December 2019. That's not especially surprising, as December 2020 had some of the highest numbers of COVID-19 cases.
SEE ALSO: How Can Marketplace Sellers Deal With Supply Chain Issues?
In 2019, meanwhile, people seemed to be more drawn to automotive items, toys and games, and gift cards. December may be the biggest month of the year for gift card deals, and these easy gifts could be especially popular this year due to lingering supply chain issues — more on those in a bit!
Certain items trended during both Decembers, too. Household supplies seemed to be the most popular category among our readers in December 2019 and 2020, and popular items for both months included lithium coin cell batteries, 6-packs of scrub sponges, and memory cards with adapters. These items could be safe bets for sellers in December 2021.
The Holiday Season Could Be Messy
Before you finalize your December selling plans, you may want to take a hard look at your inventory, shipping costs, and your budget in general. Supply chain and shipping challenges may necessitate changes ahead of the holiday shopping season.
Supply chain and shipping challenges may necessitate changes ahead of the holiday shopping season.
Packages could be pricier to ship, for one thing. U.S. Postal Service spokesperson Kim Frum told NPR that from October 3 to December 26, the Postal service is going to temporarily increase prices on "commercial and retail domestic packages," due to the holiday season. The price increases reportedly won't affect international items, though.
Supply chain struggles have been a big deal this year, too, and they could affect your holiday inventory. The resulting toy shortages have gotten a lot of press, though the effects have extended to many product categories. Our article on how to deal with supply chain issues offers advice on what sellers can do.
What NOT to Sell in December 2021
| Item | When to Sell | Why? |
| --- | --- | --- |
| Bathroom Products | January | The new year may give people extra motivation to work on bathroom renovation projects. In January 2021, popular items included toilet paper rollers, bathroom hardware sets, hair catchers, and toilet repair kits. |
| Beach and Camping Items | January | Perhaps the frigid days of January make people dream of the warmer days to come. This past January, products that resonated with our readers included portable folding stools to bring on camping and fishing trips, as well as pop-up tents for babies. |
| Dog Products | February | Apparently, some of our readers focus on their dogs more in February than other times during the year. In February 2021, popular items included pet crate beds, dog tie-out stakes, and textured chew toys |
| Cold-Weather Accessories | February | February is still very much a winter month, meaning people are looking for items to help them stay warm. Last February, items that resonated with readers included winter trapper hats and thermal neck warmers. |
---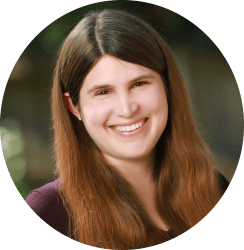 Blog Editor
Katie has more than a decade of experience in online and magazine publishing. She contributes regularly to the DealNews Marketplace Blog, and her work has also appeared on eMarketer and Retail Minded, as well as in Dogster Magazine, Milwaukee Magazine, and other publications. She's a fan of trivia, animals, and the Indiana Hoosiers.
DealNews may be compensated by companies mentioned in this article. Please note that, although prices sometimes fluctuate or expire unexpectedly, all products and deals mentioned in this feature were available at the lowest total price we could find at the time of publication (unless otherwise specified).