The 11 Best Products to Sell Online in October 2022
Home improvement and household supplies are worth listing this month, and don't forget about Halloween promotions!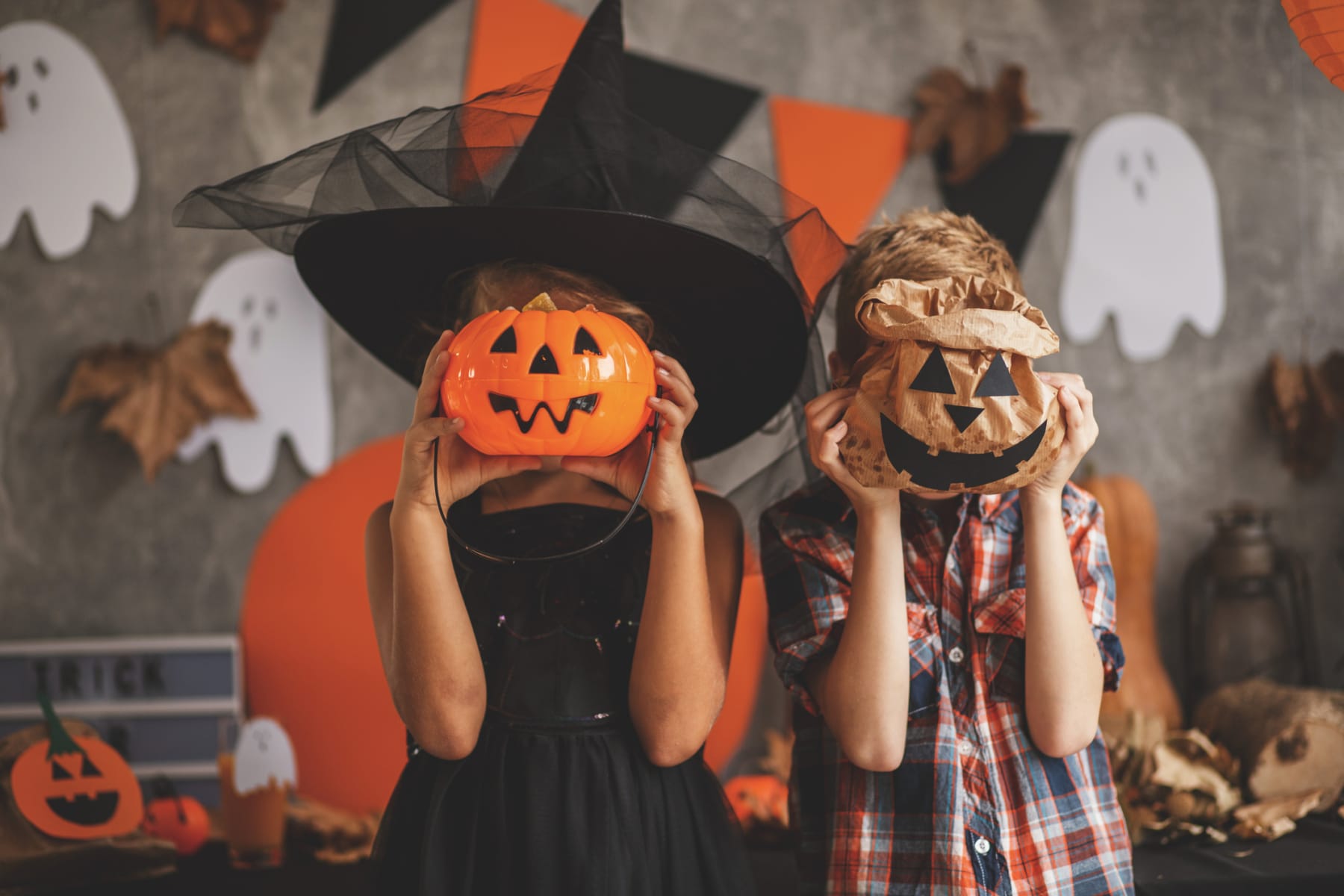 While October may be most associated with Halloween, Black Friday is also worth focusing on this month. Yes, we realize that Black Friday is in late November, but early Black Friday deals tend to start in October and are a big opportunity for Marketplace sellers.
SEE ALSO: Should You Sell Trending Products on Amazon?
What else should you know about selling in October? We examined the October 2021 shopping trends of DealNews readers to answer that question, and give you the lowdown in our guide to the best products to sell online in October 2022. Keep reading to learn what's worth listing, what you should know about promotional opportunities this month, and which items could be better to sell later.
The 11 Best Products to Sell Online in October 2022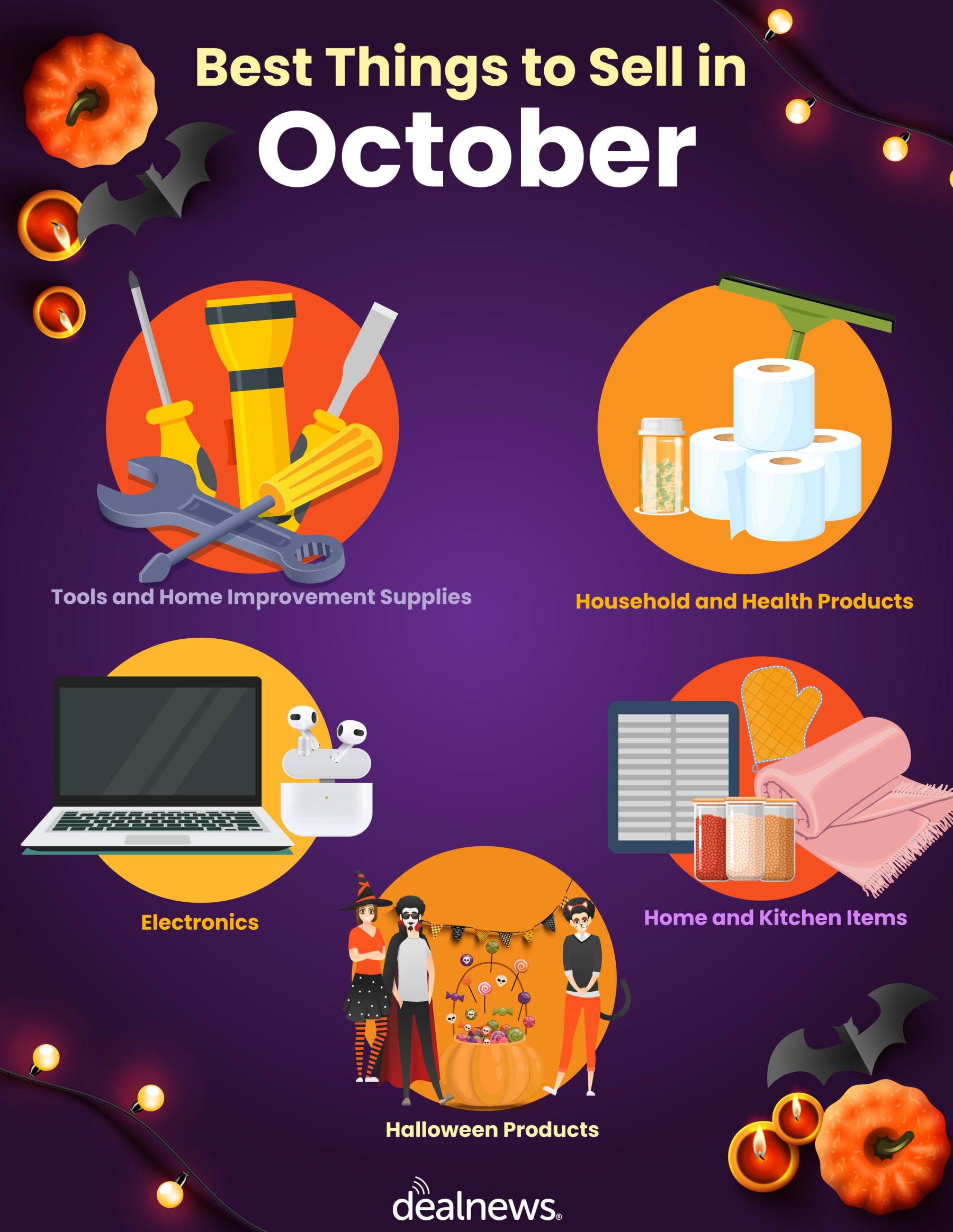 Tools and Home Improvement Supplies
Tools and home improvement products topped our list of the best items to sell online in September, and they're doing the same this month because of their popularity among DealNews readers in October 2021. If you're wondering which items in this category to list, you have a variety of good options. Up first are lighting products; last October, DealNews readers gravitated toward items like mini LED flashlights, 48' outdoor string lights, and solar-powered outdoor lights with motion sensors.
If you prefer tool-related items, consider selling screwdriver kits, 2-piece sets of 2" power bits, 5-drawer rolling tool chests, and DeWalt 20V products, which all resonated with our readers in October 2021. And if you're in the mood to sell something else? Look into strips of caulk, wall repair putty, and plastic mesh for protecting gutters.
Household and Health-Related Products
Household products and health-focused items make up another category that was particularly popular with DealNews readers in October 2021. We expect the same this year, considering that several trending items in this category are products that need to be purchased repeatedly. Among them are 3-packs of 80 disinfecting wipes, 18-roll packs of 3-ply toilet paper, 2.5-gallon plastic storage bags, and 200-count bottles of acetaminophen caplets.
However, DealNews readers were drawn to items that didn't need to be purchased as frequently, too. These included 18" squeegees, brushes that clean window and door tracks, and massage guns.
Household items and health-related products are solid choices, but beware selling face masks as the demand might not be as large as last year.
Multiple types of face masks were also popular among our readers last October. They ranged from 3-packs of cloth masks, to 10-packs of KN95 masks, to 50-packs of disposable masks. But given the easing of COVID-19 restrictions this year, it's hard to imagine that face masks will sell as well this October as they did last year.
Electronics
Want to sell electronics? Computer products may be good candidates for items to list in October. Last year, our readers were drawn to 17.3" laptops with Intel Core i3 processors, USB-C hubs, kits for AI inferencing, and 2.5" internal solid-state drives.
Of course, you have plenty of other options for electronics to sell. Other trending products in October 2021 included Apple AirPods Pro, Tile trackers, and HDMI switchers/splitters. Come November, which is prime time for electronics purchases, you'll likely have even more good choices.
Home and Kitchen Items
Items for the home and kitchen frequently make our "what to sell" articles, but the best products to list in this category can vary from month to month. If you're leaning toward kitchen wares, think about selling cereal storage containers, circular can openers, and 5-packs of whiskey stones, which all resonated with DealNews readers in October 2021. As for home items, look into selling popular products like these:
4-packs of clothing storage bags
6-packs of home air filters
Reversible down-alternative comforters
3-piece comforter sets for full/queen-sized beds
Men's Clothes and Shoes
Our readers seem to gravitate toward men's clothes in particular, as evidenced by mentions in our May and September guides for Marketplace sellers. In October, specifically, you may want to list men's T-shirts, classic-fit linen sports coats, and straight-leg carpenter jeans. Skechers sneakers were also a big draw last October.
SEE ALSO: What to Know About How to Sell Clothes on Amazon
Beauty and Personal Care Products
Remember the phrase "skin and scents" if you're going to sell beauty and personal care products this October. Last year, skin-focused items like face and body bars, half-gallon containers of pumice hand cleaners, and daily face moisturizers were all popular with DealNews readers around this time. On the "scents" side, consider listing 16-piece men's sampler sets and cologne in general.
The Rest of the Best
If you're hoping to sell products in October that are different from the ones we've highlighted so far, check out the following items; they were also trending among DealNews readers in October 2021.
Automotive items like cabin air filters for various Honda models, dust cleaning gel, universal fastener clips and removers, automotive mats, and 18" tire knockers
Snacks and coffee, such as 23-ounce mixes with nuts, seeds, and sesame sticks; 33-ounce jars of whole cashews with sea salt; and 2.2-pound bags of whole-bean coffee blends
Toys and gaming items, including Minions toys, LEGO products, and Microsoft Xbox Series S gaming consoles
Dental products like 50-count packs of dental picks, stainless steel toothbrush holders, and 2-packs of travel toothbrushes
Phones and accessories, ranging from 2-packs of iPhone 13 Pro Max screen protectors, to wireless car charger mounts, to unlocked Nokia phones
What Are the Big Sales Opportunities in October?
Halloween
Halloween is on October 31 every year, so sellers have the whole month to promote holiday-related items like costumes, candy, and decorations. Among DealNews readers, popular Halloween products last year revolved around food — people were drawn to Halloween-themed packs of Oreo cookies and 400-count bags of mini lollipops.
Seasonal items for Halloween and early Black Friday deals can be lucrative choices, but be sure to balance these items with steady sellers.
If you're hoping to make money off this year's Halloween costume trends, remember to balance any trending items with steady sellers that people need throughout the year. Learn more in our piece about selling trending products on Amazon!
Early Black Friday Deals
Black Friday won't arrive until November 25 this year, but promotions related to the shopping holiday have started in October in recent years. If you want to offer early Black Friday sales, discounts, coupons, or other promotions come October, you can expect consumers to be ready to shop. In October 2021, DealNews readers gravitated toward early Black Friday offers featuring discounted books, gaming laptops, smartphones, clothes and shoes, and toys, among other items.
Just pay extra attention to pricing and margins this month and throughout the holiday season, especially if you sell an Amazon. From October 15, 2022, to January 14, 2023, Amazon is implementing a "holiday peak fulfillment fee" that will average 35 cents per item sold via Fulfillment by Amazon, according to an announcement from the company.
What NOT to Sell Online in October 2022
| Item | When to Sell | Why? |
| --- | --- | --- |
| Smart Home Products | November | Shoppers tend to scoop up smart home products of all types in November, when many of these items see hefty discounts. Consider listing smart speakers and displays, color-changing smart light bulbs, and outdoor smart plugs next month; they were all popular with DealNews readers last November. |
| Streaming Devices | November | Deals on streaming media devices also show up around Black Friday, so these gadgets may be good to list next month. Fire TV Sticks and Roku players both resonated with our readers last year. |
| Office Products | December | A variety of office products trended with our readers last December, including supplies people could use to send out holiday packages, like rolls of heavy-duty packaging tape. Other office items you may want to list in December are LED desk lamps, portable laptop desks, unsharpened pencils, and double-sided gel tape. |
---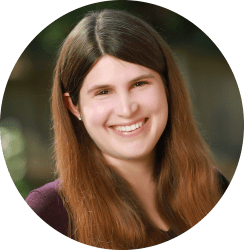 Blog Editor
Katie has more than a decade of experience in online and magazine publishing. She contributes regularly to the DealNews Marketplace Blog, and her work has also appeared on eMarketer and Retail Minded, as well as in Dogster Magazine, Milwaukee Magazine, and other publications. She's a fan of trivia, animals, and the Indiana Hoosiers.
DealNews may be compensated by companies mentioned in this article. Please note that, although prices sometimes fluctuate or expire unexpectedly, all products and deals mentioned in this feature were available at the lowest total price we could find at the time of publication (unless otherwise specified).