The 9 Best Products to Sell Online in November 2022
Electronics and clothing could be winners during this big shopping month.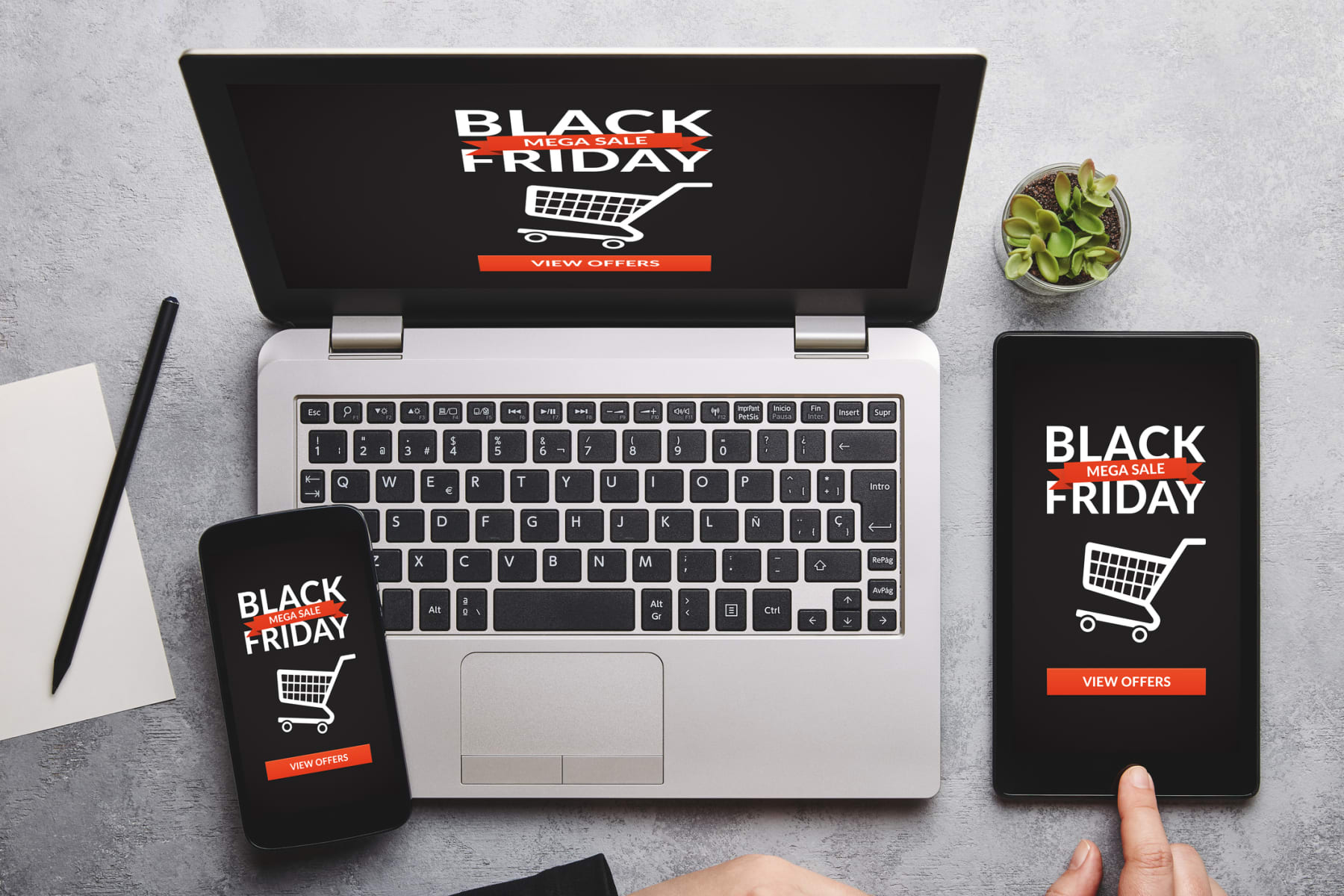 If the holiday season doubles as the annual shopping olympics, then November 2022 will host its two biggest events: Black Friday and Cyber Monday. These two shopping holidays may be the year's top sales opportunities for Marketplace sellers, but what products are worth listing during this time of year?
To answer that question, we looked at the shopping trends of DealNews readers from November 2021 to see which products were most popular that month — and will likely appeal to shoppers again this year. Keep reading to learn about the best products to sell online in November 2022, Black Friday and Cyber Monday promotions, and the items you may want to sell in December instead.
The 9 Best Products to Sell Online in November 2022
Our infographic below looks at some of the best things to sell online this November. Check it out, then read about all the popular categories for the month, plus the specific items that DealNews readers were drawn to in November 2021.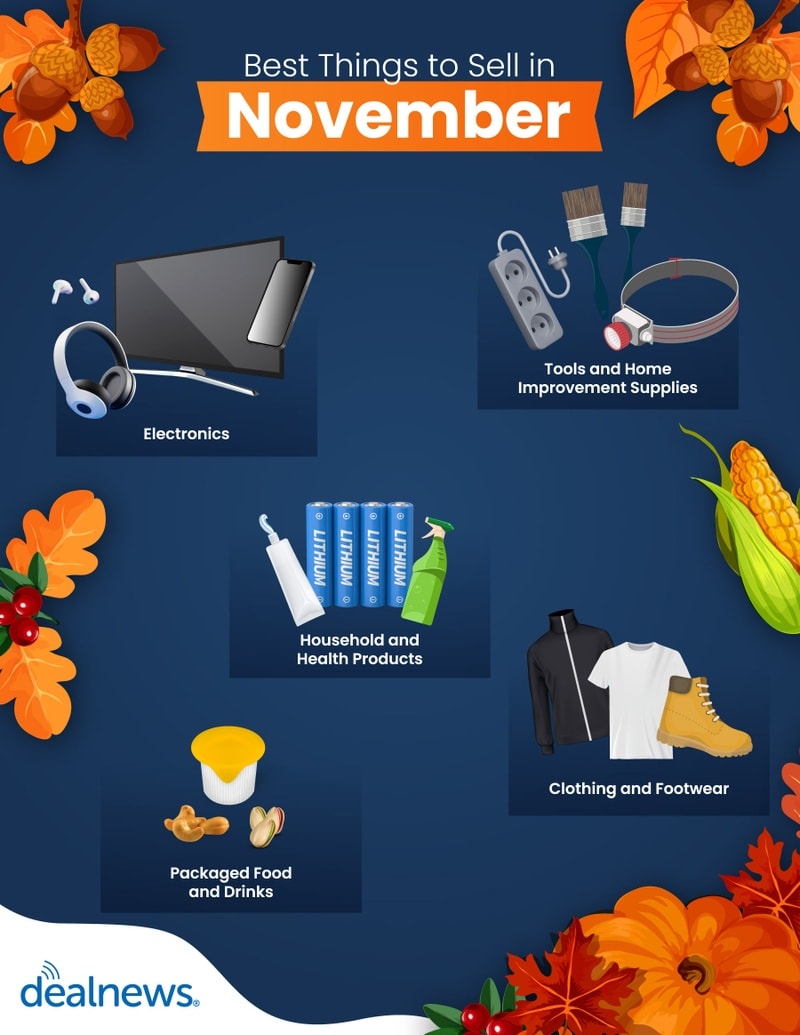 Electronics
Electronics ranked as the most popular category among DealNews readers last November, and we wouldn't be surprised if that happens again this year. After all, Black Friday and Cyber Monday boast tons of deals on electronics. So it may be worth selling these items at a time when many people are routinely seeking them out.
SEE ALSO: The 11 Best Products to Sell Online in October 2022
Last year, our readers gravitated toward devices from big brands such as Amazon, Apple, and Samsung. Popular products included 50" Amazon Fire TVs, Apple AirPods and AirPods Pro earbuds, and unlocked Samsung phones and chargers. Here's a sampling of other electronics that were trending last November:
15.6" HP laptops with Intel Core i7 processors
Mouse-moving devices that keep computers active
128GB USB 3.1 flash drives
1,000-packs of zip ties for cord and cable management
Portable shortwave radios
65" smart TVs
Tools and Home Improvement Supplies
Tools and home improvement supplies seem to be eternally popular among DealNews readers, so they can be good items to sell at any time of year. And while not electronics, per se, a lot of the trending items in this category last November involved electricity in some way. For example, readers gravitated toward 8' indoor extension cords with three outlets, multi-outlet extenders with five AC outlets and four USB ports, and outlet concealers with 3-outlet power strips. Lighting products were also popular, and included LED lightbulbs with a fireworks effect, rechargeable headlamps, and under-cabinet lights.
Prefer to sell tools instead? Then consider paintbrush sets, 24-in-1 screwdriver sets, and air compressor combo kits. These are all items that also resonated with DealNews readers last November.
Household and Health-Related Products
The health-and-household category contains a lot of items that people need to purchase repeatedly. And that may be why it pops up on our "what to sell" lists at different times of year! In November, one of the household items you may want to list is batteries. Both AA and AAA batteries were popular among our readers last year, perhaps because they go with the various electronics shoppers scoop up around Black Friday. Two-packs of toilet bowl cleaner were a draw, as well, perhaps because many people this time of year will be entertaining guests and need to clean more often.
Electronics of all kinds as well as tools and home improvement items are top picks for selling in November.
In terms of health items, trending products included tools for removing earwax and 3-packs of extra-whitening toothpaste. Readers also gravitated toward a variety of KN95 and disposable face masks — some of which were very popular last November — but it's hard to recommend them as a top item to sell this year. Many COVID-19 restrictions are no longer in place, and even the major U.S. airlines have made masks optional, though the Centers for Disease Control and Prevention still recommend them. While masks may still sell, we don't expect them to be as popular this November.
Clothing and Footwear
Men's clothes and shoes have made our "what to sell" lists the past few months, and our readers gravitated toward these types of items in November 2021, as well. Trending products ranged from 3-packs of slim-fit T-shirts, to sleep hoodies, to boots and walking shoes.
Though you may have good luck with men's clothes and shoes, other good options are available if you want to sell different kinds of pieces. Last year, for example, outerwear and Nike products also resonated with DealNews readers.
Packaged Food and Drinks
Nuts and coffee are among the food and drinks that our readers gravitate toward during multiple months of the year. They could be a reliable choice if you want to list one type of food or drink this November. In November 2021, our readers went for jars of whole cashews with sea salt, boxes with individually wrapped bags of pistachios, and 100-packs of single-serve coffee cups.
SEE ALSO: How to Create Coupons on Amazon
Other items in this category to consider include the following:
1-pound boxes of baking soda
12-ounce tins of Danish butter cookies
27-cup variety packs of Pringles
The Rest of the Best
Maybe you want to sell products in November that are different from the ones we just listed. If that's your preference, then check out the following items, which also appealed to DealNews readers in November 2021.
Smart home products like smart speakers and displays, color-changing smart bulbs, outdoor smart plugs, and wired video doorbells
Beauty and personal care products, such as cologne, skin tag removal kits, and men's 3-in-1 lotion
Home and kitchen items, including home furniture, mix-and-match bath towels, and glass electric kettles
Streaming devices like Fire TV sticks and Roku players
Don't Forget About Black Friday and Cyber Monday!
Black Friday and Cyber Monday are can't-miss events for sellers, and they'll be here on November 25 and November 28, respectively. Inflation will likely be on shoppers' minds during these shopping holidays this year, but the sales potential is still huge. In fact, e-commerce sales are forecasted to grow anywhere from 4.2% to 14.3% this holiday season, according to Mastercard and Deloitte, respectively.
So what should you keep in mind when deciding on your Black Friday and Cyber Monday promotions this year? One thing is that pretty much any category is fair game. Our readers flocked to Black Friday and Cyber Monday sales last year that featured a wide variety of products, from appliances, to home improvement items, to PC- and gaming-related devices. Also remember that early Black Friday deals can perform well. These pre-holiday promotions were a big draw among DealNews readers last November, so don't feel like you have to wait until Black Friday itself to offer a discount or coupon.
What NOT to Sell Online in November 2022
| Item | When to Sell | Why? |
| --- | --- | --- |
| Holiday Decorations | December | If 2021 is any indication, shoppers will gravitate toward holiday decor once December actually arrives. Popular items last year included mini Christmas trees in glass domes, 88' strands of Christmas lights, and Christmas trees and holiday decor in general. |
| Office Products | December | Among the office products that trended with our readers last December were supplies for sending out holiday packages, like rolls of heavy-duty packaging tape. LED desk lamps, portable laptop desks, 96-packs of unsharpened pencils, and double-sided gel tape are other office items you may want to list come December. |
| Toys | December | End-of-year holidays like Christmas and Hanukkah are popular times for buying toys, which means they could be good products to list in December. Items that resonated with our readers last year included waterproof playing cards, drones with HD cameras, and toys that were up to 40% off or part of "buy two, get a third free" deals. |
---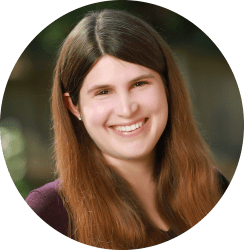 Blog Editor
Katie has more than a decade of experience in online and magazine publishing. She contributes regularly to the DealNews Marketplace Blog, and her work has also appeared on eMarketer and Retail Minded, as well as in Dogster Magazine, Milwaukee Magazine, and other publications. She's a fan of trivia, animals, and the Indiana Hoosiers.
DealNews may be compensated by companies mentioned in this article. Please note that, although prices sometimes fluctuate or expire unexpectedly, all products and deals mentioned in this feature were available at the lowest total price we could find at the time of publication (unless otherwise specified).