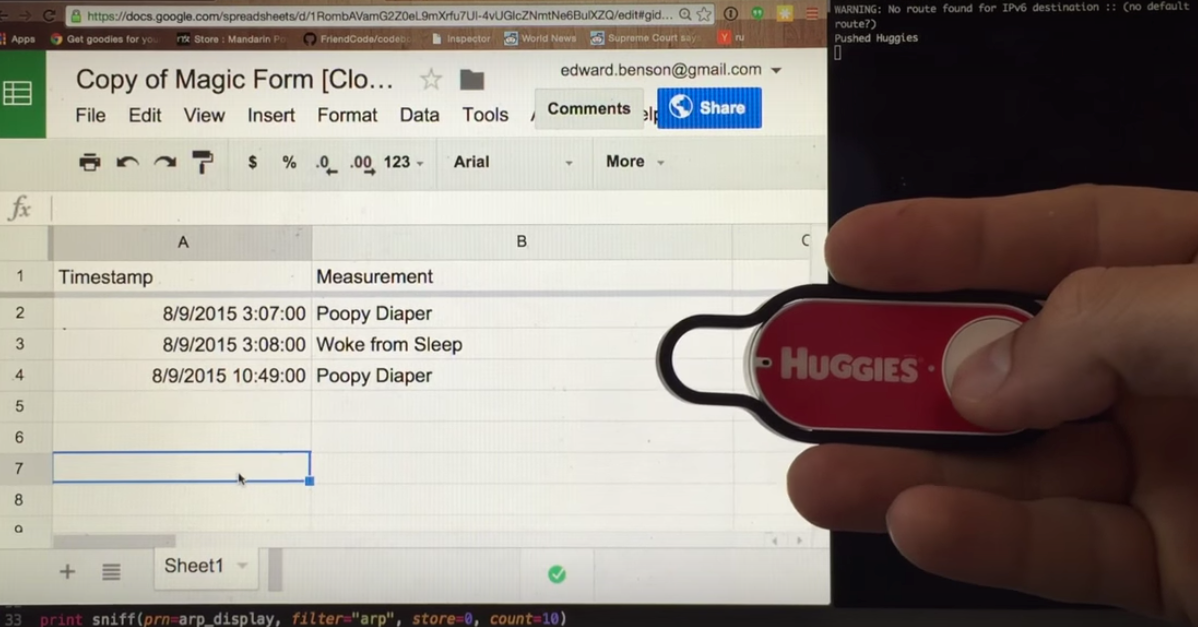 Recently Amazon began charging $4.99 for its Dash buttons, after originally debuting them for free back in April. Not surprisingly, many shoppers balked at the notion of paying $5 for something that essentially just makes it easier for you to fork over even more money to Amazon.
However, one man saw greater potential.
Dash As an All-Purpose Wi-Fi Button
The point of the WiFi-connected Dash button is ostensibly to make ordering things easier. The button affixes to a surface where you presumably store some regularly-replenished item (like detergent, for example), so that you can press it when you run out of said item. Within seconds, that transmits an order directly to Amazon.
But rather than use the Dash for this purpose, a tech worker named Ted Benson figured out how he could instead "hack" the button to track data.
Essentially, he customized it so that there was no item associated with the button, and, thus, nothing is ordered when he pushes it. Then, he was able to log the button's WiFi activity every time he pushed it, in order to track data about his baby's "activities." Specifically, Benson tracked every time his kid pooped.
Of course, this hack doesn't need to be poop-specific; anyone can mimic his experiment in order to track a variety of actions in their life, like light usage — which, at the very least, makes the Dash button seem a lot more fun. You can read Benson's full writeup over at Medium to find out how exactly he managed to do this.
Readers, is there any data tracking you'd want to do with this hack?
---