The 14 Best Products to Sell Online in September 2022
Home improvement items and men's basics should be safe bets, and Labor Day brings good promotional opportunities.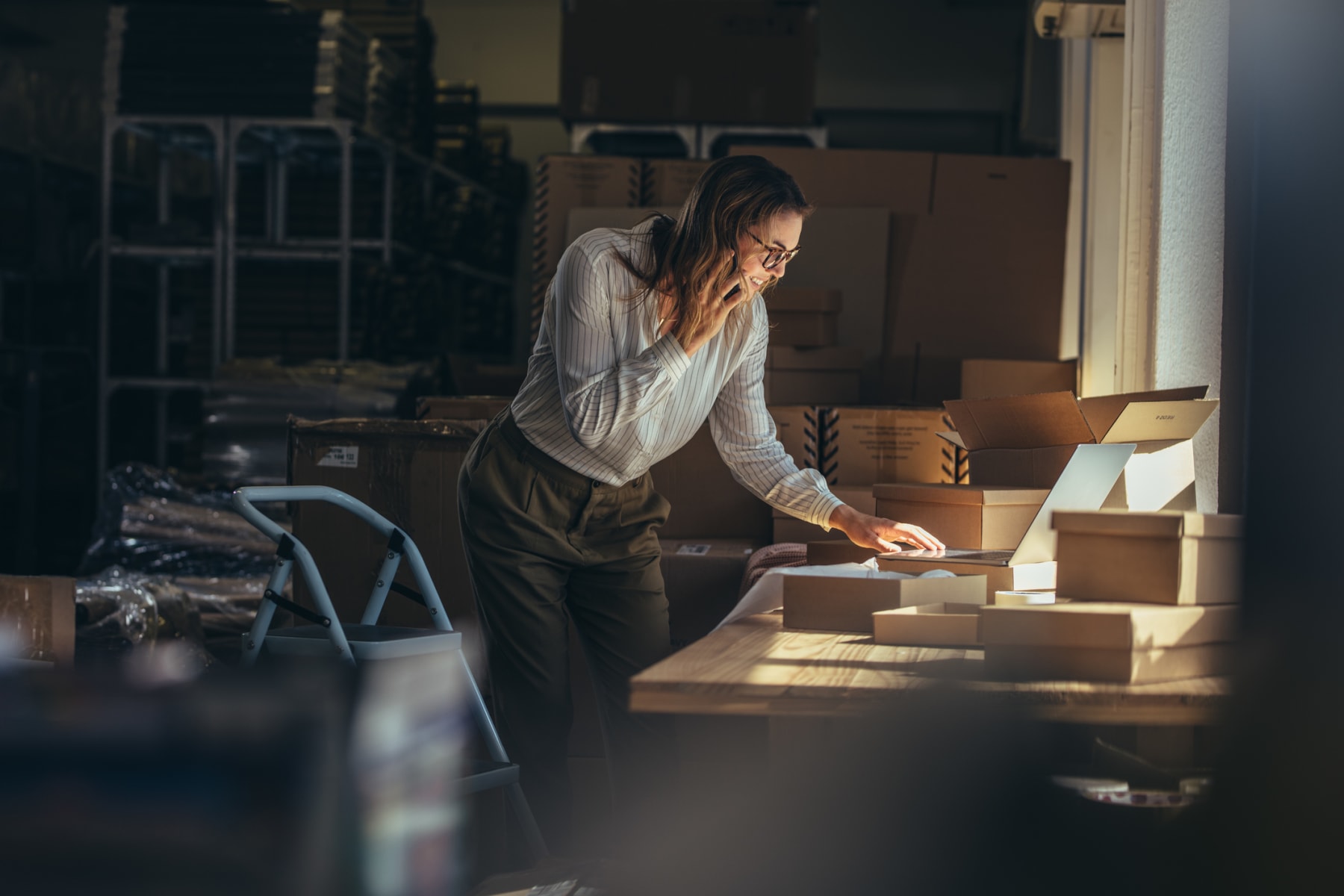 September is more than a song by Earth, Wind & Fire — it's also a great time to sell a variety of products and offer Labor Day promotions. So how can Marketplace sellers make the most of this month?
To give you an answer, we sifted through the shopping trends of DealNews readers from September 2021 and found the items that resonated most during that time. Check out our guide to see the best things to sell online in September 2022, plus the items you may want to list in October instead.
The 14 Best Products to Sell Online in September 2022
Our infographic below shows some of the top products to sell online this September. Take a look, then read about all the popular categories for the month, along with specific items that DealNews readers were drawn to in September 2021.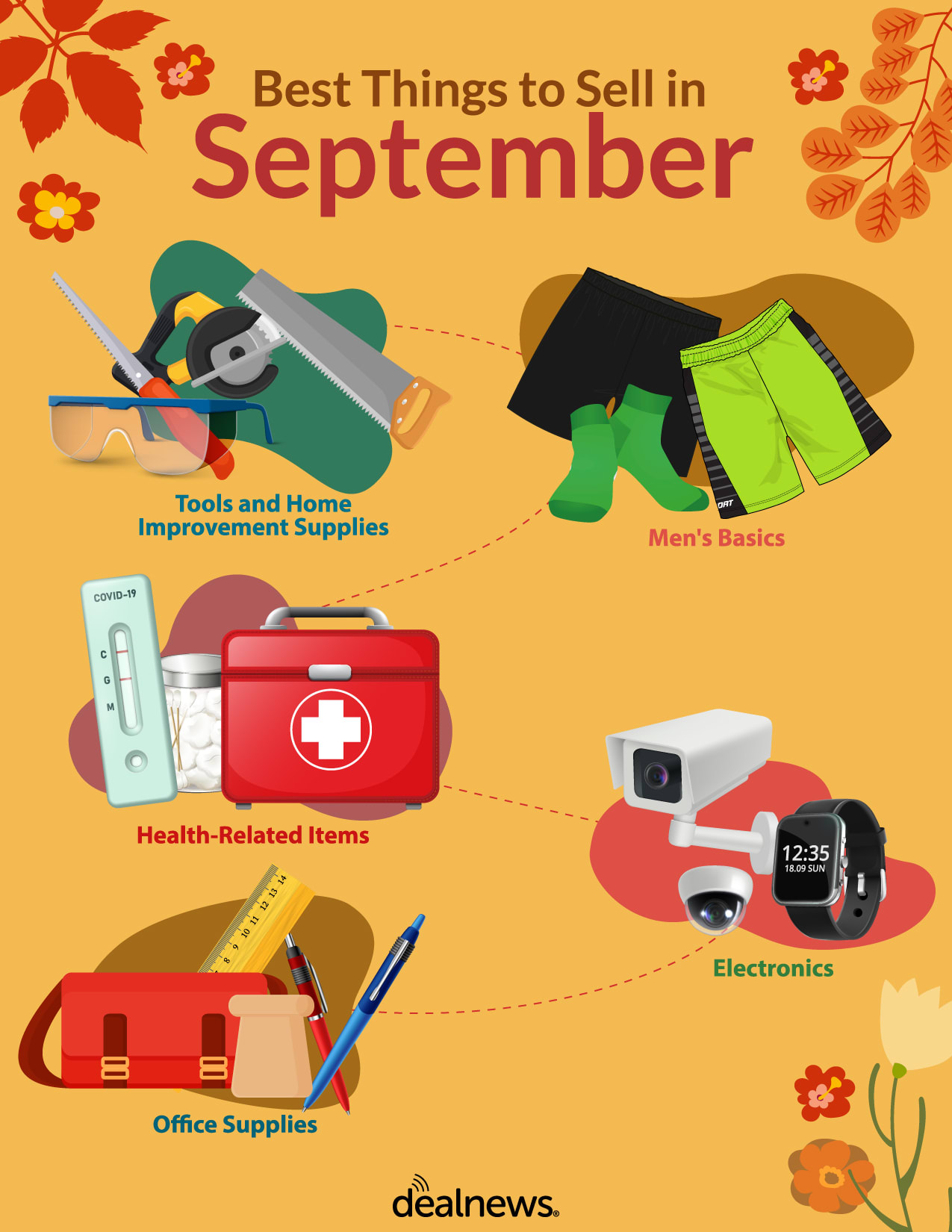 Tools and Home Improvement Supplies
Items for around-the-house projects make our "what to sell" lists pretty much every month, but they don't always take the top spot. In September 2021, though, tools and home improvement items were the most popular category among DealNews readers. And around the same time in 2020, home improvement products resonated the most. That's all to say that this month seems to be a particularly good time to sell tools and home improvement supplies.
SEE ALSO: How to Create Coupons on Amazon
If you're wondering which of these items to list this year, consider products like the following, which were all trending among our readers in September 2021:
8' expandable drain pipes
Drywall/jab saws
Digital multimeters
6-piece sets of reciprocating saw blades
2" power bits
10-packs of clear safety goggles
Smart thermostats
Men's Basics
For reasons we're not exactly sure of, men's clothing items — and especially basics — have resonated with our readers the past three Septembers. Given this history, we expect they'll hold appeal with our readers again in 2022.
Multipacks of these wardrobe must-haves seemed especially popular last year. They included 2-packs and 5-packs of athletic shorts, 4-packs of short-sleeve T-shirts, and 6-packs of men's crew socks. Our readers also gravitated toward Levi's jeans, waterproof jackets, and cotton pajama pants.
Health-Related Items
Various health products resonated with our readers last year, but be aware that some have a strong association with COVID-19. Their popularity in September 2022 could hinge on the rate of COVID-19 spread during the month, as well as the mask requirements in place. If you decide to list these types of items, know that the trending products in September 2021 included 3-packs of cloth face masks, 20-packs of N95 respirators, and 50-packs of disposable face masks, along with COVID-19 antigen self tests.
Electronics and tech are safe bets for Marketplace sellers in September, including cameras, adapters, laptops, tablets, and associated accessories.
Readers also gravitated toward health items with less of a link to the coronavirus pandemic, and these could be safer bets for a Marketplace seller. Among them were 100- and 299-piece first-aid kits, plus steam inhalers for sinus relief.
Electronics
Like tools and home improvement supplies, electronics is a category that's consistently popular with DealNews readers. But readers also gravitate toward different tech-oriented items from one month to the next. If you're thinking about what to sell in September, consider the following products:
Mini HD hidden cameras
12MP HD flying cameras
Adapters with lightning and USB connectivity
3-packs of USB-C to USB-A adapters
Household robots
40mm Apple Watch smartwatches with GPS and sport bands
Laptops, Tablets, and Accessories
Many students have already started school by the time September rolls around, but that's not the case with everyone. Sellers could still benefit this month from people stocking up on Back to School supplies, including laptops, tablets, and related items. If you're thinking about listing these types of products in September, look into Intel Core i7 15.6" laptops, 13.3" MacBook Air laptops, iPad 10.2" 64GB devices, and USB-C multiport adapters. They all resonated with DealNews readers last September.
SEE ALSO: Should You Sell Trending Products on Amazon?
Office Supplies
The percentage of people working remotely because of the pandemic seems to be leveling off, but both at-home and in-office workers still need office supplies, and September could be a good month to sell them. Look into listing products like insulated lunch bags, 18-packs of retractable ballpoint pens, packs of removable multiuse labels, and 12" wooden rulers, which were all popular with our readers last September. Furniture-related pieces were trending, too, such as office chair seat cushions and sit-and-stand mobile workstations.
The Rest of the Best
Not interested in selling the items we just covered? If you're looking for different products to sell in September, check out these ones, which were also popular with DealNews readers during this month last year.
Home and kitchen items like furniture pieces; 800-thread-count cotton sheets; fridge door water jugs; and coffee and espresso machines, plus relevant accessories
Phones and accessories, such as 128GB Samsung Galaxy smartphones, clear iPhone cases and screen protectors, 3-packs of USB-C cables, and 5-packs of lightning cables
Household products, including drill brush attachments sets, 8-roll sets of paper towels, 19-ounce bottles of foaming bathroom cleaner, and 150-fluid-ounce containers of liquid laundry detergent
Lawn and patio products like Scotts lawn care items, propane tank gauges, 1-gallon containers of insect-control spray, and patio furniture
Toys, ranging from metal Slinkies, to metal kazoos, to kits for constructing mini roller coasters
Automotive items, including 2-packs of wheel chocks, containers of wash and wax formula, and wiper blades with a water-repellent coating
Sports and outdoor items, such as steel clubs, replacement grips for tennis rackets, and reusable ice blocks
Beauty and personal care products, ranging from men's cologne, to cordless hair clippers, to 6-packs of shave gel for sensitive skin
Don't Forget About Labor Day Sales!
Labor Day arrives on September 5 in 2022, but you can expect sales to begin in mid-August and last through the holiday. It's an ideal time to offer a discount, coupon, or other promotion on a variety of items. Last year, our readers gravitated toward Labor Day events offering electronics, clothes, toys, home items like furniture and rugs, Back to School supplies, and power tools, among other products.
What NOT to Sell Online in September 2022
| Item | When to Sell | Why? |
| --- | --- | --- |
| Snacks and Coffee | October | Last October, DealNews readers seemed to gravitate toward two types of food and drink: nuts and coffee. Trending items included mixes with roasted nuts and sesame sticks, whole cashews with sea salt, and whole-bean coffee blends. These items were popular in October but not in September, so consider holding off for another month if you want to list them. |
| Dental Products | October | Our readers seemed to be more focused on oral-hygiene items in October 2021 than they were in September. The same situation could happen again this year, so you may want to wait to list 50-count packs of dental picks, 2-packs of travel toothbrushes, and stainless steel toothbrush holders. |
| Halloween Items | October | Expect October to be the best month to go all in with Halloween items. Products that were popular with our readers last year included Halloween-themed packs of Oreos, plus 400-count bags of mini lollipops |
---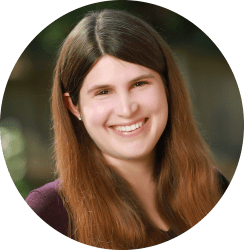 Blog Editor
Katie has more than a decade of experience in online and magazine publishing. She contributes regularly to the DealNews Marketplace Blog, and her work has also appeared on eMarketer and Retail Minded, as well as in Dogster Magazine, Milwaukee Magazine, and other publications. She's a fan of trivia, animals, and the Indiana Hoosiers.
DealNews may be compensated by companies mentioned in this article. Please note that, although prices sometimes fluctuate or expire unexpectedly, all products and deals mentioned in this feature were available at the lowest total price we could find at the time of publication (unless otherwise specified).