The 11 Best Products to Sell Online in June 2022
Welcome summer by listing items for outdoor spaces, seasonal clothing, and home improvement supplies.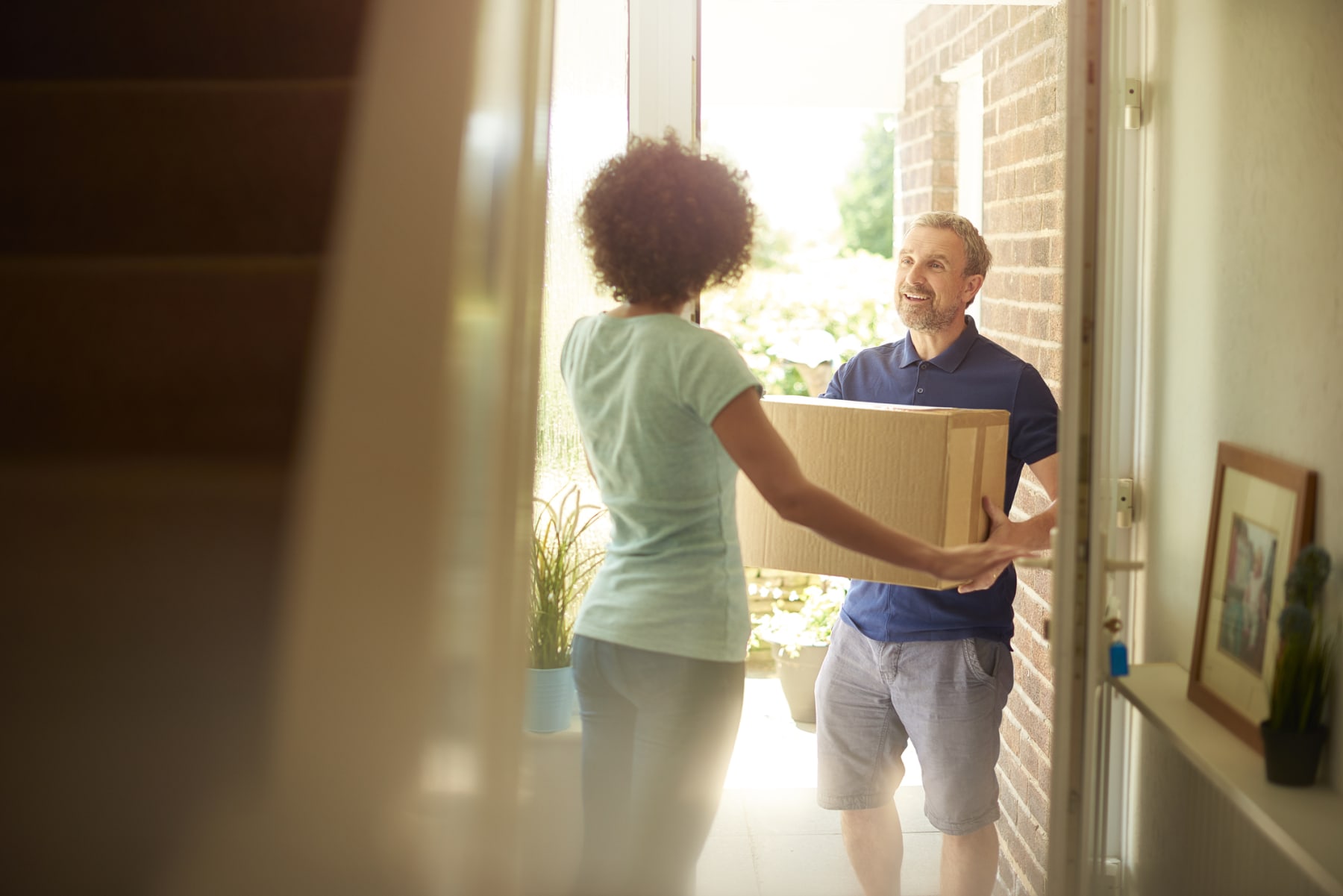 June is a month of transition. The seasons move from spring to summer, and students go from days spent in school to summer vacation. But do the best products to sell online change, too?
To help answer that question, we examined the shopping trends of DealNews readers in June 2021 to see which items people were drawn to most. In this guide, we go over these items to determine the best things to sell online in June 2022. You'll also learn about the big sales opportunities during the month and the products you may want to list in July instead.
SEE ALSO: How to Decide What Products to Sell on Amazon
The 11 Best Products to Sell Online in June 2022
Check out our infographic to see some of the top items to sell online in June. Below it you can learn about all the popular categories for the month, and read about specific items that resonated with DealNews readers in June 2021.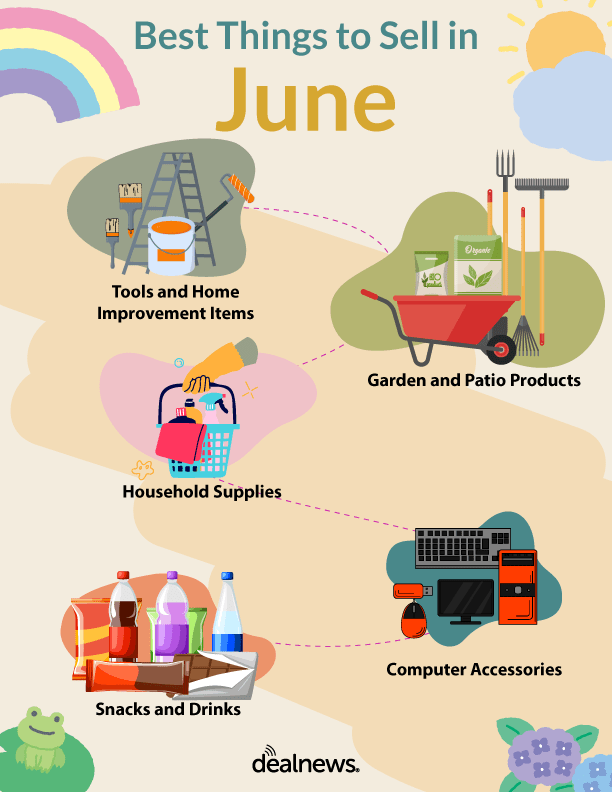 Tools and Home Improvement Supplies
Tools and home improvement products seem to have a reserved spot on our monthly "what to sell online" lists. June should be yet another good month to list items in this category, particularly items related to solar lights. In June 2021, our readers gravitated toward outdoor solar spotlights, 12-packs of solar torch lights, and solar pathway lights.
Here's a rundown of other tools and home improvement items to consider listing in June:
Diagonal cutting pliers
Universal sockets
8-packs of furniture sliders
Foam cannons
2-packs of hardware storage bins
5-pair packs of nitrile work gloves
5-drawer metal tool centers
Yard, Garden, and Patio Items
Items for outdoor spaces tend to rise in popularity among our readers once spring arrives, and continue to resonate through the end of summer. So what's worth selling in June, specifically? Based on reader trends from last year, items you may want to look into include 5-pound containers of all-purpose plant food, 100' expandable garden hoses, electric pole chainsaws, outdoor seating and fencing products, backyard games, and aluminum pergolas with canopy covers. Certain insects are also a concern during the summer, so you may have good luck with citronella candles and other pest-control products, too.
Health and Household Products
While health and household supplies frequently appear in our monthly selling guides, you may want to pay attention to the news if you're thinking about listing them in June. In June of last year, 50-packs of disposable face masks and 20-packs of KN95 masks were popular with our readers, but their appeal in June 2022 may depend on the COVID-19 spread and masking requirements during that time.
Items for outdoor spaces tend to rise in popularity among our readers once spring arrives, and continue to resonate through the end of summer.
Other products should be less reliant on the ups and downs of the pandemic. Consider listing items like liquid laundry detergent, butane fuel, 120-packs of gallon food-storage bags, and alcohol prep pads.
Computer Accessories
Storage items and webcams may be your best bet if you decide to sell computer accessories online in June. Last June, trending products among our readers included 256GB microSDXC memory cards, 2TB USB 3.0 portable hard drives, and 1080p webcams with microphones and privacy covers.
Snacks and Drinks
Nuts not only offer various health benefits, but they also seem to resonate with our readers throughout the year. We included them in both our December and January "what to sell" guides, and now you can add June to that list! In June 2021, DealNews readers were drawn to mixes with pistachios, almonds, and cashews, plus jars of salted cocktail peanuts. They also went for 12-ounce bags of medium-roast ground coffee and discounted beverages as a whole.
Clothes and Accessories
It's always important to keep seasonal trends in mind when you're planning to sell clothes online. For example, June is probably not a good month to stock a ton of wool sweaters, but you may do well listing items like men's shorts. Based on reader trends from last year, other items to think about selling in June are men's clothes in general, sports fan gear, and Michael Kors handbags.
SEE ALSO: How to Sell Tools Online: 6 Tips You Should Know
The Rest of the Best
What other items should you sell online in June 2022? Here are some additional products that were popular with DealNews readers last June.
Electronics, including Amazon devices, Bluetooth audio receivers, and 40mm GPS Apple Watches
Dental care products, such as 12-packs of medium-sized manual toothbrushes, electric toothbrushes that come with several brush heads, and 2-packs of whitening toothpaste
Home items like dryer vent cleaner kits, portable desk fans, and Lacoste bedding sets
Shoes, including Birkenstock footwear, men's loafers, and men's leather oxford shoes
Computers, such as Lenovo devices, 32GB 8" tablets, and Intel Core i7 15.6" laptops
What Are the Big Sales Opportunities in June?
Father's Day
It's safe to say that Father's Day is the main shopping-related holiday in June, and this year it's on June 19. Know that we often see sales for the holiday begin in May, though, so if you haven't figured out what discount, coupon, and/or ad campaign you might want to do for Father's Day this year, it's time to start making plans. While tools are a traditional Father's Day gift, promotions for the holiday can revolve around tech products, clothing, and other items. Different dads have different interests, after all!
Memorial Day and the 4th of July
Yes, we know that Memorial Day is in May. But last year we saw some popular Memorial Day sales extend into early June. (Memorial Day 2021 was May 31, by the way, and this year it's May 30.) So don't feel like you have to cut off your promotions as soon as the holiday is over. Our readers gravitated toward early June Memorial Day sales offering items like home products and appliances.
While tools are a traditional Father's Day gift, promotions for the holiday can revolve around tech products, clothing, and other items.
Think ahead this month to Independence Day, as well. Although the holiday falls on July 4, we often see sales for it begin by mid-June, so you can always get an early start. Major categories in 4th of July promotions tend to include electronics, clothing, and outdoor gear.
What NOT to Sell Online in June 2022
| Item | When to Sell | Why? |
| --- | --- | --- |
| Automotive Items | July | If last year is any indication, people could be giving their cars more attention come July. Think about listing car trash bins, magnetic phone holders, and 1296p dash cams then. |
| Kitchen Supplies | July | Kitchen products seemed to resonate with DealNews readers more last July than they did in June 2021. Items that could be good contenders include garlic presses, 16" stainless steel tongs, and roll-up dish drying racks. |
| Charging Cables and Stands | July | The ubiquity of smartphones means charging products are always in need, but our readers really seemed to go for them last July. Among the popular products last year were 3-packs of different-sized iPhone or USB-C charging cables, 3-packs of 6' iPhone charging cables, 2-packs of right-angle USB-C cables, and wireless charging stands. |
---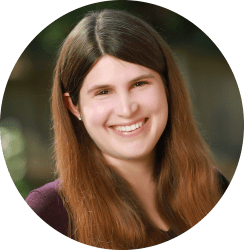 Blog Editor
Katie has more than a decade of experience in online and magazine publishing. She contributes regularly to the DealNews Marketplace Blog, and her work has also appeared on eMarketer and Retail Minded, as well as in Dogster Magazine, Milwaukee Magazine, and other publications. She's a fan of trivia, animals, and the Indiana Hoosiers.
DealNews may be compensated by companies mentioned in this article. Please note that, although prices sometimes fluctuate or expire unexpectedly, all products and deals mentioned in this feature were available at the lowest total price we could find at the time of publication (unless otherwise specified).