The 12 Best Products to Sell Online in May 2022
Get your promotions ready for Mother's Day and Memorial Day, plus consider selling tools, clothes, and garden items.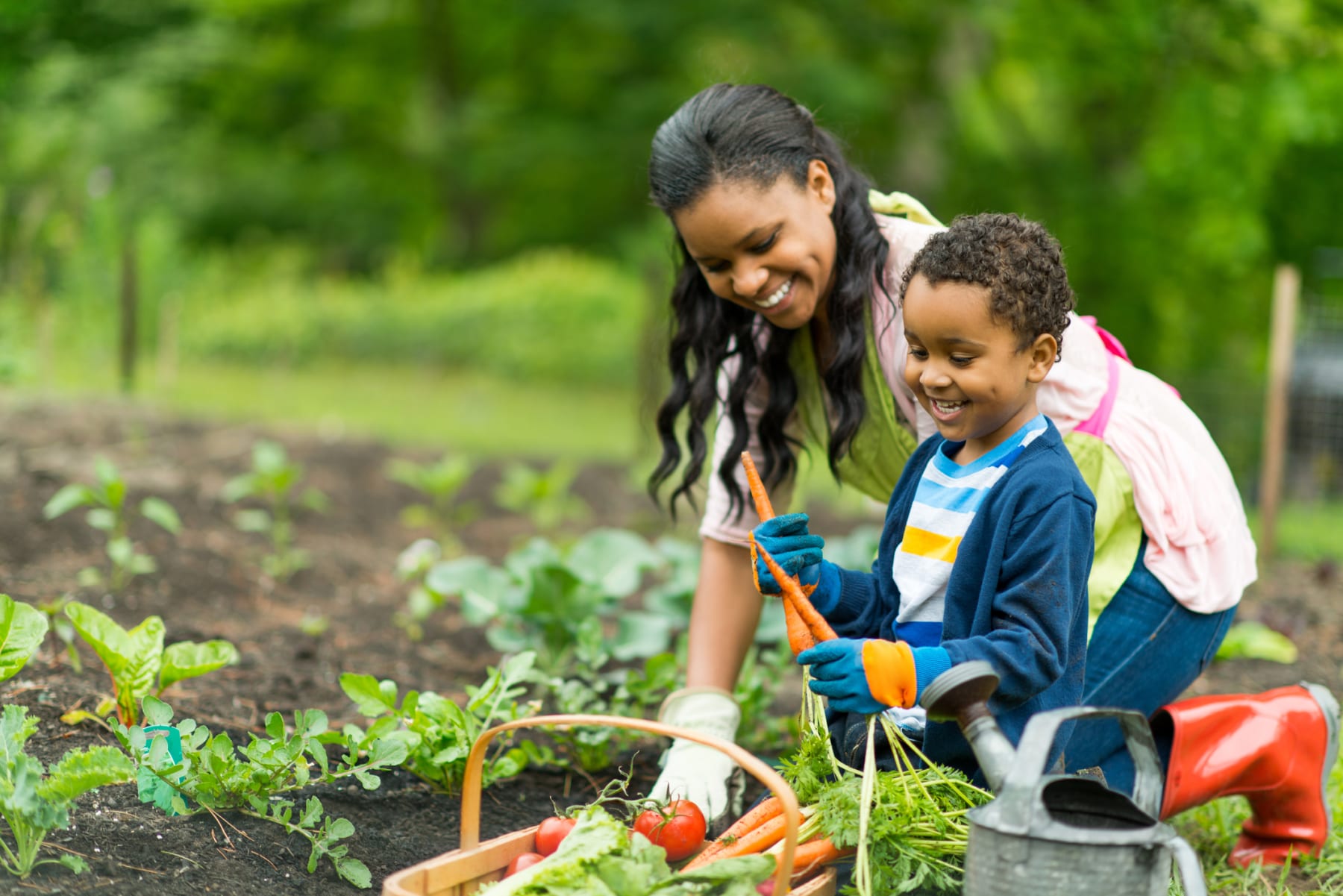 May doesn't have the same shopping heft as the winter holiday season, but it's no lightweight. Consumers are buying Mother's Day and graduation gifts, shopping Memorial Day sales, and even picking up Star Wars products on "May the Fourth." And of course, people are always buying everyday items, too.
But what exactly should you sell in May to appeal to consumers? To answer that question, we examined the shopping trends of DealNews readers from May 2021. Read on to learn about the best items to sell online in May 2022, the sales opportunities you won't want to miss, and the products you may want to sell in June or July instead.
The 12 Best Products to Sell Online in May 2022
Take a look at our infographic see some of the best things to sell online in May. Then learn about all the popular categories for the month, and read about specific items that DealNews readers gravitated toward in May 2021.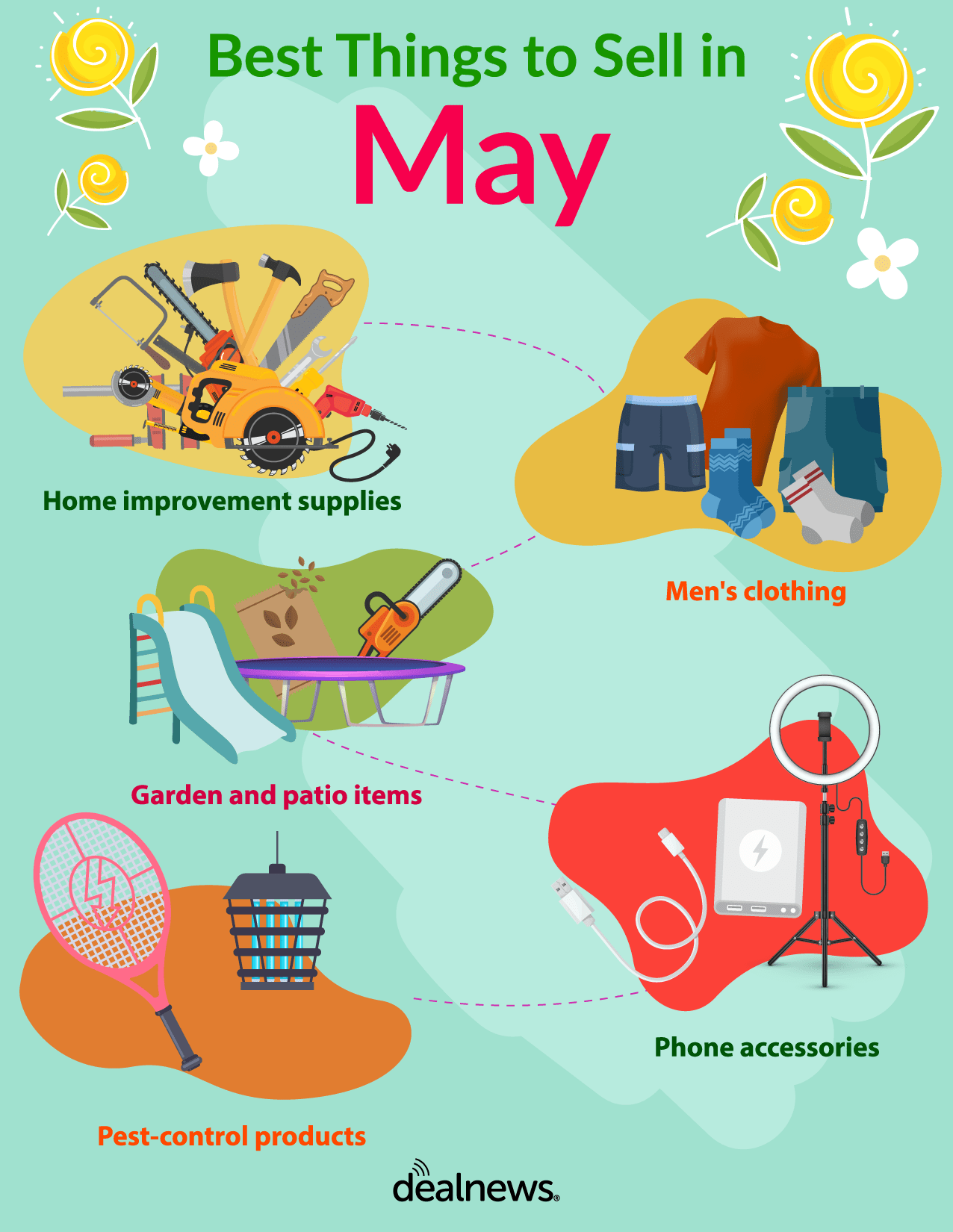 Tools and Home Improvement Supplies
While the home improvement market may not experience the same level of sales growth in 2022 that it has the past two years, May should still be a good time to sell tools and home improvement supplies. After all, DealNews readers tend to flock to these types of items throughout the year, and spring is a prime time for home improvement projects.
SEE ALSO: What to Know About How to Sell Clothes on Amazon
If you're wondering about the best products in this category to sell in May, take a look at our list below. It features some of the most popular items that resonated with our readers from May 2021.
Solar security lights
Toilet fill valves
57" frameless glass panels
Caulking tool sets
Woodworking tools and accessories
Portable workbenches
30-tool corner tool racks
Men's Clothing and Shoes
Clothing essentials can be safe to list, as they're the type of item people buy during the year, regardless of the season. In May 2021, our readers gravitated toward staple men's clothing items like multipacks of crew socks and short-sleeve T-shirts, as well as dress shirts. Shorts were also popular and may be more seasonal, but could be a good option for May with summer on the horizon. Certain brands seemed to appeal to readers, too, including adidas and Skechers.
Home and Kitchen Products
Items for the kitchen — and the home in general — tend to resonate with readers during many months, but the popular products in this category aren't always the same. In May, specifically, you could have good luck with kitchen items like vacuum sealer bags and digital cooking thermometers. As for general home products, consider selling mini split air conditioners, robotic and other types of vacuums, decorative barometers, beverage fridges, and 10-gallon trash cans.
DealNews readers tend to flock to tools and home improvement supplies throughout the year, which means May is another good time to sell these products.
Lawn, Garden, and Patio Items
Spring is a key time for mowing, gardening, and sprucing up outdoor spaces. If you want to take advantage of these seasonal habits, think about listing items in this category in May. During this month last year, DealNews readers gravitated toward mini chainsaws for gardening and pruning, bags of "weed and feed," sun-shade sails, privacy screen fencing, outdoor decking products, and backyard games.
Electronics
Think audio, Apple, and cameras when deciding on electronics to sell in May. During May 2021, our readers were drawn to audio-focused items like portable Bluetooth speakers and open-box Apple AirPods, as well as webcams with microphones and 1080p indoor/outdoor video cameras. Other popular products last May ranged from digital HD TV antennas to iPad Pro 12.9" tablets and 200GB microSD cards.
Smartphones and Accessories
Consider selling items in May that help people use their phones. Or maybe just sell the phones themselves! Phone-related accessories that our readers went for last May included 2-packs of 6' lightning cables, selfie lights, magnetic phone holders for the car, and 10000mAh power banks, along with unlocked LG 128GB smartphones.
Pest-Control Products
Flying spiders aren't the only critters people will have to contend with in the coming months. Simply put, summer brings bugs, and if last year is any indication, consumers will be preparing to deal with them in May. Among the popular items in May 2021 were the following:
Ant bait stations
Grub-killing products to put on lawns
Electric bug zappers
Face Masks (Maybe)
Face masks are a "maybe" item on our list because it's hard to predict what the state of the pandemic will be like in May. The BA.2 variant that's spreading could lead to more COVID cases, which could increase the need for face masks, but we can't say for sure. We do know that in May 2021, our readers gravitated toward 50-count packages of disposable face masks, plus 20-, 40-, and 50-packs of KN95 masks.
SEE ALSO: How Can Marketplace Sellers Deal With Supply Chain Problems?
The Rest of the Best
Here's a rundown of other items to sell online in May 2022; they were all popular products among DealNews readers last May.
Ethernet cables, including 3' and 6' Cat 8 cables, in addition to 50' Cat 6 ones
Office supplies, such as staple guns and gel-enhanced seat cushions for office chairs
Beauty and personal care products like liquid hand soap refills, SPF 50 spray sunscreens, and cologne
Packaged food and drinks, including Gatorade Zero 12-packs, 24-packs of V8 vegetable juice, and bags of almonds and blueberries
What Are the Big Sales Opportunities in May?
Mother's Day
Mother's Day is May 8 in 2022, and the weeks preceding it feature sales and deals on Mother's Day gifts. Popular among our readers last year was one item specifically advertised as a Mother's Day gift option: a glass rose with LED lights in a glass dome, a la the movie Beauty and the Beast.
Mother's Day and Memorial Day will both be big opportunities to offer sales during the month of May.
While flowers, jewelry, and greeting cards may come to mind when you think of Mother's Day gifts, remember that other items can be good Mother's Day presents, too. It all depends on what the recipient likes! So it may be worth having promotions on "outside the box" types of gifts in addition to the standard options.
Memorial Day
Memorial Day weekend is a big one for shopping! Though the holiday takes place on May 30 in 2022, sales tend to start showing up a few weeks beforehand, so there's plenty of time to offer Memorial Day discounts. Sales that resonated with our readers last year included ones offering home items; electronics like phones, TVs, and laptops; and items ranging from projectors and food storage containers to glasses and canopies.
What NOT to Sell Online in May 2022
| Item | When to Sell | Why? |
| --- | --- | --- |
| Computer Accessories | June | Ethernet cables may be popular in May, but consider listing other computer-related items in June. Items our readers gravitated toward last year included 256GB microSDXC memory cards, 2TB portable hard drives, and 1080p webcams with microphones and privacy covers. |
| Household Supplies | June | These tend to be items people go for year-round, but you may have better luck listing them in June. Safe bets might be liquid laundry detergent, butane fuel, and gallon food-storage bags. |
| Dental Products | June | Oral hygiene is obviously important every month of the year, but the products in this category were more popular with our readers in June 2021 compared to May. Trending items included electric toothbrushes with several brush heads, 12-packs of manual toothbrushes, and 2-packs of whitening toothpaste. |
| Automotive Items | July | People could be giving their cars more TLC come July. Consider listing car trash bins, magnetic phone holders, and 1296p dash cams then. |
---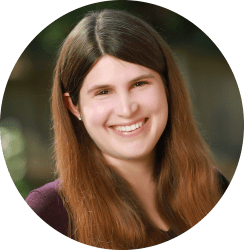 Blog Editor
Katie has more than a decade of experience in online and magazine publishing. She contributes regularly to the DealNews Marketplace Blog, and her work has also appeared on eMarketer and Retail Minded, as well as in Dogster Magazine, Milwaukee Magazine, and other publications. She's a fan of trivia, animals, and the Indiana Hoosiers.
DealNews may be compensated by companies mentioned in this article. Please note that, although prices sometimes fluctuate or expire unexpectedly, all products and deals mentioned in this feature were available at the lowest total price we could find at the time of publication (unless otherwise specified).