You Can Get Free At-Home Tests for COVID-19 — Here's What to Know
If you have health insurance, you should be able to get reimbursed for up to eight tests per month. And you can order more free tests online!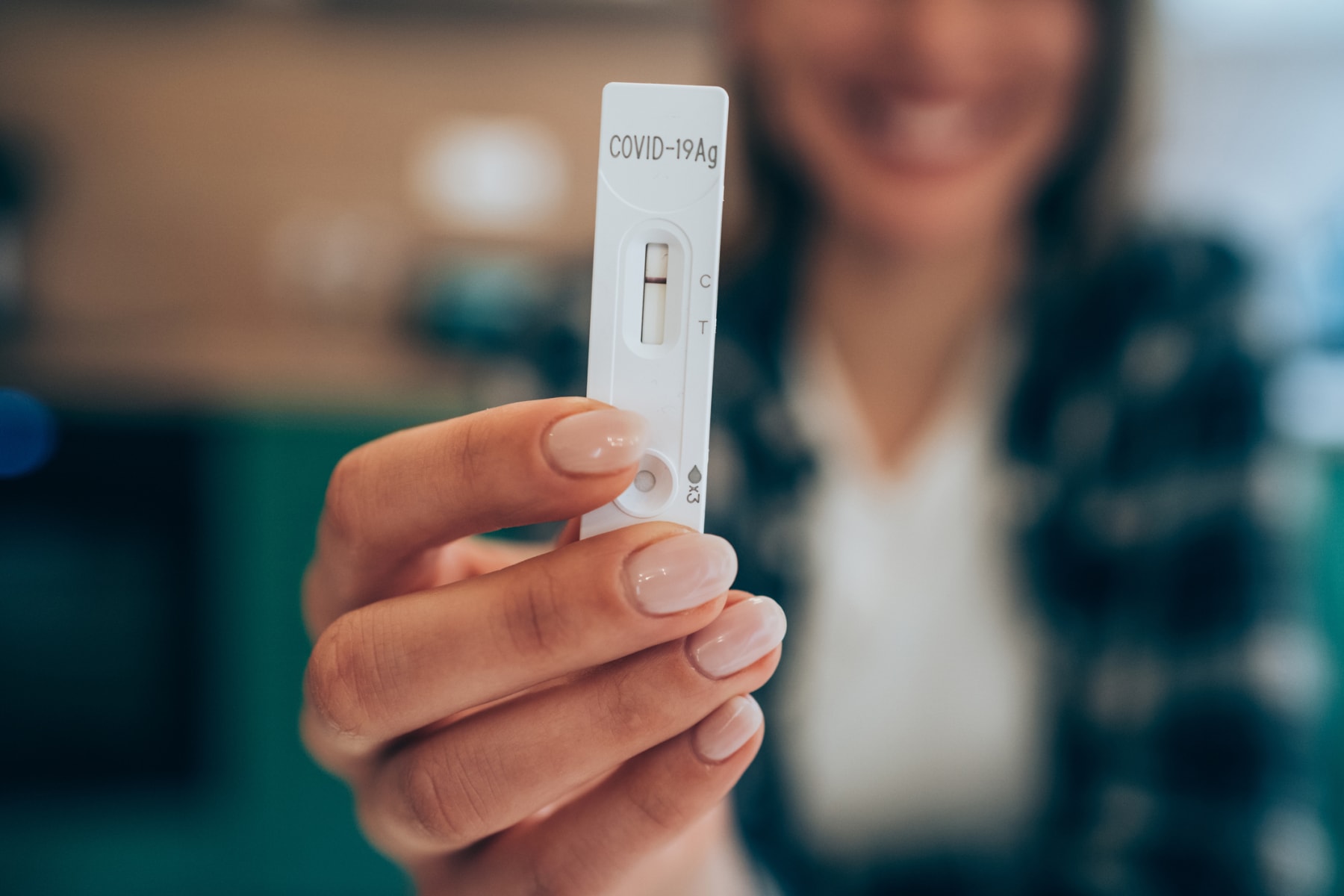 The year 2022 is here, and for many, so is the cold realization that the coronavirus pandemic doesn't seem like it'll end anytime soon. By now, much of the population has been fully vaccinated against COVID-19 and even received boosters, and vaccines have also been authorized for use in children as young as 5 years old. Testing sites are still operating in select areas, but now the federal government is making a push to offer free at-home COVID-19 tests to American households in an effort to control the spread of the virus.
To help you navigate the world of at-home COVID testing, we tell you where to find brands that will be covered under the government's plan, how you can have your insurance pay for the testing kits, and where you can order more free at-home tests. We also cover antigen vs. PCR tests for COVID-19 and when to get tested.
What's Happening With At-Home Tests for COVID-19?
Insurance Companies Have to Cover the Cost of Tests
As NPR reports, a new policy announced recently by the White House states that any individual covered by a health insurance plan will have the cost of at-home COVID-19 tests covered, provided the tests they purchase are over-the-counter diagnostic tests and "authorized, cleared or approved by the Food and Drug Administration."
Each month, insurance companies and health plans must cover the cost of eight OTC at-home COVID-19 tests per insured individual.
Specifically, insurance companies and health plans are going to be required to cover the cost of eight OTC at-home tests per insured individual every month under the new policy, which has a start date of January 15. So a family of four should be able to get 32 free tests every month, as long they meet all the requirements. And at the time of publication, NPR was reporting that Medicaid and Children's Health Insurance Program plans "must cover FDA-authorized at-home COVID-19 tests without cost-sharing."
How to Get Reimbursed for Testing Kits
These at-home tests are required to be "fully reimbursed by your insurance company, with no deductibles or cost-sharing," according to CNBC Make It, which further reports that packages containing multiple tests will be considered as a single test when it comes to reimbursement. Before you purchase a home test kit, though, be sure that it will qualify for reimbursement. You can find FDA-authorized antigen tests here and FDA-authorized molecular tests here, so that you can be sure you're purchasing ones that will be covered.
At the time of publication, the only way to purchase tests and have them reimbursed was by filing a claim using the receipt from the pharmacy, store, or online retailer you bought the tests from. However, President Joe Biden's administration is reportedly developing plans to incentivize insurance companies to make the reimbursement process automatic at the time of purchasing tests. For now, those are still in the works, so there's no planned implementation date for that kind of process yet.
Free COVID-19 Tests and Masks Are On the Way
Just a few days after the announcement of the new policy for insured individuals, President Biden announced further plans to purchase 500 million more at-home tests for Americans, as reported by NPR. The website COVIDTests.gov is now up, and Americans can use it to order these free tests starting January 19. The order limit is set at four tests per household. In addition to the added volume of at-home tests, President Biden has also announced "the White House will make high-quality masks available for free," NPR reports, with further details on that measure to be released soon.
SEE ALSO: How Will the Omicron Variant Affect Your Travel Plans?
Given that the U.S. Postal Service and major carriers like UPS and FedEx were under tremendous strain during the holiday season, some may be wondering how the Postal Service can cope with Americans ordering these tests and deliver them in a timely manner. According to NPR, the president of the American Postal Workers Union has stated that upwards of 7,000 temporary workers are slated to be hired in order to "package and address the test kits at 43 fulfillment centers around the United States."
How Much Do At-Home Tests for COVID-19 Cost?
The cost of at-home tests for COVID-19 can vary by a lot. Recently, the prices of these items increased at Kroger and Walmart stores. These stores and Amazon had reportedly been selling these tests "at cost," with discounts of up to 35% off retail prices, according to USA Today. However, that was due to an agreement with the Biden administration, and that reportedly ended in mid-December. Now, Walmart is charging $19.88 for a 2-pack of BinaxNOW tests; at Kroger, the price has increased to $23.99.
Other retailers have refrained from raising prices, but have limited the number of tests any one consumer can purchase due to the increased demand.
What Else Should You Know About COVID-19 Tests?
PCR vs. Antigen Tests
With all this info about the costs of COVID-19 at-home tests, you may be curious about taking the tests themselves. For example, should you opt for a PCR or antigen test, and what are the differences between them?
The at-home tests providing instant results — that is, in roughly 15 to 30 minutes — tend to be of the antigen type, and according to the Centers for Disease Control and Prevention, those work best in cases where the person is actually showing symptoms. To get the most accurate results, people should also take them a certain number of days after exposure or once symptoms begin. CDC guidance suggests getting tested at least five days after COVID-19 exposure or once you develop symptoms.
At-home antigen tests tend to work best for those who are having COVID-19 symptoms.
PCR tests, on the other hand, are molecular tests that look for genetic material from the virus. They're considered to be highly sensitive, and according to Yale Medicine, result in "very few false negatives." These tests are processed by professionals in labs rather than at home. As such, it can take a while to receive results — the length of time depends on lab capacity, but in general, you can expect to get results in anywhere from one to seven days.
If you've been tested at a doctor's office or testing site, you're likely familiar with the kind of sample PCR tests require. Most often, they rely on nasopharyngeal — also jokingly referred to as "brain-tickling" — swabs. In some cases, doctors may opt for a throat swab instead, or even a saliva test, though they may only offer these in select locations.
Regardless of which test you take, the CDC notes that both PCR and antigen tests are most accurate when the person being tested has their highest viral load. One other thing to note is that if you've recently tested positive for COVID-19, a PCR (also referred to as an NAAT in some cases) may result in a false positive. Because detectable levels can hang around long after recovery from COVID-19, these tests shouldn't be taken again within 90 days of diagnosis; they can lead to positive results, even after the risk of transmission has passed.
When Should You Be Tested for COVID-19?
Given that you may be fully vaccinated and even boosted, you may be wondering if and when you should be tested for COVID-19 infection. According to the FDA, you should be tested for COVID-19 in the following circumstances:
You have symptoms (even if you're fully vaccinated)
You've been in close contact with someone confirmed to have COVID-19 (even after vaccination)
You took part in high-risk activities that could've exposed you to the virus
You've been referred to be tested by a health professional, including your regular physician or a state or local health department
Note that the FDA clarifies "close contact" as being "within 6 feet for a total of 15 minutes or more," and that high risk activities include examples like "travel, attending large social or mass gatherings, or being in crowded indoor settings" where you were unable to socially distance.
You Can Get Free Masks, Too
In addition to free tests, consumers can also take advantage of free N95 masks. As Reuters reports, retailers CVS (including those locations within Target stores) and Walgreens will distribute 400 million free masks to shoppers via pickup.
N95 masks are still the gold standard due to their ability to filter out at least 95% particulate matter. They're comprised of multiple layers and are designed to form a seal around the nose and mouth, providing more protection than alternatives. For those interested in obtaining some, they're due to be shipped to the pharmacies around January 24 and should be ready to pick up by the end of the same week. However, we recommend calling your local pharmacy before you head out with the intention of obtaining any.
Can't wait for the free tests? Check out the best at-home COVID-19 test deals available right now!
---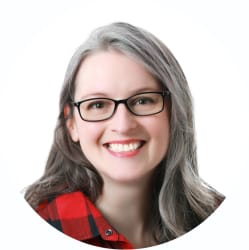 Senior Staff Writer/Consumer Analyst
Julie's work has been featured on CNBC, GoBankingRates, Kiplinger, Marketwatch, Money, The New York Times, Real Simple, US News, WaPo, WSJ, Yahoo!, and more. She's extolled the virtues of DealNews in interviews with Cheddar TV, GMA, various podcasts, and affiliates across the United States, plus one in Canada.
DealNews may be compensated by companies mentioned in this article. Please note that, although prices sometimes fluctuate or expire unexpectedly, all products and deals mentioned in this feature were available at the lowest total price we could find at the time of publication (unless otherwise specified).