How to Set Up a Backyard Movie Theater on a Budget
An outdoor projector and screen are just the beginning, but you don't have to pay a fortune for them!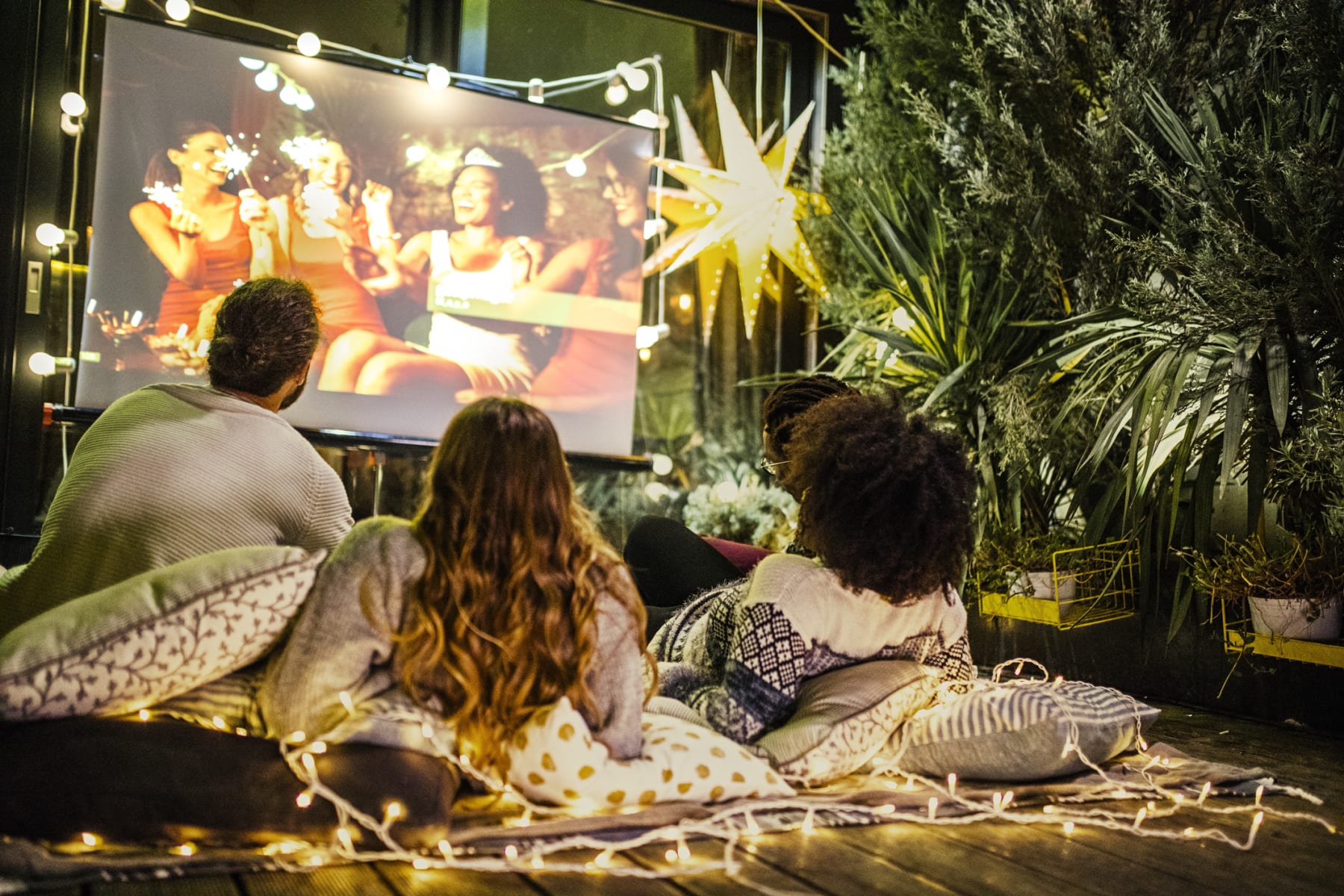 Movie theaters may be growing more popular again with the lifting of pandemic-related restrictions, but a night at the cinema is still a pricey activity. However, you can actually put together your own backyard movie theater without spending a huge fortune. Then you can have movie nights at a fraction of the cost whenever you want!
Check out our guide on what you'll need for setting up an outdoor theater on a budget, as well as some bonuses that'll make it even better than going out!
What You Need for a Backyard Movie Theater
Projector
A projector is pretty crucial for an outdoor theater. Without one, you won't be showing much of anything! But with a ton of different projector models available to choose from, selecting one can be overwhelming — so where do you begin? One of the first things to determine is whether you're going to stick to movie nights or if there's a chance you'll use your projector during the day. If the latter is a possibility, you'll want to ensure your chosen model can handle daytime viewing.
Another factor to consider is whether you'll be using your projector for watching sports, as some models are better suited for that kind of action than others. Once you have a better idea of what you need, you can start shopping around for a model that fits your budget. Adorama and B&H Photo Video are good retail options, as they have a wide range of models to choose from, and prices started around $119 and $80, respectively, at the time of publication.
Screen
Budget-friendly projector screens are available, though a dedicated projector screen isn't strictly necessary. In fact, many backyard movie theater setups work perfectly well by employing a sheet that hangs on the side of a building, fence, or a simple framework.
Turning a sheet into a screen is an ultra-affordable option, though you won't get the same quality that you would from a dedicated projector screen.
If you want to go the DIY route, know that any smooth white surface should work. So whether you opt for a white bedsheet, tablecloth, or some other kind of fabric, it'll serve its purpose. That said, just because you can go this route doesn't mean it's going to produce the best results. Sheets aren't made to serve as screens, and they may do in a pinch, but if you want the best-quality viewing experience, you'll want to look at actual screens. Those designed for viewing projections have features like ALR, or ambient light rejection; it prevents outside light from washing out the images in your media.
The good news is if you're picking up screens along with your projector, you can do your shopping all in one trip via Adorama and B&H Photo Video. Expect prices to start around $18 and even go as low as $6, respectively. However, if you aren't interested in shopping at those retailers, know that Target has a small selection of projector screens, as well, and we found them starting around $36.
Sound System
While the projector you choose will come with a small speaker, that's not going to be good enough for an outdoor home theater. You'll need a sound system that can drown out ambient noise from neighbors and nearby roadways, as well as one that will allow your media to be heard over excited kids playing and loud noise in general.
What helps is that you if your projector has an analog audio output, you can use basically any sound system you want for it — just make sure that you have the right audio cable to connect the two. You may even want to go the Bluetooth route, and simply use a portable Bluetooth speaker to provide sound for your backyard blockbuster events.
Streaming Media Player
A streaming device is probably the easiest way to access a variety of media, combined with your own subscriptions, of course. Streamers like Google Chromecast and Roku Streaming Sticks are generally pretty affordable. You may even want to consider using a Fire TV Stick if you're an Amazon Prime subscriber, as that'll give you a fair amount of streaming options, as well.
SEE ALSO: What's the Best Time to Buy Big-Ticket Items?
Google's streaming players range from $30 to $50 normally, while Amazon's Fire TV Sticks can cost anywhere from $30 to $55, depending on which model you purchase. And if you want a Roku product, their streaming players are roughly $30 to $100, though we've seen models on sale for as little as $15-$18 at Walmart and Amazon. And if you can wait until Black Friday, these devices will almost certainly see steep discounts during those sales, so you can expect to snag them for far less then.
Accessories
Once you've chosen the essentials above, you'll want to see if you need anything else. Other items you may want to add to your backyard theater setup include the following:
Extension cords, which will allow you more room to set up
A power strip to protect your electronics
A new WiFi router if you need better coverage that will stretch outside
Other Things to Consider for Your Backyard Theater
Some of these products fall strictly in the "nice to have" rather than "must have" category, but they may be what puts your backyard theater over the top.
Seating is a must-have element. You want your guests to be comfortable, so skip any uncomfortable patio furniture and hard benches. Instead, try to outfit your yard with plush pieces to sit on, or craft "nests" out of blankets and pillows that you can easily wash afterwards.
Be smart about refreshment storage. Because what's a movie night without snacks and drinks? If you're concerned about bugs, opt for individually wrapped goodies, or at least covered containers to put snacks in. Consider placing a plastic folding table outside and putting jars of sweet and savory snacks on there. As for drinks, it's good to have a cooler that will keep them chilled for hours. If you'll be enjoying bottled beverages, have a bottle opener handy, as well!
Don't forget seating, lighting, and bug repellent; they can make backyard movie nights more enjoyable!
Popcorn machines are a nice-to-have item. But if you love the quintessential movie theater snack, they may be a good investment. If you're really serious about this treat, consider a retro-looking machine that can pump out up to 40 cups of popcorn at a time. These ones are best for bigger movie nights — if you're just entertaining a few friends, you can definitely go smaller. But these kinds of items are a perfect touch for a movie night for all ages. You can also create your own popcorn seasoning blends or buy them at most major retailers, so your guests can enjoy the popcorn flavors they love.
Insect repellent is a must. No matter where you live, odds are good that you'll have to deal with some kind of pest during an outdoor movie night, and you'll want to make sure your guests aren't plagued with bites that will "bug" them for days. If possible, check stores like REI for insect-repellent options, as there are a variety of different sprays, candles, and even electronic repelling devices.
Low lighting is especially important when hosting movie nights. After all, you'll want guests to be able to navigate your backyard setup without tripping over anything. You can opt for solar lights if you want, or choose a selection of camp lighting to set up whenever you host a gathering.
Ready to start shopping? Check out the best electronic deals available right now!
---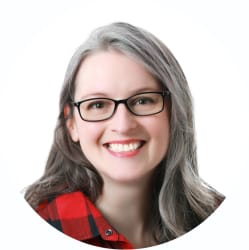 Senior Staff Writer/Consumer Analyst
Julie's work has been featured on CNBC, GoBankingRates, Kiplinger, Marketwatch, Money, The New York Times, Real Simple, US News, WaPo, WSJ, Yahoo!, and more. She's extolled the virtues of DealNews in interviews with Cheddar TV, GMA, various podcasts, and affiliates across the United States, plus one in Canada.
DealNews may be compensated by companies mentioned in this article. Please note that, although prices sometimes fluctuate or expire unexpectedly, all products and deals mentioned in this feature were available at the lowest total price we could find at the time of publication (unless otherwise specified).