These 8 Items Tend to Sell Out: Here's What to Buy During a Supply Shortage
If you can't find toilet paper, napkins, or disinfecting wipes, don't fret! Other options are available, though they might be more expensive.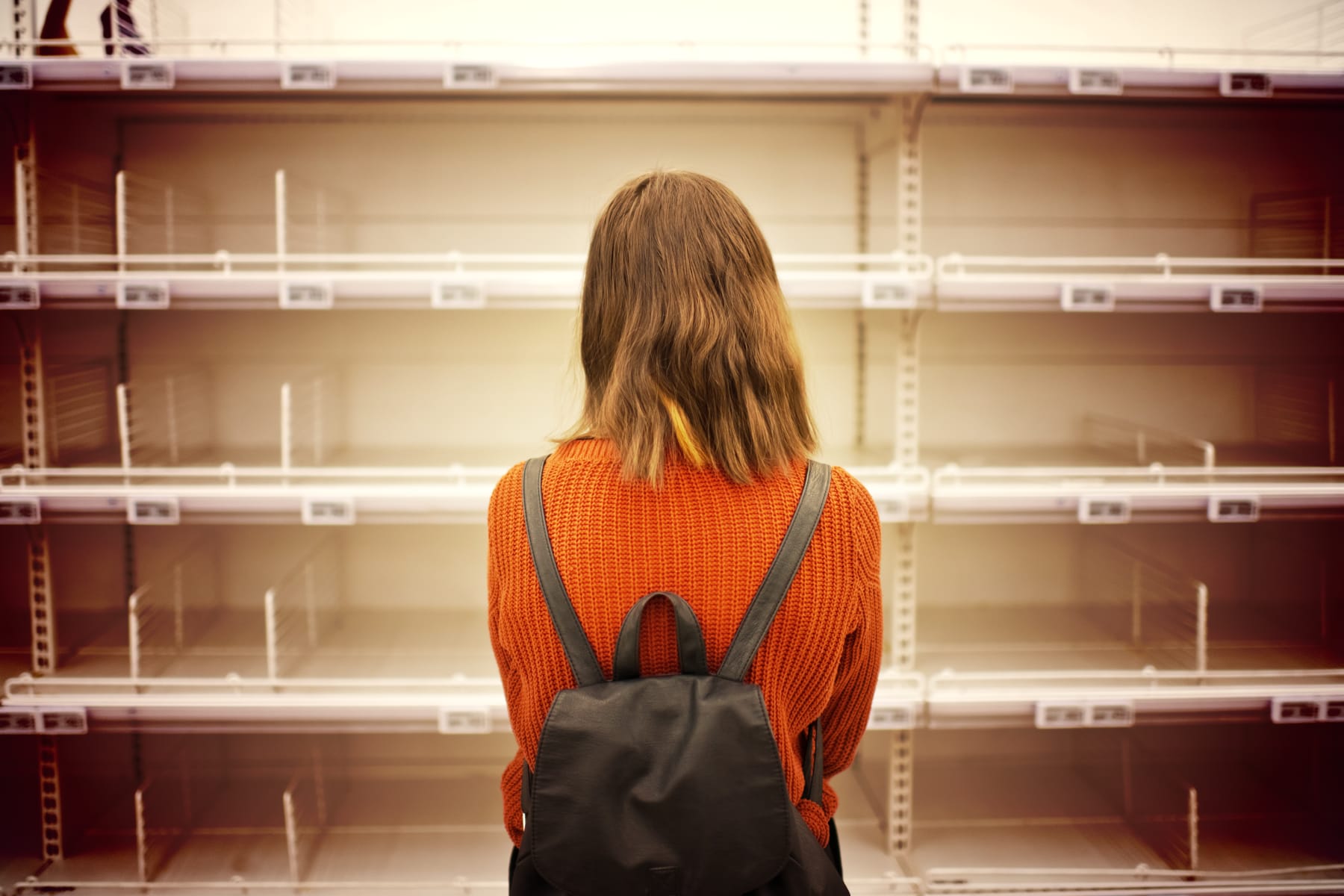 Supply shortages can happen anytime and for a myriad of reasons. For example, consider the mundane canned-pumpkin shortage of 2020 that wasn't really a shortage. Pumpkins had to be planted later, and so it took longer for cans of the holiday staple to make it to shelves. While that might have caused some panic among bakers, there wasn't a reason to be concerned.
But in some cases, product shortages are very real issues. What we tend to see more often is the disappearance of supplies due to natural disasters in the forecast, such as hurricanes and blizzards. And of course now, we're all much more familiar with one type of shortage-causing event: a pandemic.
If you're facing a lack of inventory of important items, don't panic! Panic leads to panic-buying when you do find an item, and then that snowballs to worsen the shortage. Whatever the cause for empty shelves, there's almost always an alternative product to buy — you just have to know what to look for. Check out our guide below for items that commonly sell out during a supply shortage, and what you can shop for instead.
When to Buy Items to Avoid a Grocery Shortage
Planning ahead is the key to avoiding the worst effects of a shortage. But the trouble with shortages is that consumers don't necessarily see them coming. For instance, early on in the coronavirus pandemic, shoppers weren't ready for toilet paper to be a victim of panic-buying. Odds are, most households didn't have a stockpile ready to combat the situation either.
If you have storage space, prepare for a grocery shortage by buying items slowly and taking advantage of special offers.
If you have extra storage space, you can prepare ahead of time by buying items slowly, rather than stocking up all at once. For instance, if you have a warehouse club membership, consider shopping the special offers on items as they pop up, rather than risk waiting until you actually need them. Even if you don't have one of these memberships, you can still stock up by getting appropriate items at your local grocery stores during weekly sales. And by shopping ahead, you'll be well prepared if a shortage arises, rather than having to scramble when panic-buying sets in.
Be sure to check expiration dates before making a purchase, though. You might prefer to stock up on nonedible supplies rather than edible items if you're worried about expiration dates passing. However, many shelf-stable products have use-by dates, which are different than expiration dates. Food that has passed its use-by date might not taste great, but it should still be safe to eat until it spoils; an item that is beyond its expiration date might not be safe to eat at all.
8 Items That Tend to Sell Out During a Supply Shortage
1. Toilet Paper
What to Buy When Stores Run Out: Bidet attachments, commercial toilet paper
The vast majority of Americans experienced toilet paper shortages in 2020, thanks to the panic-buying of other people. Left without conventional choices, consumers had to think outside the box. Many turned to bidets, and commercial-grade toilet paper was also an option.
SEE ALSO: Top Coronavirus Prevention Tips for Shoppers
Bidet toilet seats and stand-alone fixtures can be expensive, but bidet attachments are typically much more affordable. Simple attachments can cost as little as $11, and we've seen nonelectric bidet seats go for around $66. If you want a good deal on a more luxury-type model, expect to pay around $117 at least.
If you don't want to use a bidet, though, there are other options for toilet paper. While every pack might sell out at your local grocery store, and even big box stores, you might be surprised what you can find by visiting an office supply store. Retailers like Staples and Office Depot & OfficeMax sell all kinds of items suitable for businesses, including things like toilet paper.
Now if office supply stores also sell out of toilet paper, your next-best bet is to check restaurant supply stores. Online vendors like WEBstaurant Store offer a variety of options. However, if you're buying from these kinds of supply stores, you'll likely end up with a significant amount of toilet paper. And don't expect the cheapest toilet-paper products to be the best quality either — the least-expensive one on WEBstaurant at the time of publication cost $11.49 for a pack of 24 rolls. That might sound like an excellent deal, but these toilet paper rolls are made up of 500 sheets of 2-ply, though they're environmentally friendly, reportedly. Still, if you're used to a premium brand like Charmin, this could be a tough switch to make.
2. Paper Towels or Napkins
What to Buy When Stores Run Out: Microfiber towels
Many families keep paper towels and napkins on hand to wipe up spills and use during mealtimes. However, when paper products start to disappear from the shelves, you may not know what to get instead. A good temporary solution — or even a long-term one — can be microfiber towels.
You can find multipacks of these items at most big retailers. At the time of publication, a 36-pack of towels at Costco was only $17.99. Have a Sam's Club membership instead? We saw a 36-pack there for $14.98, and it had more color choices than Costco's offering.
If you don't have a warehouse club membership, you can find multipacks at big box stores, as well. For instance, a 4-pack at Target was going for $9.99 at the time of publication, while a 10-pack at Walmart cost $8.12; it's important to note that was from a third-party seller, though.
3. Disinfecting Wipes
What to Buy When Stores Run Out: Alternative products on this list (use items only as directed)
Disinfecting wipes from brands like Clorox and Lysol have flown off the shelves during the coronavirus pandemic. So what should you do when these wipes sell out at your local store?
It'll take some legwork, but if you can't locate your usual disinfecting wipes that are effective against SARS-CoV-2, you can find good alternatives by checking out this list from the Environmental Protection Agency. It includes active ingredients for each item, as well as the product name and the company that manufactures it. We saw 521 entries at the time of publication — more than enough to find an alternative if you haven't seen Clorox wipes in a long time.
4. Sodas and Other Canned Beverages
What to Buy When Stores Run Out: Water, off-brand sodas, sparkling-water makers
One thing many of us probably weren't expecting to see was a shortage of aluminum cans in 2020. The pandemic led to some companies suspending production of niche drinks, in order to cope with the high demand for the most-popular items in their lineups.
Need your cola fix? Consider buying off-brand beverages during a supply shortage.
Obviously, water is a healthier option if you can't find your favorite soft drinks. Even sparkling waters, which may have their own drawbacks, are likely a better choice than drinking mainstream sodas. However, if you must have your cola fix, it might be time to look to off-brand items. Having trouble finding Dr Pepper? Be on the lookout for Dr. Thunder. In some cases, these generics might even taste better than your preferred brand. But even if they don't, they can at least help satisfy your cravings.
If neither of those options sound appealing, why not venture into making your own sodas? Utilize an appliance like a SodaStream and their flavors to make your own drinks as you want them. Alternatively, buy the machine and craft your own drinks with whole ingredients like fruits and herbs. Sure, it's more work than cracking open a can, but you'll know what goes into your drinks and can enjoy crafting different artisan sodas.
5. Bread, Milk, and Eggs
What to Buy When Stores Run Out: Bread alternatives, bakery loaves; shelf-stable milk; meat jerkies, protein bars
Otherwise known as the "Southern Snowstorm Trifecta," bread, milk, and eggs tend to disappear whenever hurricanes or snow is in the forecast. As long as you have the ability to keep these items at the right temperature, there's no reason not to buy them. However, if there's a chance your house could lose power, don't bother with the eggs and milk.
SEE ALSO: How to Use Online Grocery Delivery in 2021
If loaves of bread have disappeared from the bakery aisle at your grocery store, try looking for bread alternatives. See if bagels, hamburger buns, hot dog buns, and pitas are still hanging around. If you're out of luck in that department, consider visiting your local bakery and picking up loaves there. They'll probably be more expensive, but could also taste better than what you normally buy.
If you need milk but all the gallons are gone, look for shelf-stable milks. You can find these in both dairy and nondairy varieties, including products like almond milk and oat milk. If you just need liquids to drink, consider stocking up on water, as well, or even juices.
Eggs are an affordable form of protein, but if you can't find them, you have other options. Look for foods like meat jerkies and protein bars to serve as easy substitutes when eggs aren't available.
6. Batteries
What to Buy When Stores Run Out: USB power banks
Select retailers push certain items for emergency preparedness, especially batteries when power outages are expected. While you can stock up on multipacks long before you need them, if you find that your supply has run out and the shelves are empty, look for alternatives.
Consider purchasing a few USB power banks. Keep them charged, and they'll be ready to charge your smartphone and other devices should you lose power. We've seen them cost as little as $4, so it can be relatively inexpensive to stock up on a decent number of them. As long as you remember to keep your power banks charged, you'll always have the option to use your devices if the power goes out.
7. Flashlights
What to Buy When Stores Run Out: Candles, emergency glow sticks or light sticks, solar lanterns
Yes, most smartphones have flashlight functions now, and yes, you can keep them conveniently charged with power banks. However, depending on how long the power is out, you might not want to continue using your phone. You can keep candles on hand — especially emergency or survival candles, which are designed to burn brighter and longer. But if you're worried about the fire hazard, then this might not be a good alternative.
You can also look for emergency glow sticks or light sticks. These can provide more constant, low-level lighting compared to flashlights. They don't use battery power either. Sometimes they'll also include a hook on one end so you can hang them, and the best ones should provide consistent light for at least eight hours.
One of the best alternatives might be a solar lantern, though. You can generally find these for around $10-$15 each, and since they don't rely on batteries or power cords, they make excellent items to have on hand for emergencies. Be sure to check them regularly to make sure they're still in working order. Additionally, some solar lights can also be powered by USB, so you can use them in a pinch even if they haven't been able to charge via solar.
8. Emergency Food Supplies
What to Buy When Stores Run Out: Buckets of actual emergency food supplies, or you can build your own
Sure, you can tuck some Pop-Tarts and crackers away in a plastic tote, but a better alternative might be actual emergency food supplies. For instance, you can find items such as a 4-person, 48-hour supply for as little as $20 from brands like Augason Farms. These are usually housed in plastic buckets and have a shelf life of up to 30 years. But because of their stability, they can disappear quickly, especially if there's a great price.
You can find plastic buckets full of emergency food supplies that have a 30-year shelf life.
If you can't find buckets of emergency food supplies and you don't have a source for MREs, or meals ready to eat, consider building your own. True, you likely won't have sleeves of dehydrated mushroom chicken or meatloaf, but you can still build kits to provide plenty of calories, should you be unable to buy groceries for a significant period of time.
Look for dried and dehydrated products, and store them in a durable plastic tote to ensure you have food if disaster strikes. Consider stocking up on things like bags of dried fruit, meat and vegetable jerkies, protein bars, and shelf-stable milks. Jars of pickled items can also be good to keep on hand, in addition to canned soups and meats like chicken and tuna. Don't forget to stockpile water if you can, as well.
Readers, what are your go-to alternatives during a grocery shortage? Let us know in the comments below!
---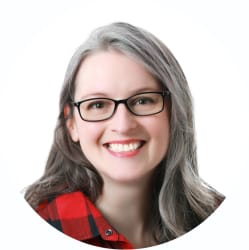 Senior Staff Writer/Consumer Analyst
Julie's work has been featured on CNBC, GoBankingRates, Kiplinger, Marketwatch, Money, The New York Times, Real Simple, US News, WaPo, WSJ, Yahoo!, and more. She's extolled the virtues of DealNews in interviews with Cheddar TV, GMA, various podcasts, and affiliates across the United States, plus one in Canada.
DealNews may be compensated by companies mentioned in this article. Please note that, although prices sometimes fluctuate or expire unexpectedly, all products and deals mentioned in this feature were available at the lowest total price we could find at the time of publication (unless otherwise specified).