The Top 10 Ad Campaigns That Made Us Run Out and Buy Stuff
It's common for "free thinking" individuals to scoff at the suggestion that an advertisement could manipulate them into spending money. But even the highly self-aware can fall victim to expertly crafted advertising campaigns. History has shown that extremely well-orchestrated and funny ads have managed to tug on our heartstrings, appeal to our sense of humanity, and shape our desires and needs so well, that we barely realized they were also making us reach for our wallets.
Some brands and companies have been especially effective at getting consumers to hand over their money. Below, we've separated the ad-manipulation champs from the chumps by examining the most successful advertising campaigns of the past century. (Props to Ad Age's top 100 list, which served as a helpful launching point.) From ads for products that overcame major obstacles (like a Nazi-fueled background) to achieve popularity, to innovative campaigns that resulted in massive sales, these advertisements have earned their place on our list of the top 10 most effective ads.
1. DeBeers, "A Diamond Is Forever"
In the early part of the century, DeBeers's discovery of diamond mines in Africa resulted in a mass surplus of gems with no real intrinsic value; a diamond ring was only sometimes presented as a sign of engagement, but was by no means necessary. Brides-to-be could receive other gems, or any kind of gift.
Then in 1938, with just one slogan, the company almost single-handedly created the idea that engagements must feature a diamond ring, and that diamonds are the only sufficient expression of love. Combined with a false sense of scarcity, this advertising campaign assured a steady demand for the gems, and their high prices, which continues today.
2. Volkswagen Beetle, "Think Small"
In 1962, less than two decades after World War II, Detroit automobile manufacturers were pumping out huge cars with flashy tail fins, lots of power, and luxury. Yet advertising firm Doyle Dane Bernbach (DDB) was tasked with marketing a tiny Nazi-designed automobile that went against every trend in the country.
DDB revolutionized the trend of print advertising with a sparse layout and the dry humor of its Beetle advertisements, emphasizing the economy and quality of the smaller cars. Not surprisingly, however, the creative team failed to make mention of the Nazis. Ultimately, the Beetle became one of the world's best-selling car models.
3. Lipitor, Various Ads
A cholesterol-lowering medication, Lipitor is the best-selling pharmaceutical of all time. It's no coincidence that it was released at the same time direct-to-consumer advertising for pharmaceuticals became easier in the United States. At its high point, Lipitor had an ad budget of $271 million, generating annual sales of $12.9 billion.
In 2008, Pfizer dropped possibly misleading ads featuring Dr. Robert Jarvik, an early developer of the artificial heart, after complaints that Jarvik was not a cardiologist and was not licensed to practice medicine. Miraculously though, even this didn't hurt Lipitor sales.
4. Miller Lite, "Tastes Great, Less Filling"
Light beer was a strange, new thing in the 1970s. "Low calorie" sounded "unmanly" – but brewers wanted to market this less-filling, less-alcoholic product to encourage customers to drink (and buy) more booze. So with a catchy slogan and funny commercials featuring tough male celebrities, Miller Lite quickly became the number two beer in the country. Now, light beer makes up more than half of the US market, and is considered normal, even for "Joe Six Pack."
5. Nike, "Just Do It"
In the late 1980s, Nike was struggling to compete with Reebok. And while there are conflicting reports about how a Nike an ad exec coined the famous slogan – some say he was talking to other execs at a meeting and said, "You Nike guys, you just do it!" — the advertising campaign instantly associated the brand with uncompromising athleticism. Ten years later in 1998, the company had "increased its share of the domestic sport-shoe business from 18% to 43%, from $877 million in worldwide sales to $9.2 billion," according to later studies.
6. Apple, "Get A Mac"
The Super Bowl ad "1984" may be hailed as a masterpiece of modern marketing, but it didn't sell as many computers as Apple's quirky "Get A Mac" campaign spots. The commercials began to air in 2006 and featured comedian John Hodgman as a frumpy, unhelpful representation of a PC, and actor Justin Long as a cool, confident Mac. The advertising campaign helped completely reverse Apple's downward sales trend, resulting in a 39% increase by the end of the fiscal year.
7. Priceline.com, "The Priceline Negotiator"
In 2000, Priceline was about to be yet another casualty of the dot com bust; its stock price had dropped from $974 to $7 a share. But Priceline found it had two big advantages over competitors like Orbitz and Expedia: a recognizable brand, and spokesman William Shatner.
In a profile with Forbes, CEO Jeffrey Boyd explained that Shatner's revamped Negotiator ads gave the company "instant name recognition." The article also noted that the price-chopping character "immediately resonated with a public frustrated by confusing airfares." From 2007 to 2012, Priceline's stock increased 400%, and the company thrived where many other websites went bust.
8. Proactiv, Celebrity Endorsements
Celebrities don't talk about their acne — until someone pays them $2 to $3 million to do it. Proactiv's celebrity endorsements, featuring everyone from Katy Perry to Alicia Keyes to Justin Bieber, are one of the reasons the company generates $1 billion in sales every year. Not bad for zit cream.
9. Reese's Pieces, E.T.
After the bite-sized candies appeared in Steven Spielberg's 1982 movie E.T., sales shot up between 65% to 200%, and the underdog candy from Hershey's became a competitor to Mars' M&M's. And by modern product placement standards, Hershey's barely had to pay a cent for it.
In fact, Mars turned down the opportunity to have M&M's appear in the movie, so Hershey's eagerly agreed – and got Reeses's Pieces placed in the feature film for free. All the company had to do was contribute $1 million in advertising for tie-ins, a bargain considering all the free publicity and increased revenues that resulted.
10. Old Spice, "The Man Your Man Could Smell Like"
Actor Isaiah Mustafa's robust, manly delivery — along with unbelievable and perfectly executed transitions — made this hilarious spot go viral in the winter of 2010, and the internet gave Old Spice more free publicity than the company could dream of. And it wasn't just empty hype: Sales of Old Spice Body Wash increased over 100% the month after the commercial debuted.
The next time you Like a sponsored ad on Facebook, or share a promoted Tweet, or actually become motivated to buy a product because of a cleverly worded tagline, think back to these ads. While the desire to buy new products may feel real, you might be reacting just as a Mad Men-esque ad exec in New York wanted you to.
That said, we all have our favorite advertising campaigns. Readers, what is your most loved advertisement of recent memory? Has it, or any other ad, compelled you to buy a product based on its market? Let us know in the comments below.
---
Related dealnews Features: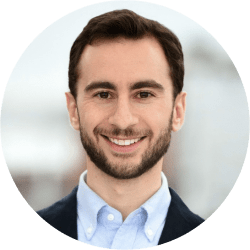 Contributing Writer
Ben was Features Editor at DealNews from 2014 to 2017, when his shopping insights were highlighted by Good Morning America, Reuters, the Washington Post, and more. Though no longer in consumer news, Ben still loves getting a great deal (and writing about it!).
DealNews may be compensated by companies mentioned in this article. Please note that, although prices sometimes fluctuate or expire unexpectedly, all products and deals mentioned in this feature were available at the lowest total price we could find at the time of publication (unless otherwise specified).