The 5 Best Sheet Face Masks Under $5
You just haven't lived until you've covered your face in snail slime.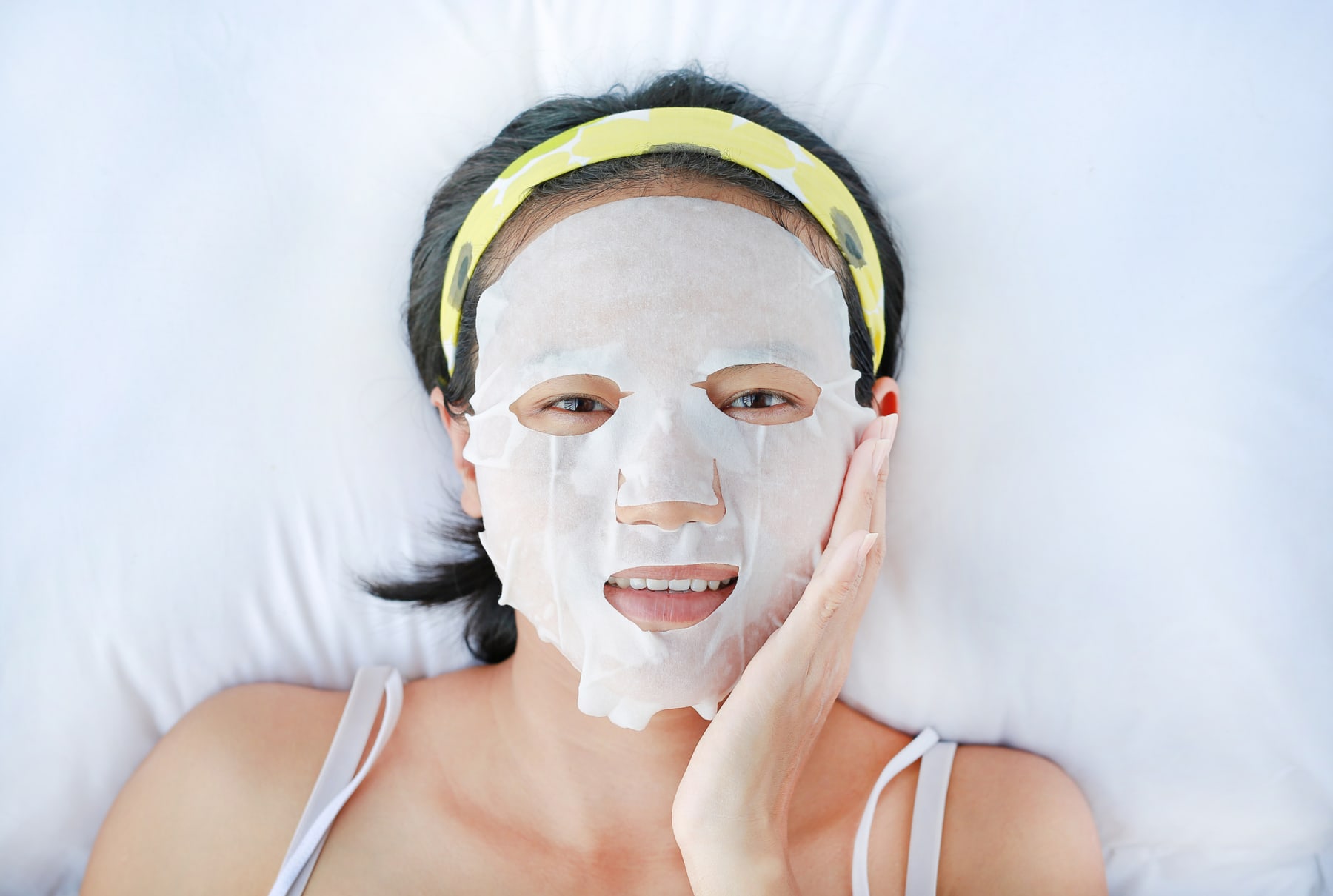 Korean beauty products are all the rage in America these days. Beauty emporiums such as Sephora and Ulta have their own dedicated sections loaded with all the cleansers, moisturizers, masks, and other essentials that make up the highly involved K-beauty skincare process.
While lotions and potions can get pretty expensive, single-use sheet face masks offer an affordable way to try K-beauty. We explain what makes these masks so great, and offer our top five face mask picks.
What Are Sheet Face Masks?
Sheet masks serve as vehicles for the application of essences — specially formulated skin treatments that target specific needs, such as dryness or acne. While essences can be applied manually, doing so via sheet mask ensures your skin is fully absorbing these treatments. Plus, it's nice to pamper yourself.
While essences can be applied manually, doing so via sheet mask ensures your skin is fully absorbing these treatments.
To use a sheet mask, first make sure your skin is cleansed and toned. Apply the mask and then relax. Around 20 to 30 minutes later, you remove the sheet mask. Do not wipe or wash off the residue! Pat — don't rub — the treatment into your skin. Follow up with a moisturizer.
Finding Deals on Sheet Masks
Most beauty masks are inexpensive. But if you plan to mask yourself more than once a week, things can get pricey. The good news is there are ways to make sure your sheet mask habit doesn't put a dent in your beauty budget.
Buy in Bulk
It's common to find sheet masks in packs of five or 10. Sure, purchasing a single mask for $3 is cheaper than buying a 5-pack for $12. However, if you consider that the latter works out to $2.40 per mask, you're clearly saving money in the long run.
Visit Off-Price Retailers
Personally, TJ Maxx and Marshalls are my go-to stores for beauty bargains, especially sheet face masks. Thanks to the significant markdowns, it's possible to walk out having spent less than a dollar per mask! Note that your mileage may vary on the selection at any given location.
SEE ALSO: Is the 'Pink Tax' Still a Problem?
Be a Savvy Shopper
It pays to keep an eye out for sales and coupons that apply to K-beauty products.
Recently, CVS had a coupon for 30% off and free shipping that applied to its range of Korean Beauty products (including sheet masks). Meanwhile, Bath & Body Works offers three sheet masks for $12 (a $3 savings). Setting up an email alert is a sure way to never miss these bargains.
Visit eBay
eBay is home to several South Korean-based cosmetic shops that offer frequent discounts and ship to the United States. Just remember that your purchase may take several weeks to arrive. Also, do your research before you buy — counterfeits are a common problem.
Great Skin Takes Time
Before we get into our favorite masks, let's talk about their limitations. Sheet masks are not one-and-done solutions. In fact, it's recommended that you use them for at least a month before you expect to see noticeable results. That goes for any skincare product; you have to use it consistently to experience real changes.
SEE ALSO: 5 Ways to Save Money on a New Work Wardrobe
Also, everyone's skin is different. It's helpful to know your skin type before exploring new products. (If you don't, check out this guide.) Knowing your skin type will save you from purchasing products that won't benefit you.
The 5 Best Sheet Face Masks Under $5
For two weeks, I tested a wide variety of sheet face masks from several brands that addressed all kinds of skincare concerns. Below, I've collected the five that stood out as the best of the bunch in terms of both quality and value.
Prices and availability will vary by your location.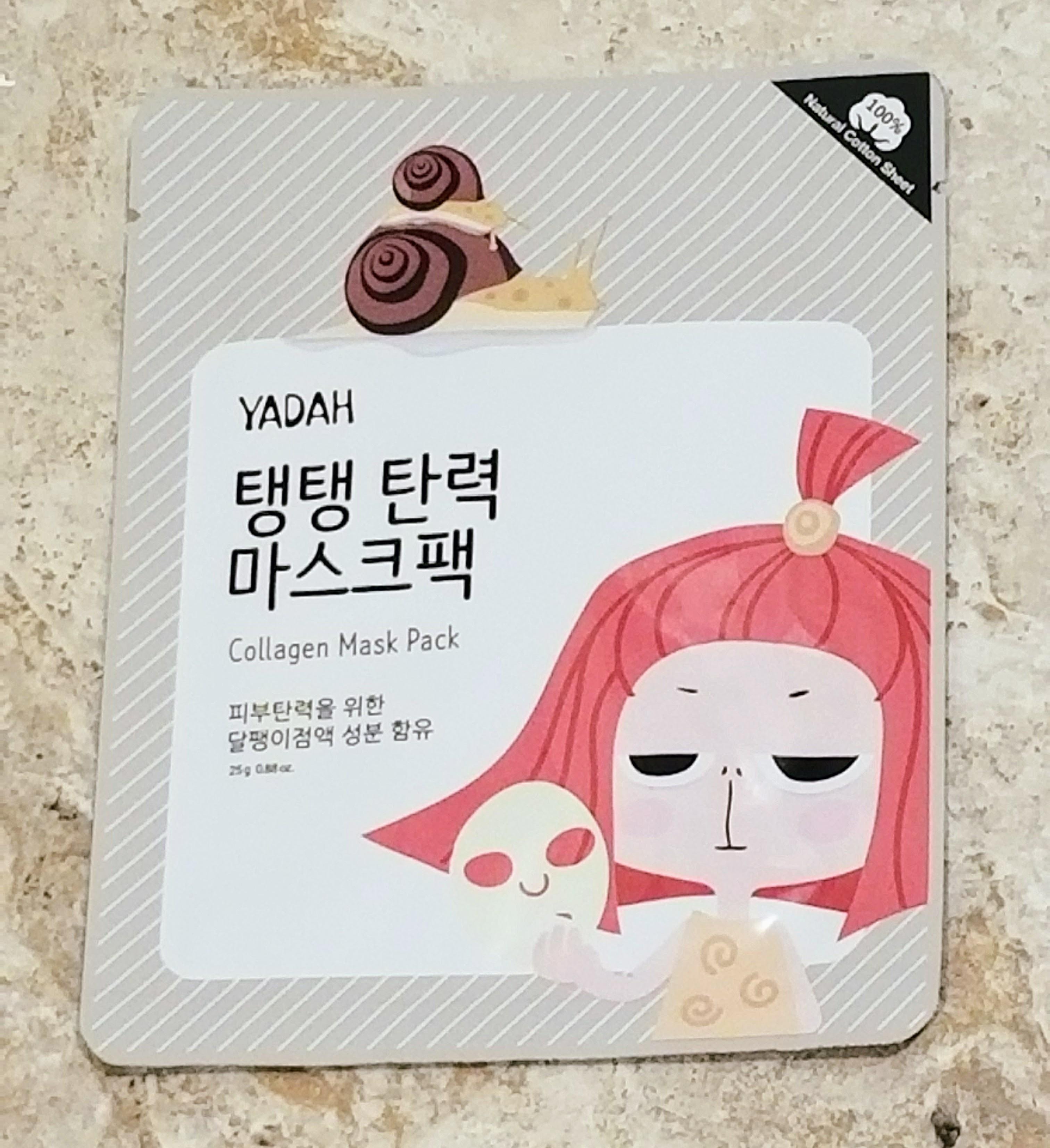 What is this? Yadah Collagen Mask
Where can I get it? Marshalls, we paid $9.99 for 12 (83 cents/mask!)
Wait, this contains snail slime?! Give it a chance — snail filtrate is a Korean beauty staple
This is, hands down, my favorite sheet mask. This 100% cotton mask contains snail filtrate, which sounds gross but is quite the opposite. It leaves skin feeling soothed and hydrated. The mask is also formulated without "undesirables" such as parabens, synthetic colorants, and added fragrance. Get past the initial shock of having snail slime on your face, and you'll be doing your complexion a huge favor.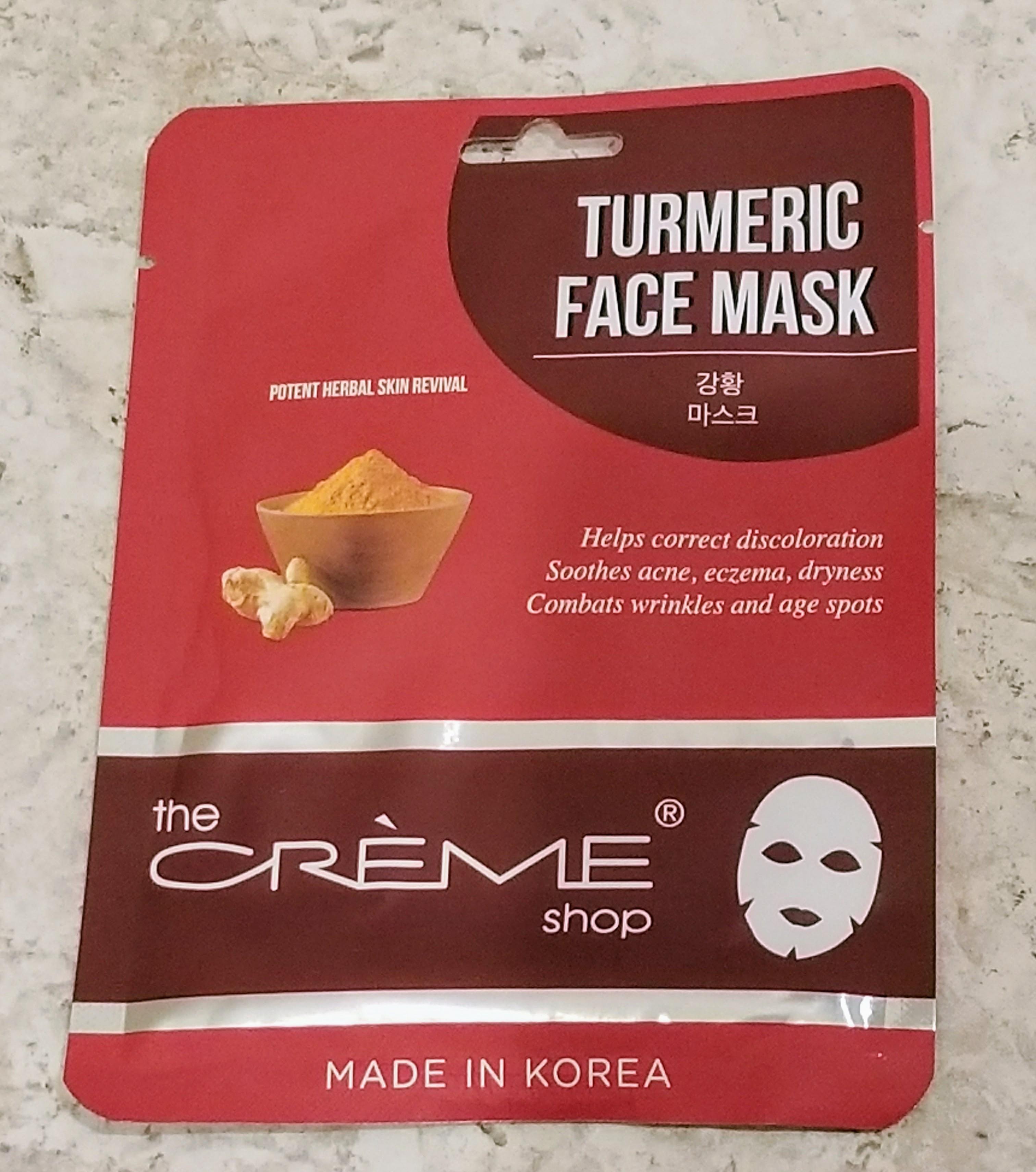 What is this? The Crème Shop Turmeric Face Mask
Where can I get it? TJ Maxx, we paid $4.99 for 5 ($1/mask)
Does it smell like turmeric? No, it has a (rather potent) floral scent
Turmeric is generally associated with cooking, but it also has several benefits when applied to the skin. This mask is recommended for anyone who has issues with oil, dryness, acne, or discoloration. (Call it a Swiss Army Sheet Mask, if you will.) I use it whenever my skin becomes too irritated, or starts to feel like an oil slick.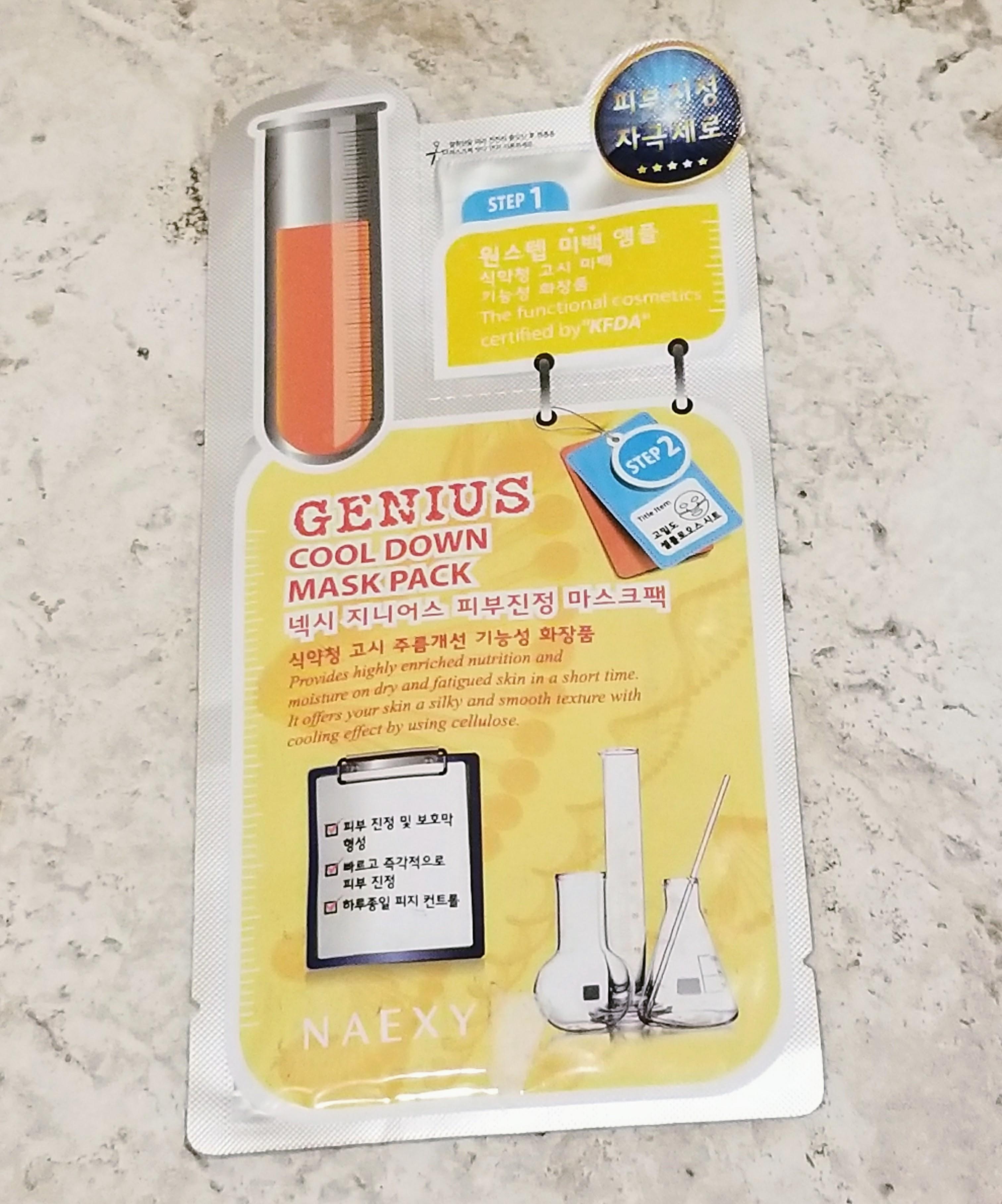 What is this? Naexy Genius Cool Down Mask Pack
Where can I get it? Forever 21, we paid $3
Why does it have two parts? That's just how it works. Read the details below.
This mask first requires you to apply a whitening ampoule, which isn't what you think. That's followed by a cellulose mask drenched in an essence containing adenosine (to treat wrinkles) and witch hazel (to soothe and tone). If you don't mind the medicinal smell — think of a milder Vick's VapoRub — definitely give this one a try if you need to calm your skin after a rough day. I felt wide awake after using it... at 10 pm.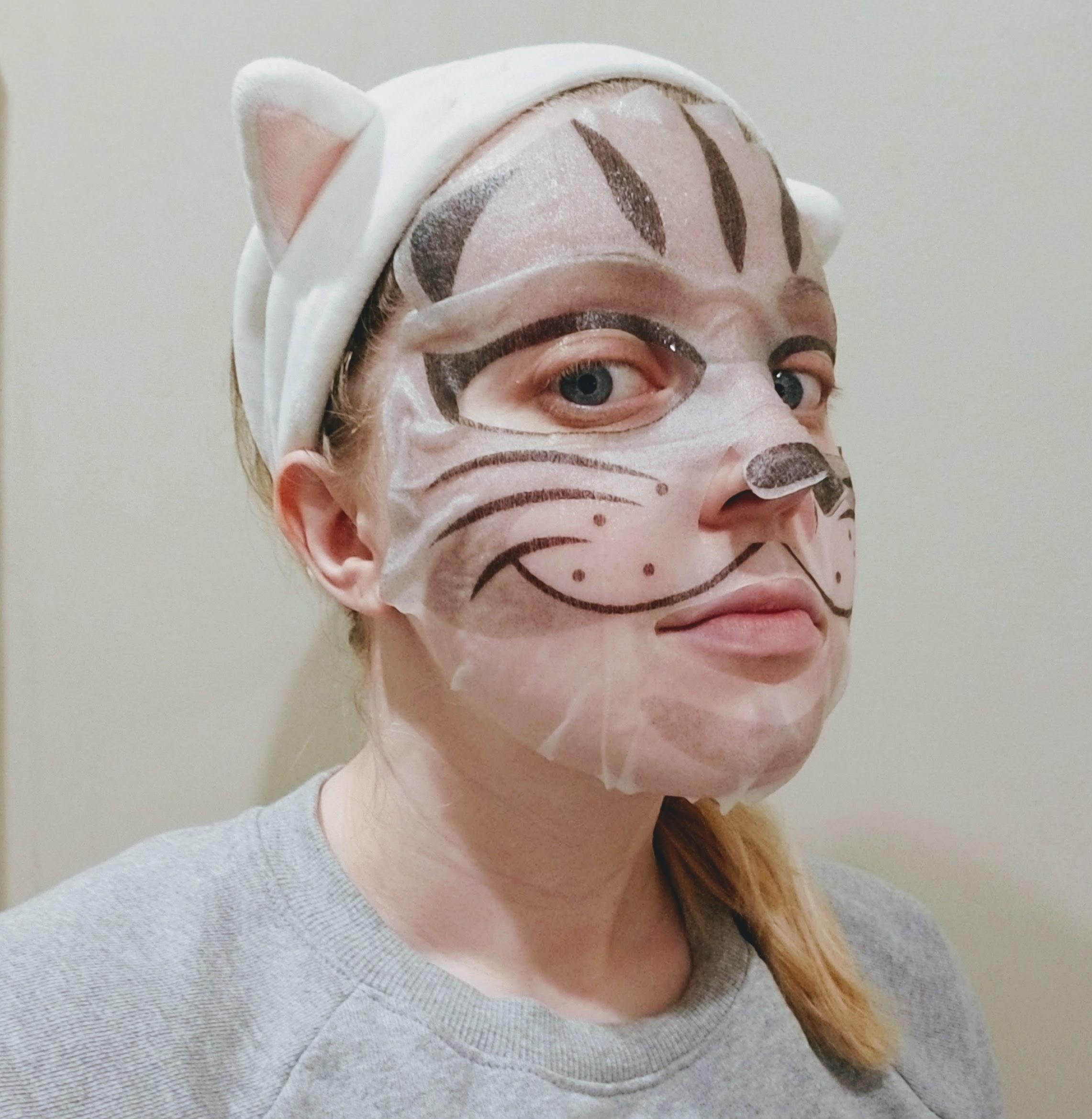 What is this? PRETTY Animalz by masqueBAR Cat Sheet Mask
Where can I get it? Target, we paid $3.99
How embarrassed are you in this photo? Honestly, not very
If you're seeking a 'Gram-able sheet mask that's also effective, you've found it. Containing lime, grapefruit, and honeysuckle extracts, this mask soothes tired skin while emanating a light fragrance. It also contains plenty of leftover essence in the packet, which you can use on your neck and arms. Sure, I looked goofy wearing it, but my skin felt super refreshed afterwards!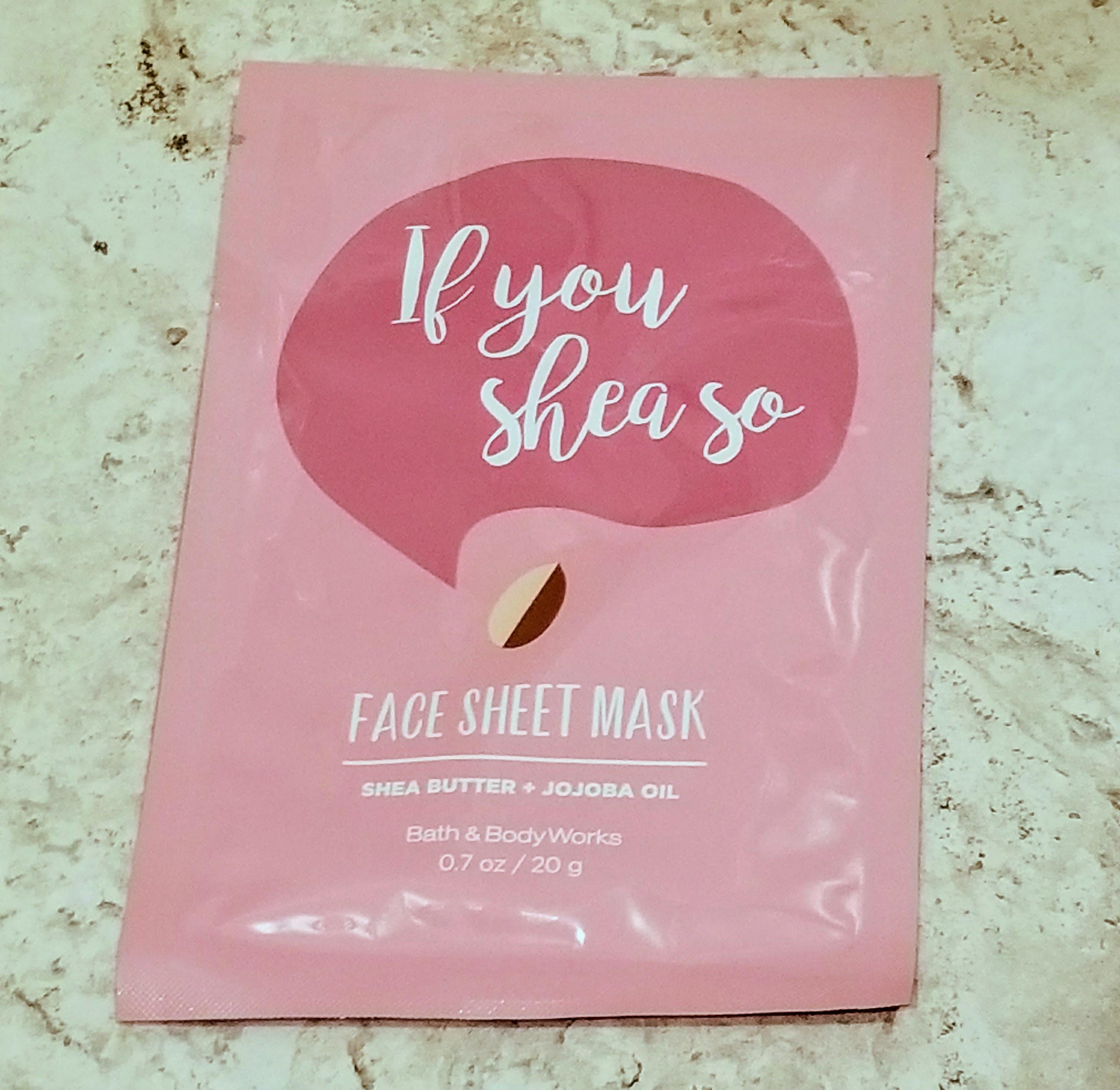 What is this? Bath & Body Works If You Shea So Face Sheet Mask

Where can I get it? Bath & Body Works, we paid $12 for 3 ($4/mask)

How do you rate the pun? A solid B+

Yes, I took advantage of Bath & Body Works' sheet mask sale, and this one is by far the best of the bunch. I actually used this mask after I shoveled my driveway one evening last winter. This mask is the perfect cure for thirsty skin, thanks to the shea butter and jojoba oil it contains. Plus, it has a nice, light scent.

Readers, do you use sheet masks? Which masks are your favorites? (Did any of them make this list?) Share your thoughts in the comments.
---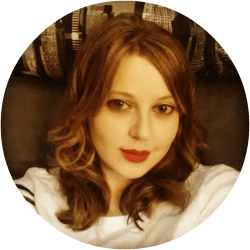 Contributing Writer
Based out of Philadelphia, Alison joined the Blog team as a contributor to share her knowledge and experience as a daily deal-slinger. She also likes cats. You can follow her on Twitter
@alidealnews
.
DealNews may be compensated by companies mentioned in this article. Please note that, although prices sometimes fluctuate or expire unexpectedly, all products and deals mentioned in this feature were available at the lowest total price we could find at the time of publication (unless otherwise specified).