Are the Expensive Kindles Really Worth It?
It's a $210 price jump from the base Kindle to the Oasis. We delve into the four models of this eBook reader, so you can decide whether the high-end Kindles are worth the expense.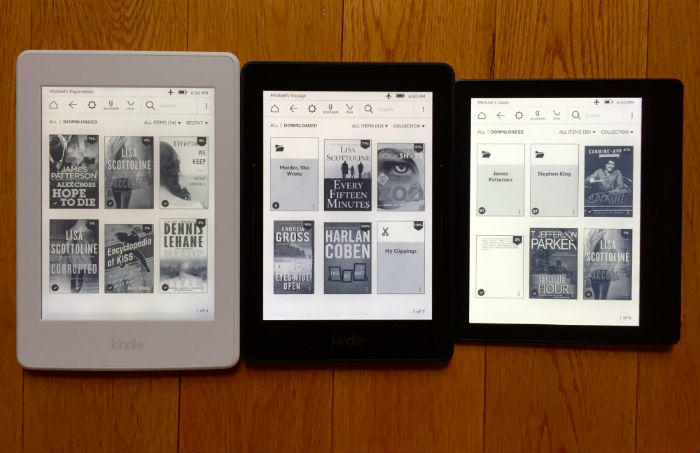 If you're considering picking up an eBook reader, Amazon's Kindles have a lot going for them. Beyond having access to an extensive library of books, Kindles boast sharp screens, battery life in the weeks, (mostly) reasonable prices, and optional lifetime 3G service to let you download books anywhere, anytime — a nice feature set for a gadget that you can get for as little as $80.
But on the subject of price, Amazon's four Kindle models vary wildly. Starting prices range from $79.99 for the basic Kindle to $289.99 for the high-end Kindle Oasis. That's a steep price difference, and people watching their budget have to ask — are these high-end Kindles really worth it?
Whether you're looking to buy your first eBook reader or update an existing Kindle, let's take a look at just what you get, both from eBook readers in general and from Amazon's priciest Kindles.
What You Get with a Kindle
Despite the $210 price difference between the base Kindle model and the top-tier Oasis, all Kindles have the same basic feature set: a 6" glare-free, e-ink touchscreen; 4GB of storage; and WiFi capabilities. All except the basic model have an extra-sharp screen of 300 pixels per inch (ppi) and a 3G option for downloading books on the go.
While each of the Kindles has a somewhat different form factor, they're all shaped like a small tablet, about 6" tall, 4.5" wide, and 0.30" to 0.36" thick. The average paperback is about 7" tall and 4" wide, and inevitably thicker than the Kindle. Kindles vary in weight from 4.6 ounces to 7.6 ounces — compare that to a thick paperback, which comes in at about 16 ounces (a pound).
One thing to be aware of with the Kindle is Amazon's "special offers." If you want to skip these ads, you'll pay an extra $20, which makes these devices a little less of a bargain.
One thing to be aware of with the Kindle is Amazon's "special offers." These offers come in the form of advertisements displayed on the Kindle's lock screen, and every Kindle comes with them by default. If you want to skip the ads, you'll pay an extra $20, which makes these devices a little less of a bargain. However, these ads don't intrude on your reading experience, and you may not mind seeing them in exchange for a slight discount. All of the prices we mention below are for Kindles with special offers, so remember the extra cost if you want to avoid ads.
The 4 Kindles and Their Features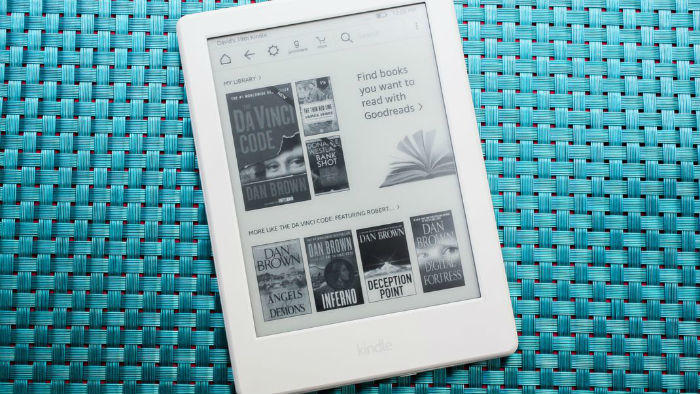 Kindle
When it comes to eBook readers, the base model Kindle is a price leader. At $79.99, it's about the same price as the similar Kobo Touch 2.0 ($89.99) and cheaper than the somewhat nicer Nook GlowLight Plus ($129.99). The big downside to this base model is screen quality. With a resolution of 167 ppi, the screen is notably less sharp than the 300-dots-per-inch screen of the Nook or the 300-ppi screens of the other Kindle models. It's not bad enough to strain your eyes, but heavier readers will appreciate the crisp text on high-end models.
This is also the only Kindle without a lit screen, meaning you can't read at night without an external light source — which is also like a paperback book, but one of the luxuries of reading electronic books is not having to worry about lighting. Another feature you'll miss is the 3G option. But while 3G service is convenient, it adds $70 to the cost of higher-end Kindles, and most readers will be fine downloading books over WiFi.
If you read enough to justify a separate eBook reader but don't want to spend a lot of cash, the base Kindle is a great buy.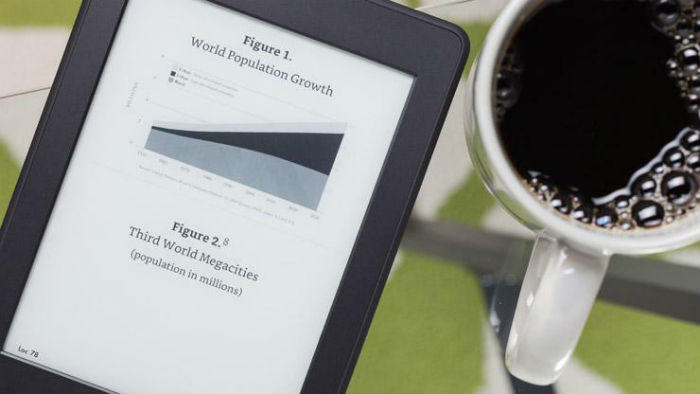 Kindle Paperwhite
The Paperwhite is a step up, price-wise and feature-wise, from the basic Kindle. Starting at $119.99, it's priced a little lower than its competitors, the Kobo Glo HD ($129.99) and Nook GlowLight Plus. As an upgrade from the base Kindle, the Paperwhite adds a higher-resolution (300 ppi) screen, a side-lit screen (four LEDs), and the ability to include 3G service (though for the steep price of $189.99).
At just $40 over the base model Kindle, the Paperwhite is an upgrade that's worth the cost for most readers.
A downside is that the Paperwhite is the heaviest of the Kindles at 7.2 ounces or 7.6 ounces. But that's still half of the weight of a paperback book, so it's unlikely to be a problem for most readers.
As we mentioned above, the 300-ppi screen gives you extremely crisp text, which you'll certainly notice while reading. Combine that with the lit screen and you have all of the features the average reader is likely to need. At just $40 over the base model Kindle, this is an upgrade that's worth the cost for most readers.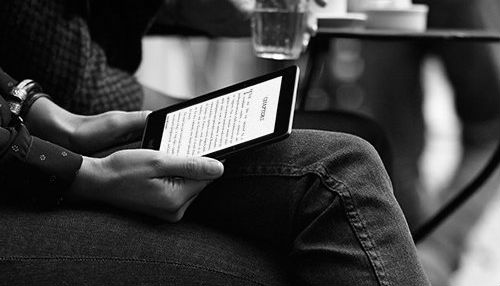 Kindle Voyage
Though this reader is definitely better than its lower-end counterparts, it's a big jump in price. The Voyage costs $199.99 That's $120 more than the base model Kindle.
For that extra cash, the Voyage adds two extra LED lights (for a total of six) for a brighter display and automatic lighting adjustment, which changes the screen's brightness based on ambient light. It's also thinner than the Paperwhite and base Kindle, as well as lighter than the Paperwhite (though the basic Kindle is still lighter).
A new design features a bezel that's flush with the screen and pressure-based sensors that allow you to turn pages. A magnesium back and a reinforced glass front make the Voyage more durable, though unless you're particularly rough with your gadgets, this probably isn't a big deal.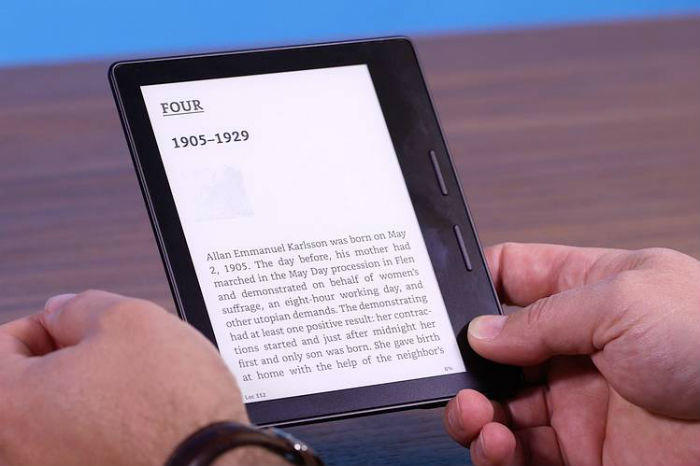 Kindle Oasis
The Oasis costs $289.99, making this almost four times more expensive than the base model. But that certainly comes with some bells and whistles.
SEE ALSO: 7 Things You Need to Know About the New Kindle Oasis
At the top of the line, the Oasis is lighter than the rest of the Kindles at a scant 4.6/4.7 ounces. Amazon has significantly updated the design, too: One side of the Oasis is thicker (and heavier) than the other, serving as a handgrip that keeps the weight centered in your palm for one-handed reading. Physical buttons on that thicker edge let you turn the page without touching the screen (though the Oasis still has a touchscreen for navigation). The thinner side is just 0.13" — making it slimmer than any other Kindle — while the thicker side is slightly thicker than the Voyage. It also adds another four LEDs (for a total of 10) for an even brighter screen, though it lacks the Voyage's light sensor.
The Oasis is again more durable, with a stronger glass screen and structural electroplating in the frame. On top of that, the Oasis has a battery that lasts months rather than weeks, with an included leather charging cover that provides both protection and power.
The Oasis is beautifully designed and perfect for serious readers... but the price tag is hard to justify.
Are the Fancy Kindles Really Worth It?
Let's do a rundown of the pros and cons of each of Amazon's eBook readers.
Kindle: Great budget buy, but has a lower-resolution screen and no light.
Paperwhite: Moderately priced and features a sharp 300-ppi screen with light, but slightly bulkier than the rest of the lineup.
Voyage: More durable, with a brighter screen that automatically adapts based on ambient light — but it's a $120 price jump from the base Kindle and an $80 price jump from the Paperwhite.
Oasis: More durable, with an ergonomic design and physical buttons making it easier to hold one-handed, plus more lights for a brighter screen, better battery life, and an included charging cover. However, it's a $210 price jump from the base Kindle and a $170 price jump from the Paperwhite.
SEE ALSO: 8 Ways to Save on Books for the True Bibliophile
In the end, the most important part of any eBook reader is the screen. A good screen and crisp text are what will help prevent eyestrain, and the Voyage and Oasis have the same 300 ppi as the Paperwhite. Though the Voyage and Oasis have better lighting, which will help when reading in dim light, the Paperwhite is perfectly acceptable — though it may be worth the upgrade if you frequently read in low light.
The top-tier Kindles are definitely fantastic eBook readers, and you'll especially notice how easy it is to hold the Oasis no matter how long you spend reading. The Voyage and the Oasis are also more durable, but, again, unless you're rough with your gadgets, that's probably not a problem.
If you read a lot and have the cash to spend on a higher-end Kindle, the Voyage and Oasis are certainly better than the lower-end models. But with a big price jump and a fairly small number of new features, it's hard to say you're getting value for your money. The Paperwhite, however, is a solid upgrade over the base model for a fairly small price. If you can budget the extra $40, we think it's a good buy.
What do you think, readers? If you're a fan of Amazon's top-tier Kindles, tell us why in the comments below!
---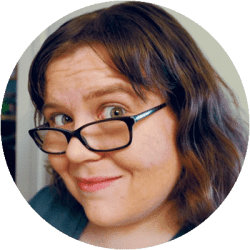 DealNews Contributing Writer
Originally working in IT, Elizabeth now writes on tech, gaming, and general consumer issues. Her articles have appeared in USA Today, Time, AOL, PriceGrabber, and more. She has been one of DealNews' most regular contributors since 2013, researching everything from vacuums to renters insurance to help consumers.
DealNews may be compensated by companies mentioned in this article. Please note that, although prices sometimes fluctuate or expire unexpectedly, all products and deals mentioned in this feature were available at the lowest total price we could find at the time of publication (unless otherwise specified).