10 Awesome Terminator Collectibles (For the T-800 Who Has Everything)
Every Terminator fan needs a custom-made bust of Arnold Schwarzenegger.
Terminator Genisys is almost here! The new movie promises to bring us back to the franchise's glory days, which has signaled tons of nostalgia for both 1984's The Terminator and 1991's Terminator 2: Judgment Day.
Both were fantastic films, and both inspired more memorabilia than we could ever hope to name, including action figures, posters, and some more "interesting" things.
DealNews scoured eBay to find ten of the weirdest (and coolest) Terminator collectibles currently on the market, and we think you'll agree that it'd take an especially devoted T-800 fan to pony up for any of these babies.
Rock 'Em, Sock 'Em Terminator Game
Asking Price: $84.99
Remember Rock 'Em, Sock 'Em Robots, the game where two players used boxing robots as their avatars? Well, here's the Terminator version. Can Arnold connect with his deadly right hook, or will the machines win the future with one good uppercut?
(If you've never seen Terminator 2, we can confirm that it actually doesn't end with two Terminators settling their differences in a bright red boxing ring. Oh, what could've been.)
T-1000 "Bullet Hole" Prop
Asking Price: $99.99
Allegedly, this is a screen-used prop from Terminator 2. You may recall that the villainous T-1000 was made of liquid metal, which could be shaped into any form. The T-1000 often used it to fashion clever human disguises, but a well-aimed shotgun blast would betray its scary robot origins.
A hundred bucks is a stiff price for a little piece of spray-painted foam, but for the Terminator fan who has everything, this is one heck of a birthday present.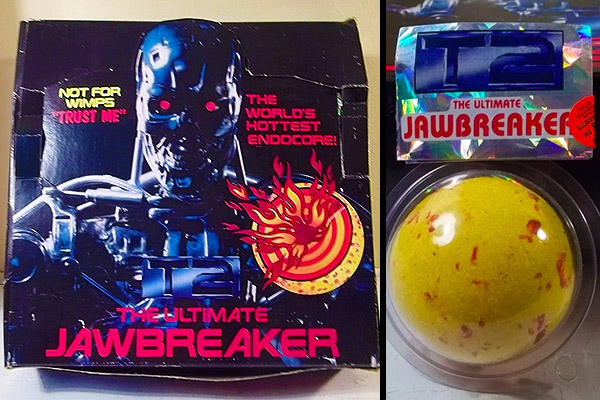 Asking Price: $178.95
The asking price might seem absurd, but where else are you going to find a display box filled with giant Terminator jawbreakers from 1992?
Nearly the size of billiard balls, these candies had a sugary yellow shell and a hot red "endocore." (We think that means that the centers had a cinnamon flavor. You'll have to pardon us for not investing 200 bucks in expired candy to know for sure.)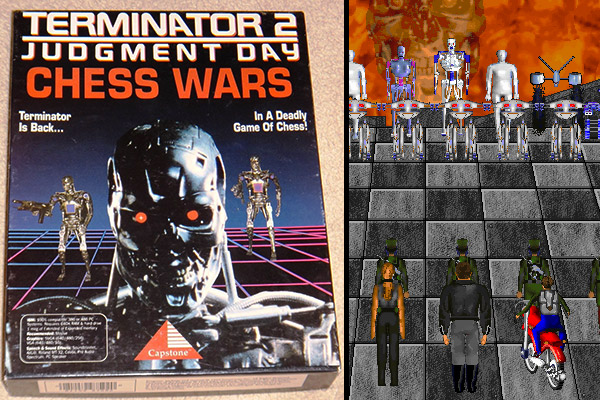 Asking Price: $20
Of the many Terminator-themed video games, this one simply must be the weirdest. From 1993, the Chess Wars computer game replaced rooks and knights with the likes of Arnold Schwarzenegger and Linda Hamilton.
According to Wikipedia, each player was ranked in accordance to the official United States Chess Federation scale. We can't help but wonder if people who bought a chess game with two John Connors instead of bishops really cared about that.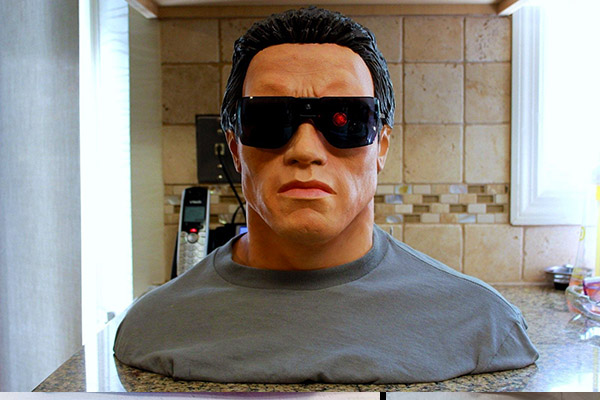 Custom-Made Arnold Bust
Asking Price: $400
A life-sized bust of Arnold Schwarzenegger as a battle-damaged T-800, this one comes with removable sunglasses and a battery-operated light-up eye.
We're not ashamed to admit that we want this. It's not the $400 asking price that stops us, but rather the maddening thought of finding the perfect spot for a Arnold Schwarzenegger torso replica. Is this why a lot of newer houses have great rooms?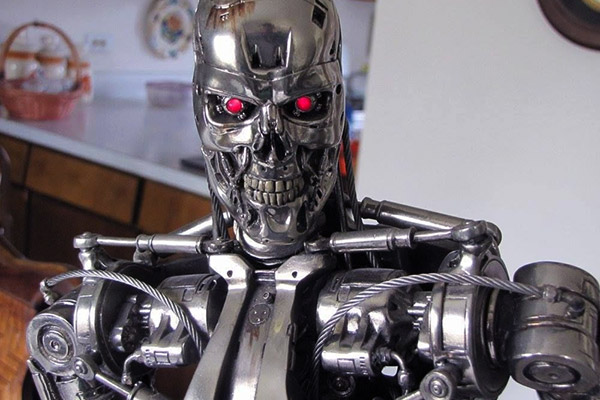 Asking Price: $3,800
If you're looking for super expensive Terminator statues, eBay has you covered. This limited edition "Cinemaquette" is one of our favorites, mostly because none of the other Terminator statues stand over a pile of human skulls.
It's one-third the size of a "real" T-800, and without knowing exactly how many inches that amounts to, it still sounds pretty big. Only 1000 of these were made, and they regularly sell for thousands of dollars. We're jealous of anyone who owns one. (It's natural to be jealous of people who can afford to spend $4000 on movie memorabilia.)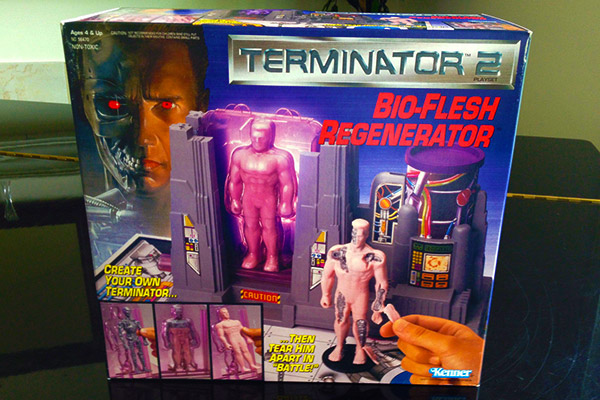 Bio-Flesh Regenerator Playset
Asking Price: $111.84
The Terminator franchise came with lots of toys, but none were stranger than the Bio-Flesh Regenerator, a bizarre cross between an action figure and a Play-Doh set.
Kids could add rubbery flesh over a Terminator "endoskeleton," and then howl with glee while tearing the skin off. This was the rare toy that let you give life and take it back! Considering that, we can't find fault with the high price.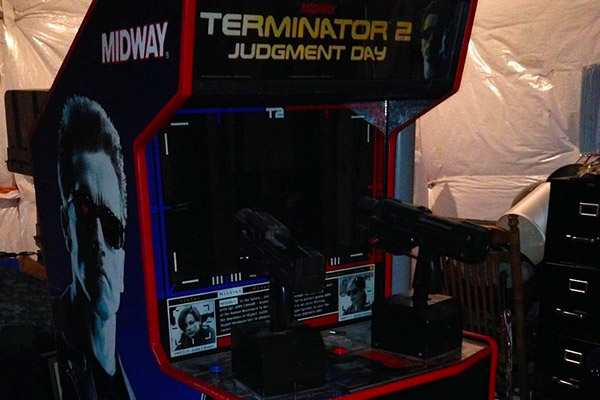 Terminator 2 Arcade Game
Asking Price: $1,200
If you spent enough time in arcades during the early '90s, you should remember what a hot ticket this was. The Terminator 2 arcade game was a two-player shooter where everyone grabbed guns to mow down awful robots. With its impressive sights and sounds, it was 1991's best way to blow a roll of quarters.
Even if you're okay with paying $1200 for this, there's still the small matter of needing to drive to Virginia to pick it up. Then again, the best road trips happen for the most ridiculous reasons.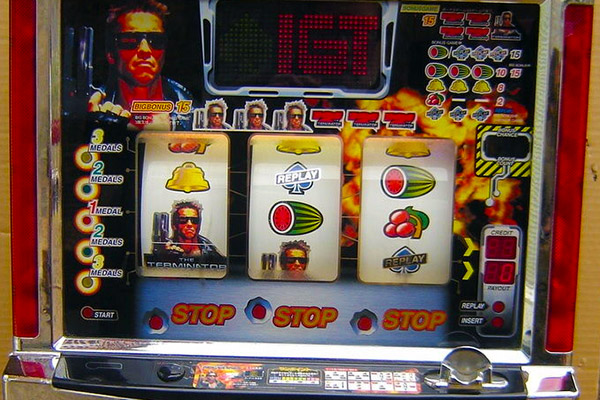 Terminator Slot Machine
Asking Price: $895
Yes, this really exists. A Terminator slot machine, with all the bells and whistles! Made in 2000, this was once an actual casino slot. (It's since been refurbished — as by law — to accept game tokens rather than quarters.)
If you're thinking about buying this, prepare to do some research: Even slot machines modified to disallow quarters are still illegal in some areas!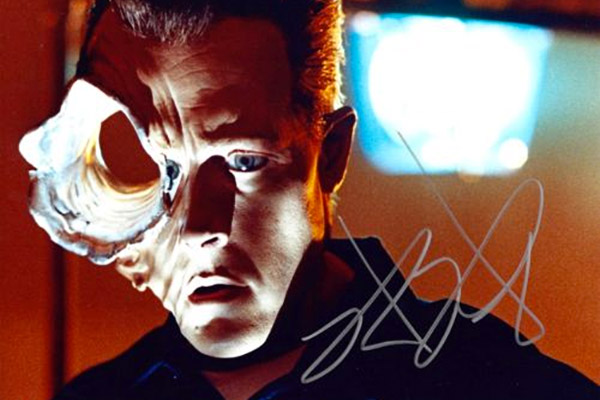 Robert Patrick's Autograph
Asking Price: $49.95

Terminator 2 made Robert Patrick's career, and we're sure he appreciates that. But we do have to wonder if he ever gets tired of signing glossy photos of his blown-apart face.

The autograph comes with a certificate of authenticity... which seems rather redundant as we can't imagine T-1000 autographs being a hot enough market to merit forgery. If crime is someone's bread and butter, isn't there a better way?

What made you a Terminator fan? The first movie? The sequel? Or was it Kenner's Bio-Flesh Regenerator? Talk about all things Terminator, in the comments!
---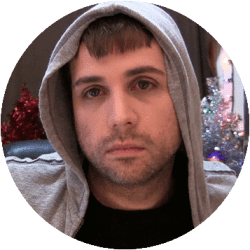 Contributing Writer
Matt has been blogging about geeky nonsense since early 2000. You can view more of his weird work on
Dinosaur Dracula
, or follow him on Twitter
@dinosaurdracula
.
DealNews may be compensated by companies mentioned in this article. Please note that, although prices sometimes fluctuate or expire unexpectedly, all products and deals mentioned in this feature were available at the lowest total price we could find at the time of publication (unless otherwise specified).