From dining sets to fire pits to clearance sales, let the experts at DealNews guide you to the best discount patio furniture available today.

Best Patio Heater Deal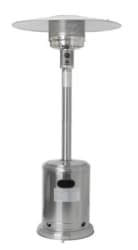 Hampton Bay 48,000 BTU Stainless Steel Patio Heater
Store:
Home Depot
Price:
$99
Shipping:
Pickup
Lowest By:
$50
The chillier evenings don't mean you have to retreat indoors to the comfortable, insulated indoors just yet. This heater's 48,000 BTUs are ready to keep you comfortably reclined in the great outdoors. It heats up to 200 square feet, and looks sort of like a lamp-post cosplaying as Lord Raiden from Mortal Kombat.
Best Patio Sale Deal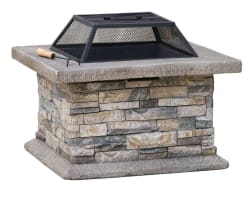 Macy's Lowest Patio Prices of the Season
Store:
Macy's
Discount:
50% to 60% off
Shipping:
Free shipping w/ $25
Of all the patio furniture items Macy's has collected here in this sale, in the thousand or so discounts, I think "FIRE PIT" is the only one that sounds like a stage in Mortal Kombat. Taking this opportunity to save on the aforementioned pits, as well as seating sets, benches, umbrellas, and more would no doubt be considered a flawless victory. But only because you're flawless anyway. We think you're just swell.
Best Gazebo Deal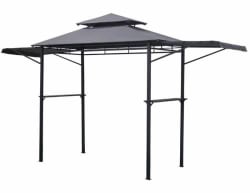 1.Go 7.2x3.7-Foot Vented Grill Gazebo
Store:
Wayfair
Price:
$194.99
Shipping:
Free shipping
Lowest By:
$105
"Grill Gazebo" was actually a very popular journeyman pro wrestler in the late 1970s and early 1980s, well-known for hitting his opponents with his patented "Hamburger Hammerfist". An ill-fated stint in Verne Gagne's AWA territory came to an early end when they tried to put him in a tag team with the greener-than-Greg-Gagne "Charcoal Charlie" to do jobs for The Road Warriors, and Gazebo quit in protest. He left the industry to return to his first love: attaching large pieces of fabric to the tops of study steel frames and selling them at discount. Today, we're still reaping the benefits.
Best Adirondack Rocking Chair Deal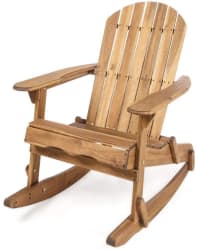 Christopher Knight Home Adirondack Rocking Chair
Store:
Amazon
Price:
$129.99
Shipping:
Free shipping
Lowest By:
$60
The word Adirondack is thought to come from the Mohawk word "ha-de-ron-dah" meaning "eaters of trees", not to be confused with the tree that tried to eat that kid from the Poltergeist movie. Adirondack rocking chairs on the other hand are known for their timeless style, comfort, and quality. This one is made of acacia wood and stained in a natural finish to compliment any outdoor decor. It's perfect for a lazy day of rocking your cares away on the porch or sitting by an evening fire telling ghost stories about man-eating trees.
Best Patio Vampire Repellent Deal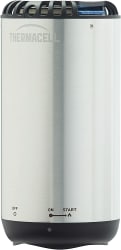 Thermacell Metal Patio Shield Mosquito Repellent
Store:
Amazon
Price:
$29.44
Shipping:
Free shipping
Hollywood tells us that vampires come in many varieties. Some sparkle, others wear capes, and a couple of them try to woo a blonde woman named Sookie; but the one thing they all have in common is their thirst for blood... human blood. I like to think that there is another kind, the kind that swarms around my patio at dusk feasting on my Type O positive like an all you can eat buffet. I'm talking about mosquitos: those little winged bloodmobiles that lurk in the shadows every summer. While we can't guarantee that this little device will guard against Edward Cullen or Nosferatu, you can consider it your talisman against pesky patio vampires. It provides a 15-foot zone of protection for up to 12 hours. There's no DEET, no mess, no sprays, and no garlic or holy water required.