Did you take this "Which Character Are You?" quiz that was going around last week. We did, and we brought the numbers to prove it. We also brought five of the most representative deals to match.
What the heck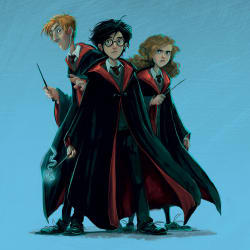 Harry Potter At Home
Store: Wizarding World
Price: Free EXPIRED
Expiration: April 10

If you were paying attention to the correct corners of the internet last week, you probably noticed two things. One, we were celebrating DealNews' 23rd anniversary. Two, this quiz . It's a Buzzfeed-esque "Which Character Are You" distraction but with a little more depth – you can choose a short (28-question) or long (121-question) version, and when you're done, it gives you a frankly ridiculously long list of ranked character matches. It's pop-culture meets pop-psychology, and a huge waste of everyone's time.

Naturally, we here at DealNews immediately devoted an entire Friday afternoon to it.

Never one to take a waste of time lightly, I immediately endeavored to also spend an entire Tuesday morning tallying our respective Top 10 lists. After 23 years of not really wondering about it once, we'd finally have the answer to the question: "Which fictional universe best represents DealNews?"



Just go with it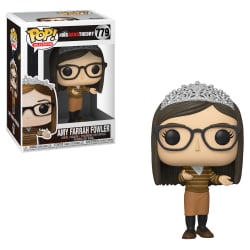 Funko Pop! Big Bang Theory Amy Farrah Fowler Figure
Store: Walmart
Price:

$10.39


Shipping:

Free shipping


Lowest By: $6

So, the rules of the game. We got 19 official responses across the DealNews team – 10 top matches from each giving us 190 possible character rankings. I assigned 10 points to the universe of the top match (so, if it was Homer Simpsons, The Simpsons as a franchise got the points), nine points to the second match, and so on down to one point for the tenth match. I also kept a running total of how many times each character came up as a match. If we were going to figure out the Spirit Character of DealNews, we were going to do it with numbers and science. Otherwise, this would be pointless.

That leaves us with three totals to keep in mind as we press numbingly forward:
The universe with the most points
The character from that universe with the most matches
The character with the most matches overall
The result is: We're all enormous nerds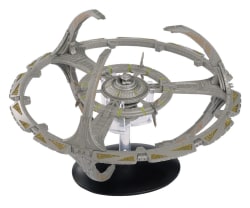 Eaglemoss Star Trek Deep Space 9 Model XL Edition
Store: Eaglemoss
Price: $63.71 in cart EXPIRED
Shipping: Free shipping
Lowest By: $26
Expiration: April 16

The result above – that we're all enormous nerds – is in some sense an inevitability. Not only are we doing a quiz to determine which fictional character best matches our own subjective ideas of our personalities, which is an inherently nerdy and incredibly flawed process in and of itself... we also have to consider that almost any IP with a defined "universe" is going to be pretty nerdy. It's like taking a quiz that asks what kind of pasta dish you are, then deciding based on the result that you must be a pretty big fan of Italian food. But we press on, because we're invested, and because in these trying times, the only things that remain important are the things to which we choose to assign import. The joy will be in the specifics, because that's where we'll choose to find joy.

I'll talk about my own results first. My top match was Rom from Star Trek: Deep Space 9. While not the most flattering, it's not inaccurate – I too lack the lobes for business, and am significantly more leftist and Marx-quote-prone than the rest of my family. It's hard not to want to turn up a Ron Burgundy or a Jim Halpert or a Major Kira as your first result, but we also must remember how many TV characters' actions are, outside of their given fictional context, incredibly sociopathic, or at least maladjusted. Most lack the ability to pick up on social cues or discuss problems before they escalate, and lots of the non-comedic characters more often than not resort to violence way sooner than is ethically justifiable. They're not people you should want to emulate, unless you really don't mind hurting people, both emotionally and physically.

So our team's most-matched character was The Incredible Hulk.



This is the important bit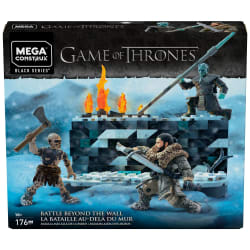 Mega Construx Game of Thrones White Walker Battle
Store: Walmart
Price: $9.42 EXPIRED
Shipping: Free shipping w/ $35
Lowest By: $11
Expiration: April 9

It's actually kind of amazing that, given the points system I laid out before, and the fact that we had 43 franchises represented across our results, that the winning universe ended on exactly 100 points – but the honor (I guess) goes to the Hogwarty Heroes of the Harry Potter-verse. They did it with only two first-place matches too. As an added coincidence, those matches were Arthur and Molly Weasley. Arthur was also the most popular character from that universe, landing in four of our Top Tens. (Conspicuous by his complete absence from the results was Harry himself.)

It shames me to report that The Big Bang Theory came in second place, also with two first-place matches. Our Content Shift Manager (and oft-spotted presence in these bloggy halls) Donna Doyle really let the team down on this one, with characters from the sitcom as her first and second result, single-handedly giving them 19 of their 84 total points. (Her co-manager Jason Savage had the opposite result, with the coolest top three of any of us, but from franchises that didn't finish well at all: Sayid from Lost, Gandalf from Lord of the Rings, and The Matrix's Morpheus.)



But this bit has a pie graph in it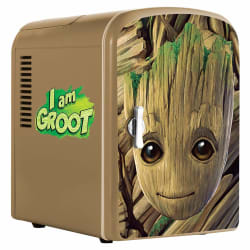 Ukonic Marvel Guardians of the Galaxy Groot 4L Mini Fridge
Store: Zavvi
Price: $29.59 via code "DN20" EXPIRED
Shipping: $3 s&h
Lowest By: $34
Expiration: April 16

I made a pie graph of our Top 10 universes, which has some surprises in it. Deep Space 9 had an unexpected podium finish (only Rom and Odo featured more than once in our submissions), while Game of Thrones, the Marvel Cinematic Universe, and The Simpsons all ended up on the exact same points total. (Marvel gets a deal in this roundup, though, as they were the only one of those three with a first-place result.) Together, these 10 universes claimed a little over half the total available points, meaning franchises like Star Wars, Friends, Hunger Games, and The Office all ended up with vanishingly small percentages.

The IP with the fewest points? That's Fight Club, which was presumably at a disadvantage in this whole debacle due to it own first rule. It earned one solitary point. Pffft. More like Fight Schlub.