The Ultimate Airline Comparison Guide: Reviews, Restrictions, and Fees for 98 International Airlines
From bags to movies to meals, compare the amenities you get when you fly the most popular airlines.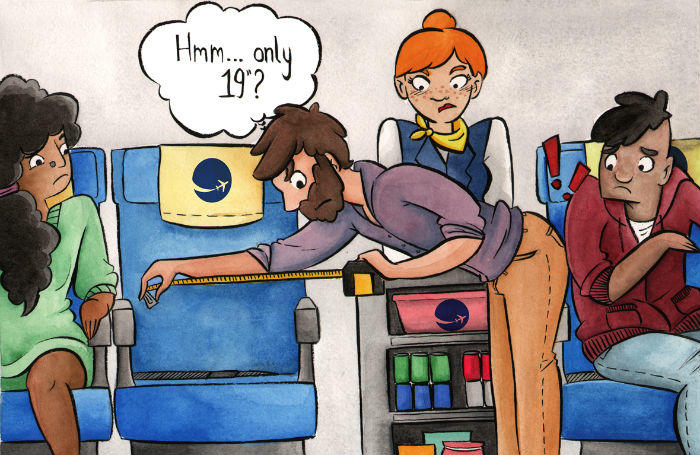 If you're looking to buy an airline ticket, either for domestic or international travel, you have a lot of options available. And if you're looking for a good airfare deal, it can be tough to pick based on the price of the ticket alone — especially as airlines continue to tack on fees. Plus, sometimes you're faced with airlines you've never even heard of.
To help you out, we've rounded up the 98 airlines you're most likely to run into in your travels, and listed all the details of what you can expect to get for your ticket price. However, there are a lot of caveats here.
Offerings and costs can vary a great deal depending on the type of plane, the specific route and flight duration, and your fare. Different flights on the same airline can have a wide range of baggage allowances, food offerings, and entertainment options that hinge on which flight you're taking. While we've tried to account for all variances, and present information that is accurate as of this writing, take what your airline says as the final word.
Aegean Airlines
The Basics:
| Region | Subsidiaries | Seat Size | WiFi | Frequent Flyer Plan | Reviews |
| --- | --- | --- | --- | --- | --- |
| Greece | Olympic Air | 18.5" (economy); 21" (business) | None | Miles+Bonus, part of Star Alliance | Skytrax; AirlineRatings |
Baggage and Fees:
Carry-on Baggage
Checked Baggage
Seat Reservations
Other Fees
Economy: 1 carry-on bag up to 56 cm. x 45 cm. x 25 cm., 8 kg.

Business: 2 carry-on bags, the first up to 56 cm. x 45 cm. x 25 cm., 8 kg.; the second up to 45 cm. x 35 cm. x 20 cm., 5 kg.
Economy: 0 bags (GoLight fare) or 1 bag up to 23 kg. (Flex fare)

Business: 2 bags up to 32 kg. each

Other info: Baggage fees for additional or overweight bags range from £13/€18 to £56/€70, depending on the destination and whether you prepay or pay at the airport. (Prepayment nets you a discount.)
Choose your seat at check-in starting 48 hours before your flight. Business class and Miles+Bonus Silver and Gold members can get seat reservations prior to check-in
Fees for extra or overweight baggage
Fun Stuff:
| Entertainment | Meal Options | Freebies |
| --- | --- | --- |
| Aegean offers a channel of entertainment videos that highlight the beauty of Greece | Non-alcoholic drinks, snacks, and meals are complimentary (including Greek cuisine), with options varying depending on flight duration. (Shorter flights may only have drink and snack service.) Business class receives better fare and complimentary alcoholic drinks | 1 checked bag (Flex) or 2 checked bags (business). Domestic round-trip business passengers can receive a 1-day car rental from Hertz for a €4 to €7 fee (depending on the airport you pick it up at), plus taxes and fuel charges |
Aer Lingus
The Basics:
| Region | Subsidiaries | Seat Size | WiFi | Frequent Flyer Plan | Reviews |
| --- | --- | --- | --- | --- | --- |
| Ireland | Aer Lingus Regional | 17" (economy); 21" (business) | Transatlantic routes offer WiFi at a cost. 1 hour's access is €7.95/$9.95, while a full-flight pass will cost €14.95/$18.95 | Gold Circle Club | Skytrax; AirlineRatings |
Baggage and Fees:
Carry-on Baggage
Checked Baggage
Seat Reservations
Other Fees
Aer Lingus: 1 carry-on bag up to 55 cm. x 40 cm. x 24 cm., 10 kg.; 1 personal item up to 25 cm. x 33 cm. x 20 cm.

Aer Lingus Regional: 1 carry-on bag up to 48 cm. x 33 cm. x 20 cm., 7 kg.
Varies from 1 free bag to €95 for 40 kg. of luggage, depending on fare type, bag size, and destination. Low fares within Europe include no checked bags; Plus/Flex fares include 1 medium-size (20 kg.) bag. You receive a discount for paying baggage fees online in advance
Choose your seat when you book. It may be free or cost as much as €69.99 depending on seat location and fare type. Low fare passengers pay €5 to select a standard seat for flights within Europe, or get free seating assigned at the airport. Plus fares get free standard seat selection, as well as discounts on better seats
Fees for seating reservations, checked bags, food and drinks (domestic flights), and WiFi
Fun Stuff:
| Entertainment | Meal Options | Freebies |
| --- | --- | --- |
| On-demand entertainment is offered on flights to the U.S., featuring movies, TV programs, and music videos, as well as a variety of video games | Short-haul flights offer drinks and snacks for purchase. Long-haul flights offer complimentary non-alcoholic drinks, snacks, and meals, with options varying depending on flight duration. (Shorter flights may only have drink and snack service.) Business and first class receive better fare and complimentary alcoholic drinks | Plus fares receive free standard seating and a free checked bag. Business class passengers receive free alcoholic beverages on long flights |
Aeroflot
The Basics:
| Region | Subsidiaries | Seat Size | WiFi | Frequent Flyer Plan | Reviews |
| --- | --- | --- | --- | --- | --- |
| Russia | Aurora, Donavia, Orenair, Pobeda, Rossiya Airlines | 17.8" to 18.3" (economy); 20" (premium economy); 18.3" to 26.7" (business) | Available on certain planes for a cost | Aeroflot Bonus, part of the SkyTeam alliance | AirlineRatings |
Baggage and Fees:
Carry-on Baggage
Checked Baggage
Seat Reservations
Other Fees
Comfort and economy: 1 bag with total linear dimensions up to 115 cm., 10 kg.

Business: 1 bag with total linear dimensions up to 115 cm., 15 kg.

Other info: All classes can also carry 1 personal item
Economy: 1 bag up to 23 kg.

Comfort and Economy – Premium: 2 bags up to 23 kg. each

Business: 2 bags up to 32 kg. each

Other info: Total linear dimensions are no greater than 158 cm. for all classes. Extra baggage is allowed for certain flights. Excess baggage fees vary based on the number of pieces, size, and weight, ranging from ₽2500/€50/$50 to ₽7500/€150/$150
Choose your seat at check-in up to 24 hours before departure (depending on the airport you're departing from; some departures only allow you to check in at the airport). Space+ seats with extra legroom are available for a cost: ₽1,200/€25 for medium-haul flights and ₽2,500/€50 for long flights. Space+ is available free of charge to Gold and Platinum members of the Aeroflot Bonus frequent flyer program
Fees for extra or overweight baggage, fuel surcharges, booking, and seats with extra legroom
Fun Stuff:
| Entertainment | Meal Options | Freebies |
| --- | --- | --- |
| A variety of movies, TV programs, music, books, and games are available through seat-back monitors | Non-alcoholic drinks, snacks, and meals are complimentary, with options varying depending on flight duration. (Shorter flights may only have drink and snack service.) Business and Comfort class receive better, multicourse meals | All classes get 1 or more free checked bags. Free drinks, meals, and snacks are available for all classes (depending on the flight). If you're going to certain Russian destinations, flight attendants can reserve a taxi from the airport for you while you're in flight |
Aerolíneas Argentinas
The Basics:
Baggage and Fees:
Carry-on Baggage
Checked Baggage
Seat Reservations
Other Fees
Domestic economy: 1 bag up to 55 cm. x 35 cm. x 25 cm., 5 kg.

Club Economy and international: 1 bag up to 55 cm. x 35 cm. x 25 cm., 10 kg.
All fares receive a free luggage allowance, which may be measured by piece (1 to 3) or by weight (15 kg. to 40 kg.), depending on fare type and destination. Fees for excess baggage vary
Choose your seat when you check in
Fees for extra or overweight baggage
Fun Stuff:
| Entertainment | Meal Options | Freebies |
| --- | --- | --- |
| Select flights offer on-demand entertainment with movies, TV, and video. Select flights allow you to use your mobile device to stream content | Non-alcoholic drinks, snacks, and meals are complimentary, with options varying depending on flight duration. (Shorter flights may only have drink and snack service.) | At least 1 free checked bag for all fares. Free snacks, meals, and drinks, depending on the flight duration |
Aeromexico
The Basics:
| Region | Subsidiaries | Seat Size | WiFi | Frequent Flyer Plan | Reviews |
| --- | --- | --- | --- | --- | --- |
| Mexico | Aeromexico Connect, Aeromexico Contigo, Aeromexico Express | 17" to 18.5" (economy); 19" to 21" (Premier) | None | Club Premier, part of the SkyTeam alliance | Skytrax; AirlineRatings |
Baggage and Fees:
| Carry-on Baggage | Checked Baggage | Seat Reservations | Other Fees |
| --- | --- | --- | --- |
| 1 bag with maximum linear dimensions up to 1.15 m., 10 kg.; 1 personal item | Varies depending on fare type and flight length. All flights allow at least 1 free bag (up to 23 kg. to 32 kg.), with economy permitting 1 or 2 bags and Premier permitting 2 or 3 bags. Extra or overweight bags cost from $5 to $18 (per kg.) and from $50 to $232 (per piece) at the airport | Choose your seat when you book or when you check in for your flight, starting 24 hours (international flights) or 48 hours (Mexico domestic flights) before departure | Fees for extra or overweight baggage |
Fun Stuff:
| Entertainment | Meal Options | Freebies |
| --- | --- | --- |
| A selection of movies, TV programs, and video games is available, though specific offerings vary depending on aircraft type, route, and flight length. Boeing 777 aircraft all have personal seat-back screens with on-demand entertainment | Drinks (including alcoholic drinks starting at 11 am), snacks, and meals are complimentary, with options varying depending on flight duration. (Shorter flights may only have drink and snack service.) | All flights offer some free checked bags (varying on class and flight duration). Free snacks, meals, and both alcoholic and non-alcoholic drinks are available on all flights, depending on flight duration |
Air Algérie
The Basics:
Baggage and Fees:
| Carry-on Baggage | Checked Baggage | Seat Reservations | Other Fees |
| --- | --- | --- | --- |
| 1 bag up to 35 cm. x 55 cm. x 25 cm., 10 kg. | Varies by route, but some free baggage is allowed for all fares. Allowed weight is 20 kg. to 40 kg. (economy) and 23 kg. to 40 kg. (business, first) | Choose your seat online or at airport check-in | Fees for extra or overweight baggage |
Fun Stuff:
| Entertainment | Meal Options | Freebies |
| --- | --- | --- |
| Newspapers are available | Non-alcoholic drinks, snacks, and meals are complimentary, with options varying depending on flight duration. (Shorter flights may only have drink and snack service.) | 20 kg. or more in free checked baggage is allowed. Snacks, meals, and drinks are complimentary |
Air Astana
The Basics:
| Region | Subsidiaries | Seat Size | WiFi | Frequent Flyer Plan | Reviews |
| --- | --- | --- | --- | --- | --- |
| Kazakhstan | None | 16.3" to 18.2" (economy); 19.6" to 22.1" (business) | None | Nomad Club | AirlineRatings |
Baggage and Fees:
Carry-on Baggage
Checked Baggage
Seat Reservations
Other Fees
Economy: 1 bag; bags should be no larger than 56 cm. x 45 cm. x 25 cm.

Business: 2 bags
Economy: 20 kg.

Business: 30 kg.

Other info: Fees for excess baggage vary by route
Choose your seat online or by email up to 48 hours before departure
Fees for extra or overweight baggage, plus a commission fee (from KZT 850 to KZT 15,000) for tickets purchased at an office or by phone
Fun Stuff:
| Entertainment | Meal Options | Freebies |
| --- | --- | --- |
| Seat-back screens offer movies, TV, music, books, and video games on flights longer than 3 hours | Drinks (including alcoholic drinks), snacks, and meals are complimentary, with options varying depending on flight duration. (Shorter flights may only have drink and snack service.) | Free checked bags (20 kg. for economy and 30 kg. for business) and an amenity kit, as well as complimentary snacks, meals, and beverages (depending on flight) |
Air Berlin
The Basics:
| Region | Subsidiaries | Seat Size | WiFi | Frequent Flyer Plan | Reviews |
| --- | --- | --- | --- | --- | --- |
| Germany | Belair, NIKI, LGW | 17" to 18" (economy); 20" (business) | Available on select flights with pricing from €4.90 to €18.90, depending on data use and duration | topbonus, part of the Oneworld alliance | Skytrax; AirlineRatings |
Baggage and Fees:
Carry-on Baggage
Checked Baggage
Seat Reservations
Other Fees
1 bag up to 55 cm. x 40 cm. x 23 cm., 8 kg.; 1 personal item
JustFly: Carry-on only

FlyDeal and FlyClassic: 1 bag up to 23 kg.

FlyFlex+: 2 bags up to 23 kg. each

Other info: Extra and overweight bags cost between €15 and €275 per piece
Depends on fare type. Choose seats for free with FlyClassic and FlyFlex+. Passengers with reduced mobility or topbonus Silver/Gold/Platinum Card or topbonus Service Card holders can always choose seats. XL seats are available at an additional cost (free for FlyFlex+/FlyFlex and topbonus Gold/Platinum Card). Costs vary depending on fare type, flight duration, and seat type, but range from €9 to €84
Fees for extra or overweight baggage, seat reservations, seat upgrades, meals, alcohol, headphones, and WiFi
Fun Stuff:
| Entertainment | Meal Options | Freebies |
| --- | --- | --- |
| Passengers can get on-demand movies, TV, games, music, and books as well as free headphones on long-haul flights; shorter flights offer in-flight movies, TV, and radio | Non-alcoholic drinks and snacks are complimentary, with options varying depending on flight duration. (Shorter flights may only have drink and snack service.) Additional food, alcoholic drinks, and full meals can be purchased. On long-haul flights, full meals and certain alcoholic beverages are complimentary. Business and first class receive better, multicourse meals | Free checked bags for some fares, free snacks and non-alcoholic drinks for all fares and flight durations |
Air Canada
The Basics:
| Region | Subsidiaries | Seat Size | WiFi | Frequent Flyer Plan | Reviews |
| --- | --- | --- | --- | --- | --- |
| Canada | Air Canada Express, Air Canada rouge | 17" to 19" (economy); 19.5" to 20" (premium economy); 20" to 21" (business) | Available on select aircraft traveling to North American destinations. $5 for 1 hour of access; $16 for a full day of access | Aeroplan, part of Star Alliance | Skytrax; AirlineRatings |
Baggage and Fees:
| Carry-on Baggage | Checked Baggage | Seat Reservations | Other Fees |
| --- | --- | --- | --- |
| 1 bag up to 9" x 15.5" x 21.5", 22 lbs.; 1 personal item up to 6" x 13" x 17", 22 lbs. | Varies depending on destination; check your specific route | Choose your seat online (except if you purchased a Tango fare, which requires paying extra to select specific seats), with additional fees for Preferred seats (starting at $19) | Fees for extra or overweight baggage, Preferred seats, and seat reservations ($10 to $40 for low-cost Tango fares) |
Fun Stuff:
Entertainment
Meal Options
Freebies
Personal touch-screen TVs at every seat, with hundreds of hours of movies, TV, music, audiobooks, and podcasts
North America, economy class: Complimentary non-alcoholic beverages on all flights, free snacks for Latitude fares, and a free meal for Latitude fares on flights of 120 minutes or longer. Additional snacks, full meals, and alcoholic beverages are available for purchase through Air Canada Café. (Purchase a voucher before your flight for discounted meals.)

North America, business class: Complimentary alcoholic and non-alcoholic beverages, complimentary meals

International: All flights offer complimentary alcoholic and non-alcoholic beverages, complimentary meals. Premium economy class offers additional menu options; business class offers even more menu options
Drinks (including alcoholic drinks on international flights), meals for international flights and all business class passengers
Air China
The Basics:
| Region | Subsidiaries | Seat Size | WiFi | Frequent Flyer Plan | Reviews |
| --- | --- | --- | --- | --- | --- |
| China | Shenzhen Airlines, Shandong Airlines, Air Macau, Dalian Airlines, Beijing Airlines | 17" to 18" (economy); 20" to 22" (business); 21" to 23" (first) | Available for free on some flights | PhoenixMiles, part of Star Alliance | Skytrax; AirlineRatings |
Baggage and Fees:
Carry-on Baggage
Checked Baggage
Seat Reservations
Other Fees
Domestic flights: 1 bag (economy and business) or 2 bags (first), 5 kg. each

International flights: 1 bag, 5 kg. (economy); 2 bags, 8 kg. (business and first)

Other info: Each bag can measure up to 55 cm. x 40 cm. x 20 cm.
Domestic flights: 20 kg. (economy), 30 kg. (business), or 40 kg. (first), not to exceed 100 cm. x 60 cm. x 40 cm.

International flights: For most flights, 1 or 2 bags up to total linear dimensions of 158 cm., 23 kg. to 32 kg.

Other info: Depending on the route, baggage allowance may be by weight or by piece. Fees for overweight bags are calculated by weight as a percentage of the total ticket cost. Check for details
Choose your seat when booking online or by phone
Fees for extra or overweight baggage
Fun Stuff:
| Entertainment | Meal Options | Freebies |
| --- | --- | --- |
| All flights offer magazines, newspapers, and music; wide-body planes feature on-demand video with movies, music, and games | Non-alcoholic drinks, snacks, and meals are complimentary, with options varying depending on flight duration. (Shorter flights may only have drink and snack service.) Business- and first-class passengers receive better meals and can preorder their meals | Free checked bags for all fares. Some food and drink available, depending on fare type and trip duration |
Air Europa
The Basics:
| Region | Subsidiaries | Seat Size | WiFi | Frequent Flyer Plan | Reviews |
| --- | --- | --- | --- | --- | --- |
| Spain | None | 17" to 18" (economy); 18" to 21" (business) | Currently being added to Air Europa's Boeing 787-9 Dreamliners and may be available on your flight | SUMA, part of the SkyTeam alliance | Skytrax; AirlineRatings |
Baggage and Fees:
Carry-on Baggage
Checked Baggage
Seat Reservations
Other Fees
Economy: 1 bag, 10 kg.

Business: 1 bag, 14 kg. (domestic and European flights); 2 bags, 18 kg. total (intercontinental flights)

Other info: Each bag can measure up to 55 cm. x 35 cm. x 25 cm.; 1 personal item is also permitted
Short flights: 1 bag (economy) or 2 bags (business), up to 23 kg. each

Long flights: 1 or 2 bags (economy), or 3 bags (business), up to 23 kg. each

Other info: Some routes do not allow any excess baggage; others charge fees based on the number of pieces and the weight. Fees range from €50 to €150 per piece, with additional fees for pieces over the standard 23 kg. weight
Choose your seat when you book or up to 48 hours in advance of your departure
Fees for extra or overweight baggage
Fun Stuff:
| Entertainment | Meal Options | Freebies |
| --- | --- | --- |
| Movies are available, either on overhead screens or seat-back screens, with on-demand entertainment options for long flights | Drinks, snacks, and meals are available for purchase (from €1.50 to €18) on flights within Europe in economy class, while non-alcoholic drinks, snacks, and meals are complimentary on transatlantic flights. Non-alcoholic drinks, snacks, and meals are complimentary in business class, with options varying depending on flight duration (shorter flights may only have drink and snack service), regardless of itinerary | At least 1 free checked bag on all flights, depending on fare type and destination |
Air France
The Basics:
| Region | Subsidiaries | Seat Size | WiFi | Frequent Flyer Plan | Reviews |
| --- | --- | --- | --- | --- | --- |
| France | HOP!, Transavia France | 17" to 19" (economy); 18" to 19" (premium economy); 17.5" to 24" (business); 24" to 35" (first) | Available on select flights. Pricing is €10.95 per hour or €19.95 for the duration of the flight | Flying Blue, part of the SkyTeam alliance | Skytrax; AirlineRatings |
Baggage and Fees:
Carry-on Baggage
Checked Baggage
Seat Reservations
Other Fees
1 bag and 1 personal item with a combined weight up to 12 kg. (economy, premium economy on short flights); 2 bags and 1 personal item with a combined weight up to 18 kg. (business, first, and premium economy on long flights). All bags cannot exceed 55 cm. x 35 cm. x 25 cm.
Varies by fare type and route.

Domestic: Carry-on only (Basic); 1 bag up to 23 kg. (Basic+, Smart, Flex). All bags can have total linear dimensions up to 158 cm. Flying Blue members of level Silver or higher get one extra bag

International: Carry-on only (Mini); 1 bag up to 23 kg. (economy); 2 bags up to 23 kg. (premium economy); 2 bags up to 32 kg. (business); 3 bags up to 32 kg. (first). All bags can have total linear dimensions up to 158 cm. Flying Blue members of level Silver or higher get one extra free bag. Some routes allow extra bags for economy

Other info: Fees are charged for extra, oversized, and overweight bags. Extra bags start at $20 to $285 per piece, depending on the route. Overweight bag fees range from $100 to $300, and oversized bag fees range from $20 to $300. Paying online gets you 20% off
Choose your seat when you check in online starting from 30 hours before departure
Fees for extra or overweight baggage, Seat Plus seats (€15 to €70), upgraded meals, and WiFi. Hold a reservation without paying for up to 14 days for $8 to $20
Fun Stuff:
| Entertainment | Meal Options | Freebies |
| --- | --- | --- |
| On-demand movies, TV, music, and games are available | Drinks (including alcoholic drinks), snacks, and meals are complimentary, with options varying depending on flight duration. (Shorter flights may only have drink and snack service.) Business and first class receive better fare | Some free checked baggage is included with most fares. Drinks (including alcoholic drinks), snacks, and meals are complimentary to all passengers on all flights, though the specific offering depends on your fare type and the flight length |
Air India
The Basics:
| Region | Subsidiaries | Seat Size | WiFi | Frequent Flyer Plan | Reviews |
| --- | --- | --- | --- | --- | --- |
| India | Air India Express, Air India Regional | 17" to 18" (economy); 19.5" to 22" (business); 19.5" to 23" (first) | None | Flying Returns, part of Star Alliance | Skytrax; AirlineRatings |
Baggage and Fees:
Fun Stuff:
| Entertainment | Meal Options | Freebies |
| --- | --- | --- |
| Economy class offers movies and television on a shared screen; business and first class have personal screens and on-demand entertainment | Non-alcoholic drinks, snacks, and meals are complimentary, with options varying depending on flight duration. (Shorter flights may only have drink and snack service.) Business and first class receive better fare | Checked bags are free (though subject to weight restrictions). Drinks, snacks, and meals are complimentary, depending on flight duration and time of day |
Air New Zealand
The Basics:
| Region | Subsidiaries | Seat Size | WiFi | Frequent Flyer Plan | Reviews |
| --- | --- | --- | --- | --- | --- |
| New Zealand | Air New Zealand Link | 17" to 18" (economy); 17" to 20" (premium economy); 18" to 22" (business) | None | Airpoints, part of Star Alliance | Skytrax; AirlineRatings |
Baggage and Fees:
Carry-on Baggage
Checked Baggage
Seat Reservations
Other Fees
1 bag up to 7 kg. (economy); 2 bags with a combined total weight up to 14 kg., with 1 weighing up to 10 kg. (premium economy and business classes, as well as Air New Zealand Elite, Gold, and Star Alliance Gold customers). All passengers are also allowed 1 personal item
Domestic: 1 bag up to 23 kg. (Seat+Bag, Flexi Time, Smart Saver); 2 bags up to 23 kg. each (Flexi Plus). Gold/Elite Airpoints and Koru members may check 1 extra bag.

Australia, Pacific Islands, and Bali flights: 1 bag up to 23 kg. (Seat+Bag, The Works); 2 bags up to 23 kg. each (Works Deluxe, premium economy); 3 bags up to 23 kg. each (business). Gold/Elite Airpoints and Koru members can check 1 extra bag.

International: 1 bag up to 23 kg. (economy); 2 bags up to 23 kg. each (premium economy); 3 bags up to 23 kg. each (business). Star Alliance Gold, Gold/Elite Airpoints, and Koru members can check 1 extra bag for economy and premium economy classes. For long-haul flights with connecting carriers, allowances can vary depending on the connection.

Other info: Excess baggage is subject to space. Fees range from $1 to $250 depending on destination and number of items, and bags can be purchased in advance online for a discount
Choose your seat when you book for most fares, though certain seats require an extra fee to reserve. Domestic Seat/Seat+Bag fares do not include seat reservations, but higher domestic fares, as well as all international fares, include free standard seat reservations, with additional charges for better seats. On certain flights, you can upgrade to a Skycouch couchlike seat configuration for $150 to $1,500
Fees for extra or overweight baggage, certain seating options ($5 to $90, depending on fare type), and booking fees ($15 to $200 in the U.S., with variations depending on where you book from). Hold a fare for up to three days by paying a fee from $10 to $45
Fun Stuff:
| Entertainment | Meal Options | Freebies |
| --- | --- | --- |
| Domestic flights offer limited entertainment options, including an in-flight magazine and a seat-back quiz game on select aircraft. International flights offer on-demand entertainment with movies, TV, music, radio, audiobooks, and games | Shorter domestic flights will typically offer water and a snack, though some flights may have no food service at all. International flights will offer meal service; what's available will depend on your fare type. All international fares include free drinks, but the lowest fares may only be able to order off a menu for a cost. Long-haul international fares all include free meals | Checked baggage, seat selection for some fare types. Most flights offer complimentary water and a snack; international flights typically offer a meal |
Alaska Airlines
The Basics:
| Region | Subsidiaries | Seat Size | WiFi | Frequent Flyer Plan | Reviews |
| --- | --- | --- | --- | --- | --- |
| United States | None | 17" to 18.25" (economy); 21" (business) | Available on most flights through Gogo. Pay $5 for a 1-hour pass or $16 for an all-day pass; frequent flyers may prefer to pay $36 for 6 45-minute passes or $49.95 for monthly access | Mileage Plan | Skytrax; AirlineRatings |
Baggage and Fees:
| Carry-on Baggage | Checked Baggage | Seat Reservations | Other Fees |
| --- | --- | --- | --- |
| 1 bag up to 24" x 17" x 10"; 1 personal item | $25 for first and second checked bag; $75 for third bag and up. Alaska Airlines Visa Signature cardholders get 1 bag free; Club 49 members, certain frequent flyers, and first class passengers get 2 bags free. Passengers traveling to certain destinations receive free bags. All bags can have total linear dimensions up to 62", 50 lbs. | Choose your seat when you book. Picking a Preferred Plus seat with extra legroom costs $15 to $50, depending on flight length. Frequent flyers who qualify for Alaska's MVP program, and American AAdvantage Platinum/Executive Platinum members, can select preferred seats at no additional cost | Fees for all checked bags, better seats, snacks, entertainment, and WiFi |
Fun Stuff:
| Entertainment | Meal Options | Freebies |
| --- | --- | --- |
| Watch movies and TV shows on your mobile device, with prices starting at $1.99 each. If you don't have a mobile device, you can rent an in-flight entertainment tablet on flights more than 3.5 hours long. The tablet is free for first class passengers or $8 to $10 for other passengers. It comes preloaded with more than 30 movies and 20 TV shows, as well as games and digital magazines | Non-alcoholic drinks are complimentary, and snack boxes or meals are available for purchase, depending on flight duration. First class receives complimentary meals and alcoholic drinks | Carry-on baggage, non-alcoholic drinks |
Alitalia
The Basics:
| Region | Subsidiaries | Seat Size | WiFi | Frequent Flyer Plan | Reviews |
| --- | --- | --- | --- | --- | --- |
| Italy | Alitalia CityLiner | 16.5" to 18.5" (economy); 19.2" (premium economy); 18.2" to 22" (business) | None | MilleMiglia, part of the SkyTeam alliance | Skytrax; AirlineRatings |
Baggage and Fees:
| Carry-on Baggage | Checked Baggage | Seat Reservations | Other Fees |
| --- | --- | --- | --- |
| 1 bag up to 55 cm. x 35 cm. x 25 cm., 8 kg.; 1 personal item | 1 or 2 bags with total linear dimensions up to 158 cm., 23 kg. or 32 kg. The number and weight of bags allowed varies based on class and destination. Extra baggage, oversized baggage, and overweight baggage can be checked for an additional fee — get a 20% discount by paying online in advance rather than at the airport | Choose your seat when you book for international routes | Fees for extra or overweight baggage; Light Fare passengers must pay for checked baggage |
Fun Stuff:
| Entertainment | Meal Options | Freebies |
| --- | --- | --- |
| Newspapers and magazines are available on shorter-duration flights. Long-haul international service has on-demand entertainment, including movies, TV, and music | Non-alcoholic drinks, snacks, and meals are complimentary, with options varying depending on flight duration. Premium economy receives better meals and alcoholic drinks, while business class receives restaurant-quality meals | Amenity kits for business and premium economy classes; free drinks, snacks, or meals for all classes on all flights |
All Nippon Airways
The Basics:
| Region | Subsidiaries | Seat Size | WiFi | Frequent Flyer Plan | Reviews |
| --- | --- | --- | --- | --- | --- |
| Japan | ANA Wings, Air Japan, Vanilla Air | 16" to 20.5" (economy); 18" to 19.3" (premium economy); 19.4" to 21.5" (business); 33" (first) | Available on certain international flights. Pricing is based on time used: $4.95 or $6.95 for 30 minutes, $8.95 for 1 hour, $16.95 for 3 hours, and $19.95 or $21.95 for the full flight | ANA Mileage Club, part of Star Alliance | Skytrax; AirlineRatings |
Baggage and Fees:
Carry-on Baggage
Checked Baggage
Seat Reservations
Other Fees
1 bag with total linear dimensions up to 115 cm.; 1 personal item. Combined weight can be no more than 10 kg.
Economy: 2 bags up to 23 kg. each

Business: 2 bags up to 32 kg. each

First: 3 bags up to 32 kg. each

Other info: All bags can have total linear dimensions up to 158 cm. Fees for excess or overweight baggage range from ¥1,000 to ¥20,000, depending on the route, number of pieces, and weight
Choose your seat when you book
Fees for extra or overweight baggage
Fun Stuff:
| Entertainment | Meal Options | Freebies |
| --- | --- | --- |
| On-demand entertainment, including movies, TV, games, music, and eBooks, is available on most flights | Drinks, snacks, and meals are complimentary, with options varying depending on flight duration. (Shorter flights may only have drink and snack service.) Business and first class receive better, restaurant-quality meals | Amenity kits for all classes, with service varying depending on your route and class. Premium economy, business class, and first class have access to noise-canceling headphones on certain flights |
American Airlines
The Basics:
| Region | Subsidiaries | Seat Size | WiFi | Frequent Flyer Plan | Reviews |
| --- | --- | --- | --- | --- | --- |
| United States | American Eagle | 17" to 18.5" (economy); 18.5" to 26" (business); 30" (first) | Available on most domestic flights through Gogo. Pay $16 for all-day pass, or pay $49.95 for a monthly subscription with American or $59.95 for unlimited monthly access on all domestic Gogo-enabled flights. Available on international for $12 for 2 hours, $17 for 4 hours, or $19 for the full flight | AAdvantage, part of the Oneworld alliance | Skytrax; AirlineRatings |
Baggage and Fees:
| Carry-on Baggage | Checked Baggage | Seat Reservations | Other Fees |
| --- | --- | --- | --- |
| 1 bag up to 22" x 14" x 9"; 1 personal item. Garment bags can be carried as long as they fit comfortably within 22" x 14" x 9" | For most American Airlines flights, $25 for the first checked bag, $35 for the second checked bag, $150 for the third checked bag, and $200 for all additional bags. One, 2, or 3 bags are complimentary for certain airline-affiliated credit card holders, frequent flyers, confirmed first- and business-class passengers, and people traveling to international destinations. Oversize or overweight bags typically have fees from $100 to $450 each. Bags can have total linear dimensions up to 62", 50 lbs. | Choose your seat when you book. Picking a preferred seat, either with a better location or extra legroom, costs extra but is complimentary for certain AAdvantage members | Fees for checked bags, preferred seats, and WiFi |
Fun Stuff:
| Entertainment | Meal Options | Freebies |
| --- | --- | --- |
| First- and business-class passengers have seat-back screens or access to tablets with on-demand entertainment, including movies, TV, music, news, and games. For certain flights, first- and business-class passengers also have access to Bose QuietComfort 25 Acoustic Noise Cancelling headphones. Economy passengers may have on-demand entertainment or movies shown on an overhead screen, depending on the aircraft | Non-alcoholic drinks, snacks, and meals are complimentary, with options varying depending on flight duration. (Shorter flights may only have drink and snack service.) Business and first class receive better meals and complimentary alcoholic drinks | First and business class have use of Bose noise-canceling headphones on select flights; free drinks, snacks, and meals for all passengers (depending on flight) |
Arik Air
The Basics:
| Region | Subsidiaries | Seat Size | WiFi | Frequent Flyer Plan | Reviews |
| --- | --- | --- | --- | --- | --- |
| Nigeria | None | N/A | None | Affinity Wings | Skytrax; AirlineRatings |
Baggage and Fees:
| Carry-on Baggage | Checked Baggage | Seat Reservations | Other Fees |
| --- | --- | --- | --- |
| 1 bag up to 55 cm. x 35 cm. x 25 cm., 6 kg. (domestic) or 12 kg. (international) | For domestic and charter flights, 1 bag up to 90 cm. x 70 cm. x 43 cm., 20 kg. (economy) or 30 kg. (business). Pay NGN 500 per excess kg. Baggage allowance may differ for international routes | Choose your seat when you book | Fees for extra or overweight baggage |
Fun Stuff:
| Entertainment | Meal Options | Freebies |
| --- | --- | --- |
| On-demand entertainment is available, including movies, TV, and music, as well as newspapers and magazines | Non-alcoholic drinks, snacks, and meals are complimentary, with options varying depending on flight duration. (Shorter flights may only have drink and snack service.) Business class receives better, a la carte meals and complimentary alcoholic drinks — but, like economy, may have limited service on short flights | Premier Business Class has use of noise-canceling headphones, as well as wash bags, pajamas, and slippers (night flights) on long-haul flights |
Asiana Airlines
The Basics:
| Region | Subsidiaries | Seat Size | WiFi | Frequent Flyer Plan | Reviews |
| --- | --- | --- | --- | --- | --- |
| South Korea | Air Busan | 17" to 21" (economy); 20.2" to 26.5" (business); 21" to 25.2" (first) | May be available on select flights | Asiana Club, part of Star Alliance | Skytrax; AirlineRatings |
Baggage and Fees:
Carry-on Baggage
Checked Baggage
Seat Reservations
Other Fees
1 bag (economy) or 2 bags (first or business) with total linear dimensions up to 115 cm., 10 kg.
Economy: 1 bag, 23 kg. (non-Americas routes); 2 bags, 23 kg. (Americas routes)

Business: 2 bags, 32 kg.

First: 3 bags, 32 kg.

Other info: Bags can have total linear dimensions up to 158 cm. Fees for extra bags vary
If you book through Asiana's website (excluding the U.S website) or mobile application, you can choose your seat when you book. Otherwise, choose your seat during check-in before your departure
Fees for extra or overweight baggage, WiFi
Fun Stuff:
| Entertainment | Meal Options | Freebies |
| --- | --- | --- |
| On-demand entertainment, including movies, TV, and music, is available for all classes on most flights. On some flights, economy class passengers may have overhead screens instead | Drinks (including alcoholic drinks), snacks, and meals are complimentary, with options varying depending on flight duration. (Shorter flights may only have drink and snack service.) Business and first class receive better, multicourse meals | Amenity kit for first and business classes. Free drinks, snacks, and meals |
Austrian Airlines
The Basics:
| Region | Subsidiaries | Seat Size | WiFi | Frequent Flyer Plan | Reviews |
| --- | --- | --- | --- | --- | --- |
| Austria | None | 17" to 18.47" (economy); 19" to 19.37" (business) | None | Miles & More, part of Star Alliance | Skytrax; AirlineRatings |
Baggage and Fees:
Carry-on Baggage
Checked Baggage
Seat Reservations
Other Fees
1 bag (economy) or 2 bags (business) up to 55 cm. x 40 cm. x 23 cm., or a foldable garment bag up to 57 cm. x 54 cm. x 15 cm., up to 8 kg.; 1 personal item
Economy: 1 bag with total linear dimensions up to 158 cm., 23 kg. (except for Economy Light fares on European routes)

Business: 2 bags with total linear dimensions up to 158 cm., 32 kg.

Other info: Fees for excess baggage vary from €15 to €450, depending on the number of pieces, size, and fare type
Choose your seat when you book for €0 to €70 each way
Fees for extra or overweight baggage, all checked baggage for Economy Light fares, and seat selection
Fun Stuff:
| Entertainment | Meal Options | Freebies |
| --- | --- | --- |
| On-demand or overhead screens are on most flights, while some flights (particularly shorter flights and those on smaller planes) offer no video entertainment. Expect a selection of movies and TV | Drinks, snacks, and meals (on longer flights) are complimentary, with options varying depending on flight duration. (Shorter flights may only have drink service.) Business class receives better, multicourse meals and more complimentary alcoholic drinks | Free drinks, snacks, and meals |
Avianca
The Basics:
| Region | Subsidiaries | Seat Size | WiFi | Frequent Flyer Plan | Reviews |
| --- | --- | --- | --- | --- | --- |
| Colombia | Avianca Brazil, Avianca Costa Rica, Avianca Ecuador, Avianca El Salvador, Avianca Peru | 17" to 19" (economy); 18" to 21" (business) | None | LifeMiles, part of Star Alliance | Skytrax; AirlineRatings |
Baggage and Fees:
| Carry-on Baggage | Checked Baggage | Seat Reservations | Other Fees |
| --- | --- | --- | --- |
| 1 bag with total linear dimensions up to 115 cm., 10 kg.; 1 personal item. Certain frequent flyers may be able to carry a second bag | 1 or 2 bags with total linear dimensions up to 158 cm., 23 kg. or 32 kg., with exact restrictions varying based on route. Certain frequent flyers receive additional baggage. Overweight or extra bags cost from $2.50 per kg. to $500 per piece | Choose your seat at check-in beginning 24 hours before your departure | Fees for extra or overweight baggage |
Fun Stuff:
| Entertainment | Meal Options | Freebies |
| --- | --- | --- |
| On-demand or overhead screens are on most flights, with a selection of movies, TV shows, music, and magazines | Non-alcoholic drinks, snacks, and meals are complimentary, with options varying depending on flight duration. (Shorter flights may only have drink and snack service.) Business class receives better meals and complimentary alcoholic drinks | Amenity kit for business class on international flights. Free drinks, snacks, and meals |
Azerbaijan Airlines
The Basics:
Baggage and Fees:
Carry-on Baggage
Checked Baggage
Seat Reservations
Other Fees
Economy: 1 bag, 8 kg.

Business: 2 bags, 16 kg.

Other info: Bags can have total linear dimensions up to 110 cm. 1 personal item is also allowed
Economy: 0 bags (on flights less than 3.5 hours); 1 bag up to 23 kg. (on flights more than 3.5 hours)

Business: 2 bags up to 32 kg.

Other info: Extra bags cost €25 each
Choose your seat at check-in starting 20 hours before your departure
Fees for extra or overweight baggage, WiFi
Fun Stuff:
| Entertainment | Meal Options | Freebies |
| --- | --- | --- |
| In economy class, shared monitors show movies, and passengers can listen to audio tracks. Business class passengers have personal, portable media players with on-demand movies, TV, and games. Certain flights offer personal in-seat entertainment using a touch-screen display | Non-alcoholic drinks, snacks, and meals are complimentary, with options varying depending on flight duration. (Shorter flights may only have drink and snack service.) Business class receives better meals | Free checked bags for most fares, drinks, snacks, and meals |
British Airways
The Basics:
| Region | Subsidiaries | Seat Size | WiFi | Frequent Flyer Plan | Reviews |
| --- | --- | --- | --- | --- | --- |
| United Kingdom | BA CityFlyer, OpenSkies | 17" to 18" (economy); 18.5" (premium economy); 17" to 26" (business); 22" (first) | Available on select flights | Executive Club, part of the Oneworld alliance | Skytrax; AirlineRatings |
Baggage and Fees:
| Carry-on Baggage | Checked Baggage | Seat Reservations | Other Fees |
| --- | --- | --- | --- |
| 1 bag up to 56 cm. x 45 cm. x 25 cm., 23 kg.; 1 personal item up to 40 cm. x 30 cm. x 15 cm. | 0 to 3 bags up to 90 cm. x 75 cm. x 43 cm., 23 kg. to 32 kg. Exact baggage allowance depends on fare type (some fares only allow carry-on luggage) and route. Certain frequent flyers get additional baggage | Choose your seat when you book, though seats require an extra fee to reserve for certain fares | Fees for extra or overweight baggage (or, for certain fares, any baggage), seat reservations (again, for certain fares), and WiFi |
Fun Stuff:
| Entertainment | Meal Options | Freebies |
| --- | --- | --- |
| On-demand or overhead screens are on most flights, while some flights (particularly shorter flights and those on smaller planes) offer no video entertainment. On certain flights, business class may have access to portable media players. All flights with video entertainment offer recent movies and TV | Non-alcoholic drinks, snacks, and meals are complimentary, with options varying depending on flight duration. (Shorter flights may only have drink and snack service.) Business and first class receive better, multicourse meals | Free checked bags for most fares; free drinks, snacks, and meals (depending on flight duration) |
Brussels Airlines
The Basics:
| Region | Subsidiaries | Seat Size | WiFi | Frequent Flyer Plan | Reviews |
| --- | --- | --- | --- | --- | --- |
| Belgium | None | 17.5" to 17.8" (economy); 17.5" to 20.5" (business) | None | Miles & More, part of Star Alliance | Skytrax; AirlineRatings |
Baggage and Fees:
Carry-on Baggage
Checked Baggage
Seat Reservations
Other Fees
Economy: 1 bag, 12 kg.

Business: 2 bags, 16 kg.

Other info: Bags can have total linear dimensions up to 55 cm. x 40 cm. x 23 cm. 1 personal item is also allowed
0 to 2 bags with total linear dimensions up to 158 cm., 23 kg. to 32 kg. Exact baggage allowance depends on fare type (some fares only allow carry-on luggage) and route. Certain frequent flyers receive additional baggage. Extra or overweight bags cost between $21 and $650, with discounts for paying in advance
Choose your seat at check-in up to 24 hours before your departure
Fees for extra or overweight baggage (or, for certain fares, any baggage), drinks and meals (again, for certain fares)
Fun Stuff:
| Entertainment | Meal Options | Freebies |
| --- | --- | --- |
| On-demand or overhead screens are available on many flights, featuring a selection of movies, music, and games | For light economy fares, drinks and meals may cost money on short flights but be complimentary on long-haul flights. Flex economy fares always include complimentary drinks and meals. Passengers paying business fares receive better, multicourse meals as well as alcoholic beverages | Free checked bags, drinks, and meals for most fares |
Caribbean Airlines
The Basics:
Baggage and Fees:
| Carry-on Baggage | Checked Baggage | Seat Reservations | Other Fees |
| --- | --- | --- | --- |
| 1 bag with total linear dimensions up to 114 cm., 10 kg.; 1 personal item with total linear dimensions up to 91 cm. | 1 to 3 bags with total linear dimensions up to 157 cm., 23 kg. Extra bags cost between $25 and $250 | Choose your seat when you book | Fees for extra or overweight baggage |
Fun Stuff:
| Entertainment | Meal Options | Freebies |
| --- | --- | --- |
| N/A | Non-alcoholic drinks and snacks are complimentary. Business class gets a selection of meals available for preorder as well as complimentary alcoholic beverages | Free bags for all fares, drinks and snacks |
Cathay Pacific
The Basics:
| Region | Subsidiaries | Seat Size | WiFi | Frequent Flyer Plan | Reviews |
| --- | --- | --- | --- | --- | --- |
| Hong Kong | Dragonair | 17.5" to 18.5" (economy); 17.8" to 19.5" (premium economy); 20" to 32" (business); 36" (first) | Coming to select planes starting in 2016 | The Marco Polo Club, part of the Oneworld alliance | Skytrax; AirlineRatings |
Baggage and Fees:
| Carry-on Baggage | Checked Baggage | Seat Reservations | Other Fees |
| --- | --- | --- | --- |
| 1 bag up to 23 cm. x 36 cm. x 56 cm., 7 kg. (economy), 10 kg. (business), or 15 kg. (first); 1 personal item. Certain frequent flyers get extra weight allowances | No restriction on the number of bags, but total luggage weight is limited to 20 kg. (economy), 25 kg. (premium economy), 30 kg. (business), or 40 kg. (first). Certain frequent flyers receive additional baggage. Checking a bag with total dimensions over 203 cm., or one that weighs more than 32 kg., requires airline approval. Fees for extra baggage range from $10 to $60 per kg. | Choose your seat when you book for most fare types | Fees for extra or overweight baggage |
Fun Stuff:
| Entertainment | Meal Options | Freebies |
| --- | --- | --- |
| Seat-back screens feature on-demand entertainment, including movies, TV, music, and games | Non-alcoholic drinks, snacks, and meals are complimentary, with options varying depending on flight duration. Premium economy receives better meals. Business and first class receive better, multicourse meals | Amenity kits for premium economy, business, and first class; free checked bags; free drinks, snacks, and meals |
China Airlines
The Basics:
| Region | Subsidiaries | Seat Size | WiFi | Frequent Flyer Plan | Reviews |
| --- | --- | --- | --- | --- | --- |
| Taiwan | Mandarin Airlines, Tigerair Taiwan | 17" to 18" (economy); 19" (premium economy); 19" to 30" (business); 21" (first) | Available on select flights | Dynasty Flyer, part of the SkyTeam alliance | Skytrax; AirlineRatings |
Baggage and Fees:
Carry-on Baggage
Checked Baggage
Seat Reservations
Other Fees
1 bag up to 23 cm. x 36 cm. x 56 cm., 7 kg.; 1 personal item
Depending on the route, baggage allowance may be by weight or by piece.

Outside the U.S. and Canada: Check up to 20 kg. (economy), 25 kg. (premium economy), or 30 kg. (business).

In the U.S. and Canada: Check up to 2 bags with total linear dimensions up to 158 cm., 23 kg. (economy), 28 kg. (premium economy), or 32 kg. (business).

Other info: Certain frequent flyers get additional baggage. Extra or overweight bags cost $2 to $65 per kg. or $115 to $220 per piece
Choose your seat online starting 90 days before your departure
Fees for extra or overweight baggage, WiFi
Fun Stuff:
| Entertainment | Meal Options | Freebies |
| --- | --- | --- |
| On-demand on most flights, while some flights (particularly shorter flights and those on smaller planes) may offer no video entertainment | Non-alcoholic drinks, snacks, and meals are complimentary, with options varying depending on flight duration. (Shorter flights may only have drink and snack service.) Premium economy always includes meal service. Business and first class receive better meals and the option to preorder meals | Amenity kit for premium economy, business, and first class; checked bags; drinks, snacks, and meals |
China Eastern Airlines
The Basics:
| Region | Subsidiaries | Seat Size | WiFi | Frequent Flyer Plan | Reviews |
| --- | --- | --- | --- | --- | --- |
| China | China United Airlines, Shanghai Airlines | 17" to 18" (economy); 20" to 23.6" (business); 22.8" to 26.5" (first) | Available on select flights | Eastern Miles, part of the SkyTeam alliance | Skytrax; AirlineRatings |
Baggage and Fees:
Carry-on Baggage
Checked Baggage
Seat Reservations
Other Fees
1 bag up to 8" x 16" x 22", 22 lbs.
Depending on the route, baggage allowance may be by weight or by piece.

Outside China: 2 or 3 bags with total linear dimensions up to 62", 50 lbs. to 70 lbs.

Inside China and other select routes: 20 kg. (economy), 30 kg. (business), or 40 kg. (first)

Other info: Certain frequent flyers receive additional baggage. Extra or overweight bags cost $165 to $445
Choose your seat at check-in
Fees for extra or overweight baggage
Fun Stuff:
| Entertainment | Meal Options | Freebies |
| --- | --- | --- |
| Seat-back or overhead screens are on most flights, featuring movies, TV, and music | Non-alcoholic drinks, snacks, and meals are complimentary, with options varying depending on flight duration. (Shorter flights may only have drink and snack service.) Business and first class receive better, multicourse meals | Free checked bags, drinks, snacks, and meals |
China Southern Airlines
The Basics:
| Region | Subsidiaries | Seat Size | WiFi | Frequent Flyer Plan | Reviews |
| --- | --- | --- | --- | --- | --- |
| China | XiamenAir | 17.1" to 19.7" (economy); 17.2" to 19.3" (premium economy); 20" to 27.4" (business); 24" to 28" (first) | N/A | Sky Pearl Club, part of the SkyTeam alliance | Skytrax; AirlineRatings |
Baggage and Fees:
Carry-on Baggage
Checked Baggage
Seat Reservations
Other Fees
1 bag (economy, business) or 2 bags (first) with total linear dimensions up to 115 cm., 5 kg.
Depending on the route, baggage allowance may be by weight or by piece.

Outside China: 1 to 3 bags with total linear dimensions up to 158 cm., 23 kg. to 32 kg.

Inside China: 20 kg. (economy), 30 kg. (business), or 40 kg. (first)
Choose your seat online after you book for flights departing from China
Fees for extra or overweight baggage
Fun Stuff:
| Entertainment | Meal Options | Freebies |
| --- | --- | --- |
| On-demand or overhead screens are on most flights, while some flights (particularly shorter flights and those on smaller planes) may offer no video entertainment | Non-alcoholic drinks, snacks, and meals are complimentary. Premium economy receives additional sides and snacks. Business and first class receive better, multicourse meals, a selection of wines, and tea service | Amenity kits for medium- and long-haul flights; checked bags; drinks, snacks, and meals |
Copa Airlines
The Basics:
| Region | Subsidiaries | Seat Size | WiFi | Frequent Flyer Plan | Reviews |
| --- | --- | --- | --- | --- | --- |
| Panama | Copa Airlines Colombia | 17" to 18" (economy); 18" to 21" (business) | None | ConnectMiles, part of Star Alliance | Skytrax; AirlineRatings |
Baggage and Fees:
| Carry-on Baggage | Checked Baggage | Seat Reservations | Other Fees |
| --- | --- | --- | --- |
| 1 bag (economy) or 2 bags (business class passengers who are members of certain frequent flyer programs) with total linear dimensions up to 46", 10 kg.; 1 personal item | The number and weight of bags allowed varies depending on the route; check with the airline for specifics on your flight. No bags can have total linear dimensions of more than 62" | Choose your seat online after you book | Fees for extra or overweight baggage |
Fun Stuff:
| Entertainment | Meal Options | Freebies |
| --- | --- | --- |
| On-demand or overhead screens are on most flights, while some flights (particularly shorter flights and those on smaller planes) may offer no video entertainment | Non-alcoholic drinks, snacks, and meals are complimentary, with options varying depending on flight duration. (Shorter flights may only have drink and snack service.) Business class receives full meal service on most flights | Amenity kit for business class on longer flights; checked bags; drinks, snacks, and meals |
Delta Air Lines
The Basics:
| Region | Subsidiaries | Seat Size | WiFi | Frequent Flyer Plan | Reviews |
| --- | --- | --- | --- | --- | --- |
| United States | None | 17.2" to 18.5" (economy); 18.5" to 22.2" (business) | Available on many flights through Gogo. Pay $16 for a 24-hour pass, $49.95 for a monthly pass, or $538.95 for an annual pass | SkyMiles, part of the SkyTeam alliance | Skytrax; AirlineRatings |
Baggage and Fees:
| Carry-on Baggage | Checked Baggage | Seat Reservations | Other Fees |
| --- | --- | --- | --- |
| 1 bag with total linear dimensions up to 45"; 1 personal item | 0 to 3 bags with total linear dimensions up to 62", 50 lbs. to 70 lbs. Availability of free bags depends on the route, with no free baggage allowance for most fares in the U.S., Canada, or Mexico. 2 or 3 free bags are available for Delta One, first, and business passengers regardless of route. Bags range from $25 to $100 | Choose your seat when booking for most fares. Basic Economy fares do not include seat reservations. Better seats are available for an additional charge for some fares | Fees for baggage with some fares, as well as extra or overweight baggage. Fees for seat reservations with certain fares. Snacks and other food are available for purchase on domestic flights |
Fun Stuff:
| Entertainment | Meal Options | Freebies |
| --- | --- | --- |
| On-demand or overhead screens are on most flights, while some flights (particularly shorter flights and those on smaller planes) offer no video entertainment. Select flights offer on-demand streaming to your mobile device. Expect a selection of movies and TV | Non-alcoholic drinks and snacks are complimentary for domestic economy, with additional snacks and meals available for purchase on longer flights. International flights include complimentary meals. Comfort+, business, first, and Delta One classes receive better fare | A sleep kit is provided on long-haul international flights. Passengers with Delta One fares receive an amenity kit on all flights. Comfort+, first class, and Delta One passengers receive complimentary headsets, with Delta One flyers getting noise-canceling headsets. Checked bags and seat reservations are free with some flights and fares. Drinks, snacks, and meals may be complimentary |
easyJet
The Basics:
| Region | Subsidiaries | Seat Size | WiFi | Frequent Flyer Plan | Reviews |
| --- | --- | --- | --- | --- | --- |
| United Kingdom | None | 18" (economy) | None | None | Skytrax; AirlineRatings |
Baggage and Fees:
| Carry-on Baggage | Checked Baggage | Seat Reservations | Other Fees |
| --- | --- | --- | --- |
| 1 bag up to 56 cm. x 45 cm. x 25 cm.; 1 personal item up to 45 cm. x 36 cm. x 20 cm. for certain fares | No free bags. All bags can have total linear dimensions up to 275 cm., 20 kg. Bag fees range from £13 to £45, depending on the route and where you book (online bookings cost the least) | Choose your seat online for a fee from £1.99 to £16.99 (depending on seat location). All other passengers will be assigned a seat | Fees for checked bags, seat reservations, drinks and snacks |
Fun Stuff:
Egyptair
The Basics:
| Region | Subsidiaries | Seat Size | WiFi | Frequent Flyer Plan | Reviews |
| --- | --- | --- | --- | --- | --- |
| Egypt | Air Sinai, Egyptair Express | N/A | Available on select flights | Egyptair Plus, part of Star Alliance | Skytrax; AirlineRatings |
Baggage and Fees:
| Carry-on Baggage | Checked Baggage | Seat Reservations | Other Fees |
| --- | --- | --- | --- |
| 1 bag (economy) or 2 bags (business, first) up to 8 kg. | 1 to 3 bags with total linear dimensions up to 158 cm., 23 kg. to 32 kg., depending on route and fare | Choose your seat at check-in starting 48 hours before your departure | Fees for extra or overweight baggage, WiFi |
Fun Stuff:
| Entertainment | Meal Options | Freebies |
| --- | --- | --- |
| Video entertainment is available on most flights | Non-alcoholic drinks, snacks, and meals are complimentary, with options varying depending on flight duration. (Shorter flights may only have drink and snack service.) Business and first class receive better fare and multicourse meals | Free checked bags, drinks, snacks, and meals |
EL AL
The Basics:
| Region | Subsidiaries | Seat Size | WiFi | Frequent Flyer Plan | Reviews |
| --- | --- | --- | --- | --- | --- |
| Israel | UP, Sun d'Or International Airlines | 17" to 18" (economy); 18" (premium economy); 19.5" to 20.5" (business); 23" (first) | None | Matmid | Skytrax; AirlineRatings |
Baggage and Fees:
Carry-on Baggage
Checked Baggage
Seat Reservations
Other Fees
Economy: 1 bag, 8 kg.

Business: 2 bags, 20 kg.

First: 2 bags, 24 kg.

Other info: Bags can measure up to 56 cm. x 45 cm. x 25 cm. Frequent flyers get an extra baggage allowance
1 to 3 bags with total linear dimensions up to 158 cm., 23 kg. to 32 kg., depending on fare. Extra or overweight bags cost between $55 and $200, depending on size, weight, number of pieces, route, and when you pay. Frequent flyers get discounts on excess baggage
Choose your seat at check-in starting 24 hours before your departure
Fees for extra or overweight baggage
Fun Stuff:
| Entertainment | Meal Options | Freebies |
| --- | --- | --- |
| Video is available on all flights, either on-demand, via overhead screen, or by streaming to your mobile device. Expect a selection of movies, TV, and music channels | Drinks, snacks, and meals are complimentary, with options varying depending on flight duration. (Shorter flights may only have drink and snack service.) Business and first class receive better, multicourse meals | Amenity kits for premium economy, business, and first classes; checked bags; drinks, snacks, and meals |
Emirates
The Basics:
| Region | Subsidiaries | Seat Size | WiFi | Frequent Flyer Plan | Reviews |
| --- | --- | --- | --- | --- | --- |
| United Arab Emirates | None | 17" to 18" (economy); 18" to 20.5" (business); 20" to 23" (first) | Available on select flights. On flights where WiFi is available, 10MB of data is free, but you'll have to pay for data use beyond that: 500MB costs $1 | Emirates Skywards | Skytrax; AirlineRatings |
Baggage and Fees:
Carry-on Baggage
Checked Baggage
Seat Reservations
Other Fees
1 bag (economy) or 2 bags (business, first) up to 55 cm. x 38 cm. x 20 cm., 7 kg.
Depending on the route, baggage allowance may be by weight or by piece.

North America: 2 bags up to 23 kg. (economy) or 32 kg. (business, first)

Other destinations: 30 kg. (economy), 40 kg. (business), or 50 kg. (first)
Choose your seat online after you book
Fees for extra or overweight baggage, WiFi
Fun Stuff:
| Entertainment | Meal Options | Freebies |
| --- | --- | --- |
| All flights offer video entertainment, with on-demand video on seat-back screens available on most flights. Over 2,000 channels of TV, movies, music, and games are available in multiple languages | Drinks (including some alcoholic drinks), snacks, and meals are complimentary, with options varying depending on flight duration. (Shorter flights may only have drink and snack service.) Business and first class receive better fare | Amenity kits for long-haul flights; checked bags; drinks, snacks, and meals |
Ethiopian Airlines
The Basics:
| Region | Subsidiaries | Seat Size | WiFi | Frequent Flyer Plan | Reviews |
| --- | --- | --- | --- | --- | --- |
| Ethiopia | None | 17" to 18" (economy); 20" to 21" (business) | None | ShebaMiles, part of Star Alliance | Skytrax |
Baggage and Fees:
Carry-on Baggage
Checked Baggage
Seat Reservations
Other Fees
Economy: 1 bag, 7 kg.

Business: 2 bags, 8 kg.

Other info: Bags can measure up to 23 cm. x 40 cm. x 55 cm. 1 personal item is also allowed. Certain frequent flyers get an extra baggage allowance
Depending on the route, baggage allowance may be by weight or by piece.

U.S.: 2 or 3 bags with total linear dimensions up to 158 cm., 23 kg. (economy) or 32 kg. (Cloud Nine)
You may be able choose your seat during check-in, but seats may also be preassigned
Fees for extra or overweight baggage
Fun Stuff:
| Entertainment | Meal Options | Freebies |
| --- | --- | --- |
| On-demand video on seat-back screens, featuring movies, TV, and music | Drinks (including alcoholic drinks), snacks, and meals are complimentary, with options varying depending on flight duration. (Shorter flights may only have drink and snack service.) Business class receives better fare | Free checked bags, drinks, snacks, and meals |
Etihad Airways
The Basics:
| Region | Subsidiaries | Seat Size | WiFi | Frequent Flyer Plan | Reviews |
| --- | --- | --- | --- | --- | --- |
| United Arab Emirates | None | 17.1" to 18.1" (economy); 20" to 21" (business); 29.5" to 30" (first) | Available on select flights. Pricing varies: Some flights offer AeroMobile, with pricing based on time length; others offer OnAir, with pricing based on data use. Pricing starts at $5 for 30 minutes. | Etihad Guest | Skytrax; AirlineRatings |
Baggage and Fees:
Carry-on Baggage
Checked Baggage
Seat Reservations
Other Fees
Economy: 1 bag, 7 kg.

Business, first: 2 bags, 12 kg.
Depending on the route, baggage allowance may be by weight or by piece.

Brazil: 2 bags up to 32 kg.

U.S. and Canada, and many other routes : 2 bags up to 23 kg. (economy) or 32 kg. (business, first)

Other destinations: 30 kg. (economy), 40 kg. (business), or 50 kg. (first)

Other info: Certain frequent flyers receive extra baggage. Costs for extra or overweight bags start at $37 per 5 kg. and $47 per piece, depending on the route
Choose your seat online after you book
Fees for extra or overweight baggage, WiFi
Fun Stuff:
| Entertainment | Meal Options | Freebies |
| --- | --- | --- |
| All flights offer video entertainment, with on-demand video on seat-back screens available on most flights, featuring hundreds of hours of movies, TV, music, and games | Drinks, snacks, and meals are complimentary, with options varying depending on flight duration. (Shorter flights may only have drink and snack service.) Business and first class receive better, multicourse meals | Amenity kits for long-haul flights; checked bags; drinks, snacks, and meals |
Eurowings
The Basics:
| Region | Subsidiaries | Seat Size | WiFi | Frequent Flyer Plan | Reviews |
| --- | --- | --- | --- | --- | --- |
| Germany | None | N/A | Available on select flights | Miles & More | Skytrax |
Baggage and Fees:
| Carry-on Baggage | Checked Baggage | Seat Reservations | Other Fees |
| --- | --- | --- | --- |
| 1 bag up to 55 cm. x 40 cm. x 23 cm., 8 kg. A foldable garment bag up to 57 cm. x 54 cm. x 15 cm. may be carried instead | 0 to 2 bags up to 23 kg. Basic fares allow no free bags, Smart fares allow 1 free bag, and Best fares permit 2 free bags. Extra bag fees range from €15 to €75 per piece | Choose your seat online for a fee from €8 to €90 (depending on seat location and amount of legroom). Smart and Best fares can select a seat for free | Fees for baggage with some fares, as well as extra or overweight baggage. Fees for seat reservations with certain fares. Drinks and snacks are available for purchase (but included with some fares) |
Fun Stuff:
| Entertainment | Meal Options | Freebies |
| --- | --- | --- |
| In-flight magazine. Certain fares let you download digital newspapers or magazines directly to your mobile device | Drinks and snacks are available for purchase with economy fares, but provided for Best and Smart fares | Free checked bags, drinks, and snacks for some fares |
EVA Air
The Basics:
| Region | Subsidiaries | Seat Size | WiFi | Frequent Flyer Plan | Reviews |
| --- | --- | --- | --- | --- | --- |
| Taiwan | UNI Air | 17" to 18.3" (economy); 18" to 19.5" (premium economy); 19" to 26" (business) | Available on select flights. WiFi costs $11.95 for 1 hour, $16.95 for 3 hours, and $21.95 for 24 hours | Infinity MileageLands, part of Star Alliance | Skytrax; AirlineRatings |
Baggage and Fees:
Carry-on Baggage
Checked Baggage
Seat Reservations
Other Fees
1 bag (economy) or 2 bags (business) with total linear dimensions up to 115 cm., 7 kg.; 1 personal item
Depending on the route, baggage allowance may be by weight or by piece. Check with the airline to see which baggage rules your flight falls under.

Economy: 2 bags up to 23 kg. (by piece) or 20 kg. total (by weight)

Elite: 2 bags up to 28 kg. (by piece) or 25 kg. total (by weight)

Business: 2 bags up to 32 kg. (by piece) or 30 kg. (by weight)

Other info: Europe flights have different baggage allowances. All bags can have total linear dimensions up to 158 cm. Certain frequent flyers receive extra free baggage. Costs for extra or overweight bags start at $8 per kg. and $115 per piece
Choose your seat online after you book
Fees for extra or overweight baggage, WiFi
Fun Stuff:
| Entertainment | Meal Options | Freebies |
| --- | --- | --- |
| On-demand or overhead screens are on most flights, while some flights (particularly shorter flights and those on smaller planes) may offer no video entertainment. Expect a selection of movies, TV, and games | Drinks, snacks, and meals are complimentary, with options varying depending on flight duration. (Shorter flights may only have drink and snack service.) Business class receives better, multicourse meals | Amenity kits for long-haul flights; checked bags; drinks, snacks, and meals |
Finnair
The Basics:
| Region | Subsidiaries | Seat Size | WiFi | Frequent Flyer Plan | Reviews |
| --- | --- | --- | --- | --- | --- |
| Finland | Nordic Regional Airlines | 18" (economy); 18" to 21" (business) | Available on select flights | Finnair Plus, part of the Oneworld alliance | Skytrax; AirlineRatings |
Baggage and Fees:
Carry-on Baggage
Checked Baggage
Seat Reservations
Other Fees
Economy: 1 bag, 8 kg.

Business and certain frequent flyers: 2 bags, 10 kg.

Other info: Bags can measure up to 56 cm. x 45 cm. x 25 cm. 1 personal item is also allowed
0 to 3 bags with total linear dimensions up to 158 cm., 23 kg. Economy Light fares allow no free bags. Certain frequent flyers receive extra baggage. Extra bag fees range from $10 to $200 per piece
Choose your seat online after you book for a fee (for certain fares). Seats, including those with extra legroom, better locations, and extra amenities, are available for €6 to €75. Business and PRO fares, award tickets, and certain frequent flyers can reserve seats for free
Fees for extra or overweight baggage, seat selection (for certain fares)
Fun Stuff:
| Entertainment | Meal Options | Freebies |
| --- | --- | --- |
| On-demand or overhead screens are on most flights, while some flights (particularly shorter flights and those on smaller planes) may offer no video entertainment. Expect a selection of movies, TV, and games | Drinks, snacks, and meals (on intercontinental flights for economy) are complimentary, with options varying depending on flight duration. (Shorter flights may only have drink service.) Business class receives better, multicourse meals | Free checked bags, drinks, snacks, and meals |
Frontier Airlines
The Basics:
Baggage and Fees:
| Carry-on Baggage | Checked Baggage | Seat Reservations | Other Fees |
| --- | --- | --- | --- |
| 1 personal item up to 14" x 8" x 18" is allowed. Carry-on bags can measure up to 24" x 10" x 16", 35 lbs.; they cost $30 to $60, with discounts for paying in advance | No free checked bags. Pay $25 to $80 for each bag, which can have total linear dimensions up to 62", 50 lbs. Oversize and overweight baggage costs an additional $75 per piece | Choose your standard seat online for a fee from $6 to $11; Stretch seating with extra legroom costs $20 to $25. Passengers with The Works bundle can select a seat (including a seat with extra legroom) for free | Fees for carry-on and checked baggage, seat selection, drinks and snacks |
Fun Stuff:
| Entertainment | Meal Options | Freebies |
| --- | --- | --- |
| None | Drinks and snacks are available for purchase, with fresh food available for purchase on longer flights | None |
Gulf Air
The Basics:
| Region | Subsidiaries | Seat Size | WiFi | Frequent Flyer Plan | Reviews |
| --- | --- | --- | --- | --- | --- |
| Bahrain | None | 18" to 20.6" (economy); 19" to 26" (business); 21" (first) | N/A | Falconflyer | Skytrax; AirlineRatings |
Baggage and Fees:
Carry-on Baggage
Checked Baggage
Seat Reservations
Other Fees
Economy: 1 bag up to 45 cm. x 40 cm. x 30 cm., 6 kg.

Falcon Gold: 1 bag up to 55 cm. x 40 cm. x 30 cm. or 1 garment bag up to 20 cm. wide, plus one briefcase, 9 kg.

Other info: 1 personal item is also allowed
Up to 95 cm. x 75 cm. x 45 cm., 30 kg. (economy) or 40 kg. (Falcon Gold). Certain frequent flyers receive extra baggage. Excess baggage costs $13 to $50 per kg.
Choose your seat when you book
Fees for extra or overweight baggage
Fun Stuff:
| Entertainment | Meal Options | Freebies |
| --- | --- | --- |
| Flights offer on-demand entertainment, featuring a selection of movies, TV, and music | Drinks, snacks, and meals are complimentary, with options varying depending on flight duration. (Shorter flights may only have drink and snack service.) Business class receives better, multicourse meals | Free checked bags, drinks, snacks, and meals |
Hainan Airlines
The Basics:
| Region | Subsidiaries | Seat Size | WiFi | Frequent Flyer Plan | Reviews |
| --- | --- | --- | --- | --- | --- |
| China | Beijing Capital Airlines, Fuzhou Airlines, Lucky Air, Tianjin Airlines, Grand China Air | 17" to 19" (economy); 20" to 22.5" (business); 22.5" (first) | None | Fortune Wings Club | Skytrax; AirlineRatings |
Baggage and Fees:
Carry-on Baggage
Checked Baggage
Seat Reservations
Other Fees
Domestic: 1 or 2 bags up to 20 cm. x 40 cm. x 55 cm., 5 kg.

International: 1 or 2 bags up to 20 cm. x 40 cm. x 55 cm., 10 kg.

Other info: Certain fares and frequent flyers may receive extra free baggage
1 or 2 bags with total linear dimensions up to 45" to 62", 20 kg. to 50 kg., depending on fare and route. Fees for extra or overweight bags vary by route, weight, and number of pieces
Choose your seat when you book
Fees for extra or overweight baggage
Fun Stuff:
| Entertainment | Meal Options | Freebies |
| --- | --- | --- |
| On-demand or overhead screens are on most flights, while some flights (particularly shorter flights and those on smaller planes) may offer no video entertainment | Drinks, snacks, and meals are complimentary, with options varying depending on flight duration. (Shorter flights may only have drink and snack service.) Business class receives better, multicourse meals | Amenity kits for business class; checked bags; drinks, snacks, and meals |
Hawaiian Airlines
The Basics:
| Region | Subsidiaries | Seat Size | WiFi | Frequent Flyer Plan | Reviews |
| --- | --- | --- | --- | --- | --- |
| Hawaii (United States) | 'Ohana by Hawaiian | 17" to 18" (economy); 18.5" (business, first) | None | HawaiianMiles | Skytrax; AirlineRatings |
Baggage and Fees:
| Carry-on Baggage | Checked Baggage | Seat Reservations | Other Fees |
| --- | --- | --- | --- |
| 1 bag up to 22" x 14" x 9", 25 lbs.; 1 personal item | 0 to 2 bags with total linear dimensions up to 62", 50 lbs. to 70 lbs. Domestic economy receives no free checked bags; domestic first class and all international flights allow 2 free checked bags. Extra bags cost $15 to $150, with discounts for frequent flyers. Oversize or overweight bags require an additional fee of $35 to $400 | Choose your seat online after you book | Fees for baggage with some fares, as well as extra or overweight baggage |
Fun Stuff:
| Entertainment | Meal Options | Freebies |
| --- | --- | --- |
| On-demand or overhead screens are on most flights. Some flights offer a rental tablet loaded with movies, TV, and games; some flights (particularly shorter flights and those on smaller planes) may offer no video entertainment | Drinks, snacks, and meals are complimentary, with options varying depending on flight duration. Flights within Hawaii only offer drink service. First and business class receive better, multicourse meals, as well as complimentary alcoholic drinks | Free checked bags for most fares, drinks, snacks, and meals |
Iberia
The Basics:
Baggage and Fees:
Fun Stuff:
| Entertainment | Meal Options | Freebies |
| --- | --- | --- |
| For longer flights, entertainment is available on on-demand or overhead screens (economy class only), with movies, TV, and music. On shorter flights, business class passengers have access to PlayStation Portable devices or their own iPads to play games or watch movies, TV, or listen to music | Drinks, snacks, and meals are available for purchase in domestic (or short haul) economy class. Long-haul international economy offers complimentary meals and beverages. Drinks (including alcoholic drinks), snacks, and meals are complimentary in business class, which also offers better, multicourse meals on longer flights | Amenity kits for business class on medium- and long-haul flights; checked bags for most fares; drinks, snacks, and meals on some flights |
Icelandair
The Basics:
| Region | Subsidiaries | Seat Size | WiFi | Frequent Flyer Plan | Reviews |
| --- | --- | --- | --- | --- | --- |
| Iceland | Air Iceland | 17.2" to 19" (economy); 20.5" (business) | Available on every flight. Complimentary on two devices for Saga class passengers and Saga Gold members | Saga Club | Skytrax; AirlineRatings |
Baggage and Fees:
| Carry-on Baggage | Checked Baggage | Seat Reservations | Other Fees |
| --- | --- | --- | --- |
| 1 bag (economy) or 2 bags (Economy Comfort, Saga) up to 55 cm. x 40 cm. x 20 cm., 10 kg.; 1 personal item | 1 or 2 bags with total linear dimensions up to 158 cm., 23 kg. to 32 kg., depending on the route. Certain frequent flyers or airline-associated credit card holders get extra free baggage. Extra bags or overweight bags cost €38 to €114 | Choose your seat when you book | Fees for extra or overweight baggage, snacks and meals in economy class |
Fun Stuff:
| Entertainment | Meal Options | Freebies |
| --- | --- | --- |
| All flights offer on-demand entertainment, featuring a selection of movies, TV, and music. Headphones are available for purchase for €6 | Non-alcoholic drinks are complimentary, with snacks and meals available for purchase in economy class. Drinks, snacks, and meals are complimentary in Economy Comfort class and Saga class | Free checked bags, drinks |
Interjet
The Basics:
Baggage and Fees:
| Carry-on Baggage | Checked Baggage | Seat Reservations | Other Fees |
| --- | --- | --- | --- |
| Up to 10 kg. | Up to 50 kg. to 75 kg. | Choose your seat when you book or at the airport, depending on the flight | None |
Fun Stuff:
| Entertainment | Meal Options | Freebies |
| --- | --- | --- |
| Music is available | Drinks and snacks are complimentary, with options varying depending on flight duration | Drinks and snacks |
Iran Air
The Basics:
| Region | Subsidiaries | Seat Size | WiFi | Frequent Flyer Plan | Reviews |
| --- | --- | --- | --- | --- | --- |
| Iran | Iran AirTours | N/A | None | SkyGift | Skytrax; AirlineRatings |
Baggage and Fees:
| Carry-on Baggage | Checked Baggage | Seat Reservations | Other Fees |
| --- | --- | --- | --- |
| 1 bag up to 56 cm. x 45 cm. x 25 cm., 5 kg. | Up to 30 kg. to 50 kg. Extra or overweight bags cost £12 per kg. | N/A | Fees for extra or overweight baggage |
Fun Stuff:
| Entertainment | Meal Options | Freebies |
| --- | --- | --- |
| Movies and music may be available on select flights | Non-alcoholic drinks, snacks, and meals are complimentary, with options varying depending on flight duration. (Shorter flights may only have drink and snack service.) | Free checked bags, drinks, snacks, and meals |
Japan Airlines
The Basics:
| Region | Subsidiaries | Seat Size | WiFi | Frequent Flyer Plan | Reviews |
| --- | --- | --- | --- | --- | --- |
| Japan | J-Air, Japan Air Commuter, Japan Transocean Air | 17.3" to 19" (economy); 18.5" to 25.5" (business); 21" to 33" (first) | Available on select flights. 1 hour is $10.15; 3 hours is $14.40; 24 hours is $18.80. Discounts available with a Japan Airlines credit card | JAL Mileage Bank, part of the Oneworld alliance | Skytrax; AirlineRatings |
Baggage and Fees:
Carry-on Baggage
Checked Baggage
Seat Reservations
Other Fees
1 bag with total linear dimensions up to 115 cm., 10 kg.; 1 personal item
Economy: 2 bags with total linear dimensions up to 203 cm., 23 kg.

Business, first: 3 bags with total linear dimensions up to 203 cm., 32 kg.

Other info: Extra, oversize, or overweight bags cost ¥1,000 to ¥60,000
Choose your seat when you book
Fees for extra or overweight baggage, WiFi
Fun Stuff:
| Entertainment | Meal Options | Freebies |
| --- | --- | --- |
| On-demand or overhead screens are on most flights, while some flights (particularly shorter flights and those on smaller planes) may offer no video entertainment. Expect a selection of movies, music, games, and manga | Non-alcoholic drinks are complimentary in domestic economy class, with snacks and meals provided in economy on international flights. Premium economy receives extra snacks. Business and first class receive better, multicourse meals | Amenity kits on international flights; checked bags; drinks, snacks, and meals on certain flights |
Jet Airways
The Basics:
| Region | Subsidiaries | Seat Size | WiFi | Frequent Flyer Plan | Reviews |
| --- | --- | --- | --- | --- | --- |
| India | JetKonnect | 17" to 18.5" (economy); 21" to 23" (business); 30" (first) | None | JetPrivilege | Skytrax; AirlineRatings |
Baggage and Fees:
| Carry-on Baggage | Checked Baggage | Seat Reservations | Other Fees |
| --- | --- | --- | --- |
| 1 bag with total linear dimensions up to 115 cm., 7 kg. or 10 kg.; 1 personal item | Up to 30 kg. to 50 kg. Extra or overweight bags cost $20 per kg., or $27 per bag or 5 kg. | Choose your seat at check-in starting 24 hours to 48 hours before your departure. On certain routes, economy passengers can choose seats for a fee of ₹500 to ₹3,500 | Fees for extra or overweight baggage |
Fun Stuff:
| Entertainment | Meal Options | Freebies |
| --- | --- | --- |
| On-demand video is available on most flights, while some flights (particularly shorter flights and those on smaller planes) may offer no video entertainment. When available, expect a selection of movies and TV shows | Non-alcoholic drinks, snacks, and meals are complimentary, with options varying depending on flight duration. (Shorter flights may only have drink and snack service.) Business and first class receive better, multicourse meals and alcoholic drinks | Amenity kits for business and first class (including pajamas on long flights); checked bags; drinks, snacks, and meals |
JetBlue Airways
The Basics:
Baggage and Fees:
| Carry-on Baggage | Checked Baggage | Seat Reservations | Other Fees |
| --- | --- | --- | --- |
| 1 bag up to 22" x 14" x 9"; 1 personal item | 0 to 2 bags with total linear dimensions up to 62", 50 lbs. Blue fares receive no free checked bags. Extra bags cost $20 to $100; oversize or overweight bags cost $100 per bag | Choose your seat when you book. Book a seat on JetBlue with extra legroom starting at $10 each way | Fees for baggage with some fares, as well as extra or overweight baggage; seats with extra legroom; snacks and meals for purchase; WiFi |
Fun Stuff:
| Entertainment | Meal Options | Freebies |
| --- | --- | --- |
| All flights offer on-demand entertainment, featuring a selection of movies, TV, and music. Expect 36 or more channels of DirecTV, 100-plus channels of SiriusXM Radio, and on-demand movies. Movies are available on all flights longer than 2 hours and cost $5 per film on flights within the continental USA; they are free on flights outside the continental USA | Non-alcoholic drinks and snacks are complimentary, with alcoholic drinks, snack boxes, and (on certain flights) meals available for purchase in economy class. Business class receives complimentary tapas and wine service | Free checked bags for most fares; drinks and snacks |
Kenya Airways
The Basics:
| Region | Subsidiaries | Seat Size | WiFi | Frequent Flyer Plan | Reviews |
| --- | --- | --- | --- | --- | --- |
| Kenya | Jambojet | 17" to 18.5" (economy); 17" to 31" (business) | Available on select flights | Flying Blue, part of the SkyTeam alliance | Skytrax; AirlineRatings |
Baggage and Fees:
Fun Stuff:
| Entertainment | Meal Options | Freebies |
| --- | --- | --- |
| Entertainment is available, either via on-demand or overhead screens, featuring a selection of movies | Non-alcoholic drinks, snacks, and meals are complimentary, with options varying depending on flight duration. (Shorter flights may only have drink service.) Business class receives better, multicourse meals | Amenity kits for business class on medium- and long-haul flights; checked bags; drinks, snacks, and meals |
KLM
The Basics:
Baggage and Fees:
| Carry-on Baggage | Checked Baggage | Seat Reservations | Other Fees |
| --- | --- | --- | --- |
| 1 bag up to 55 cm. x 25 cm. x 35 cm.; business class passengers can bring a second bag up to 45 cm. x 20 cm. x 35 cm. 1 personal item is also allowed | Varies depending on destination; check your specific route | Choose your seat when you book. Better seats with more legroom are available for an additional charge of €10 to €180, but certain frequent flyers can select these seats for free | Fees for extra or overweight baggage, better seats, WiFi |
Fun Stuff:
| Entertainment | Meal Options | Freebies |
| --- | --- | --- |
| On-demand or overhead screens are on most flights, while some flights (particularly shorter flights and those on smaller planes) may offer no video entertainment. Expect a selection of movies, TV, music, news, games, and audiobooks | Drinks (including alcoholic drinks), snacks, and meals are complimentary, with options varying depending on flight duration. (Shorter flights may only have drink and snack service.) Business class receives better, multicourse meals, and economy class can pay for a la carte meals | Amenity kits for business class on long-haul flights; checked bags; drinks, snacks, and meals |
Korean Air
The Basics:
| Region | Subsidiaries | Seat Size | WiFi | Frequent Flyer Plan | Reviews |
| --- | --- | --- | --- | --- | --- |
| South Korea | Jin Air | 17.2" to 18.1" (economy); 19" to 21.6" (business); 20.1" to 26.5" (first) | None | SKYPASS, part of the SkyTeam alliance | Skytrax; AirlineRatings |
Baggage and Fees:
Carry-on Baggage
Checked Baggage
Seat Reservations
Other Fees
Economy: 1 bag up to 55 cm. x 20 cm. x 40 cm., 12 kg.; 1 personal item

First/Prestige: 2 bags up to 55 cm. x 20 cm. x 40 cm., 18 kg.
1 to 3 bags with total linear dimensions up to 158 cm., 20 kg. to 32 kg., depending on route and fare. Extra or overweight bags cost $50 to $200. Certain frequent flyers receive extra free baggage
Choose your seat when you book
Fees for extra or overweight baggage
Fun Stuff:
| Entertainment | Meal Options | Freebies |
| --- | --- | --- |
| On-demand video is available on most flights, while some flights (particularly shorter flights and those on smaller planes) may offer no video entertainment. When available, expect a selection of movies, TV, music, and games | Drinks (including alcoholic drinks), snacks, and meals are complimentary, with options varying depending on flight duration. (Shorter flights may only have drink and snack service.) Business class receives better meals, and first class receives even better meals | Amenity kits on long-haul flights; checked bags; drinks, snacks, and meals |
Kuwait Airways
The Basics:
Baggage and Fees:
Carry-on Baggage
Checked Baggage
Seat Reservations
Other Fees
1 bag up to 25 cm. x 46 cm. x 56 cm., 7 kg. (economy) or 11 kg. (business, first); 1 personal item
Economy: 1 or 2 bags with total linear dimensions up to 158 cm., 23 kg.

Business: 2 bags with total linear dimensions up to 158 cm., 23 kg.

First: 2 bags with total linear dimensions up to 158 cm., 32 kg.

Other info: Fees for extra or overweight bags vary by route
Choose your seat when you book
Fees for extra or overweight baggage, WiFi
Fun Stuff:
| Entertainment | Meal Options | Freebies |
| --- | --- | --- |
| Music and movies are available | Non-alcoholic drinks, snacks, and meals are complimentary, with options varying depending on flight duration. (Shorter flights may only have drink and snack service.) Business class receives better meals, and first class receives even better meals | Amenity kits for business and first class; checked bags; drinks, snacks, and meals |
LAN Airlines
The Basics:
| Region | Subsidiaries | Seat Size | WiFi | Frequent Flyer Plan | Reviews |
| --- | --- | --- | --- | --- | --- |
| South America | LAN Argentina, LAN Colombia, LAN Ecuador, LAN Perú | 17" to 19" (economy); 20" to 23" (business) | None | LANPASS, part of the Oneworld alliance | Skytrax; AirlineRatings |
Baggage and Fees:
| Carry-on Baggage | Checked Baggage | Seat Reservations | Other Fees |
| --- | --- | --- | --- |
| 1 bag, 8 kg. (economy) or 16 kg. (premium economy, business); 1 personal item | 1 to 3 bags with total linear dimensions up to 158 cm., 23 kg. to 32 kg., depending on route and fare. Extra or overweight bags often cost $10 to $195 | Choose your seat at check-in | Fees for extra or overweight baggage |
Fun Stuff:
| Entertainment | Meal Options | Freebies |
| --- | --- | --- |
| All flights offer entertainment, either via on-demand or overhead screens, featuring a selection of movies, TV, and music | Non-alcoholic drinks, snacks, and meals are complimentary, with options varying depending on flight duration. (Shorter flights may only have drink and snack service.) | Free checked bags, drinks, snacks, and meals |
LOT Polish Airlines
The Basics:
| Region | Subsidiaries | Seat Size | WiFi | Frequent Flyer Plan | Reviews |
| --- | --- | --- | --- | --- | --- |
| Poland | None | 16.9" to 18" (economy); 19.5" (premium economy); 18" to 23" (business) | None | Miles & More, part of Star Alliance | Skytrax; AirlineRatings |
Baggage and Fees:
Carry-on Baggage
Checked Baggage
Seat Reservations
Other Fees
Economy: 1 bag, 8 kg.

Premium economy: 1 bag, 8 kg. (international flights); 2 bags, 12 kg. total (intercontinental flights)

Business: 2 bags, 9 kg. each

Other info: Bags can measure up to 23 cm. x 40 cm. x 55 cm. 1 personal item is also allowed
0 to 3 bags with total linear dimensions up to 158 cm., 23 kg. to 32 kg. Certain frequent flyers receive extra free baggage. Extra or overweight bags cost $50 to $480
Choose your seat at check-in. Better seats with more legroom are available for an additional charge, but LOT business class and premium economy passengers, and Miles & More HON Circle and Senator members, can select these seats for free
Fees for baggage with some fares, as well as extra or overweight baggage; better seats
Fun Stuff:
| Entertainment | Meal Options | Freebies |
| --- | --- | --- |
| On-demand or overhead screens are on most flights, while some flights (particularly shorter flights and those on smaller planes) may offer no video entertainment. Expect a selection of movies, TV, and music | Non-alcoholic drinks, snacks, and meals are complimentary (and additional options are available to purchase), with options varying depending on flight duration. (Shorter flights may only have drink and snack service.) Premium economy also receives alcoholic drinks. Business class receives better, multicourse meals | Free checked bags for most fares; drinks, snacks, and meals |
Lufthansa
The Basics:
| Region | Subsidiaries | Seat Size | WiFi | Frequent Flyer Plan | Reviews |
| --- | --- | --- | --- | --- | --- |
| Germany | Air Dolomiti, Lufthansa CityLine, Eurowings, SunExpress, Austrian Airlines, SWISS | 17" to 18.25" (economy); 18" to 19" (premium economy); 17.5" to 26.4" (business); 21" to 31.5" (first) | Available on select flights. 1 hour costs €9, 4 hours costs €14, and full-flight WiFi costs €17 | Miles & More, part of Star Alliance | Skytrax; AirlineRatings |
Baggage and Fees: