What Kind of Lawn Mower Should You Buy?
The size of your yard may be the biggest factor to consider when choosing your next mower.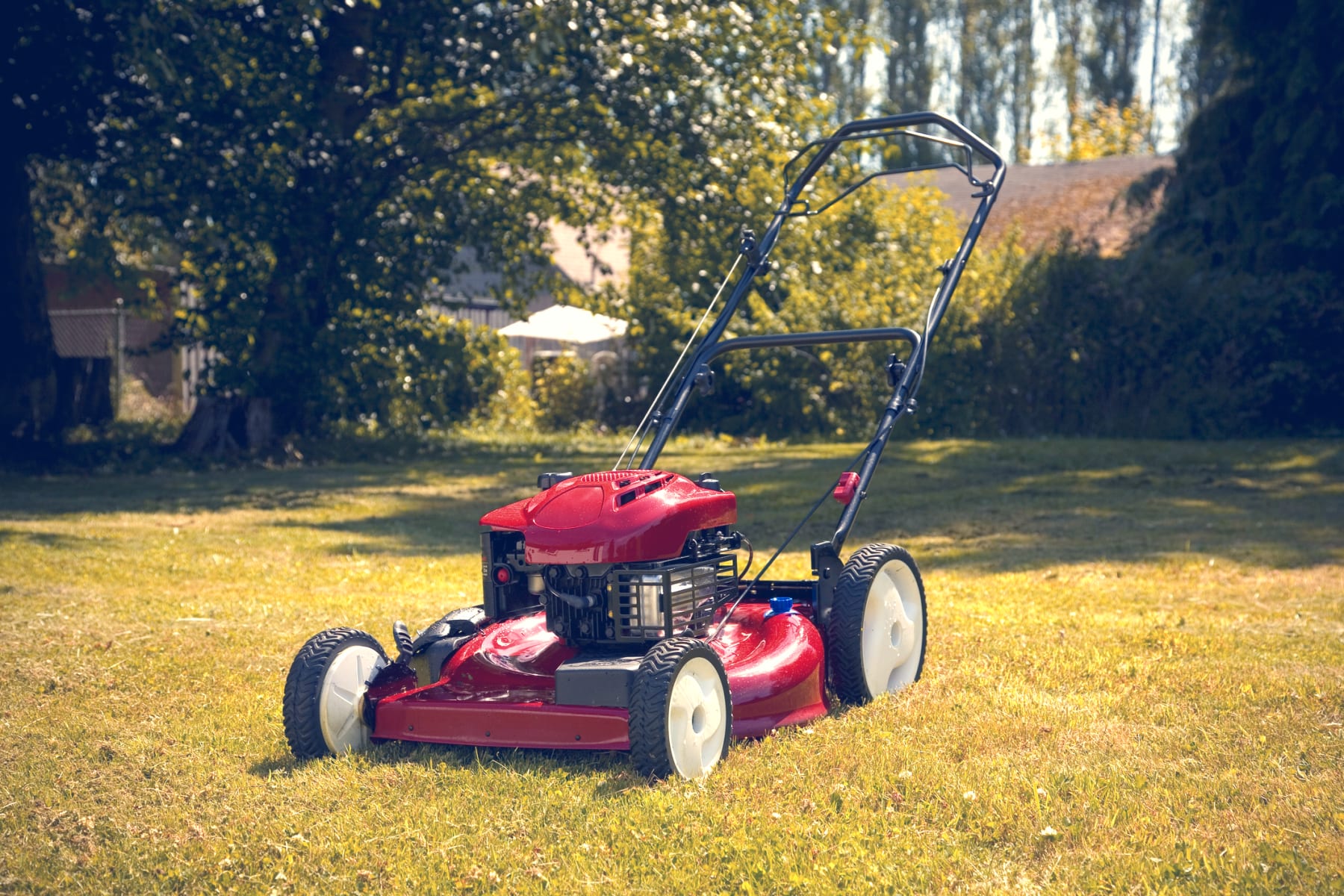 If the grass actually is greener on your neighbor's side, it might be time for you to invest in a new mower. But you may be wondering, "What kind of of lawn mower is right for me?" Our infographic and guide below will help you choose the perfect lawn mower for your yard and budget.
Buying a Lawn Mower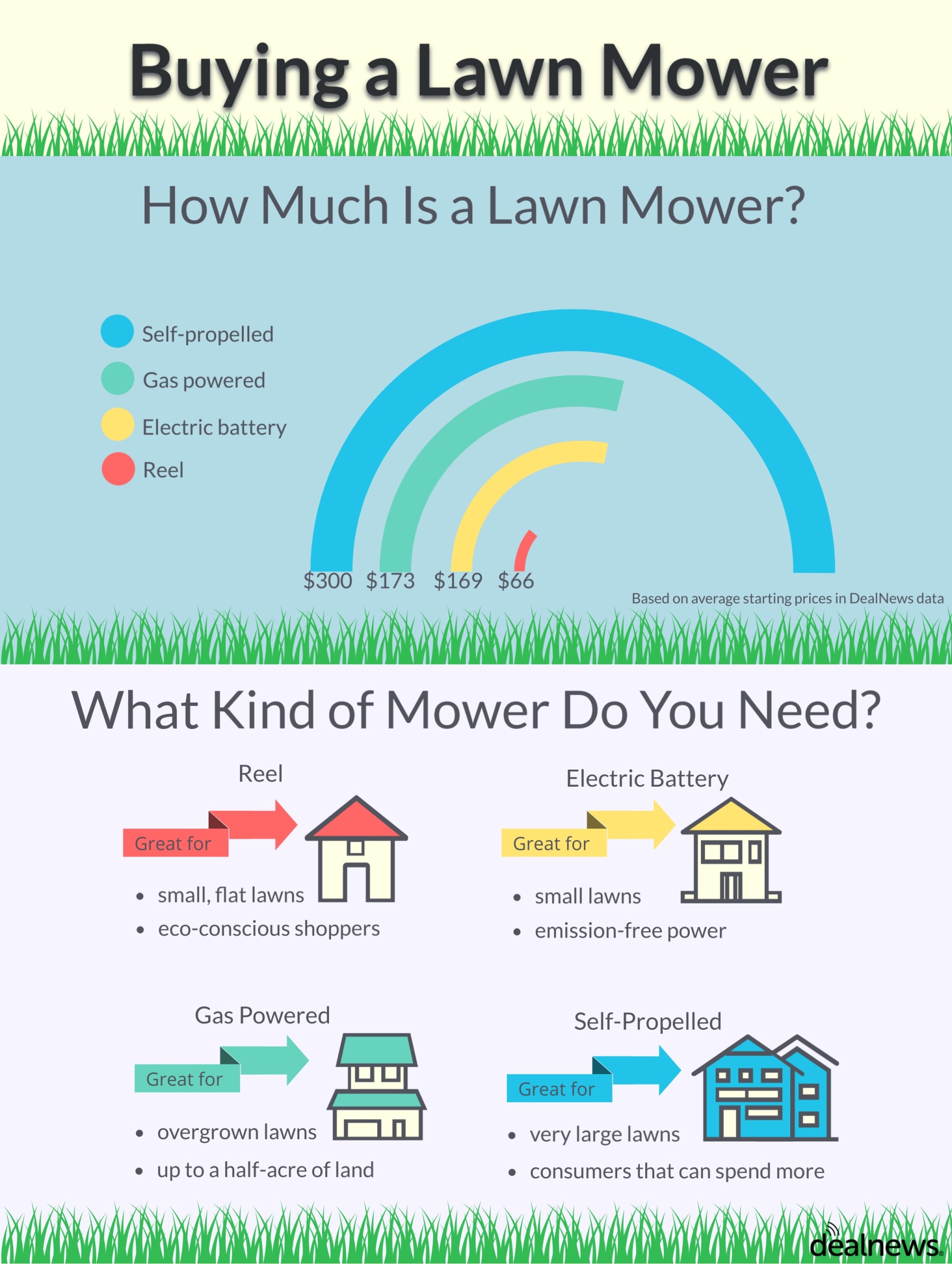 What Kind of Lawn Mower Do You Need?
Riding or Walking?
The first decision you'll need to make is whether you'll walk or ride your mower. Consumer Reports suggests a riding mower for lawns that are greater than a half-acre, or 21,780 square feet. You're still allowed to buy a riding mower if your yard is smaller, but be prepared for eye-rolling from your neighbors.
Otherwise, you should consider the many options in walking mowers. You can choose between motor-powered or man-powered; gas or electric; self-propelled or push; and more.
Consider Grass Clippings
Before you get to mowing, you'll also want to determine what you want to do with the cut grass. Are you a bagger who collects your clippings? A mulcher who wants their grass cut into confetti bits then tossed back on the ground to nourish the lawn? A side-discharger, who'd like the clippings blown out of the side of the mower?
Take Yard Incline Into Account
Finally, consider the terrain you're cutting. A 15-degree slope is roughly the maximum angle you can cut safely. But if your lawn does have a lot of slopes, you might not want to be lugging a huge mower up and down it.
4 Top Types of Lawn Mowers
So, what kind of lawn mower should you buy? Read on for further details about each type.
Best for Eco-Conscious Buyers: Manual Reel Mowers
What They Cost: From $66
Best for small, flat lawns, manual reel mowers have a certain bucolic charm, likely because they were the standard among households in the first half of the previous century. But they're also great for those who wish to be eco-friendly, as these push mowers emit no pollution. They also make little noise, require little upkeep, and can be had at a fraction of the cost of a powered mower. We've seen models start around $66 on average.
SEE ALSO: What to Look for When Buying a Fan
But cutting grass with a manual mower is hard work, especially if the grass needs more than a 1" haircut. These machines also don't trim well close to objects like trees, so even basic landscaping requires some hand-trimming.
Best for Small Lawns: Electric Battery Mowers
What They Cost: From $169
While corded electric mowers exist, they seem to come with more restrictions than not, and a cord-free model can usually handle the same job. Electric battery mowers operate from a battery enclosed in the housing, and are less cumbersome than corded models. These mowers can start at the flip of a switch and just need to be plugged in to recharge; plus, electric battery mowers are emission-free at point-of-use.
The downsides? For many models, the recharge time can be lengthy, close to a full day in some cases. And batteries can be heavy, making the mower more cumbersome to push. Additionally, these mowers generally only run for 30 to 45 minutes and are best for cutting yards that are smaller than one-third of an acre, according to Consumer Reports. They're really only suited for specific situations by those standards. On average, these models start around $169, so they're definitely an investment when compared to a simpler rig like a reel mower.
Best for Mowing Up to a Half-Acre: Gas-Powered Mowers
What They Cost: From $173
There's a lot to be said for modern gas-powered mowers. They're efficient, powerful, durable, and dependable when properly maintained. Some even come with electric starters, freeing the user from those old rope-yanks. Yet these machines are still noisy, which is why you should wear ear protection while mowing. While we're at it, wearing eye protection is also a good idea; all mowers can kick up small pebbles and other debris.
Look for a gas lawn mower that has side-discharge, bagging, and mulching options included.
Most gas lawn mowers are powerful enough to cut yards that have been allowed to grow a bit beyond ideal. Look for a lawn mower that has side-discharge, bagging, and mulching options included with the unit, not as additional purchases. These models have an average starting price of $173, so you definitely don't want that cost to creep higher because of adding on accessories.
A washout port (the place to screw in a hose and wash out the cutting chamber after you mow) is also a useful feature, along with a blade brake (which allows you to empty the clippings bag without stopping the mower). And padded grips help prevent numb hands.
But no matter the bells and whistles, be prepared to maintain your gas-powered mower with regular blade sharpening, oil changes, filter cleaning, and spark plug replacement. It's generally easy to find these items at your local home and garden stores, like Home Depot and Lowe's.
Best for Larger Lawns: Self-Propelled Gas Mowers
What They Cost: From $280
If you don't fancy pushing a heavy mower around your lawn all day, you might consider investing in a self-propelled unit. It harnesses the power of the mower to pull itself along the yard, vastly reducing the amount of work needed to manicure your grass. Of course, we're calling these mowers an investment for a reason: self-propelled mowers can be as low as $280, but more often start around $300.
Readers, what type of mower do you prefer? Share your lawn-maintenance thoughts in the comments below!
---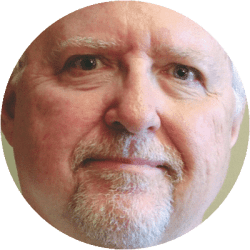 Contributing Writer
Tom Barlow is a freelance journalist specializing in lifestyle and consumer issues. In addition to DealNews, his writing has appeared on many websites, including Forbes.com and Aol's DailyFinance.com.
DealNews may be compensated by companies mentioned in this article. Please note that, although prices sometimes fluctuate or expire unexpectedly, all products and deals mentioned in this feature were available at the lowest total price we could find at the time of publication (unless otherwise specified).