Celebrate WrestleMania With These 10 Old-School WWE Collectibles
Before you watch WrestleMania 34, check out this awesome WWE merch from the '80s and '90s.
WrestleMania 34 is coming up on April 8 in New Orleans. The event is every wrestling fan's Super Bowl — a mega-sized spectacle filled with dream matches, celebrity guests, and super loud fireworks.
It's also when nostalgia for WWE's past exploits hits its yearly peak. After all, this will be the 34th annual WrestleMania. Many wrestling fans have spent their entire lives watching these events!
To celebrate, here's a look at 10 weird-and-wonderful WWE collectibles from yesteryear. All were discovered on eBay, so if you're a fan with money to burn, have fun bidding on $200 teddy bears and 19-year-old beef jerky.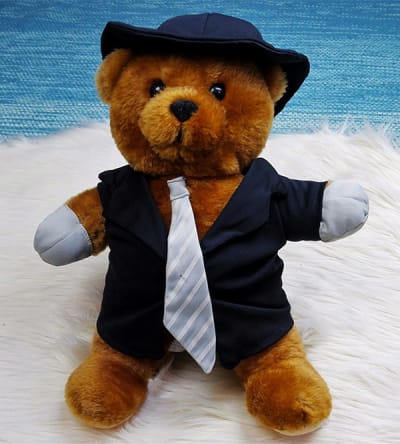 Going Price: $199.99
One of the oddest (and cutest) wrestling collectibles, this Undertaker teddy bear comes dressed in a black suit, grey gloves, and an oddly formal necktie — which was the Undertaker's standard attire back in the early '90s.
(If you watch enough WWE events from around this time, you might spot fans holding this little guy up while the real Undertaker walks to the ring!)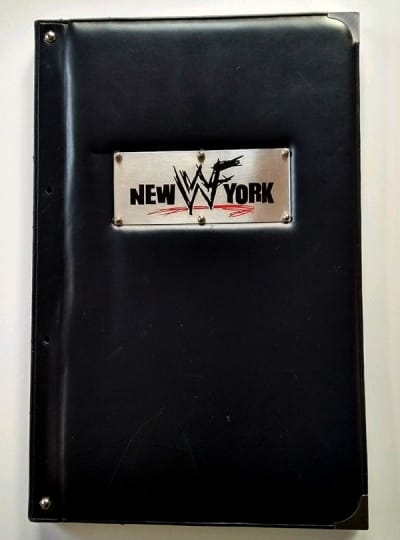 Going Price: $49.35 (auction ended)
You remember WWF New York, don't you? The wrestling-themed restaurant right in the heart of Times Square? I swear, it was really a thing in the late '90s and early 2000s. I went there quite a few times, racking up enormous bills for iffy steaks and nuked mozzarella sticks.
SEE ALSO: 9 Times Fast Food Went Healthy... And We Hated It!
That's no knock on the company, by the way. Pretty much all of the themed restaurants in Times Square are like that.
The restaurant was lined with TV screens featuring all sorts of wrestling programming and was a popular spot during WWE pay-per-view events. (Perhaps the biggest draw was the adjoining souvenir shop, littered with posters and action figures!)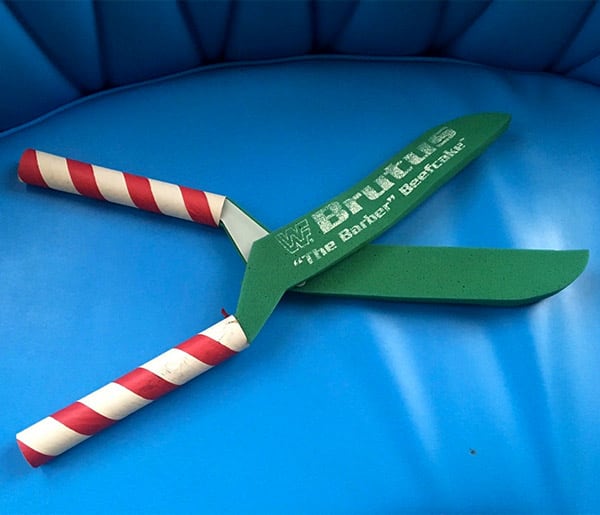 Going Price: $85
Oversized foam "things" were commonly sold at live events, because the best way to support your favorite wrestlers was to wildly shake big foam fingers at them.
This particular foam collectible was cleverer than the norm — it's a pair of giant foam scissors made to resemble the famous shears of Brutus "The Barber" Beefcake! (If you never saw Brutus in action, he'd celebrate big wins by cutting his fallen opponents' hair.)
Going Price: $30
Custom, one-of-a-kind wrestling figures are all over eBay. While I suppose you'd have to break a few rules to sell them, nobody seems to mind.
Besides, who could ever fault the creator of this? It's a — wait for it — custom "John Cena as Captain Planet" action figure, which used a He-Man figure as its starting point. Yes, he's Captain John "He-Man" Planet. Amazing.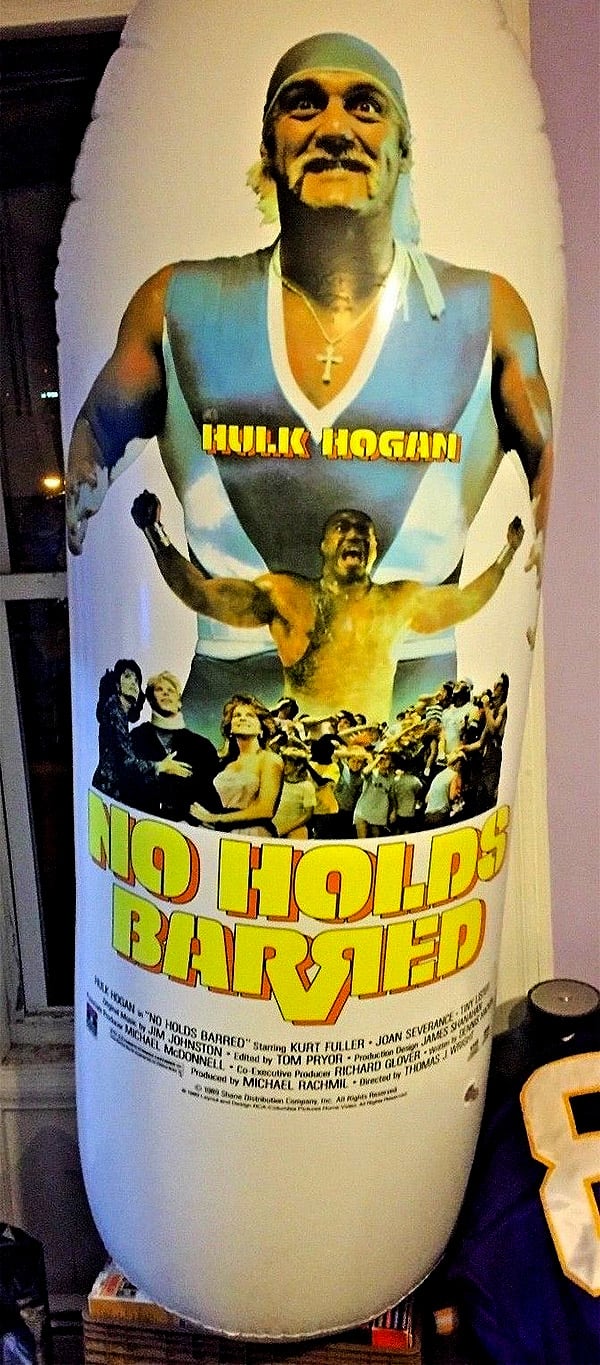 Going Price: $212.50
No Holds Barred was the 1989 movie wherein Hulk Hogan played… Hulk Hogan, basically. It would take too many words to describe the plot, so I'll just tell you that the movie ends with Hogan possibly murdering his opponent on live television, while a corrupt producer electrocutes himself off to the side.
If you love this ridiculous movie as much as I do, you might be interested in this inflatable bop bag, which was sent to video stores as a way to encourage VHS rentals. I can't call it a steal at more than 200 bucks, but it's not like you could easily find another one.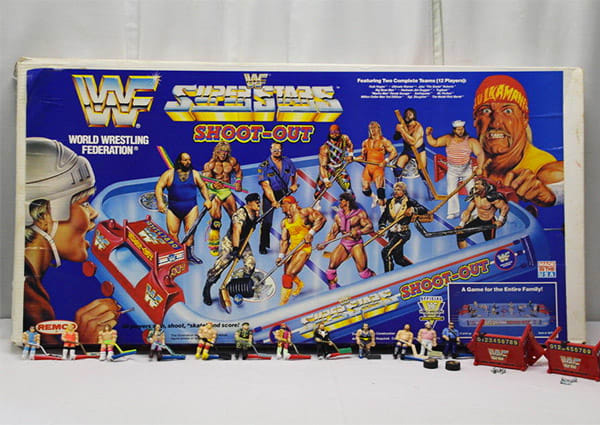 Sold For: $229.99 (auction ended)
This made no sense, but it sure looked like fun! Here we had a gaggle of wrestling superstars moonlighting as hockey players. It was your standard "rod hockey" tabletop game, with players controlling the various figurines.
There's something so satisfying about watching Jake Roberts try to play hockey with a giant python around his neck, while other wrestlers brave the ice wearing nothing but neon underwear.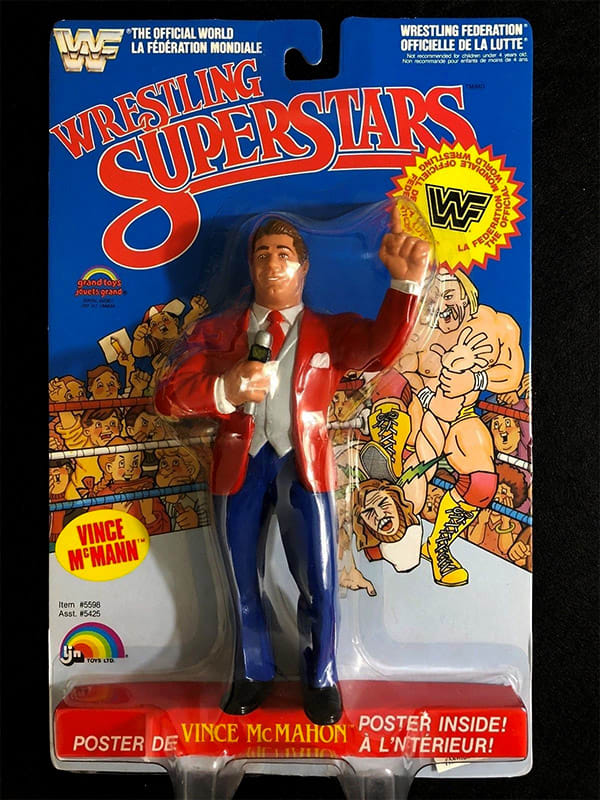 Going Price: $325
When you see Vince McMahon now, you know he's the boss. He's as much the "brash billionaire" in real life as he is on the shows. Back in the '80s, though, kids like me only knew him as the excitable commentator who liked loud suits.
SEE ALSO: 9 Retro Transformers Collectibles for the Forever Fan
(It was such a trip to learn that this goofy guy who was the butt of so many Jesse Ventura jokes was actually the owner and ruler of everything.)
As part of LJN's Wrestling Superstars action figure line, Vince McMahon was immortalized in hard rubber. Vince's figure gripped a microphone and wasn't positioned as a fighter, but that sure didn't stop us from making our King Kong Bundy figures beat the tar out of him.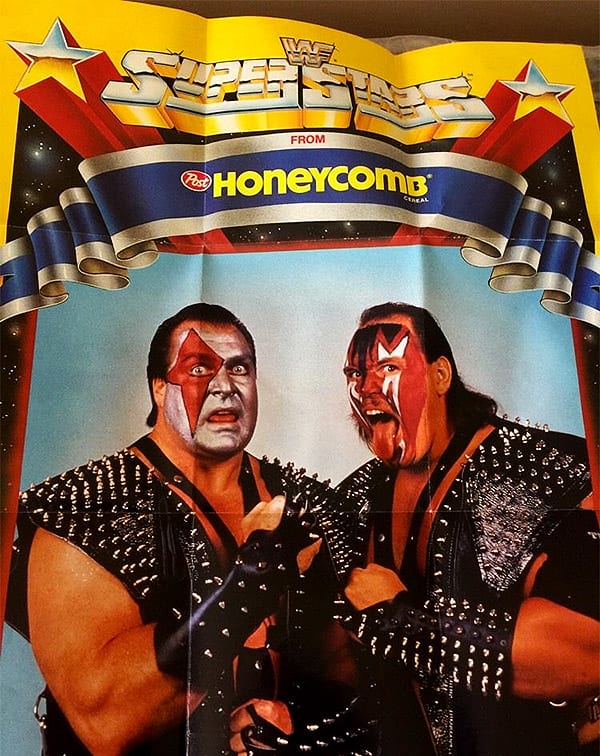 Going Price: $49.99
Back in 1989, a series of fold-out WWF posters were given away in specially marked boxes of Honeycomb cereal. Just imagine parents' reactions when kids yanked pictures of Demolition — a brutish, face-painted tag team in fetishistic leather — out of their cereal boxes.
In fact, Demolition was probably the coolest tag team of the '80s. Mixing elements from KISS and Mad Max, Ax and Smash spent years steamrolling over their opponents. Even when they were portrayed as bad guys, everyone kinda loved them.
Going Price: $9.88
Yes, there was even a WWF-themed brand of jerky! WWF Beef Jerky Chew came in little puck-shaped containers, topped with stickers of various wrestling personalities.
This particular container features Debra, who occasionally wrestled but was more famous as a manager. The container is still sealed, meaning that the winning bidder will also receive 19-year-old beef jerky. What a bonus!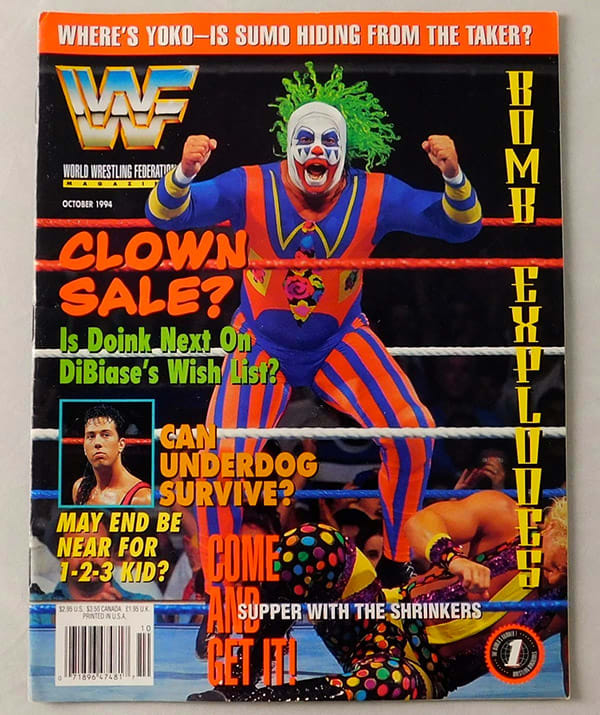 Going Price: $9.99
If you grew up reading WWF Magazine, here's a hot tip: Literally every issue is on eBay, and virtually all of them are inexpensive.
That magazine was such a production, with all sorts of photos of wrestlers in their "private" lives — which of course assumed that these people still portrayed zombies and barbers and cannibals even when the cameras stopped rolling.
SEE ALSO: 9 Weird Products You Won't Believe Are Real
This particular issue focuses on Doink the Clown, who had recently turned over a new leaf — giving up his "evil" clown status at SummerSlam 1993. (What could be better than a wrestling clown doing a vague Joker impression?)
Readers, if you were ever a wrestling fan, chances are good that you bought wrestling merch. In the comments, spill your guts: What's one of the best (or worst) pieces of WWE memorabilia you've ever owned?
---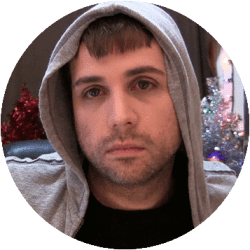 DealNews Contributing Writer
Matt has been blogging about geeky nonsense since early 2000. You can view more of his weird work on
Dinosaur Dracula
, or follow him on Twitter
@dinosaurdracula
.
DealNews may be compensated by companies mentioned in this article. Please note that, although prices sometimes fluctuate or expire unexpectedly, all products and deals mentioned in this feature were available at the lowest total price we could find at the time of publication (unless otherwise specified).